11 Best Stops To Make Along Scotland's North Coast 500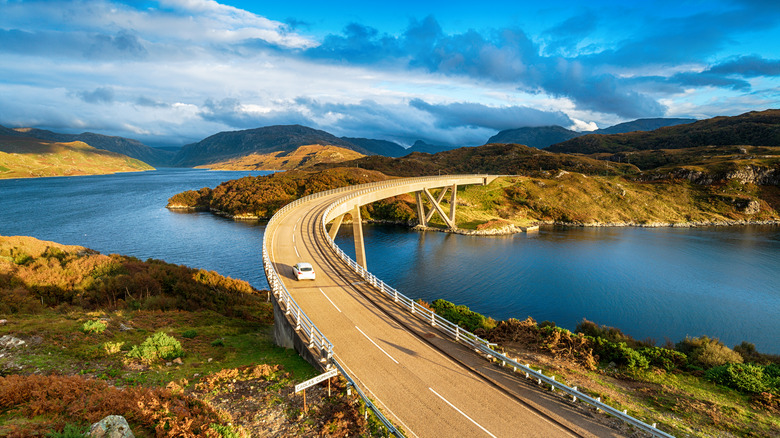 Helen Hotson/Shutterstock
Scotland's North Coast 500 is a 516-mile-long circular route that offers road trippers incredible views of the picturesque coastal areas of the North and a chance to explore all of the Scottish Highlands. With more than a few side adventures and charming towns waiting for your arrival, driving the North Coast 500 is truly a bucket list-worthy experience. Here, Scotland visitors can embark on their North Coast 500 round-trip journey from the iconic city of Inverness — completing this route, with several amazing pit-stops along the way in roughly 7 to 10 days.
Approachable either clockwise or counterclockwise, the North Coast 500 route is a feast for the eyes and a great way to see even more of Scotland. If you decide to set out on this one-of-a-kind drive clockwise, then you will likely follow this popular itinerary — Inverness to Gairloch, Gairloch to Ullapool, Ullapool to Durness, Durness to Brora, and finally Brora back to Inverness. Of course, travelers who opt for counterclockwise will have the same itinerary, just in reverse. Still, no matter which way you go, you definitely do not want to miss any of the must-sees while en route. That said, to ensure you do not miss a thing, here are the 11 best stops to make when touring Scotland's North Coast 500.
Helpful things to know before you go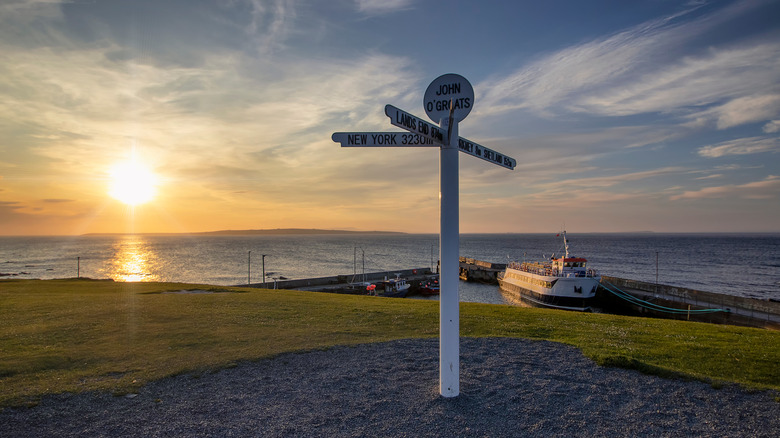 Rob Atherton/Shutterstock
In addition to having a well-thought-out road trip timetable, travelers need to properly prepare for the long road ahead. Simple things like adhering to the rules of the road, perfecting the art of the 'passing place' (wave, flash your lights, and smile when passing), and more, can take your fun adventure on the road to the next level. So, even if you are a road tripper who prefers to throw caution to the wind, there are still a few helpful things you will need to know before you go on the road trip of a lifetime.
One crucial tidbit to keep in mind is that Scotland's North Coast 500 attracts many visitors from across the globe and is especially busy in the summertime. So if you plan on making the most of your road trip with lovely stays in various towns, then make sure you book your accommodations well in advance — this is not a last-minute planning type of trip. And just because you can drive all 516 miles in a single day does not mean you should. All travelers need five days or more to truly appreciate this scenic landscape, explore all the best stops, and have an all-around pleasurable experience, so take your time and enjoy the journey.
Inverness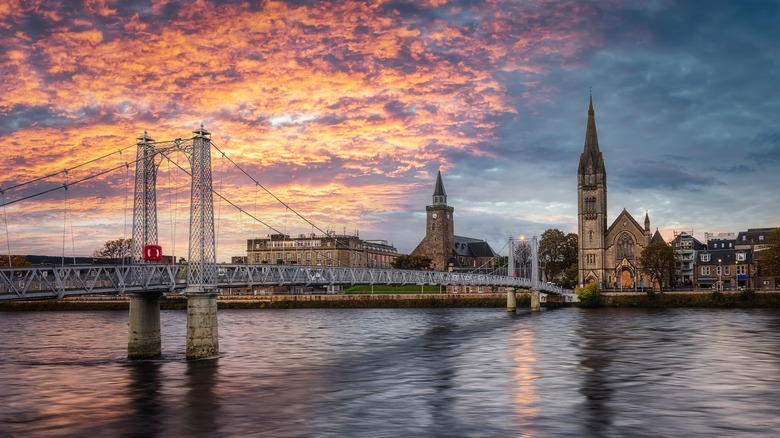 Sven Hansche/Shutterstock
Inverness is the starting point for your North Coast 500 expedition and the gateway to the Scottish Highlands. So, why not enjoy this great city for a few days, possibly before or even after hitting the road? Full of activities and must-see sites like the Culloden Battlefield, Clara Cairns, Fort George, Inverness Cathedral, and a handful of ancient castles (Urquhart Castle and Inverness Castle), Inverness is the perfect spot for road trippers to whet their touristy appetite.
Besides all these wonderous things to explore, Inverness has lovely botanic gardens, nearby waterfalls, lush outdoor spaces, shimmering lochs, and even an adventure park. Visitors can also spend some time enjoying the bustling city center, the impressive theater scene, all the museums, quaint eateries, eclectic bookshops, art galleries, and so much more. Plus, with a plethora of accommodations ranging from charming inns and dreamy bed and breakfasts to boutique hotels and castle stays, Inverness is, in many ways, a visitor's one-stop shop — and is only the beginning of your north coast travels.
Muir of Ord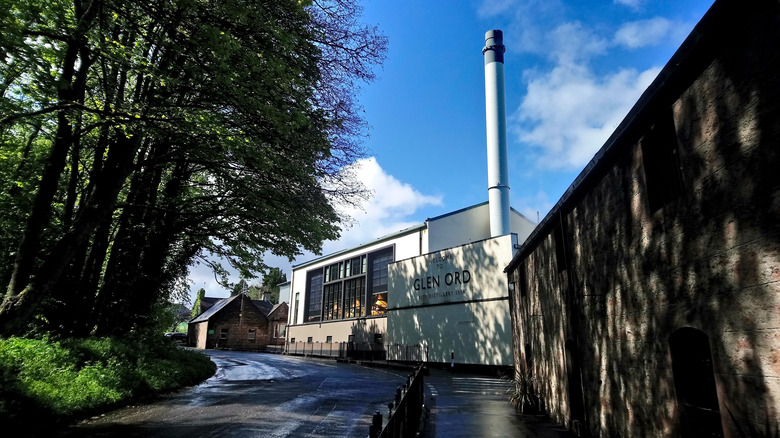 13threephotography/Shutterstock
As you make your way around this scenic coastal route, you will come across a lovely Scottish village called Muir of Ord. This quaint stop along the North Coast 500 has a rich history and stunning vistas. A hidden Highlands gem, Muir of Ord is brimming with breathtaking architecture, particularly in the way of churches and cathedrals. This village is also home to the oldest agricultural show in the Highlands — the Black Isle Show — which is worth a look-see if you happen to be passing through in August. These are just a few reasons why road trippers should make it a point to stop by this city.
Another point of interest in this town, only a 20-minute drive from Inverness, is its local distillery in Mur of Ord — Glen Ord Distillery. The last single malt scotch whisky distillery in the Black Isle and the fourth largest distillery in all of Scotland, Glen Ord is a visitor must. With several fun activities available here, like The Singleton Distillery Tour, The Singleton Pairing Experience, and The Malt To Cask Experience, this is a great way to immerse yourself in this area's culture and history, plus have a wee dram of whisky. And if you have time after touring, tasting, and snacking, you might want to schedule a nice round of golf when in town at the Mur of Ord Golf Club, too.
Applecross Peninsula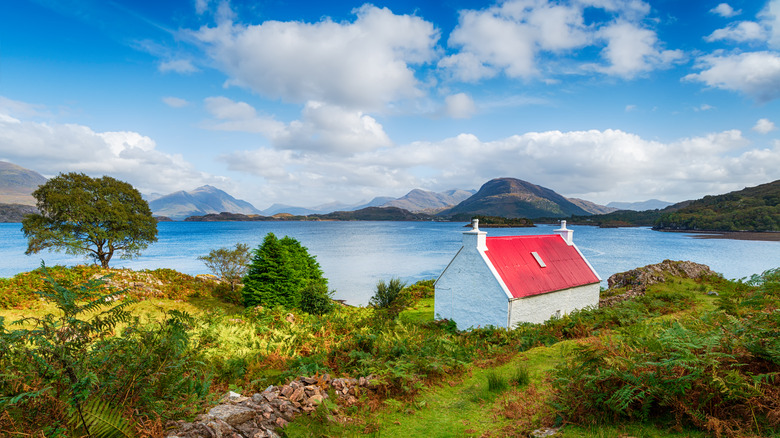 Helen Hotson/Shutterstock
Located less than two hours away from Muir of Ord, Applecross Peninsula may not seem like much initially as you drive into the area. But, if you slow down and take a look around, you can see all the pristine beauty of the northern coastal region. So if you happen to be a nature lover looking to explore even more of Scotland's countryside and see abundant wildlife, Applecross is the perfect stop.
Closer to town, colorful houses, shops, divine eateries, and more line the coast. So, don't be shy — get out and stretch your legs for a bit. Visitors here can check out the Applecross Heritage Centre, Applecross Photographic Gallery, the historic Clachan Church, and more. After a nice walkabout, travelers who worked up an appetite should definitely head over to the Applecross Smokehouse for delicious eats and to purchase a few road snacks. For a sit-down meal, The Potting Shed Restaurant, the Applecross Inn, and The Junction offer locally sourced fresh seafood and then some. After lunch, road trippers can decide to make their way to the Isle of Skye via ferry for even more incredible views, including medieval castles, mountains, waterfalls, the village of Portree, and for a possible swim in the Fairy Pools.
Ullapool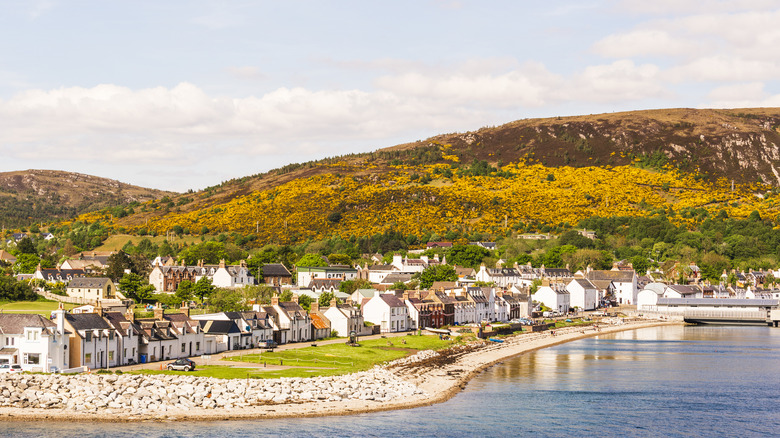 Undefined Undefined/Getty Images
Known as a picture-perfect seaside town, Ullapool is less than 40 minutes from Applecross and is a popular holiday destination with plenty of mini adventures awaiting North Coast 500 drivers. Here, road trippers can spend some quality time exploring this delightful town and its rugged landscape. Ullapool truly has a little something for everyone, with several natural points of interest, great museums, an abundance of hiking trails, the Loch Broom landmark, adorable Puffins (on nearby Hand Island), and more.
Since there is so much to see and do in Ullapool, this is actually the perfect place to stop for a few days. From cottage rentals and camping sites to hostels, inns, and hotels, visitors should have no trouble at all finding accommodations in this lively town. Notable lodgings in Ullapool include The Arch Inn, The Caledonian Hotel, The Ceilidh Place, and Dunvegan House. So, it is highly recommended that you make camp in Ullapool, especially if you have yet to spend a couple of days in any of the other stops along the way.
Clachtoll, Sutherland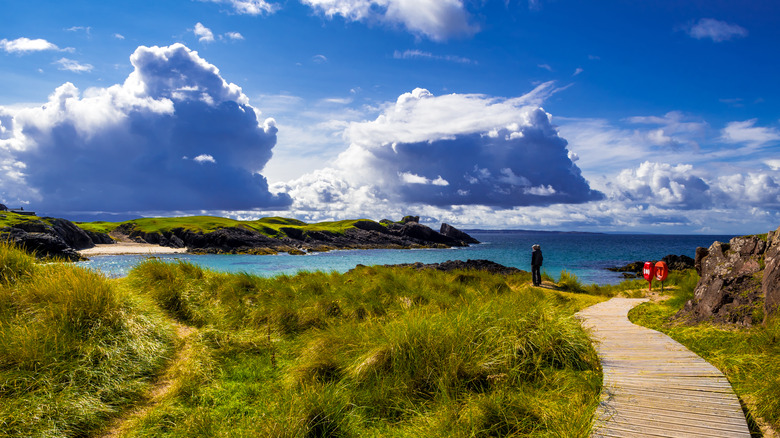 grafxart/Shutterstock
Any road trippers looking to get in some fantastic beach time during their 500+ mile journey can easily do so in Clachtoll, Sutherland. Roughly 40 miles away from Ullapool, Clachtoll is an ideal spot for some fun in the sun. Though the North Coast 500 is littered with beachy areas and picture-perfect views of the surrounding deep blue, Clachtoll has some of the most brilliant turquoise blue waters around, and its shores are simply pristine.
With historic lighthouses, sea stacks, white sandy dunes, green grassy knolls, and all the marine life one could imagine, Clachtoll is nothing short of paradise. Visitors can still appreciate the gorgeous vistas even in the chillier months and get in a little whale-watching time. There is also a camping site at Clachtoll Beach, so if you want to marvel at the sun, the bay, the stars, and more, then why not hang out here for a bit? Whether in the summer or fall, as a day trip or an overnight camp out under the stars, visiting Clachtoll is definitely time well spent.
Cape Wrath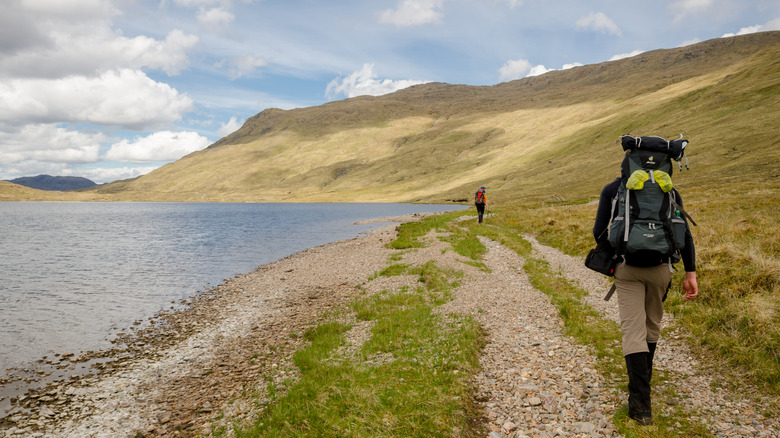 Michal Szymanski/Shutterstock
Yet another must on any North Coast 500 traveler's list is Cape Wrath. Touted as Scotland's most north-westerly point and last wilderness, Cape Wrath is downright breathtaking. Home to the tallest cliffs in all of Britain, this stop is legendary. Here, visitors can learn more about this one-of-a-kind area via tour, marvel at the magnificent landscape, and snap some photographs of Cape Wrath's iconic lighthouse. After exploring this phenomenal region, you can grab a bite to eat and enjoy a nice cold beer at the Ozone Café — Britain's most remote dining establishment.
But that's not all — Cape Wrath is full of historical finds, an extensive colony of seabirds, trails, plus miles and miles of untouched wilderness that you can hike about and explore. That said, getting to Cape Wrath involves a little outside help. Thankfully, interested visitors can take a ferry (the Beulah), but it doesn't always run — so make sure you call and find out beforehand if all systems are a go. After crossing the Kyle of Furness via ferry, a minibus service will take you the rest of the way and take up to 16 passengers on a tour of this amazing place.
Duress Beach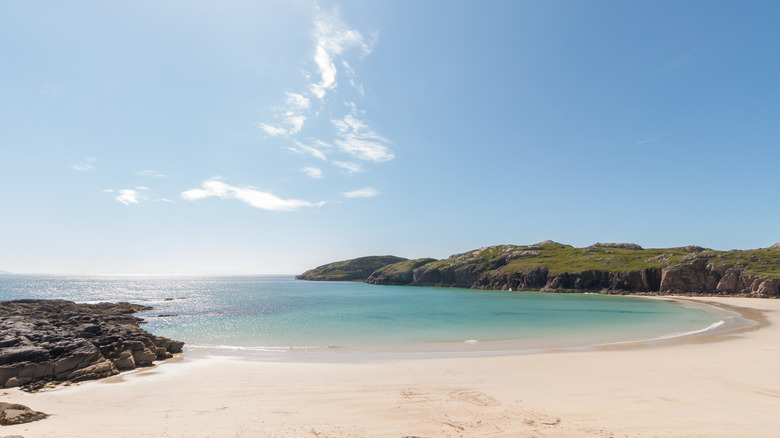 Alexisaj/Shutterstock
After spending ample time birdwatching and exploring Cape Wrath, North Coast 500 adventurers can head over to Durness Beach for a lovely leisure stroll along the coastline or some more enjoyable beach time. Here, visitors can also catch a wave or two, sunbathe, bond over a nice beachside picnic, and stay long enough to hopefully catch a glimpse of one of the most picturesque sunsets around. In fact, what really makes Durness Beach one of the best stops along this North Coast 500 stretch is its overall scenery.
Of course, a few hours at this beautiful beach is enough time for a great pit stop. But the fun does not have to end there. Since this wonderful beach is located in the actual town of Durness, road trippers can make the most of their beach visit by checking out other nearby attractions and possibly booking a cozy night's stay in Durness. If this sounds like a plan, then other notable points of interest, like the Smoo Cave, Balnakeil Craft Village, and Durness Golf Course, are all within minutes of this spectacular beach. And accommodations like Bae Seren, Borgie Lodge Hotel, Durness Youth Hostel, and The Tongue Hotel are ideal for weary travelers after a long day exploring or having fun at the beach.
Thurso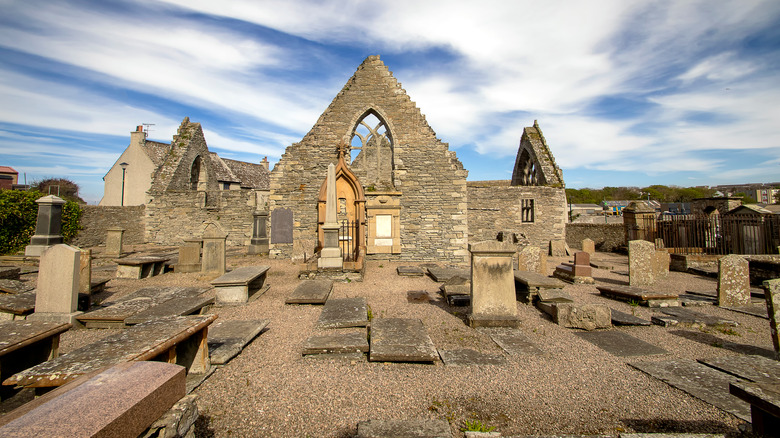 Rob Atherton/Shutterstock
After some much-needed rest and relaxation in Durness, North Coast 500 drivers can journey on over to the city of Thurso. A much larger and bustling metropolis is what road trippers will find here, which is definitely a change from all the charming, quaint, and sleepy beach towns prior. But that definitely does not mean that Thurso is any less appealing. With several beaches, legendary reefs, rich history, ancient ruins, delicious cuisine, and a rather lively nightlife scene, this city is just one more amazing stop along this route.
Here, visitors will have ample activities to pick and choose from. Travelers in need of more Scottish whisky can make their way on over to one of the most renowned distilleries in the area — Wolfburn Distillery. Likewise, hungry road trippers can explore the town center and peruse the many revered restaurants and bars for great food. What's more, outdoorsy wanderers can participate in all kinds of water sports, go on a clifftop walk (Victoria Walk), try their hand at salmon and fly-fishing along the River Thurso, and more. Alternatively, history buffs can tour the many historical landmarks in Thurso, like the Old St. Peter's Church, Dunnet Head, the Meadow Well, the Castle and Gardens of Mey, and Dounreay — to name a few. Whatever you decide to get into here, just don't be surprised if you end up spending a whole day, if not two, in Thurso.
Castle Sinclair Girnigoe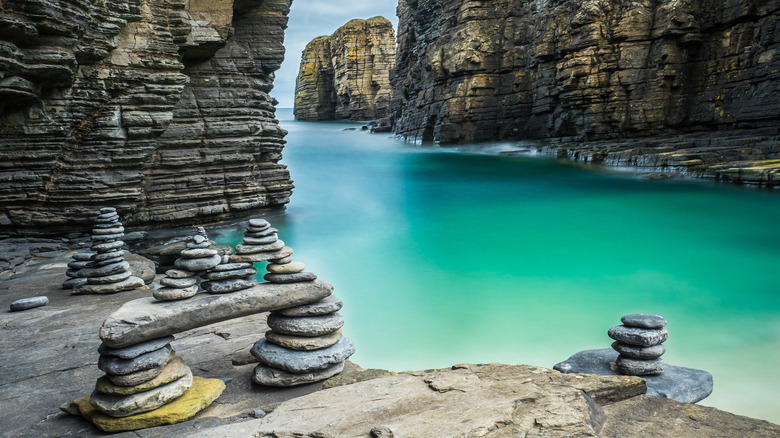 Andy Wasley/Shutterstock
Any history lovers who did not get their fill in the town of Thurso do not have to go far. Less than 35 minutes away, north of Wick, the Castle Sinclair Girnigoe sits imposingly on the east coast of Caithness overlooking Sinclair Bay. Originally constructed in the latter half of the 1400s between 1476 and 1496, Castle Sinclair Girnigoe and the surrounding area are almost majestic looking. Now lying partially in ruin, what is left of this medieval fortress is still an impressive sight to see.
With a truly fascinating history that suggests what remains today may actually be the ruins of two castles and not just one (find out how archaeologists solved this mystery on a guided tour), a North Coast 500-side jaunt to Castle Sinclair Girnigoe is definitely in order. Even if you decide to do a self-guided tour of these ruins, stopping by and appreciating the unbelievably beautiful views is a must. And if you happen to be a "curiouser and curiouser" world traveler, then make sure you check out the otherworldly formations of cairns below Castle Sinclair Girnigoe that are simply enchanting.
Brora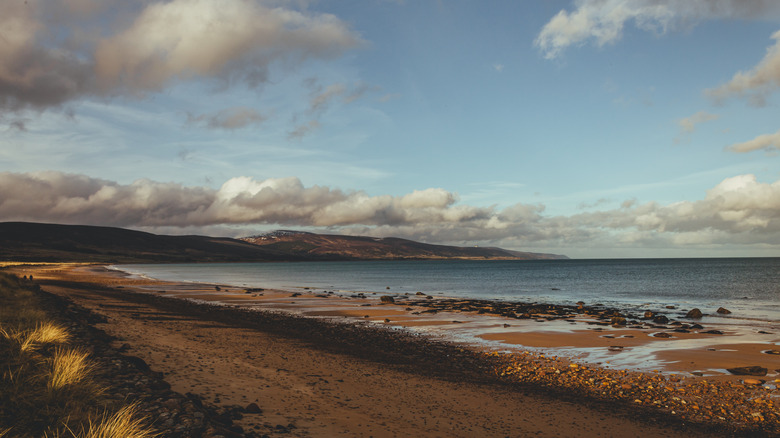 phaustov/Shutterstock
As you begin to make your way back to Inverness, don't forget to stop by Brora. A lovely small village on the east coast of Sutherland, Brora is a little slice of heaven that offers a nice end to your adventure-filled drive. With a world-renowned golf course, modest yet beautiful beaches, roaming sheep, rural lands, ancient ruins, lakes, biking trails, riding stables, berry-picking excursions, and more, spending the day in Brora is truly serene. If, by chance, you find that you need a little more time in Brora, then the Royal Marine Hotel, with its very own onsite first-class Curing Yard Restaurant, can accommodate you.
Of course, this village is not without its own rave-worthy distillery, quaint cafés, unique shops, and, you guessed it, a nearby castle. Less than 10 minutes up the road, Dunrobin Castle and Gardens await. This wonderful, well-maintained 14th century palace is not only the largest in the Northern Highlands region, but it is also undeniably something straight out of a fairytale. With the museum, gardens, and Falconry access all included in the low-cost castle entry fee, this is a great last-minute addition to your road trip itinerary. Plus, thanks to this castle's fancy Tea Room, you can indulge in tasty teas and snacks before returning to the road.
Loch Ness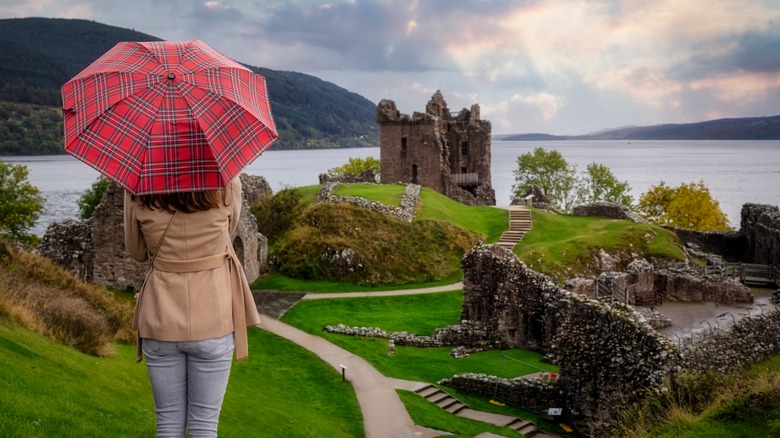 Sven Hansche/Shutterstock
Finally, as you approach the city limits of Inverness, why not have one last North Coast 500 adventure at Loch Ness? If you have not had the pleasure of exploring this infamous loch and searching for good ole Nessie, well, now here is your chance. And the best part is that this last side quest also allows you to marvel at Urquhart Castle possibly again or maybe even for the first time.
Overlooking Loch Ness, these historic castle ruins are world-renowned and are believed to be over 1,000 years old. While waiting for your boat charter, you can thoroughly inspect this grand fortress and what remains from a safe distance, take a few photos, and learn more about this structure's interesting past. Afterward, you can hop on board your thrilling boat tour and get ready to delve into one of Scotland's most legendary myths — before officially concluding your North Coast 500 journey's end.