If You're Thinking Of Going To La Paz, Mexico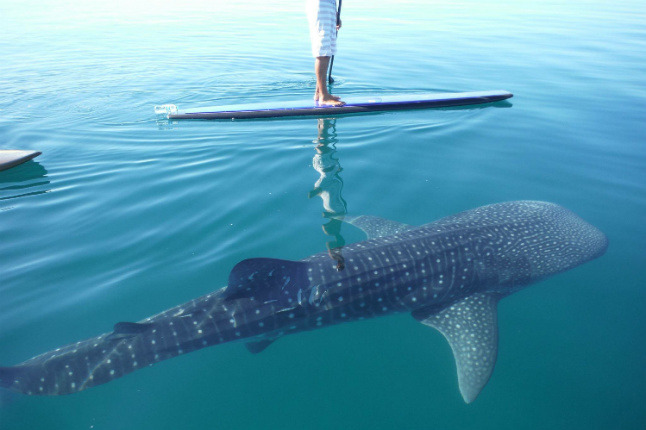 Lindsay Meyers
An old world coastal city meets outdoor adventure on the Sea of Cortez. Visit the Famous Hotel California—the inspiration of The Eagles song, stroll the Malecon and swim with sea lions in La Paz. This city that's gaining major attention should be at the top of your travel wish list—here's what you might want to do when you visit.
Things to Do
Swim and SUP with Whale Sharks—Paddle out on the beautiful sea of Cortex and get up close with the majestic (and gentle) whale sharks. Out in the water, which has been nicknamed "the world's aquarium," you might also see some rays or sea lions. The water is so clear they would be impossible to miss.
Compete in the La Paz Moonlight Triathlon—Race among the stellar beauty and perfect weather of La Paz in the moonlight triathlon, where lights and music push you farther. The 2016 race date hasn't been announced yet, but be sure to sign up early as the spots in this race will go quick.
Venture to Todos Santos—Just an hour's drive from La Paz, this eccentric little coastal town is one of the best surf spots in the world and it hasn't been overrun with tourists—yet. Visit Todos Santos now for the interesting locals, political art in the Centro Cultural and, of course, some great surfing.
Visit Isla Espiritu Santo—This island is the most perfect picture of paradise: white sand beaches, turquoise waters and sea lions to keep you company.
Eat and Drink
La Mirador, Guayacara—Panoramic views of the ocean pair with incredible sea food dishes.
Bismark-cito—A must-visit spot with perfect fish tacos.
La Fuente—Set on the Malecon, the homemade ice cream at La Fuente will satisfy any sweet tooth.
Stay
Costa Baja Resort & Spa—this high-end beach-side resort is just minutes from the action downtown.
Hotel California—Who could pass up a stay in the hotel made famous by the Eagles hit, Hotel California.