This European Beach Is A Great Spot For Family-Friendly Water Adventures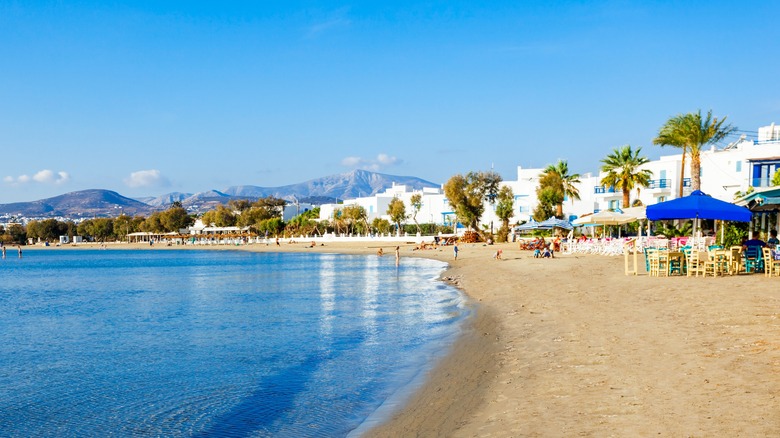 saiko3p/Shutterstock
When you're on a summer vacation in Greece with the kids, the big challenge isn't finding a suitable beach — it's trying to narrow it down to just one. There are so many tempting options, after all. With 227 inhabited islands, around 8,500 miles of coastline, and 617 beaches awarded Blue Flags in 2023, the choice is almost endless. Not only that, as one of Europe's major hotspots for a summer getaway, many of the country's beach resorts pitch themselves as the perfect place for family-friendly fun.
Choosing the right beach is a nice problem to have, but don't despair, because we have an excellent tip for you. While Naxos, the largest of the Cyclades Islands, may not be an international household name like Santorini, Corfu, or Mykonos, it is a fabulous destination for sunseekers looking for long sandy beaches and shallow turquoise waters. One of the most popular and child-friendly beaches is Agios Georgios (Saint George), located in the compact eponymous capital city (also known as Chora) on the northwestern side of the island.
Although Naxos doesn't have an international airport, it is still fairly straightforward to visit, either by taking a short flight from Athens or a ferry ride. Once you get there, you can kick back and relax, knowing the kids are safe and happy and the next ice cream is never too far away.
Saint George Beach is ideal for families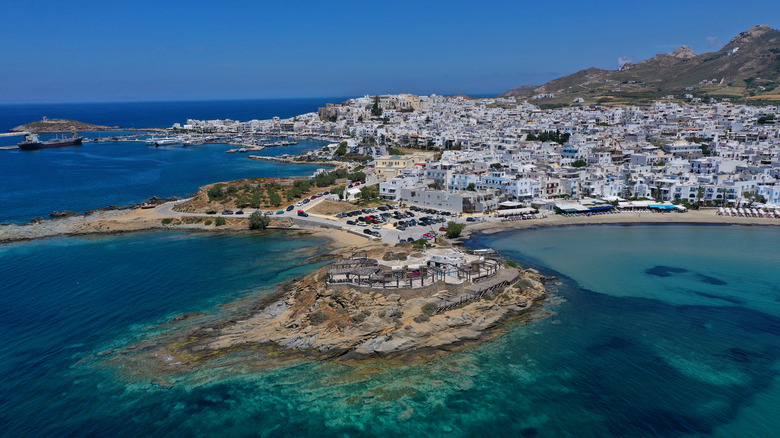 Aerial-motion/Shutterstock
Saint George Beach is situated a short walk away from the picturesque old center of Naxos City and runs for many miles in a shallow arc to the south. It is relatively narrow and can get crowded towards the end nearest the town, with bars renting out parasols and sun loungers in the peak season. This is also where you will find most of the facilities. To beat the crowds, you may want to venture further south and find a quieter spot.
Saint George is fantastic for families with little ones. You don't need to walk across acres of scorching sand to reach the sea, and the water is very shallow, so it is very safe for toddlers to splash around with supervision from their parents. The beach's proximity to bars, restaurants, cafes, and shops also means that you don't need to load up with the essentials that you would need for a family day out at a more remote beach.
There are also plenty of activities to keep older children occupied. The clear water is ideal for snorkeling, and local businesses rent equipment for wakeboarding, windsurfing, and water skiing. For a break from saltwater, the Naxos Aqua Fun Water Park is open during the summer months and offers a variety of pools, waterslides, and other activities.
Naxos offers convenience and family-friendly fun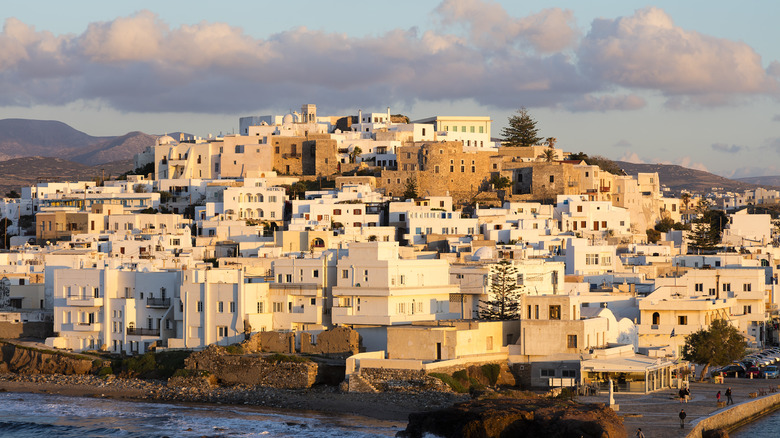 Bim/Getty Images
Naxos has plenty of great beaches, but Saint George is great for families because it offers a great mix of Blue Flag cleanliness, safety, and convenience. From the beach, you are only a five-minute walk from the charming old town of Naxos City, one of the most beautiful in the Cyclades Islands. Picturesquely located on a hill around its ancient citadel, the narrow streets and squares are a joy to explore, with plenty of delights amid the impressive Venetian architecture. As one of Greece's most visited islands, the city is also a hub for tourists visiting Naxos and has an abundance of restaurants, bars, and lively nightlife to cater to visitors of all ages.
Dining in Greece is generally an inexpensive and leisurely affair, and Naxos has plenty of places where you can tuck into the country's delicacies. The family-run Scirocco Restaurant & Cafe is a popular spot in the town, with streetside dining serving a range of Greek favorites, including dolmades, moussaka, stifado, and fresh seafood. Scirocco also caters to the preferences of younger diners with a children's menu. Once the little ones are fed and in bed, parents can unwind with a cocktail and watch the sunset over the Aegean.