The Best Greek Island To Visit For Your Next Family Vacation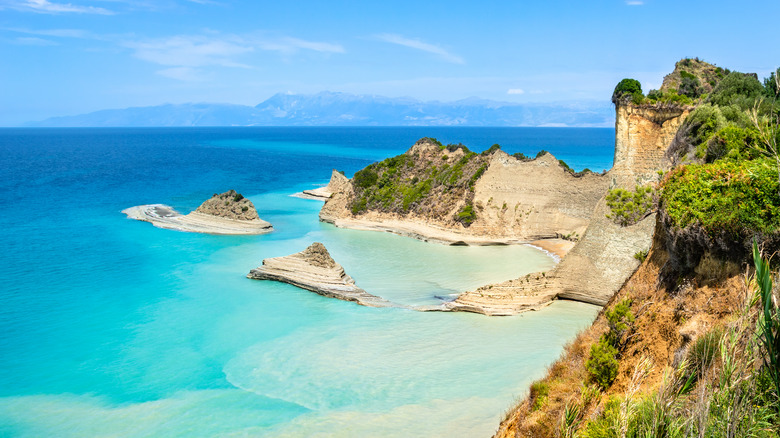 Julia Lavrinenko/Getty Images
Part of the Ionian Islands, Corfu was cited frequently in Greek mythology, according to Greeka. And if you've experienced the island's sandy beaches, emerald-green forests, and turquoise lagoons, you wouldn't be surprised by this. For writers of antiquity, Corfu probably seemed like the ideal setting for mystery, possibilities, beauty, and intrigue. Today, similar to ancient times, Corfu remains one of Greece's most popular, storied, and celebrated islands.
Along with Corfu's natural splendor, the Old Town of Corfu is a UNESCO World Heritage site characterized by its cobblestone streets, colorful buildings, and Venetian architecture (via UNESCO). With its modern attractions, historical atmosphere, and natural beauty, Corfu is an especially appealing destination for families.
Unlike other Greek islands, Corfu tends to avoid sky-high price tags and up-all-night party crowds. However, it's still a vibrant and activity-rich island. Whether it's lounging on the beach, exploring Old Town, or setting off on an Odysseus-styled adventure, Corfu offers activities to satisfy the whole family.
Family-fun activities in Corfu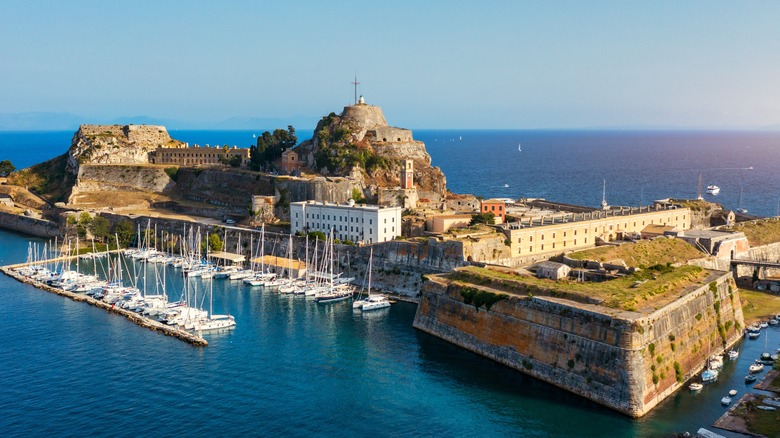 DaLiu/Shutterstock
Corfu is known for its abundance of sandy (and mostly uncrowded) beaches, which feature shallow, calm waters that are perfectly suitable for younger swimmers. As far as finding your ideal family beach, Discover Greece lists Paleokastritsa on the west coast, Dassia on the east coast, and Sidari in the northwest.
Sidari is a particularly unique option for families, as its famous Canal d'Amour offers a breathtaking public beach with a fabled history, while family-friendly Sidari Water Park is only minutes away. By taking a day trip to Sidari, you'll be able to visit both a mythic beach and popular kid-friendly waterpark.
Exploring Old Town is also an ideal way to spend a day of family fun. You can enjoy the wealth of boutique shops, cafés, and restaurants immersed in Old Town's neoclassical architecture, while the Old Fortress that overlooks Corfu Town is a popular family-friendly attraction. Not only is the Old Fortress a must-visit for history buffs, the historical landmark offers plenty of exploration opportunities for kids.
Best time for a Corfu family vacation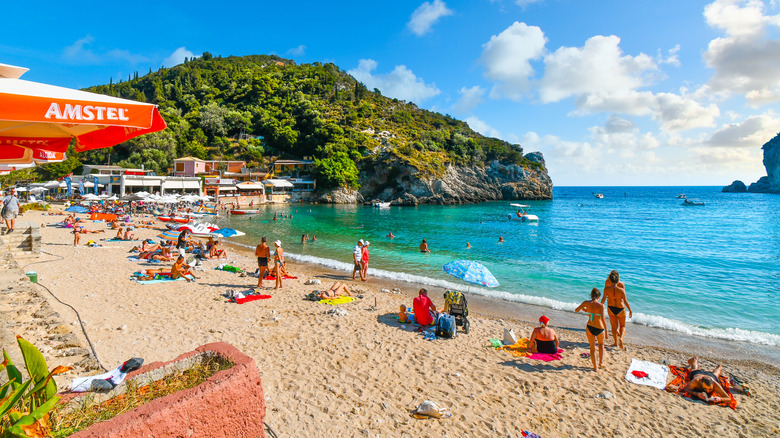 Kirk Fisher/Shutterstock
When it comes to choosing the best times to visit, Corfu isn't too different than other Greek islands. While summers offer the best weather, these months also welcome an influx of crowds and higher prices. According to U.S. News & World Report, you may want to consider visiting Corfu during its shoulder seasons.
If you visit Corfu between April to May and September to November, you'll miss the summer crowds and peak tourist prices. However, November does experience the most rainfall of the year.
According to Greek City Times, Corfu is also one of three Greek destinations brimming with Airbnb-type rentals. Along with Mykonos and Santorini, Corfu offers plenty of different accommodation types to meet your needs and budget. Instead of staying at an expensive resort with limited space, large families may find a short-term rental with multiple bedrooms a more comfortable (and budget-friendly) option.
While all Greek islands feature their own character and charm, Corfu's natural beauty, activity-rich appeal, and historical weight are all undeniably attractive for families. In fact, Corfu was the last island Odysseus visited before finally returning to Ithaca. While it's not documented, it wouldn't be surprising if Odysseus quickly returned back to Corfu for a much-needed family vacation.