This Island Off The Coast Of Spain Is A Great Destination For Water Adventures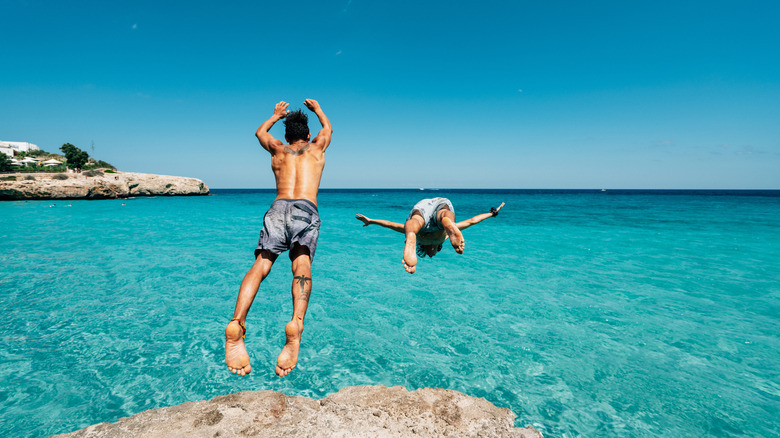 Filippobacci/Getty Images
With nearly 5,000 miles of coastline, Spain has some of the best beaches in the world. The Balearic Islands off the Eastern coast only add to the country's charm, with Mallorca as a prime destination for beach clubs and water activities. It's famous for its 200-plus beaches and 300 days of sunshine per year, a dreamy combination that guarantees there will be no shortage of things to do. Whether you're an adrenaline junkie or a beach lounger, there's something for everything on this Mediterranean gem.
Start your trip with a relaxing tour of the bay around Mallorca's capital, Palma. There are many tour operators available, but a fan favorite is Oasis Catamaran. Step on board a catamaran and enjoy the sunset view of the bay with a "cava" in hand, a type of Spanish sparkling wine. Sample some "tapas" (appetizers) and take a dip into the sea using the complimentary snorkel and paddle equipment. Tickets start at €78 ($83) for this excursion, but keep in mind prices are approximate and subject to change.
Adventurous activities on Mallorca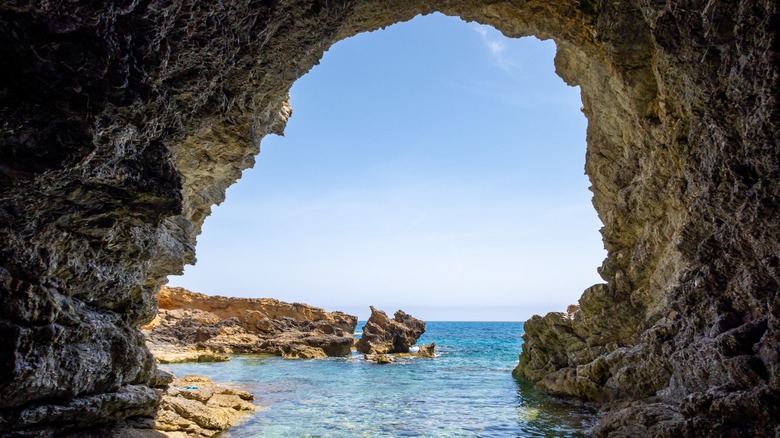 Marina Kryuchina/Shutterstock
After enjoying a tranquil day at sea, it's time for some adventure. Mallorca's gorgeous coastline is filled with cliffs, alcoves, and caves, making "coasteering" a popular tourist draw. This action-packed activity involves a combination of swimming, cliff jumping, and rock climbing. Some popular spots for coasteering include Alcúdia, Andratx, Calvià, Manacor, and Sóller. Tours are suitable for adults and children alike with varying levels of experience. Expect to pay around €75 ($80) per person.
Sea caving is another well-loved pastime on the island. A typical tour starts by hiking along the coast, repelling (abseiling) down a cliffside, and swimming into the entrance of a sea cave. From there, you'll gaze in wonder at the many stalagmites, stalactites, and columns in this whole other world. Expect to spend about half a day exploring. Tickets cost around €85 ($90). To see one of the largest underground lakes in the world, you can also head to Porto Cristo for a tour of the Drach Caves, home to Lake Martel.
More ideas and how to get there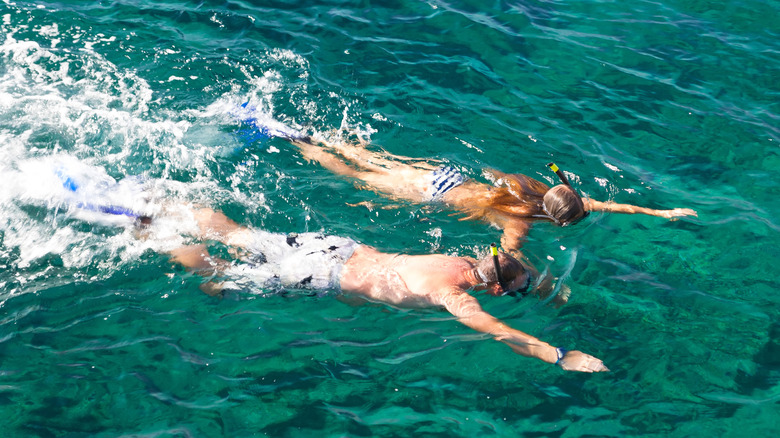 Piotr Wawrzyniuk/Shutterstock
Coasteering and sea caving aside, there are still all of the regular vacation activities you can do, too. Scores of tour operators are available to take you snorkeling, kayaking, windsurfing, stand up paddle boarding, fishing, and jet skiing. If it's something you can do on the water, chances are, you can do it in Mallorca. When you've explored the sea to your heart's content, kick back and relax on one of the island's many golden beaches with teal surf, like Es Trenc, Cala Mondragó, Cala Torta, or Playa d'Alcúdia.
The best way to get to Mallorca is to fly from one of the 154 airports offering direct service to Palma de Mallorca airport, mostly from Europe. If you'd rather take a cruise, Balearia offers ferry services from Barcelona, Dénia, Formentera, Ibiza, Menorca, and Valencia. Tickets start as low as €20 ($22) for a round-trip ticket. Though to be fair, with Mallorca's allure, we won't be surprised if you decide to opt for a one-way.