Skip Dining In This Part Of New York City To Help You Stay On Budget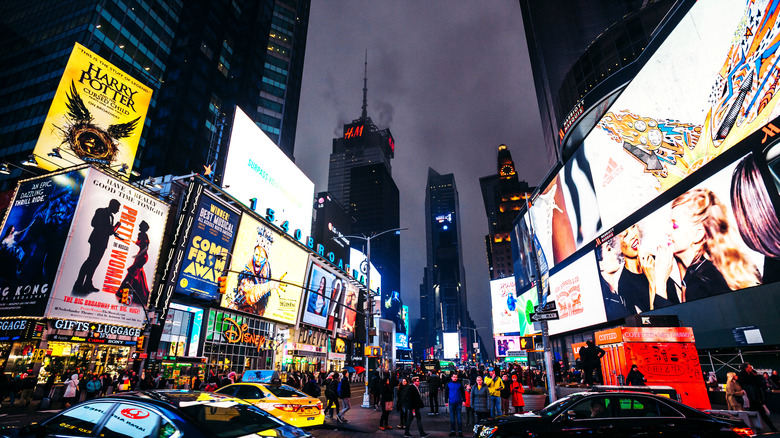 Peeterv/Getty Images
In addition to its vibrant culture and bustling nightlife, New York City is known for its incredible food. From pizza and bagels to ethnic cuisines, the Big Apple has no shortage of delectable dishes. Any food lover should add New York City to their bucket list. However, to stay on budget, there's one area you may want to avoid dining in. 
If you're heading to New York City, you may be looking forward to exploring Times Square. While the neighborhood is renowned for its spectacular big lights and Broadway scene, this tourist hotspot is full of overpriced restaurants. In one Tripadvisor forum, multiple reviewers suggest steering clear of chain eateries there, as they consider them to be unreasonably expensive and mediocre. One user wrote, "Not only are you doing yourself a disservice by eating chain food in a city with some of the most wonderful restaurants, but they jack up the prices for food that's not worth it." Besides chains, Times Square features a number of pricey restaurants, such as upscale steakhouses. So, if you want to keep your travel expenses down while enjoying a first-rate meal, check out these other neighborhoods instead. 
Try these budget-friendly spots in Hell's Kitchen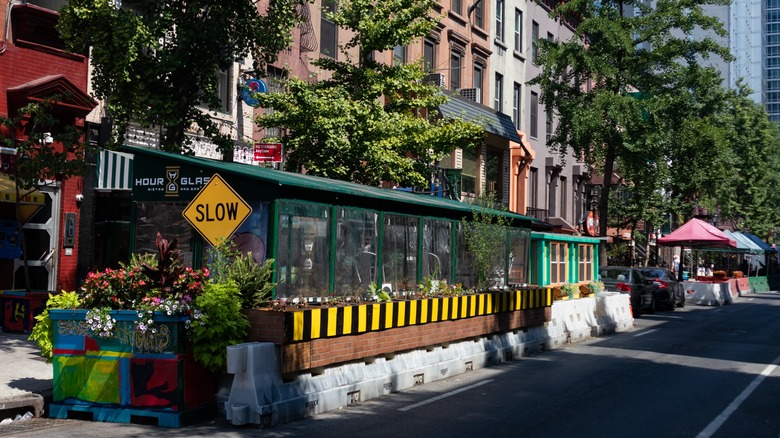 James Andrews1/Shutterstock
Instead of blowing your budget at a restaurant in Times Square, you can get a taste of New York City by heading over to Hell's Kitchen. The neighborhood is nearby, so you can still explore Times Square while having a less expensive but nonetheless delicious meal within walking distance. Ninth Avenue in Hell's Kitchen is a go-to spot for foodies, as the area is noted for its diverse cuisine.
There are plenty of affordable eateries that boast a variety of delectable dishes. If you have a sweet tooth, indulge in some pastries or freshly baked rolls at Amy's Bread. With various sandwiches under $10, this city staple is great for a cheap yet satisfying bite. Those craving a tasty, inexpensive gyro sandwich or plate can get their fix at Turco Mediterranean Grill. Thai food lovers can get a good deal at Noodies, which has reasonably priced weekday lunch specials. For a fun night out, check out Rudy's Bar & Grill. When you order a drink at this iconic dive bar, you'll get a complimentary hot dog. The list goes on!
Enjoy an affordable, tasty meal in Chinatown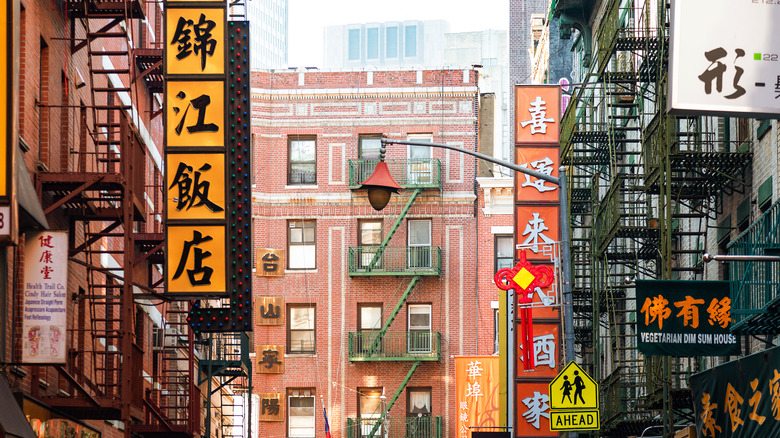 Marco_piunti/Getty Images
Beyond Hell's Kitchen, there are plenty of neighborhoods in New York City that offer tasty, affordable eats. Chinatown is full of inexpensive spots that serve up Asian noodles, soup, and dumplings. Mei Lai Wah is a popular Dim Sum place that sells flavorful steamed and baked buns for a bargain! The steamed roast pork bun, for example, is only $1.75. In addition, Shu Jiao Fu Zhou has garnered high praises for its authentic dumplings and noodles. There, you'll spend less than five dollars for six pork and chive dumplings or an order of peanut noodles. Just make sure you have cash, as this restaurant doesn't accept credit cards.
If you're in NYC, you'll probably want to try out signature dishes like pizza and bagels, which tend to sell at a low price in general. You'll find any number of pizza joints in neighborhoods such as Greenwich Village and Nolita. Step into Prince Street Pizza for a satisfying slice. And you definitely don't need to stay in Times Square to find a cheap yet high-quality bagel. From Between the Bagel in Astoria, Queens, to Absolute Bagels in Morningside Heights, there are excellent bagels all over the city.