Take A Relaxing Vacation At This East Coast Lake Town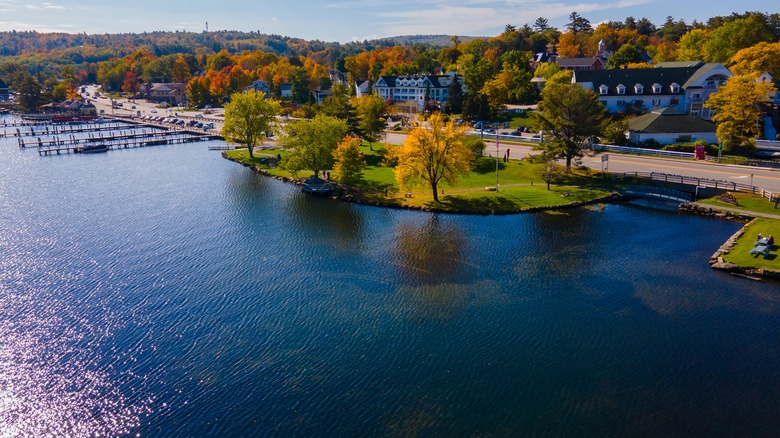 Wangkun Jia/Shutterstock
If you're eager to cure your cabin fever and reconnect with nature, head to Lake Winnipesaukee for a rejuvenating vacation. Take a load off at this picturesque east coast destination, where you'll be surrounded by calm and clear waters. At 72 square miles, Lake Winnipesaukee is the largest lake in New Hampshire. The lake is bordered by eight towns: Alton, Gilford, Laconia, Meredith, Center Harbor, Moultonborough, Tuftonboro, and Wolfeboro. Each town has its unique charms and perks. Laconia, for example, is known to be a recreation destination, while Wolfeboro has been dubbed "the oldest summer resort in America." 
With its lakeside beaches and nature trails, the summer is the perfect time to experience Lake Winnipesaukee's offerings. Yet, visiting the area in other seasons still has its advantages. In the fall, you can take in the beautiful foliage. A winter excursion is recommended for those who enjoy partaking in cold-weather sports like skiing, ice skating, and snowmobiling. And spring is ideal for fishing. A summer vacation may still be your best bet, as the lake is ripe with nature-filled activities that time of year. So, what can you do to relax there?
Water activities at Lake Winnipesaukee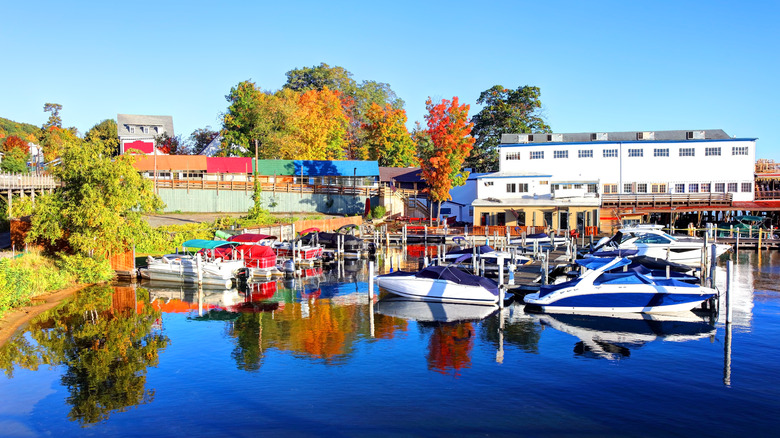 Denistangneyjr/Getty Images
Take a dip, sunbathe, or enjoy a picnic at one of Lake Winnipesaukee's many beaches. Weirs Beach is a popular spot with a boardwalk, amusement arcades, mini golf courses, and a drive-in movie theater. For a quieter getaway, head to Carry Beach, which features shallow waters that are great for young swimmers. Ellacoya State Park contains a sandy beach, recreational trails, and over 30 campsites.
If you love water activities, Lake Winnipesaukee is the place for you. It's a go-to destination for boating, as you can bring your own or rent one at a number of locations. Additional pursuits include kayaking, jet-skiing, and tubing. The lake is spectacular for fishing, with its salmon, trout, bass, perch, and other fish varieties.
Many visitors will hop on the M/S Mount Washington cruise to experience scenic views of the lake and its surroundings. The two-and-a-half-hour tour includes a narration focusing on the history and folklore of the area. While aboard, you can grab a bite at the restaurant or sip drinks at the bar.
Revel in the outdoors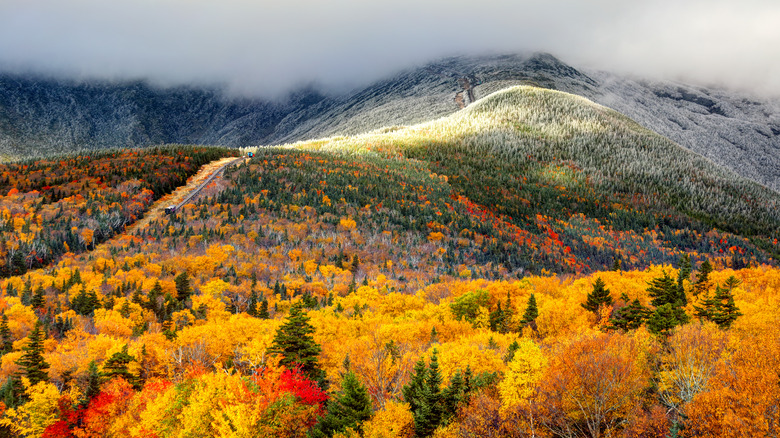 Denistangneyjr/Getty Images
Lake Winnipesaukee is a paradise for those who love the outdoors. There are a ton of hiking trails that range in difficulty. The area is also home to several nature preserves. At The Loon Center, for example, you can spot wildlife while strolling on one of its trails. If you want a change of pace, consider purchasing a ticket to Castle in the Clouds, a top attraction in Lake Winnipesaukee. The magnificent 16-room mansion, which sits on a mountaintop, provides remarkable views of the lake. Besides touring the historic estate, you can walk amongst waterfalls, feed fish at the castle's pond, wander through the gardens, or treat yourself to some ice cream.
There's another glorious destination worth visiting that's close by. Lake Winnipesaukee sits on the foothills of the White Mountains, which is farther North. This place is truly unique, as it features Mount Washington, the highest peak in the northeast. When you visit its popular state park, you may catch a glimpse of Maine, Vermont, Massachusetts, and New York. To make the most of your trip, take a historic ride on The Conway Scenic Railroad's Mountaineer train for views of the area's breathtaking scenery. With recreational activities like hiking, horseback riding, and ziplining, the White Mountains have no shortage of bustling outdoor adventures either.