Head To This Middle Eastern Island For Views Of One Of The Most Geographically Unique Places On Earth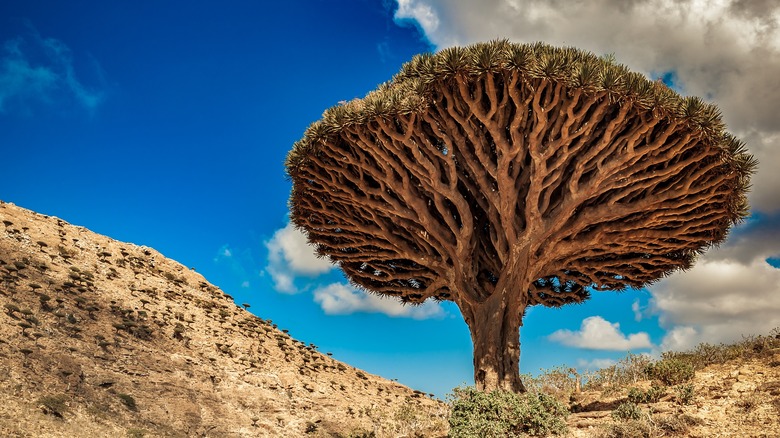 javarman/Shutterstock
Even for the bravest and most daring of travelers, there are some places that are risky to travel to. Near the top of that list is Yemen, largely due to the ongoing armed conflict in the area. Does this mean Yemen should be completely written off? Of course not. Everywhere is worth exploring if you have the interest paired with some strategic planning. If mainland Yemen sounds a bit too high on the risk factor scale, you can still see this misunderstood country by visiting the geographically strange-looking yet beautiful Yemeni island of Socotra.
Socotra is located approximately 210 miles off of Yemen's coast, and yet is still part of the sovereign nation. The Socotra Archipelago is so unique that it has been deemed a UNESCO World Heritage Site. In fact, Socotra's geographical makeup is so rare that 37% of its plant species, 90% of its reptile species, and 95% of its land snail species do not exist anywhere else in the world. Best of all, despite the serious loopholes you must jump through to travel here, it's generally a safe destination for tourists.
Getting there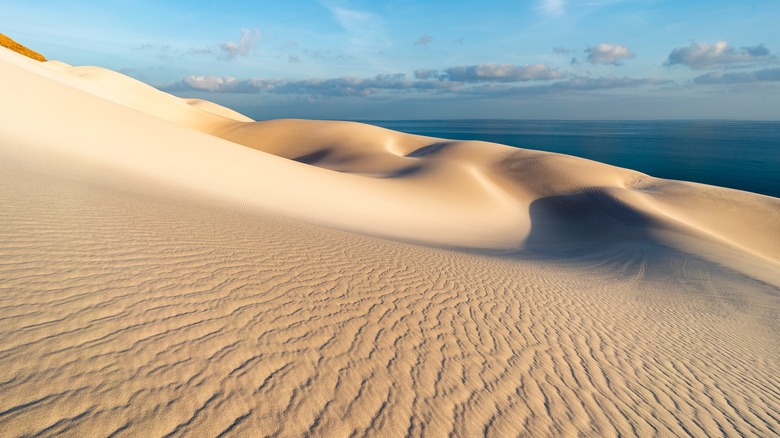 Zaruba Ondrej/Shutterstock
It goes without saying that traveling to Yemen is not for the faint of heart, and the challenges of traveling here begin before you arrive. Despite Socotra's rising popularity, the ways in which travelers can get to Socotra are limited.
The most common way to get to Socotra is to fly from Cairo, Egypt, via Yemenia Airlines. However, flights cannot be booked online and must be booked either in person at the Cairo office or through a booking agent. Flights are infrequent, and schedules can change with little warning. The flight also makes a layover stop on mainland Yemen. While you don't have to leave the airport, you do have to go through Yemeni passport control. Note that this ticket costs around $1,200 round trip per person.
For another option, Air Arabia offers direct flights from Abu Dhabi to Socotra Island. This option does not have the layover in mainland Yemen and costs less, at around $950 round trip. The flight is only 90 minutes long, and your mandatory tour operator (more details on that below) will help you determine the best schedule.
Before you go, you'll also need a visa and to be formally invited. We highly recommend you use a tour guide company, like Tour Socotra, to help you with these intricate and tricky details.
What to expect on the ground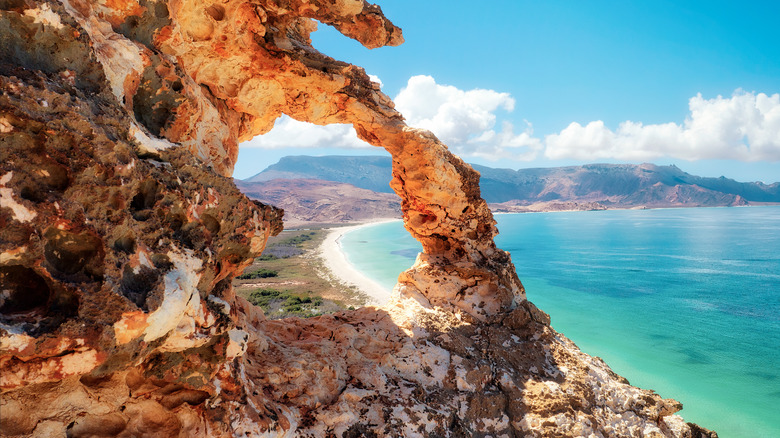 Lukas Bischoff/Getty Images
Once you get over your preconceived anxieties about being in Yemen, get ready to be completely blown away by the diverse beauty you are about to witness and experience. All travelers are required to hire a mandatory guide when visiting Socotra. Not only do you not have to worry about planning, but you'll be with a local Yemeni who speaks the language and knows the ins and outs of the country. Tour Socotra is a reputable tour company with reasonable deals.
Itineraries can vary, but no visit to Socotra is complete without hiking through Fermahin Forest, where you can see a plethora of the infamous dragon blood trees. You'll also want to keep an eye out for the Socotran bottle trees. And did you know that Yemen has stunning beaches? Arher Beach is a must-visit, thanks to its massive white sand dunes. Speaking of beaches, Socotra makes a great diving destination.
There are a few additional factors you'll want to keep in mind for your visit, like bringing the appropriate amount of cash. There are no ATMs on the island, and credit cards are not accepted. It's also important to remember that you are in a different culture with a more conservative dress code. Women should wear loose-fitting clothes that covers their knees and shoulders, with the addition of a loose headscarf. Men should keep their legs covered.