This Underrated Canadian Island Is The Perfect Destination For Outdoor Adventures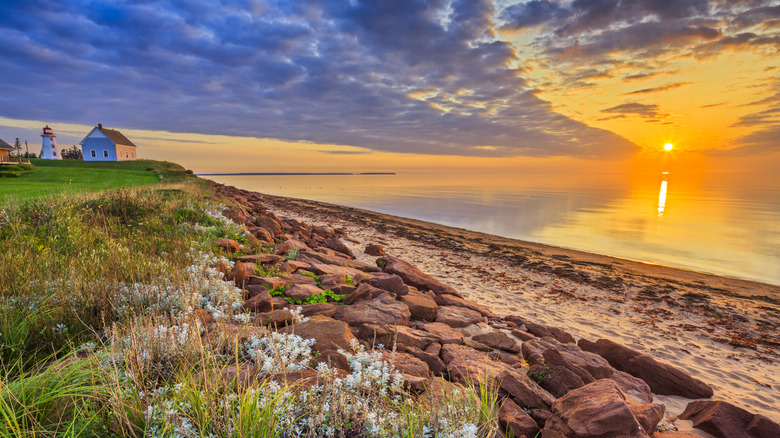 Don White/Getty Images
O Canada! Our neighbor to the north is a paradise for outdoor adventurers. It's home to the ruggedly beautiful Rocky Mountains, the coastlines of Vancouver Island, and the spectacular Yukon wilderness. Outdoor adventure enthusiasts head to Canada for hiking, mountain biking, canoeing, skiing, and more. But there's one Canadian province that many adventurous souls have overlooked: Prince Edward Island (PEI).
Despite its modest size (PEI is the smallest province in Canada), this charming island is packed with things to do for those seeking outdoor activities that embrace nature's beauty. PEI is part of the Atlantic region and sits in the Gulf of St. Lawrence, connected to the mainland via Confederation Bridge. What the island lacks in towering mountains, it makes up for in beaches, hiking trails, cycle routes, and golf courses. As if it couldn't get better, PEI is known as Canada's Food Island, and the culinary scene is just as spectacular as the views.
Boots and bikes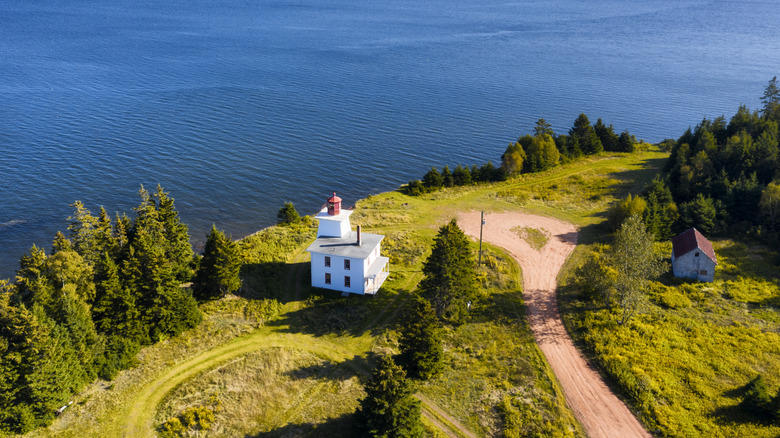 Lisa-blue/Getty Images
One of the best ways to discover Prince Edward Island is to lace up your boots and get out on a trail. The most famous trail is The Island Walk, a 435-mile hike that circumnavigates the island. 50% of the walk follows the Confederation Trail, an older route from one end of the island to the other.
The 32 sections of The Island Walk pass along glorious coastlines, with views of sandy beaches, iconic lighthouses and Instagram-worthy little harbor towns. It also goes inland to cross rolling farmland, weave through dense forests, and even pass through the island's capital, Charlottetown. And yes, the walk goes through Cavendish of "Anne of Green Gables" fame, so fans of L.M. Montgomery's series of books can explore Lovers Lane and The Haunted Woods.
The longest section takes around 12 hours to complete, though the average is six to eight. The beauty of this walk is that it's not technically difficult or particularly strenuous, so it's accessible to most visitors. Of course, you don't have to hike the whole trail, and there are several suggested four- to seven-day itineraries on the website.
The Island Walk is also open to cyclists, and the low grade (no more than 2%) makes it a gentle ride. Keen bikers will also want to check out the Confederation Trail, and those who want more of an adrenaline rush should look at PEI's mountain bike trails. The Mark Arendz Provincial Ski Park is a popular area with 14 miles of trails.
Coastal beauty and golf with a view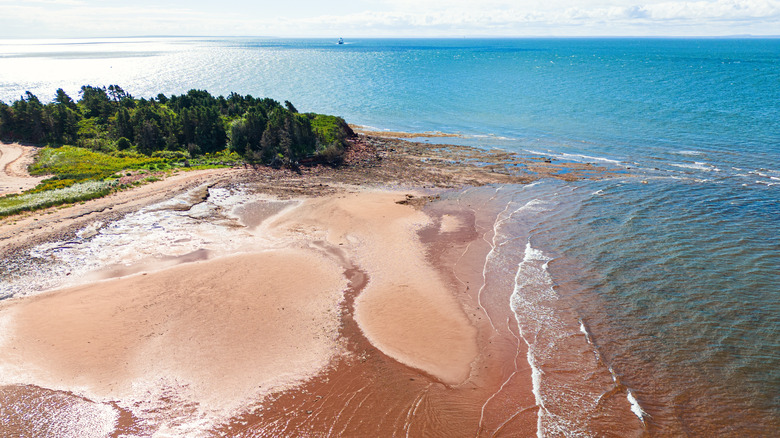 Shaunl/Getty Images
With more than 680 miles of coastline, Prince Edward Island is bliss for water lovers. In fact, you'll never be more than 15 minutes from the coast while you're on the island! The coastline is rugged and picturesque, with red sandstone cliffs backing many of the sandy beaches. Locals' favorite beaches include dune-backed Blooming Point, stunning Thunder Cove, and Basin Head, perfect for families. If wandering along the beach isn't adventurous enough, get out onto the water. There are a ton of places to paddle a canoe or kayak; head to PEI National Park near Cavendish for sea kayaking with a view, or stick to inland waterways on Winter River.
For those who prefer land-based activities, a round of golf is a must on PEI There are more than 25 courses on the island suitable for beginners to pro golfers. Check out Green Gables Golf Club for spectacular views over PEI National Park, or if you're with the kids, head to family-friendly Darnley Greens.
Finally, we said that PEI is known for its cuisine, but on this island, you can combine food with adventure. You can go on a clam-digging tour that culminates with a feast on the beach or head out on a boat with a local fisherman to catch lobster for dinner. One thing's for sure: You'll never be bored on Prince Edward Island.