Avoid Overpacking Your Suitcase With This Helpful Planning Tip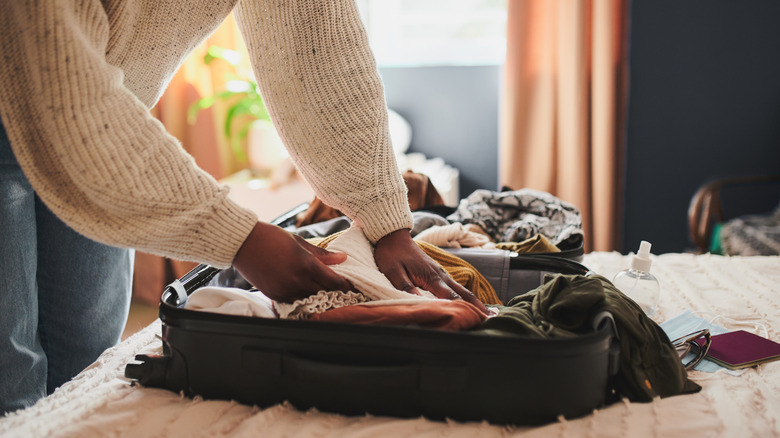 Adene Sanchez/Getty Images
Packing for your big vacation abroad can be fun until you arrive at your destination and have to lug your heavy suitcase across rickety cobblestones or up long flights of stairs with no elevators. In those moments, you will wish you didn't pack so much. Vacations are always a good excuse to whip out your favorite outfits — that summer dress, those fun and flirty sandals — but you might wish you didn't bring them if your trip ends and you realize you never actually wore them!
Now, there's a new helpful planning strategy to help you pack smarter, and it is travel expert-approved. Travel + Leisure spoke with Anne McAlpin, author of "Pack It Up: The Essential Guide to Smart Travel," who revealed that you should pack according to your travel itinerary. "It sounds so simple, but I've been doing it for 30 years," she told the outlet. "It starts to put things in order." What does that mean, and how do you do it? We investigate.
Only bring clothes that will suit your travel itinerary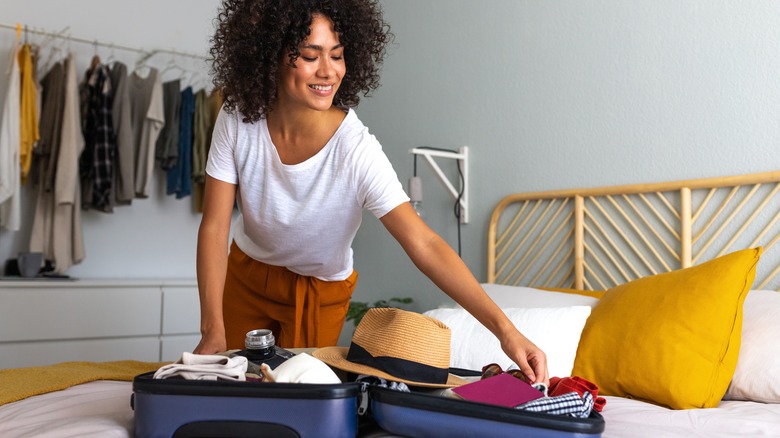 Daniel Hoz/Shutterstock
Travel author Anne McAlpin told Travel + Leisure that you should list your vacation itinerary — including fancy dining nights out, daytime excursions, beach and pool days, hiking and adventure activities — and choose what clothes you will bring around those plans. McAlpin says this will help you decide what to bring, force you to select items that can be worn repeatedly, and prevent you from stuffing your suitcase with clothing you just won't wear.
Other experts agree. Travel blogger Ben Nickel-D'Andrea, to The New York Times, says to lay out all the items you plan to bring on your trip and then reduce the amount by half. His packing rule of thumb is: if you're bringing something "just in case," you'll probably not use it. "Fully get rid of the 'just in case I need it' category. If and when you need it, you can buy it," he told the outlet.
Of course, if you just have to bring that second evening gown that's taking up space in your case, packing cubes can help save room in your bag. Rolling your clothes instead of folding them is another genius packing hack. Reader's Digest spoke to the Airport Parking Reservations travel experts, who said, "We find that rolling is the best space-saving method. Clothes stack much easier when rolled."