This Pacific Northwest Airport Is Considered To Be The Best In North America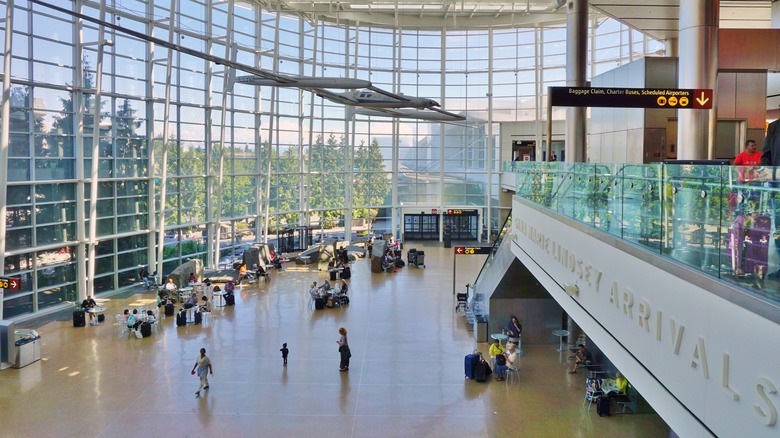 EQRoy/Shutterstock
Known as the Emerald City, Seattle has long lured tourists to the Pacific Northwest to see the Space Needle, explore Pike Place Market, and catch a glimpse of Mount Rainier. If you're flying into the city, chances are you'll land at Seattle-Tacoma International Airport (SEA) — which is good news for you. In March 2023, airline and airport rater Skytrax named SEA (or Sea-Tac to locals) the Best Airport in North America as part of their 2023 World Airport Awards.
This was not SEA's first time receiving this distinction; Skytrax also designated SEA as the Best Airport in North America in 2022. In both years, SEA beat out Vancouver International Airport, which came in second place. However, there's a reason why SEA is receiving so much love from Skytrax.
In January 2022, Skytrax announced they had rated SEA four out of five stars. But what does this mean exactly? This rating reflects the airport's high standards for its amenities and services, making travel a more pleasant experience for those passing through the Seattle area. 
Traveling at SEA has its perks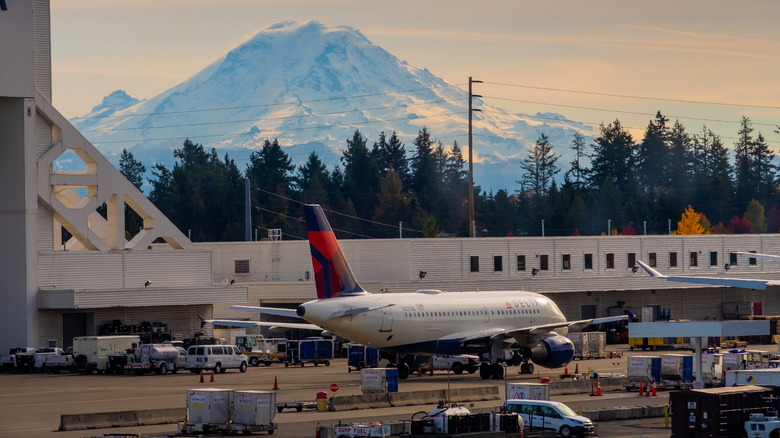 CK Foto/Shutterstock
SEA understands that traveling can be chaotic. However, SEA is changing this narrative through its various developments. For example, they created the FlySEA App, which provides TSA wait times, information about their amenities, and more. 
In 2021, they implemented SEA Spot Saver. Instead of going through the security line at TSA, SEA Spot Saver allows passengers to reserve a security appointment up to five days before their flight leaves, ensuring a hassle-free process. One million users had used SEA Spot Saver as of June 2023. Similarly, SEA has what they call a "Bags First" policy for international arrivals, allowing passengers to head to baggage claim before passing through customs. This also enables them to go through customs only once before exiting the airport. Before this, passengers were required to get their bags after going through customs. They would then go through customs again, with their bags dropped off and taken to another baggage claim, where they would be picked up once more.
In April 2022 – shortly after SEA renovated and enhanced its N Concourse – SEA revealed a new 450,000 square-foot International Arrivals Facility. It was created to accommodate the large number of guests traveling through SEA.
Passengers can take it easy at SEA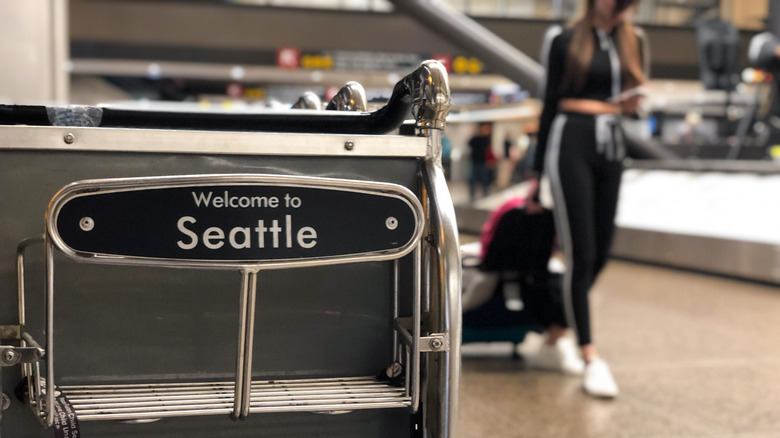 400tmax/Getty Images
SEA offers travelers unique amenities, making the airport also sound like one of the coolest! A sensory room and an interfaith prayer and meditation room – helpful for quickly relieving stress and tension while on the go — are available for those needing respite from the airport's mayhem. Likewise, live music is regularly scheduled throughout the terminals. With nursing suites and an indoor playground, parents with young children can also benefit from SEA. 
SEA also offers yummy food options from local restaurants, including Salty's at the SEA, Beecher's Handmade Cheese, and Floret, to name a few, while two Little Free Libraries offer books for those who forgot to bring one to read. 
However, despite these amenities and the praise the airport received from Skytrax, SEA has its flaws — it's notorious for its extensive security lines. It's one of the top 20 busiest airports in the United States with over 45 million passengers in 2022 alone.
As Kiro7 reported, TSA lines sometimes even extend to the airport's parking garages. SEA's managing director, Lance Lyttle, told the publication in February 2023 that the airport was too small for how many passengers it must accommodate. In May 2023, a study by Bounce proclaimed SEA as an airport with one of the lengthiest wait times in the country, so it helps to know how to get through security faster. As of 2023, several additional improvement and expansion plans are in the works.