Visit America's Oldest Restaurant At This Popular East Coast Town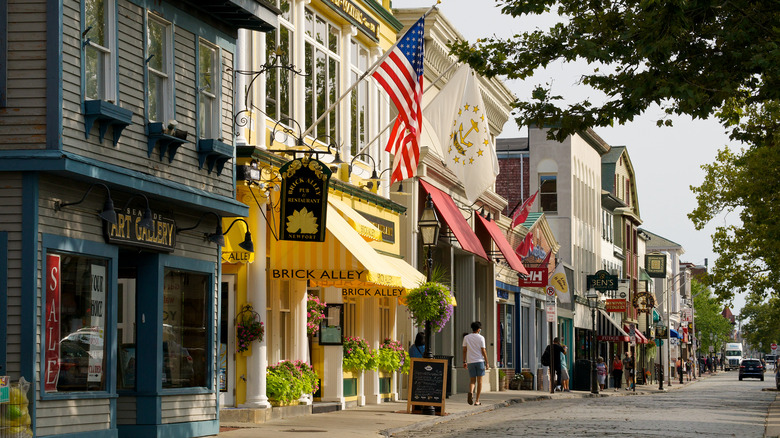 George Wirt/Shutterstock
So many restaurants come and go. But a few really stand the test of time. These old-school food institutions feel special, like you're following in the footsteps of so many before you. By offering delectable dining options in buildings filled with history, classic American restaurants are the perfect place to celebrate milestones, sip a Manhattan, and take a moment to slow down and enjoy a meal.
Rhode Island is home to some of the best U.S. cities for food lovers, and Newport is one of them. Lucky visitors to this classic coastal town will find the White Horse Tavern. Open since 1673, this historic establishment has the title of oldest operating restaurant in the U.S. and 10th-oldest restaurant around the globe. On any trip to New England, stop by America's oldest restaurant to experience delicious cuisine in a colonial tavern. And while here, check out what the rest of Newport has to offer.
The history and menu at the White Horse Tavern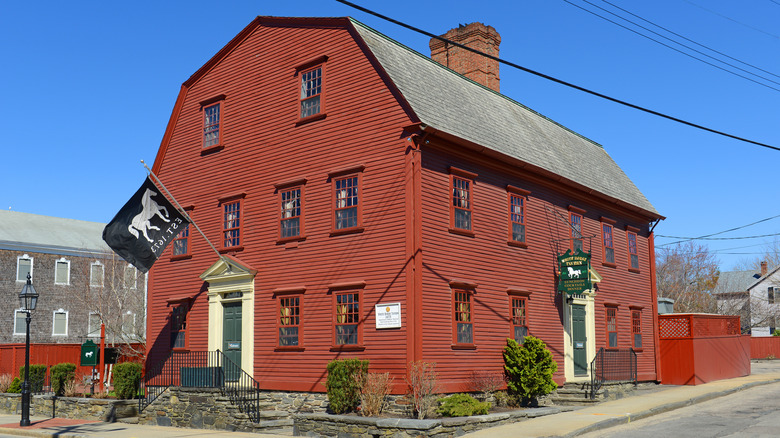 Wangkun Jia/Shutterstock
Originally built in 1652 as a two-room house for a military officer and government official named Francis Brinley, the White Horse Tavern building was acquired in 1673 by William Mayes, who converted it into a tavern. Almost 30 years later, Mayes' son (William Mayes Jr.), a well-known pirate, took over — much to the embarrassment of the British Colony officials. Williams' sister, Mary Mayes Nichols, later took ownership of the tavern, and the Nichols family owned and operated the establishment for the next 200 years (with only one brief hiatus). Currently owned by a local Newport-based group, the White Horse Tavern is now a National Historic Landmark on the National Register of Historic Places.
Currently, the White Horse Tavern serves fresh favorites in a welcoming atmosphere. Expect everything from Rhode Island clam chowder and lobster bisque to beef wellington and pan-seared scallops. Fish and shellfish are caught fresh from Narragansett Bay, while produce is picked from local Rhode Island farms. The perfect blend of contemporary food in a historic setting makes the White Horse Tavern worth a visit and a very unique place to dine. 
What else is there to do in Newport, Rhode Island?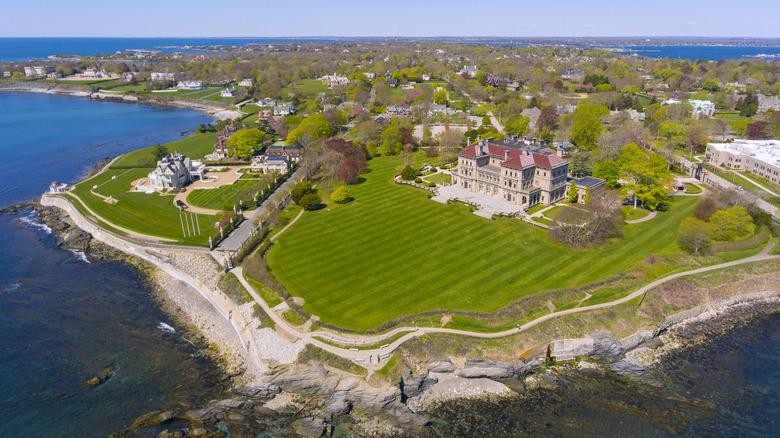 Wangkun Jia/Shutterstock
Other than dining at the oldest restaurant in America, Newport offers many things to do. Known for its 3.5-mile Cliff Walk, this famous stroll is an excellent opportunity to see sweeping ocean views, feel the sea breeze on your face, and get a bit of exercise. Plus, it's free and open from sunrise to sunset. For an easy walk, park near Easton Beach and hike the northern half of the Cliff Walk, which begins at Memorial Boulevard. Paved paths and a flat surface make this section fun for all ages.
Umbrella Sky is another attraction worth checking out. Over 500 colorful umbrellas decorate the sky above Brick Market Place. Listen to live music, walk under the unique art installation, and don't forget to snap some photos. This spot is super Instagrammable! Other fun things to do in Newport include beach activities (surfing, sailing, swimming, and, of course, relaxing), visiting Rose Island Lighthouse, popping into museums, and touring a few local mansions.