Why Tourists Are Calling This The Most Budget-Friendly City On The East Coast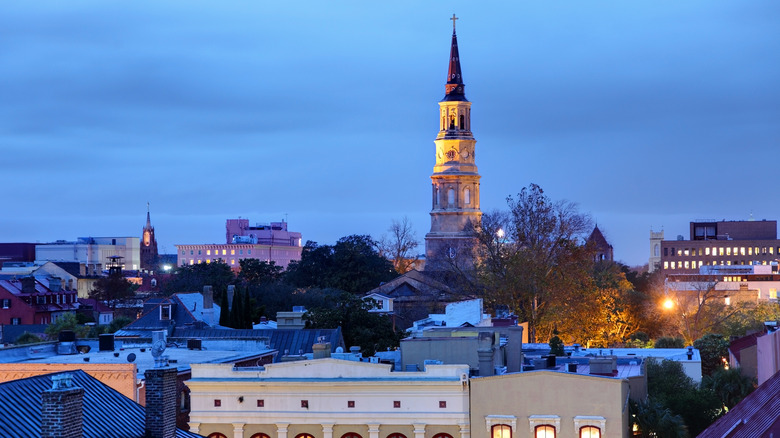 Denistangneyjr/Getty Images
While Charleston, South Carolina, may not come to mind as a city ideal for budget travel, think again. Even with its world-class culinary reputation and historic charm, there are deals to be had if you know where (and when) to look and book. This major Atlantic port city is home to attractions, including museums, gardens, and cultural events. And have we mentioned the unbeatable food scene? And all of this can come without a hefty price tag. 
Non-stop flights from cities including New York, Phoenix, and Chicago make an extended weekend or mid-week getaway possible if you search for airfare deals. And while the high travel season in Charleston is considered spring and early fall, the city offers enough to do and see year-round if you're open to other months. Off-season is when you can find hotel deals — and prices do go down if you're willing to stay outside the center of the city. 
Ready to plan your trip to historic Charleston? We've got the details on why tourists call this the most budget-friendly city on the East Coast.
What to see and do on the cheap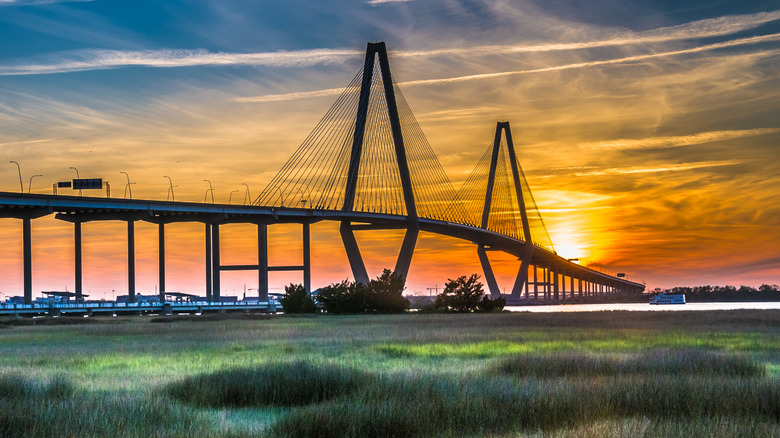 Kenwiedemann/Getty Images
With so much to see and do in the city, you'll want to prioritize. We love a walking tour. It's a great way to see a variety of places and get to know a city. There are free walking tours in the city that show you the sites. If you budget $25 (per person) of your travel fund, we can attest to the Two Sisters Tours. The guided tour hits must-see spots like the Battery and Rainbow Row. But the real benefit is that roaming the city with Mary Helen or Therese will make you feel like a beloved local. And if you want to see more by foot, a walk across the Arthur Ravenel Jr. Bridge offers views of the harbor as you get those steps in, all without opening your wallet. 
Favorite and free visitor spots include the Magnolia Cemetery, the oldest public burial ground in the city, founded in 1849; White Point Gardens, featuring picture-worthy oak trees; and The Morris Island Lighthouse, built in 1876. Called The Holy City because of its number of churches, Charleston boasts free-to-visit gems such as the Cathedral of Saint John the Baptist and St. Michael's Church.
The Piccolo Spoleto Festival in late May and-or early June offers dozens of free cultural events, including music, dance, and theater performances. And with Charleston's thriving small theater scene, you can also find a Broadway show quality without the Broadway price tag with companies like 34 West.
Budget-friendly dining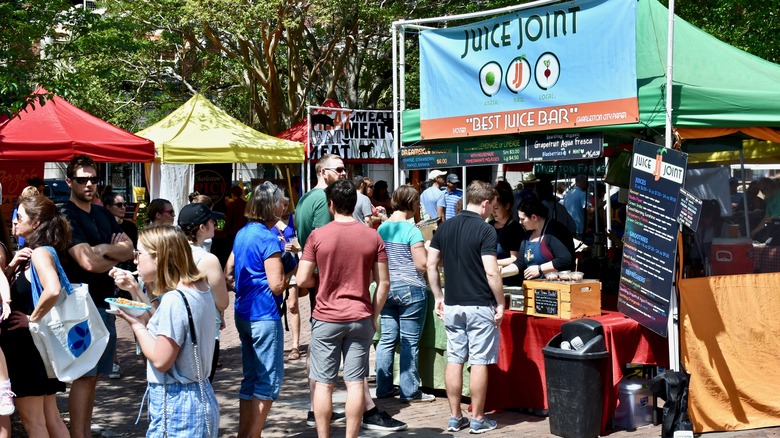 Jeramey Lende/Shutterstock
While a food budget can increase with the abundance of dining options in Charleston, it's easy to avoid that from happening. You may want to budget in splurge-worthy options like FIG, where seasonal fare wows. But you don't have to sacrifice your dining budget in a city that keeps culinary traditions alive at all prices.  
One of our favorite food stops is the Charleston Farmers Market in Marion Square. Held on Saturdays (8 a.m. to 2 p.m.), the regular market operates from April through November with a special holiday market and a limited market with prepared food in March. You can grab locally made breakfasts, lunches, snacks, and even crêpes at one of the vendors. 
The Charleston food scene is synonymous with BBQ, and one of our favorite spots is Lewis Barbecue. Check out the Monday Meal Deal (11 a.m. to 5 p.m.) and other weekday specials. Where to get the best biscuits in Charleston is a fun and stomach-filling debate. We have Pages Okra Grill on our list for our next visit. Along with its buttermilk biscuits, you'll find reasonably priced Southern favorites, including shrimp and grits, fried green tomatoes, and the namesake-worthy fried okra. 
There's no shortage of bars for famed Southern cocktails like the Sazerac, where you can toast to a great and inexpensive vacation. One of our favorite budget-travel tips? Even if you can't afford your dream hotel, check out the lobby bar for a nightcap for a touch of elegance.