The Best Free Museums To Visit Across The US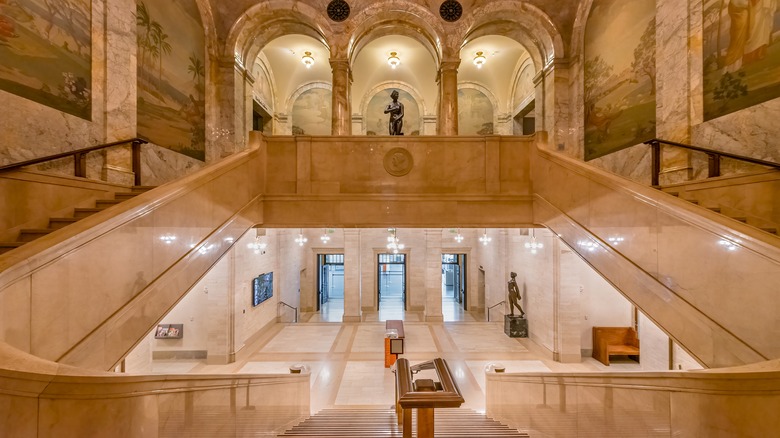 Nancy Anderson/Shutterstock
There's nothing quite like the fun of exploring a new city, walking down a path you've never traveled and experiencing new sights, sounds, and foods. But all of that dining out and entertainment can start to take a toll on your pocketbook the longer you're in town. If you're looking for a way to fill up your itinerary with cool, new experiences without draining your bank account, you might be surprised to learn that many cities feature world-class museums that are free and open the public, which means more cash to spend on food truck snacks and kitschy mementos you just can't help but love. 
 Typically funded by donors or city funding, these museums offer a place to while away the hours and broaden your cultural horizons at the same time. From art to artillery to architecture, we've scoured the nation in search of the best museums to check out on your next getaway that won't cost you a dime.
The National Museum of Mexican Art in Chicago
The National Museum of Mexican Art is a 48,000 square-foot institution presenting more than 18,000 pieces of art dating from ancient Mexico to the modern day. It was founded in 1982 by a group of Mexican-American educators to help foster inclusion, social justice, and a more positive view of the Mexican-American community, while simultaneously promoting an appreciation for Mexican-American art. The museum's permanent collection features Mexican art dating back to pre-Cuauhtémoc Mexico during the Aztec period including Mayan, Remojadacan, and Michoacan relics. The collection takes visitors through the art of Colonial Mexico, Revolutionary-era Mexico, present-day Mexico, and present-day Mexican-American art.
"Nuestras Historias: Stories of Mexican Identity from the Permanent Collection" emphasizes the diversity of Mexican identities and experiences in the United States and North America, stripping away ideas that the Mexican-American experience is a monolithic one. Here, visitors can experience many presentations of cultural identity through the lens of different communities and regions, highlighting everything from folk art to modern Mexican art.
One of the museum highlights is a collection from Carlos Cortéz, a political artist, illustrator, muralist, and poet who was known for his work as a Chicago community activist and union organizer. The museum serves as a repository for the Carlos Cortéz Archive and features a number of the artist's personal effects as well as his printing press on display.
The Smithsonian Institution in Washington, D.C.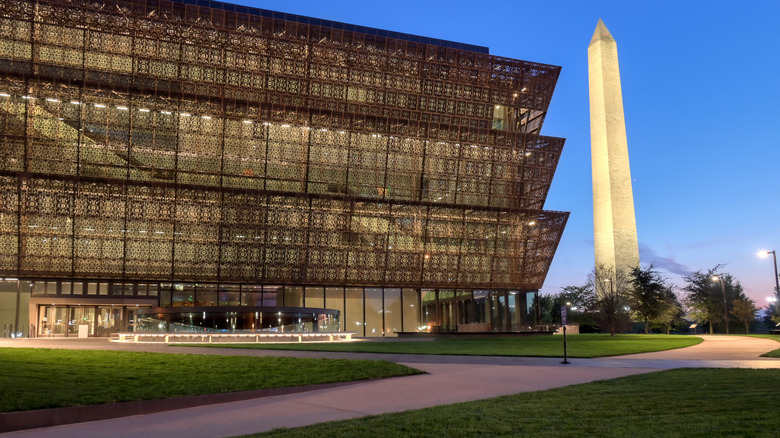 Jbyard/Getty Images
Much more than just a museum, the Smithsonian Institution is a massive complex of museums and research centers — the largest of its kind in the world. Originally created during the mid-19th century to promote knowledge, the complex has expanded to include 21 museums and the National Zoo. Today, most of the museums that fall under the Smithsonian umbrella are free and open to the public, although some require timed-entry passes. While most of the Smithsonian museums are located in Washington, D.C., a few — like the National Museum of the American Indian George Gustav Heye Center in New York — are located outside of the city.
The National Museum of African American History and Culture features such artifacts as a South Carolina plantation cabin, Harriet Tubman's hymnal, and Michael Jackson's fedora. The museum also shines a spotlight on the works of many African-American artists. The National Museum of African Art is a separate museum that presents examples of both traditional and contemporary art from across the African continent, including the Walt Disney-Tishman African Art Collection.
Other free art museums under the D.C.-area Smithsonian umbrella include the Smithsonian American Art Museum, the National Museum of the American Indian, the Archives of American Art Lawrence A. Fleischman Gallery,  the Smithsonian American Art Museum, the National Portrait Gallery, and the Hirshhorn Museum and Sculpture Garden. Other free museums include the Anacostia Community Museum and the National Air and Space Museum, among others.
The Nelson-Atkins Museum in Kansas City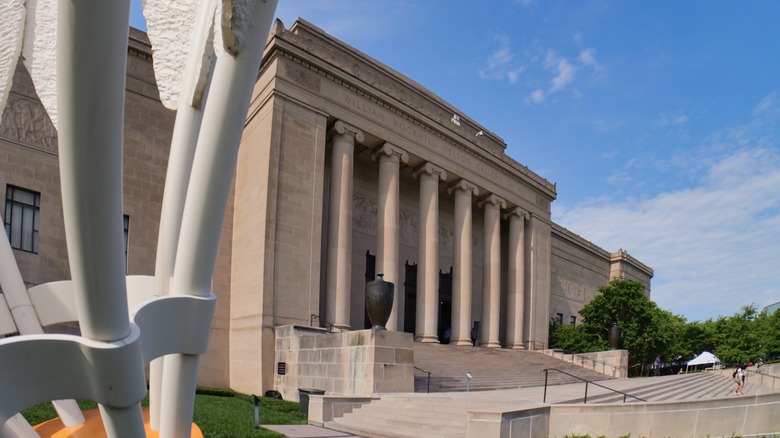 Matthew Fowler/Getty Images
Built from the estates of a Kansas City businessman and a retired schoolteacher who both wanted to see Kansas City get its own world-class art museum, the Nelson-Atkins Museum features an expansive collection of global art including an extensive Asian art collection. The museum is completely free to visit but requires time-entry passes for crowd management.
Nelson-Atkins Museum's ancient art collection includes Egyptian, Near Eastern, Greek, and Roman works. Inside the European art collection, you'll find paintings from the likes of Edgar Degas, Caravaggio, Claude Monet, Rembrandt, and Vincent van Gogh. The museum's celebrated Asian art collection includes many works from Imperial China, one of the United States' best Chinese antique furniture collections, Japanese screens and scrolls, textiles, ceramics, sculptures, and hundreds of woodblock prints. Stroll through the African art exhibit to see art from across Africa including Mali, Ghana, and Gabon, just to name a few.
Opened in 2009, the museum's Native American art galleries feature hundreds of art pieces from thousands of years in the past, up to modern Indigenous art. Since the museum stands at the intersection of several Native lands, Nelson-Atkins also has a Land Acknowledgment in development. Other collections at the museum include American, Modern, Photography, Contemporary, and Design and Decorative Arts galleries, as well as the Donald J. Hall Sculpture Park.
St. Louis Art Museum in St. Louis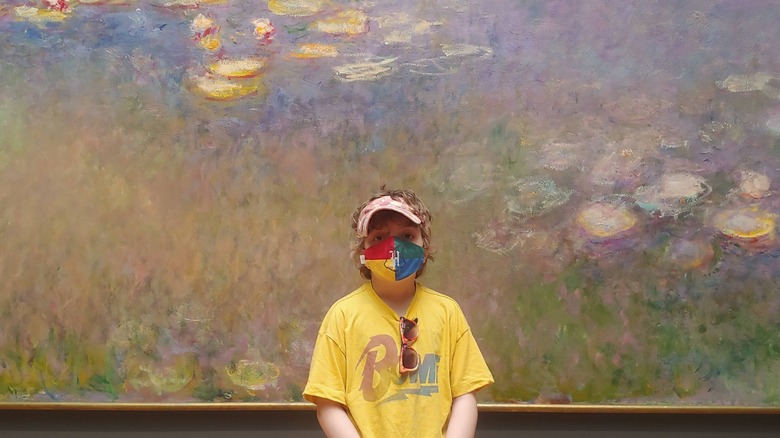 Kristi Roe-Owen
Located in Forest Park (St. Louis' expansive free public park and museum center), the St. Louis Art Museum, or SLAM, features an extensive permanent collection and hosts up to a half million visitors each year. On the lower level, you'll find a collection of armor representing different periods throughout human history. This level also contains the African, Oceanic, Ancient American, Islamic, and textile collections.
If that seems like a lot, buckle up because you're just getting started. Climb the stairs to Level Two, and you'll find an extensive Asian collection. Next, head to the contemporary collection, where you might see the work of European masters like Picasso, Monet, and Van Gogh, depending on what exhibitions are available, as well as a robust collection of Max Beckmann paintings and other post-war German art. This floor also houses an ancient art collection, which includes many examples of ancient jewelry, coins, and statues. The second floor is also home to other European works, including a collection of prints, drawings, and photographs. On SLAM's third floor, you'll find the museum's Native American, American, and Egyptian art collections. This level also houses a collection of Decorative Arts & Design as well as New Media. 
Bronx Museum of the Arts in NYC
If you're interested in contemporary art, the Bronx Museum of the Arts is one of the best in the country — and it's completely free to visit. Located on the culturally diverse Grand Concourse near the Bronx Walk of Fame, the museum was initially launched in 1971 as a collaboration between the Metropolitan Museum of Art and the Bronx Council of the Arts. Although the Museum originally featured only a small collection, the popular spot has expanded significantly through the years and now features a permanent collection with more than 800 works of art.
With an emphasis on social justice and cultural heritage, the museum features contemporary art from American, Asian, Latin American, and African artists. Featured artists include installation artist Vito Acconci, sculptor Elizabeth Catlett, and pop artist Roger Shimomura, just to name a few. The museum also features the works of many photographers including Jamel Shabazz, Seydou Keita, Alvin Baltrop, and Nikki S. Lee. The museum also places a strong emphasis on art education. Whether you're traveling with little artists or you just want to keep the inspiration going after your visit, be sure to check out the museum's online art studio for art project video tutorials.
Historic Arkansas Museum
Created to preserve Arkansas history and first opened in 1941, the Historic Arkansas Museum features an eclectic mix of art, artifacts, and living history. One of the museum's primary preoccupations is transforming the state's cultural image to emphasize the region's rich history of artisanship and artistry. The museum's collection of art and paintings includes selections from artists like Henry Byrd, Howard Simon, and William Frye. Guests can also check out the museum's collection of historic jewelry, guns, and knives. The museum also boasts a stunning collection of 18th-century furniture featuring everything from sugar chests to a clothes press. Part of the museum's commitment to highlighting the state's diversity of cultural experiences is the museum's collection of historic quilts, including quilts created by enslaved people. Its pottery collection includes a selection of Caddo pottery.
One of the coolest features of the museum is its 1850s farmstead that includes a relocated log house, period fencing, and several other structures meant to demonstrate 19th-century rural life in Arkansas. Adjacent to the farmstead is a historic blacksmith shop and raised bed gardens.
Wagner Free Institute of Science in Philadelphia
Stepping into the Wagner Free Institute of Science is like stepping into a page from a history book. Virtually unchanged since it was first founded in the mid-1800s, Wagner Free Institute is a Victorian-era natural history museum complete with a library and research center. A designated National Historic Landmark, the museum is also home to the oldest free adult education program in the United States and continues its commitment to providing free public education to this day.
Everything within the collection is displayed in Victorian glass cherry wood cabinets and presented in its original Victorian "systematic" arrangement, giving an authentic look at the world of 19th-century science. The museum itself includes around 100,000 specimens of taxidermy, mounted skeletons, and other preserved animals — an English draft horse, the first American saber-toothed tiger, dinosaur bones, and many small animals, insects, and birds are among the collection. The exhibit hall also features many small fossils, rocks, shells, and minerals. It's a favorite spot for artists to practice their craft, and the museum regularly hosts drawing sessions. Staff are available to answer any questions visitors might have about items in the collection — and a scavenger hunt is available for school field trips.
National Infantry Museum and Soldier Center in Columbus, Georgia
Dedicated to the experiences and values of United States Army infantry soldiers, the 190,000-square foot National Infantry Museum chronicles military history dating back to the American Revolution. More than 70,000 historical artifacts are on display at the museum, along with monuments, video presentations, and interactive exhibits. "Securing Our Freedoms, Defining Our Nation" chronicles the nation's early years from 1775 through 1889 and includes artifacts from the Revolutionary War, Frontier Indian Wars, Mexican-American War, and Civil War.
The Global War on Terrorism Memorial is dedicated to the more than 7,000 soldiers, airmen, sailors, and marines who made the ultimate sacrifice in the post-9/11 effort to fight terrorism and includes a steel beam from the World Trade Center and engraved panels with service members' names. One of the museum's signature presentations is The Last 100 Yards, a ramp containing dioramas featuring several key battles in United States history. Other collections and exhibits include the Vietnam Memorial Plaza, the Fort Moore and Columbus Connections Gallery, and the Ranger Hall of Honor, among others. The museum also features a virtual reality experience to let guests get a POV experience of a simulated infantry soldier mission.
The Broad in Los Angeles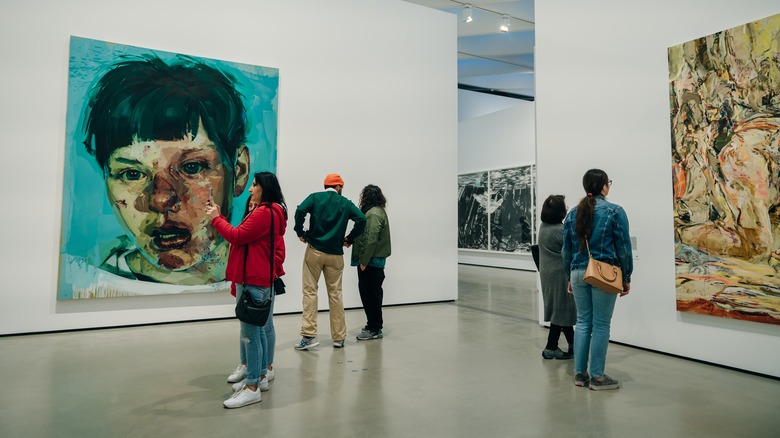 Brester Irina/Shutterstock
Located in downtown Los Angeles, The Broad is a contemporary art museum featuring a dynamic collection of art from the 1950s to today. The Broad features more than 2,000 works from over 200 artists and is notable for maintaining one of the premier contemporary art collections in the world. One of the museum's biggest draws is its collection of Yayoi Kusama's two Infinity Mirrored Rooms. These heavily-instagrammed rooms feature countless pulsing points of light reflected in water and mirrors to create a sense of infinity. Other featured artists include Cindy Sherman, Takashi Murakami, Andy Warhol, Mark Bradford, and Jean-Michel Basquiat, among many others. 
Visitors are welcome to explore the museum, but free group tours are also available each Friday. Guests are also invited to access a selection of digital resources to enhance their visit, including a mobile museum guide and free audio tours. A collection of art workshops is also available online to explore art activities with your family.
Baltimore Museum of Art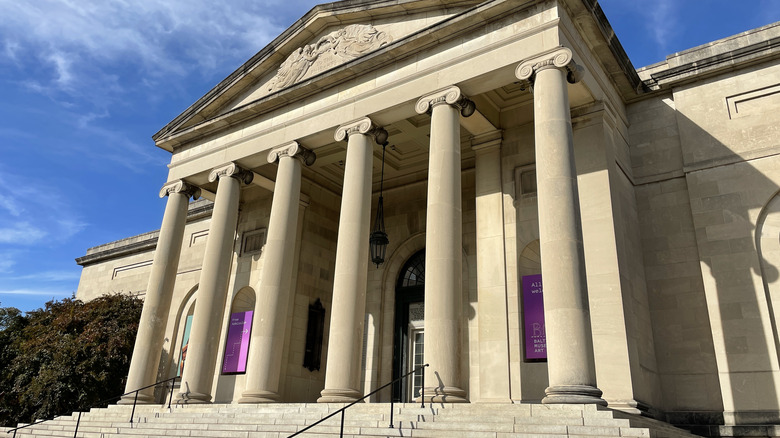 Douglas Rissing/Getty Images
Founded in 1914 and currently housed in a 1920s neoclassical building designed by John Russell Pope, the 210,000 square-foot Baltimore Museum of Art boasts a collection of 97,000 artifacts and works of art spanning continents and eras with a special emphasis on 18th- through 20th-century art. The Nancy Dorman and Stanley Mazaroff Center for the Study of Prints, Drawings, and Photographs features thousands of photographs and drawings, including 57,000 prints with art dating from the 15th century to present. 
Located adjacent to the Mazaroff Center is the Ruth R. Marder Center for Matisse Studies, which includes a dedicated exhibition gallery, library, and study room containing more than 600 works by French visual artist Henri Matisse. The Matisse collection is part of the museum's larger Cone Collection, a collection amassed by sisters Etta and Claribel Cone. The Cone collection also includes works by Van Gogh, Gauguin, Degas, Cézanne, and Picasso. 
Getty Villa Museum and Getty Center in Los Angeles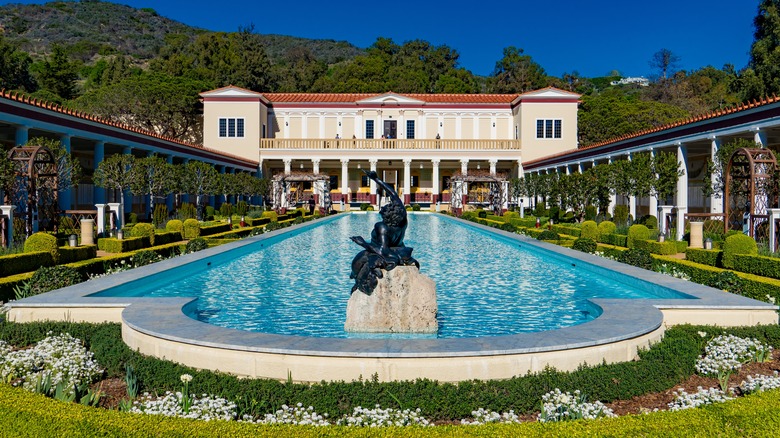 Arellano915/Shutterstock
The Getty Center is an expansive visual art and cultural heritage center with two Los Angeles locations. Expanded from the private collection once housed in J. Paul Getty's Pacific Palisades home, the Getty Center branch is located in L.A.'s Brentwood neighborhood. Before visiting, guests can download a free app featuring an audio tour and other information meant to enhance their experience.
Upon arrival, visitors are invited to stop by the Lower Tram Station and board a tram that climbs to the top of the Getty Center. The museum's art collection features art dating back from 6,000 BCE, through modern art from the present day. Getty's medieval and Renaissance works include rotating manuscripts, decorative arts, and sculpture. Here, guests can also view Italian art and sculpture from the 1600s and French decorative art including furnished rooms. Outside, visitors can take a walk through the grounds to view contemporary and modern sculptures.
The second location, the Getty Villa Museum, is located in the Pacific Palisades. It lets visitors take a walk through the ancient world as they wander through a recreation of a Roman country home filled with Greek and Roman antiquities. The villa itself is based on a Roman home known as the Villa de Papiri, which was destroyed in the eruption of Mount Vesuvius.
Chicago Cultural Center
First opened in 1897, the Chicago Cultural Center was the first free municipal cultural center in the United States. Located downtown, the building itself is a Chicago landmark and is a popular destination for visitors to the area. A neoclassical and Italian Renaissance-inspired marvel, the building features details like Doric columns, coffered ceilings, Vermont and Carrara marble, stained-glass domes, mosaics, and a three-story vaulted lobby. It's known locally as "The People's Palace." On the Center's west exterior facade lies a Kerry James Marshall mural "Rush More," which is dedicated to culturally impactful Chicago women like Gwendolyn Brooks, Oprah Winfrey, and Sandra Cisneros.
The Center's Exhibitions Program features rotating cultural and visual art exhibitions. Some of the Center's past exhibitions have included "The Great Chicago Fire in Focus," "Nelly Agassi: No Limestone, No Marble," and the immersive "Luftwerk: Exact Dutch Yellow." The Center also features an interactive learning lab tasked with providing hands-on art experiences for a wide range of ages and abilities.
The Museum at FIT in NYC
For anyone who loves fashion, no trip to New York should leave off a stop to the Fashion Institute of Technology's (FIT) fashion museum. Part of the State University of New York (SUNY), FIT is an industry-specific college that provides a comprehensive education in all aspects of the fashion industry, including business, mass communication, art, design, and technology. In 1969, the college founded the Museum at FIT — initially called the Design Laboratory — to present a public collection of fashion-related textiles, clothing, and accessories. Today, the museum's permanent collection includes more than 50,000 garments and accessories.
Inside, guests will find three galleries to explore. On the main floor, a rotating collection presents around 200 pieces from FIT's permanent collection as part of the Fashion and Textile History Gallery. The second gallery features rotating exhibitions on every imaginable fashion-related subject. A few notable examples of past exhibition topics include "The Corset: Fashioning the Body," "Dior + Balenciaga: The Kings of Couture and Their Legacies," and "Fashion Underground: The World of Susanne Bartsch." A third gallery is dedicated to presenting fashions from FIT faculty and student collections. To give visitors more insight as they browse the galleries, FIT also offers a free digital guide.