Simple Ways To Repurpose A Wine Cork To Make Packing For Your Next Trip Even Easier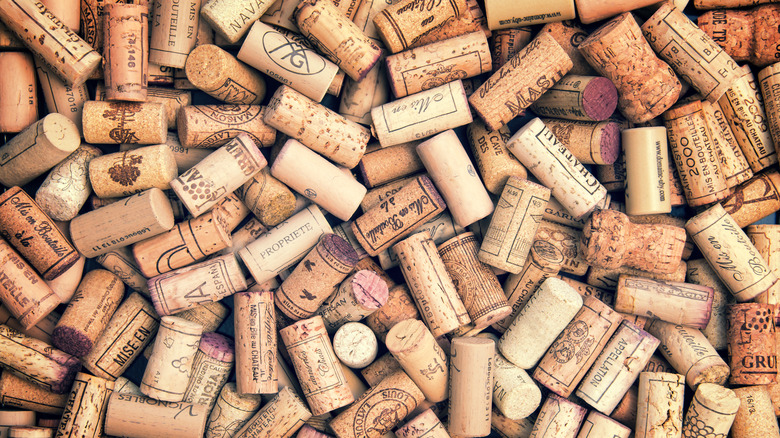 Delpixart/Getty Images
It can be refreshing to discover that it's the simple things in life that prove the most useful every once in a while. This sentiment can be particularly evident when it comes to uncovering hacks when it's time to pack for upcoming travel. If you're the type of explorer that's always looking for routes to make travel organization more efficient, there's a good chance the tools you need are already sitting right in your home.
Whether you've recently hosted a gathering; invited friends to dinner; or simply enjoyed a sip of your favorite red, white, or sparkling varietal, you might just have a wine cork or two within easy reach. If you do and you happen to also be heading out in the near future on a journey, these small yet useful items can be surprisingly handy when it comes to making your packing process more streamlined. They can provide a no-cost path to keeping some of the smallest items in your suitcase easily accessible and organized while in transit.
According to the Cork Quality Council, around 13 billion wine corks are produced and sent out in bottles each year across the globe. This means you should have no trouble accessing a few extras to work into your packing plans. Instead of tossing them out, consider repurposing one or two to keep your jewelry and cords organized. You can also use them to create a custom pushpin board.
A simple solution for earrings and cords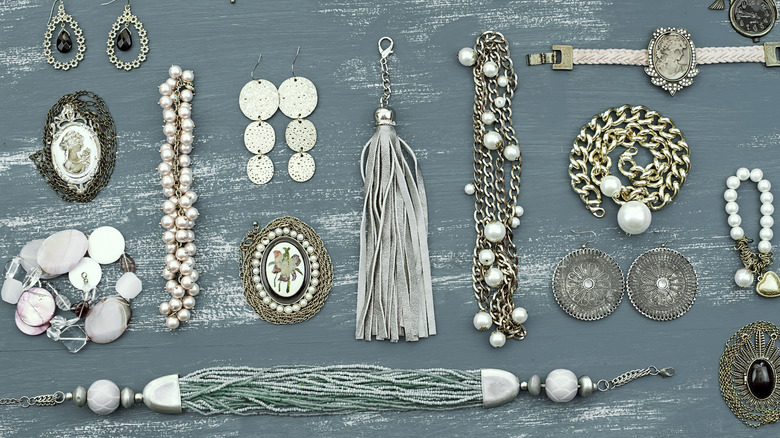 Evgeniia Khmelnitskaia/Getty Images
Packing jewelry can be frustrating. Yes, jewelry is perfect for accessorizing the outfits you're packing. However, finding a way to travel without losing small earrings, tangling necklaces, or misplacing rings can be understandably stress-inducing. Fortunately, repurposing a single wine cork could help solve the problem. Wine corks are durable but also pliable making them ideal for packing earrings. All it takes is inserting the back of a stud earring into the cork to secure it in place.
This method ensures earrings won't dislodge in your suitcase while traveling and you can likely fit a couple of pairs in a single cork. Put the earring backings in a plastic bag in your purse, and you can be on your way without worry. The same strategy works just as well when you're looking to pack brooches or any other small jewelry item that has a sharp backing and could get lost in transit.
Beyond keeping jewelry in its place, a wine cork can be repurposed as a headphone holder too. This works well for plane rides or car trips where kids are traveling with everything from phones to portable video game consoles that come with long cords to contend with. Press the charging end of the cord into the bottom of the cork to keep it secure. You can then wrap the cord carefully around the wine cork to keep it in place until it's ready to be used and bid farewell to annoying tangles.
They can be used for displaying packing lists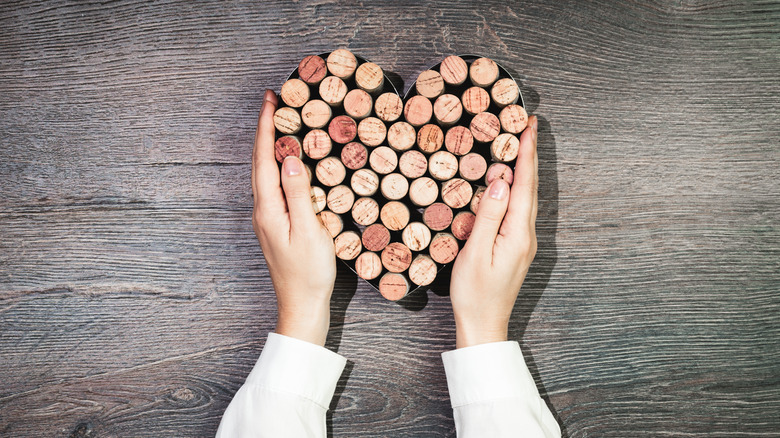 taniascamera/Shutterstock
A collection of repurposed wine corks can even go so far as to be repurposed to help you get organized well ahead of your travels. Gluing leftover wine corks to a firm backing is a quick and simple way to create a customized pushpin board. This can be used to keep your packing list within eyesight while you're getting ready to hit the road or skies.
RV travelers will find that a repurposed wine cork noticeboard is also a great addition to their interior space. Consider attaching it to your RV fridge as a place where everyone in your traveling crew can leave notes or reminders as needed while you journey. While it's certainly a useful tool, it also adds a fun decorative touch to your travel space that can be moved around whenever you'd like.
Whether you're organizing jewelry, keeping cords untangled, or making it easy to view reminder notes, wine corks have many unique packing purposes. The next time you travel, be sure to put a few to use. You might be surprised at just how much they can streamline your process.