The Best Way To Pack Jewelry (And Avoid Tangling)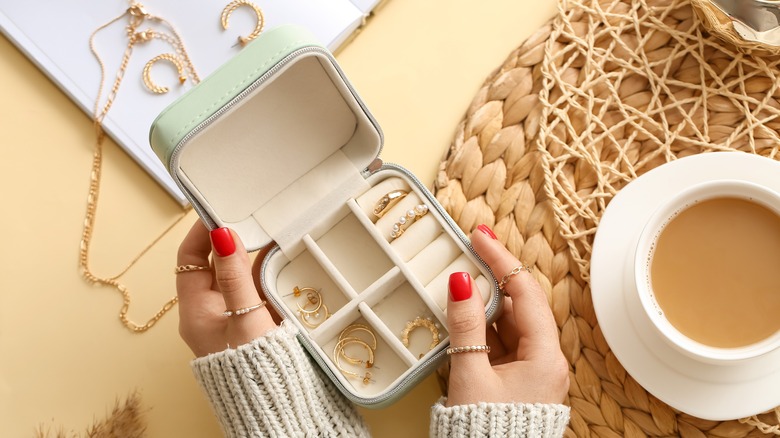 Pixel-Shot/Shutterstock
The anticipation of an upcoming trip can certainly be exciting for travelers. Whether you're looking forward to exploring a new destination or you're returning to a favorite location once more, just knowing the adventure is ahead can be half the fun. However, one aspect of travel that might take a little shine off of the experience is packing.
Packing can be a stressful part of any journey whether it's for business or pleasure. While some travelers are worried for weeks ahead of time about overpacking, others feel they never pack enough. From stressing about excess baggage fees to anxiety around losing precious items while traveling, packing comes with plenty of details to consider.
Having a few viable strategies on hand for packing some of the most frustrating items in your suitcase can make a big difference in reducing those stress levels. Among the more difficult items to pack and keep track of is jewelry. Knowing you want to showcase your favorite accessories during your travels is justified. Making sure it all arrives at your final destination tangle-free takes some dedicated planning and effort.
Spending a significant amount on hard-covered jewelry cases for individual pieces is always an option for travelers. It's also unnecessary if you're looking to save time and money. Instead, there are plenty of ways to pack your favorite jewelry that come with minimal costs included and are equally effective.
Keep small jewelry items secure during transport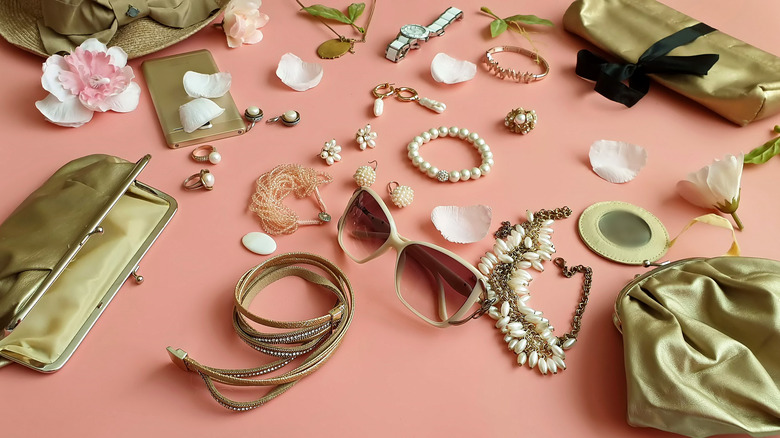 PHOTOARTDESIGN/Shutterstock
The Federal Aviation Administration serves nearly 3 million airline passengers daily. That's almost 3 million opportunities for travelers to discover upon landing that the jewelry they've packed is helplessly tangled or entirely out of place. Small jewelry pieces can be particularly tricky to pack and easy to lose along the way.
Fortunately, there are a variety of savvy packing options for securing small accessories like rings, earrings, and bracelets. Travelers can consider transforming a traditional pill organizer into an easy packing solution for stud earrings and rings. The compartments are already conveniently separate and secure. Additionally, there are options to separate jewelry by the day of the week for wearing once you get where you're going.
If you're traveling with a minimal number of small jewelry items, a mint tin might work just as well for easy and secure packing. Add cotton inside the tin to keep jewelry from getting scratched if the tin gets jostled during travel. An old glasses case is a great solution for keeping bracelets tangle-free during travel too.
Those who don't want to risk losing earring backs will find an eraser to be a simple and effective solution. This will help keep earrings in place while traveling. A styrofoam plate or an old wine cork also helps keep your earrings secure.
No-stress solutions for packing necklaces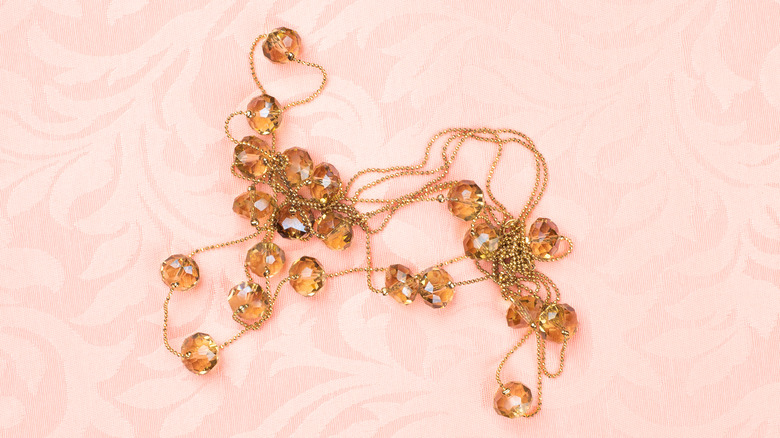 Candace Hartley/Shutterstock
A necklace can stylishly finish off an outfit. It's also one of the most frustrating items to secure in a suitcase. Anytime there's a necklace involved in packing, the tangling potential is high. Fortunately, something as simple as plastic wrap can help avoid a jumbled mess of chains and baubles at your final destination. Take time to cover each necklace individually in a piece of plastic wrap before packing to keep the jewelry successfully separated during travel. Since the wrap is reusable, you won't have to spend time looking for more before returning home.
Another easy strategy for keeping necklaces untangled in a suitcase starts with laying each necklace out flat on a washcloth. Roll the washcloth up securely and fold it in half before securing the ends with a rubber band. When you get where you're going, each necklace will be separated and safe and you'll have a few extra washcloths to use during your trip too.
Travelers with extra drinking straws at home will find these items are also great for keeping necklaces untangled while traveling. Simply thread one end of the necklace chain through the straw. Attach the chain ends at the top of the straw before packing and you'll enjoy a tangle-free journey.
Whenever you travel, packing jewelry strategically is a stress reducer. Forget the costly packing accessories and put these strategies to work instead. You'll be on your way to a tangle-free experience in no time.