15 Most Charming Small Towns To Visit In Virginia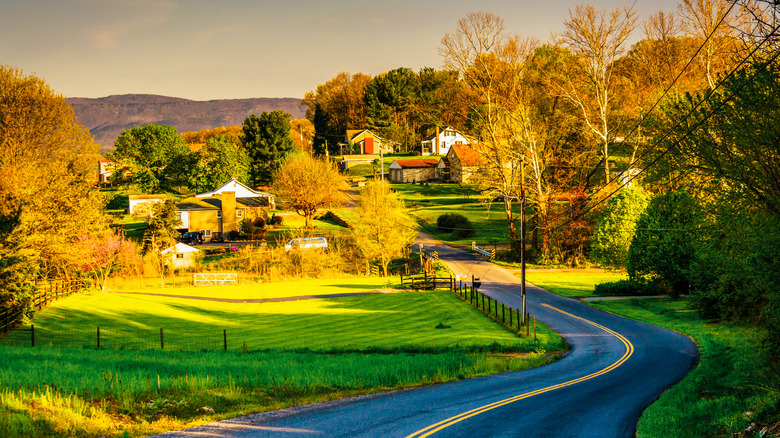 Jon Bilous/Shutterstock
Sure, bucket-list vacations to bustling metropolises are great, but where's the love for the little guy? Small towns can make for a spectacularly relaxing getaway, especially in Virginia, where you'll find that no two places are at all the same. From island towns to communities nestled in the mountains, there is a whole lot of charm in Virginia soil, you just have to know where to look.
The Old Dominion is quite the nature lover's paradise with natural wonders hidden across the state. The Blue Ridge Mountains and Appalachians rest to the west and the Chesapeake Bay and Atlantic Ocean are to the east. Mountain peaks, rivers, hiking trails, estuaries, and cave systems are all found in Virginia with communities built around them. Considering nearly a third of Virginia's population lives in NOVA — or northern Virginia — that leaves a lot of the state open for smaller pocket communities to be planted within and throughout all that nature.
For all these reasons, Virginia has some of the best small towns and communities in the country. Whether it be for their revitalized Main Streets and downtown districts; their historical relevance and dedication to preservation; or the nature surrounding them, these contributions to small-town America stand out for the better.
Gordonsville
It's nearly impossible to drive through Gordonsville during the holidays without a smile on your face. The tiny central Virginia town takes great care in stringing each tree along Main Street with lights during the holiday season, creating an illusion of endless lights. The whole town is illuminated as the shops along Main Street also have their fair share of holiday decorations and festive display windows.
Speaking of the small town's Main Street shops, every one from the curated antique shops to the wide-ranging eateries oozes charm with each detail chosen with intention. Well-humored wine lovers can head to Well Hung Vineyard for a dinner-and-wine pairing while coffee lovers will find solace at Krecek Kakes Bakery & Coffeeshop. Businesses that contribute variety and creativity to both the town and Main Street include Folking, a vintage and handmade clothing store, and Stokes of England, which is a custom blacksmithing shop with an in-house forge.
In addition to the many shops on the town's main strip, Gordonsville holds a makers' market every first Friday of the month as well as sporadic seasonal markets. Attending a holiday market under twinkling fairy lights strung from trees is an absolute vision, and travelers who are partial to a Hallmark holiday should certainly put Gordonsville on their small-town bucket list.
Sperryville
No matter which direction you're coming into Sperryville from, the view is immaculate. In the spring and summer, you can expect lush rolling hills while autumn brings canopies of bold, vibrantly colored trees. Wintertime in the mountain foothill town is no ugly stepsister either, as she bares all and creates a gorgeous landscape of nature's artfully crafted trees and ridges.
Sperryville is just a blip on the map, but the town of just under 300 people is one of the most interesting small towns in Virginia. The town has an eclectic mix of residents and businesses. While there are extensive horseback riding and golf scenes in the area, Sperryville would also appeal to many more crunchy and creative lifestyles. In the approximate square mile that is the main part of town, there are various galleries and art-centric shops including an artists' co-op. For the traveler guided by more spiritual means, Abracadabra Massage and Wellness is a popular holistic and metaphysical spa on Main Street.
The tiny town offers a respite for hikers and outdoor adventurers, as Sperryville is situated near some of the most popular trails in Virginia. Old Rag Mountain is right down the road, though you'll want to be a relatively experienced hiker for the viral hike. Taking the opposite route out of the town will deliver you directly to the entrance of Shenandoah National Park and the Blue Ridge Parkway, one of the most popular National Parks sites in America.
Luray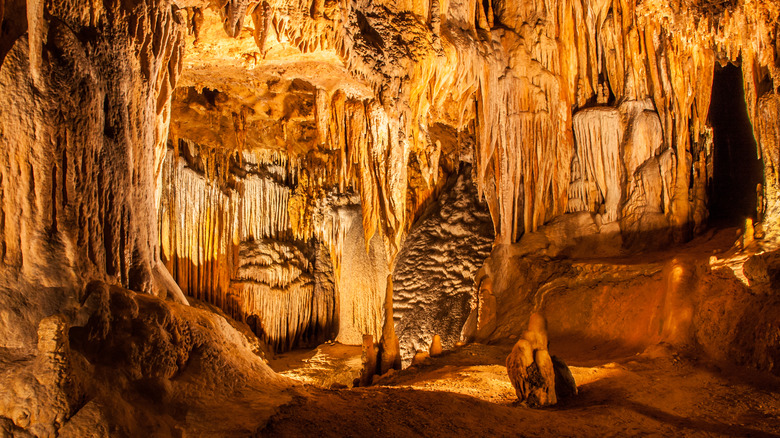 Mizc/Getty Images
Just on the other side of the mountain from Sperryville is Luray, and here tourism is king. The small town is home to Luray Caverns, one of the largest caverns in the United States and an attraction that people from all over the world come to see. While Luray is on the map due to the caverns, it's becoming quite the hot spot with its Main Street quickly developing into one of the most charming in the state. It includes a local brewery; the town's very own historical, intricately decorated first-run theater; and a number of other locally owned businesses, quite a few of which are owned and operated by members of the LGBTQIA+ community.
Luray is also quite the destination for hikers and river rats. Located in the Shenandoah Valley and surrounded by the Blue Ridge Mountains and the Massanutten Mountains, Luray is practically surrounded by hiking trails. With the Shenandoah River running through the area, residents and visitors are also fond of tubing, kayaking, canoeing, and fishing on the river.
Culpeper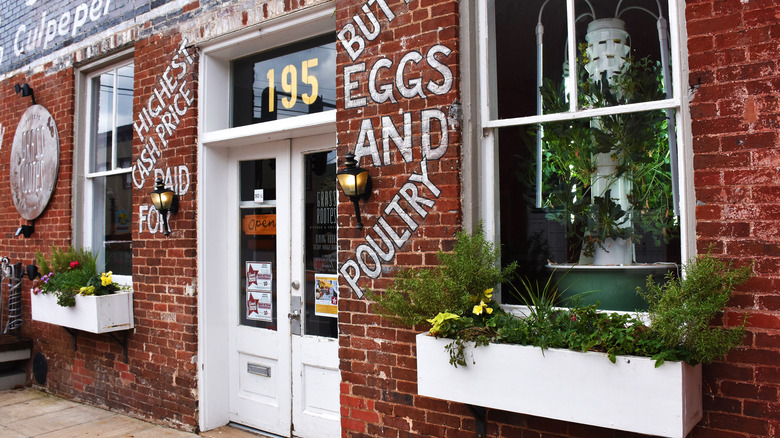 refrina/Shutterstock
For a small town, Culpeper has quite a lot going on. Rather than a central, simple Main Street, their collection of eclectic shops, restaurants, and breweries extends a few blocks to create a downtown that rivals that of a lively city neighborhood.
As a steadily growing town, Culpeper is developing its downtown district relatively quickly and a visit here could easily fill a full day with walking the area and visiting anything that catches your eye. You'll find two local breweries in this area: Far Gohn Brewing Company and Beer Hound Brewing, which are just two blocks from one another. Bakeries, coffee houses, and ice cream shops are also in the area with plenty of shopping destinations scattered in between. Botanical Dwellings, Poppy + Chalk, Green Roost, and Le Monkey House are popular shops that may hold the perfect takeaway.
The central location of the town puts it in perfect alignment for a lot of different routes through Virginia, so if you're taking a road trip and passing through the state, chances are you can easily fit in a stop in Culpeper. Whether it's just for a cup of coffee, a full meal, or a stroll through Main Street and its connecting streets to stretch your legs, a pitstop here is well worth it if you find yourself in its vicinity.
Martinsville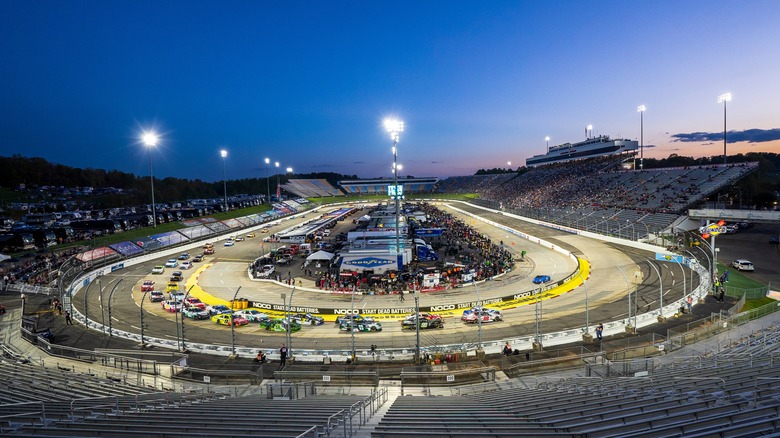 Grindstone Media Group/Shutterstock
Located in southern Virginia and under a half hour from Fairy Stone State Park, Martinsville is an oasis of activity smack dab in the center of a whole lot of natural wonder. With the state park to the northwest and Smith River to the south, visitors can choose between heading into the wilderness or traversing the water.
There are still draws for those who would rather keep out of the woods, though, as Martinsville is home to its own speedway, which is the shortest track on NASCAR's circuit. If you're a fan of racing, the town's track brings the audience closer to the action and it's worth planning a visit here around the attraction's major race weekends.
The antiquing opportunities around Martinsville are enormous as well, with a number of businesses dedicated to vintage clothing and relics from times gone by. Junk and Disorderly is a great stop for those looking for refurbished furniture with a mix of farmhouse and antique decor. Fieldale Antiques is 10 minutes away in nearby Fieldale, and is a necessity for those who love everything retro, as the shop is found within an old Shell gas station and still has original features, like the pumps out front. No matter what you choose to do in and around Martinsville, though, you'll have a charming time.
Abingdon
For the traveler looking to have a cultural experience while also becoming one with nature, Abingdon is a great choice. Art in all of its forms can be found here, from local artisans to live theater in a historic playhouse. Quite a few artists in the area also like to incorporate nature found here into their creations, and it's really no wonder why, as the area is stunning.
This historic town's perfect mix of old and new paints such a picturesque view that it almost seems unreal. Abingdon's charm is certainly real, though, and exploring Market District and its many unique businesses will give you the full effect. Swing by The Arts Depot for a peek at what local artists have to offer, and the farmers' market for fresh, locally sourced produce and crafted items available from locals.
The district, as well as the town itself, leaves you slightly off-kilter, as it appears like it's from another decade while still offering all the modern accommodations. Instead of off-putting, though, the contradictory traits just add to Abingdon's appeal and are all the more reason to visit this little southern town.
Lucketts
While not an official town, the hamlet of Lucketts in Loudoun County has more charm than it knows what to do with. Actually, it's creative and innovative enough to make use of practically anything, as made evident by the many vintage shops. The little community is certainly one of Virginia's hidden gems, and a must-visit for anyone interested in antiquing.
One of the biggest and best shops in the area is simply The Old Lucketts Store. The shop is so substantial that you will think the hamlet was named after it instead of the other way around. Decorated gorgeously, the three-story shop constantly changes its inventory and rearranges for regular seasonal and holiday markets. The markets are so popular that tickets must be distributed in order to keep the shop from becoming overcrowded, and they typically go quickly. The antique shop almost doubles as an experiential attraction, and even if you walk out empty-handed, you'll be glad you strayed into the lovely store. Plus, there are plenty of other antique markets in the area to discover as well.
Staunton
If Virginia is for lovers, Staunton is for history buffs. While the vast majority of towns in Virginia are rich with history, Staunton practically smells of it. The town is made up of six historic districts that have their own personal flair, but admirable architecture that is from the 18th and 19th centuries. Not only does the town have a number of niche historical museums, but also an authentic Shakespearean playhouse.
The American Shakespeare Center's Blackfriars Playhouse is the only recreation of Shakespeare's indoor theater of the same name and great care has been taken to get many details historically accurate to how productions were presented back then. With the tagline, "We do it with the lights on," the playhouse displays performances in full light and even offers select seating right on stage with the actors.
As the birthplace of President Woodrow Wilson, Staunton naturally has plenty of homages to the historical figure. What may not be expected of the town is its love of all history, as there are museums dedicated to antique cameras, fire engines, and plenty of art. Art lovers will appreciate the R.R. Smith Center for History and Art , which has a wide range of art offerings. This is just the tip of the iceberg in what Staunton has to show history lovers, though, as its full historic contributions can only be appreciated in person.
South Boston
Before you even ask — yes, the town is named after the city in Massachusetts and no, we do not know why. The two destinations don't have much in common, except for their considerable charm. The town in southern Virginia manages to appear both quaint and impressive with a downtown of older buildings that center on a town hall that stands tall and acts as the perfect focal point.
South Boston has been actively revitalizing its downtown and historic district, and their success in the endeavor clearly shows. A number of new businesses have started up, adding to the clear enchantment and homegrown vibes that the small town gives off. Mother Cluckers and Wister's are both attractive shops with curb appeal that will naturally have you gravitating toward them.
Aligning a trip with the annual South Boston Harvest Festival where various local vendors display their goods is a great way to make the most out of visiting the town, especially if you're bringing the whole family. It can get a little crowded, though, so if you're looking to experience South Boston in its simplest, quietest form, stick to any other time of the year. The summer farmers' markets may be a happy medium.
Saint Paul
As with a lot of towns in Virginia, Saint Paul's backyard is lush with trails and water sports. Saint Paul provides access to Spearhead Trails, a southwest Virginia trail system that makes it easy for explorers to traverse the wilderness and mountains via foot, bike, or ATV. If you're not up for a grueling hike, though, the town of under 1,000 residents also boasts numerous water activities thanks to its vicinity to Clinch River.
For such a small town, Saint Paul has a good amount of local eateries to fuel your outdoor adventures. Fat Boy's BBQ and Giovanni's Pizza are both local staples and there are a couple of coffee shops that can be found within the town as well.
Summer is the best time to visit Saint Paul to experience the active outdoor scene, as Clinch River Adventures is seasonal and the best way for non-locals to hit the river on tubes or kayaks. Adventures on the river can last 2 or 7 hours with the company, and it's a great way to insert yourself into nature and relax at the same time.
Winchester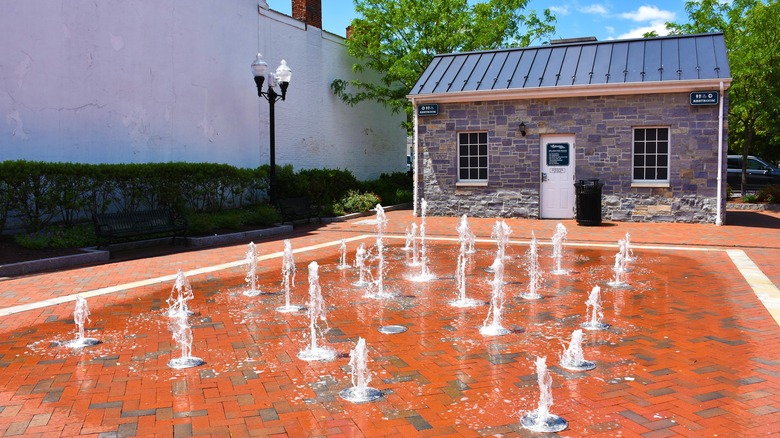 refrina/Shutterstock
Winchester is one of the most populated towns on the list and, naturally, the northwest Virginian town has more of a city feel than the otherwise tiny towns mentioned here. That's not to say that the town isn't charming, though, as Main Street and downtown are both absolutely stunning.
Old Town Winchester is home to a number of shops, dining establishments, and family-friendly activities that will make sure the whole family has a great time. The Shenandoah Valley Discovery Museum includes three indoor floors and a rooftop of activities, making it a destination that a child could interact with for hours. The Old Town Winchester Splash Pad offers a way for kids to cool down in the summer months.
The shopping in the main district is eclectic and diverse, with something for everyone among the many local businesses spread throughout the area. Art is also an important aspect of Old Town, with the ArtScape program inserting local art throughout the district and two live theaters located in the area. There is so much to discover in Old Town Winchester alone, and with the town being much more expansive than its downtown district, you could spend quite a lot of time exploring the charming not-so-little town.
Ashland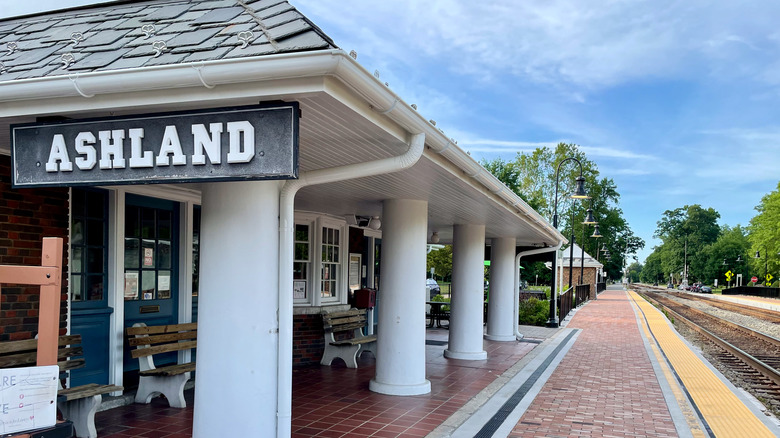 John M. Chase/Getty Images
Not only have locals dubbed Ashland the "center of the universe" (with a local brewery named after the motto), but the central Virginian town is also only just up the road from Virginia's capital of Richmond. This makes a visit to Ashland pretty prime for travelers who want a small-town experience with access to a large, open-minded city.
Ashland has a history of being a railroad town and although it is still very much built around the industry, now it's booming for other reasons besides the railroad. Walking tours and ghost tours are popular in the town, a lot of which focus on the (sometimes dark) history of the tracks. Community is strong in Ashland and visitors can very easily mingle with locals by patronizing bars like Andy's Restaurant & Lounge or attending one of the Ashland Street Parties. The little town exudes charm and is a perfect destination for those who value art, music, and history.
Chincoteague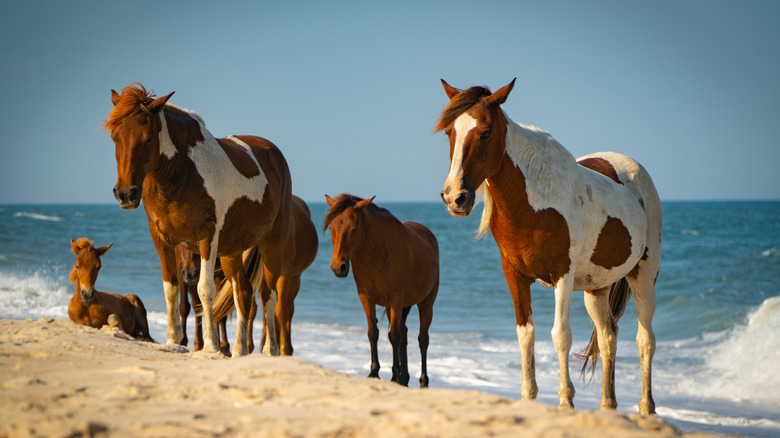 amygofish/Shutterstock
The eastern part of Virginia is home to numerous coastal towns, estuaries, and tiny islands. Chincoteague is one such island and is famous for the wild horses that can be found here and on nearby Assateague Island. The horses' origins are obscured by the past, but some say the current horses are descended from those that survived a Spanish shipwreck. Whatever their true history, though, the horses are things of legend and people come from all over to see them.
Once a year the horses swim from Assateague Island to Chincoteague — and it's kind of a big deal! Locals and visitors gather to watch the Chincoteague Pony Swim, and then a number of younger horses are sold to the highest bidders in an effort to keep the herd from getting overpopulated. The Chincoteague Pony Auction benefits the local volunteer fire company, and the event is celebrated with games and vendors, making it an ideal time to visit the little island. Though, you will not be disappointed with a trip to Chincoteague any other time, either. Water sports, cute shops, and great views are among the many things visitors can look forward to in the small island town.
Kilmarnock
Kilmarnock has one of the most bustling small-town Main Streets in Virginia. The town has over 50 businesses for visitors and locals alike to busy themselves with during a day walking the Steptoe's District. As wonderful as the lively town itself is, the surrounding area is full of exciting outdoor attractions as well.
The small town is a part of Virginia's River Realm, a collection of communities where the Chesapeake Bay and the Rappahannock River meet. Naturally, there are plenty of opportunities for locals and visitors alike to get out on the water. Boating, fishing, and kayaking are all popular on the Chesapeake Bay, as well as learning about conservation.
Kilmarnock itself looks like the picture-perfect community, and downtown is the place to be. With various businesses focusing on unique home decor and clothing, there are nearly endless options for what you can bring home from the town. Whether you want to spend a day on the water or explore downtown, Kilmarnock is a sweet slice of small-town Virginia and shouldn't be overlooked.
Smithfield
Located in the coastal Hampton Roads region, Smithfield is a beautiful city. The historic architecture keeps the town's classic look while improvements to downtown have created a community space where locals and travelers can gather. Very much a water town, Smithfield sits on the Pagan River and is a stone's throw away from the Chesapeake Bay. Unlike with a lot of popular river towns in Virginia, the land around Smithfield's Pagan River is more akin to wetlands and water activities are less appealing here than in other towns throughout the state. 
That doesn't mean residents don't take advantage of their assets, though, because many activities and festivals use the water as a backdrop to elevate any experience. Smithfield is all about hosting events and festivals for the community to enjoy, whether it be music, food, or holiday festivals. Before you head to Smithfield, take a look at what is going on locally and try to plan your trip to overlap one of the town's many happenings.