Hardside Or Softside Luggage: Which Fits Your Travel Style?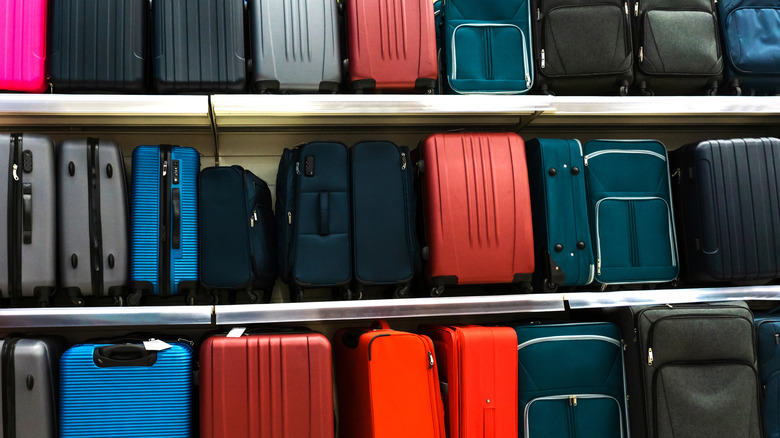 Dmitry Markov152/Shutterstock
When it comes time to replace your luggage or purchase your very first luggage set, there are seemingly endless factors to consider. From style and size to material, organization, and wheels — the list goes on! While the decisions can seem overwhelming, taking the time to select a luggage set that works best for your lifestyle can lead to more enjoyable trips in the future. While you won't get a monetary return on it, it is most certainly an investment. What you get out of it will come down to your travel needs. Do you want to travel in style? Keep your valuables safe and secure? Be able to spot your bag instantly in a sea of black? All of these are very important aspects. However, the first step to consolidating your options is first deciding whether or not you want to go hardside or softside?
Softside luggage is the most common type of luggage and a classic choice for travelers everywhere. On the other hand, hardside luggage is a newer and increasingly popular type of luggage typically made of lightweight but hard plastics or aluminum. They will also usually have a TSA-approved lock built into the body. There are pros and cons to both types of luggage though. So it's important to consider your individual needs as a traveler when deciding between the two. 
Pros and cons of hardside luggage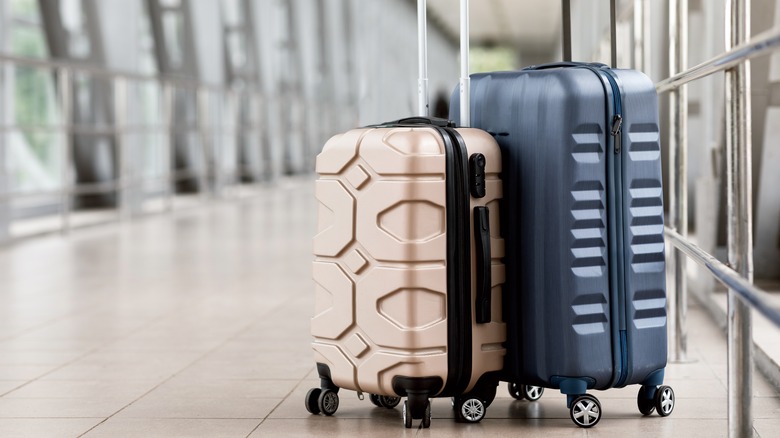 Prostock-studio/Shutterstock
Hardside luggage has come a long way since the advent of wood and leather steamer trunks from the 19th century. Today, most hardside — also called hardshell — luggage is made of aluminum or polycarbonate, a type of durable, lightweight plastic. Since their invention and still, to this day, people have chosen hardside luggage for its stylishness and durability even if they weren't as easily maneuvered since they can handle the wear and tear of travel better than softshell luggage. Hardside luggage also tends to be more secure as they are harder to break into. Additionally, they are also waterproof. So if you're going to a rainy or snowy place, your valuables will be protected.
Some cons of hardside luggage are definitely its limited organization. There just aren't as many pockets and compartments, though this can be remedied with some luggage organizers like packing or compression cubes. Hardside luggage also lacks "stuffability" since there's a pretty solid limit on how much you can cram into a hardshell. Once it reaches its limit, good luck getting it closed and make sure to pray to the zipper gods! Finally, while they are definitely lighter in weight than they used to be, a hardshell suitcase is still going to be heavier and bulkier than softside luggage. This is a real problem if you're trying to maximize your travel wardrobe but your bag is taking up precious pounds of your checked-baggage weight limits.
Pros and cons of softside luggage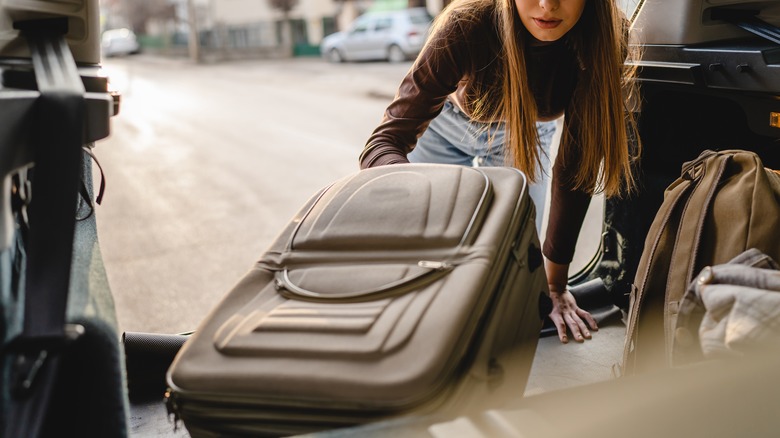 Miljan Zivkovic/Shutterstock
Softside luggage is a great choice for travelers looking for lighter-weight luggage that is easily organized, stuffable, and cheap to replace. Most softside luggage comes with plenty of pockets and compartments, making it easy to store items in a more orderly fashion. Additionally, most luggage can expand significantly, allowing you greater stuffability so you can cram more into your bag without worrying about zippers or seams splitting open. Furthermore, these bags tend to be cheaper than hardside cases which makes them ideal if you're on a budget since they can also be easily replaced if something happens or gets lost during transit.
Softside luggage is often preferred for its lightweight and flexible design, but it does have some cons. Softside luggage can be easily broken into and items might fall out in transit if not properly secured. So if you do purchase a softside bag, be sure to use TSA-approved locks and don't overstuff it too much. No one wants to see your unmentionables displayed on the baggage claim belt! Additionally, they are not as durable and can tear or rip if handled roughly as they often are with time-pressed and careless baggage handlers. Softside luggage can also be bulky when fully loaded making it difficult to pack into car trunks or in train or bus storage areas.