The Complete Packing Guide For Hiking England's Coast To Coast Walk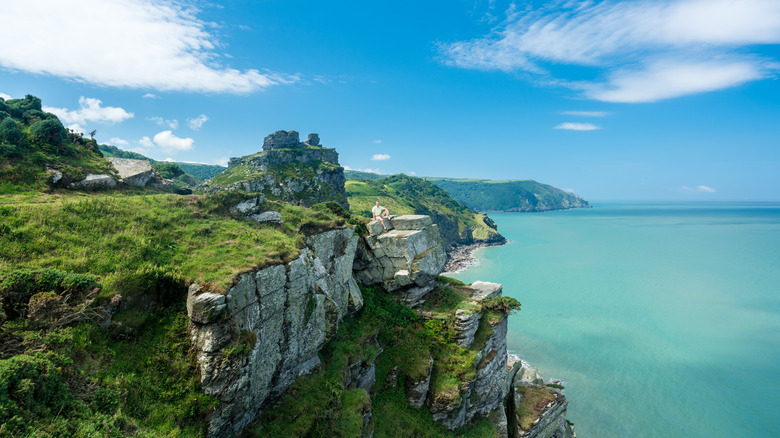 Backyardproduction/Getty Images
England's Coast to Coast Walk is roughly 190 miles long and typically takes anywhere from 12 to 15 days to complete for both newer and experienced hikers. For most adventurers, traversing this picturesque footpath is high on their bucket lists. And with front-row views of England's countryside and stunning coastal areas (stretching from the Irish Sea at St. Bees to the North Sea at Robin Hood's Bay), it is definitely not difficult to see why. Still, there is no denying the fact that hikers and walkers have their work cut out for them here. So, having the right gear, equipment, outerwear, clothing, boots, and more is crucial.
That said, if this is your first time packing for such an adventure, you may not know where to begin. But there is no need to panic — just like any other kind of getaway, future Coast to Coast explorers should start with the right bags and a tailor-made packing list. Whether you opt to walk this footpath alone or via a guided excursion (most companies will assist you with baggage transfer and other logistics), you will still need to pack those bags accordingly and have all the essentials. So, to help, here is your complete packing guide for hiking England's Coast to Coast Walk.
Need-to-knows before you go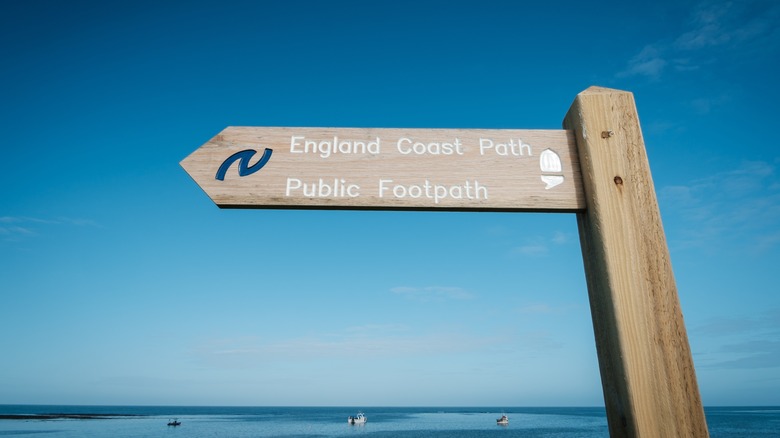 Philip Mowbray/Shutterstock
With nearly 200 miles of ground to cover, the Coast to Coast Walk is a serious trek you should not underestimate — no matter your skill level. Along this moderately challenging multi-day hike, trailblazers will encounter mixed terrain and diverse weather. So a decent level of fitness, protective gear for all the elements (especially rain), and a realistic amount of rest days in your itinerary are required here.
In addition to these need-to-knows, coastal explorers need to book early and prepare ahead of time. Everything from your itinerary and guided tour to your accommodations needs to be handled well in advance. Lodgings are rather limited along this footpath, and larger groups will need to do a little extra legwork to ensure everyone can be accommodated. Another important tidbit to keep in mind during the planning stages is where you will take your rest days and on which day of the week. It also pays to remember that Tupperware containers and BYOB coffee or tea are your friends here, and forgoing walking or trekking poles is ill-advised. 
On a lighter note, there is a long-standing tradition of hikers washing their boots in the Irish Sea and collecting a pebble from the beach as they embark upon their journey. Once at the North Sea (at the walk's end), accomplished trailblazers dip their footwear again and release the pebble into the water to mark the completion of this incredible feat — so don't forget to join in and celebrate this accomplishment at the end of your journey!
Backpack and bags
Andy Wasley/Shutterstock
When packing for this adventure, you need the proper luggage. Of course, certain factors like trip length, accommodations, baggage transfers, style of hiking, and more come into play here. For instance, if you are a fast hiker who plans to spend only part of the trip in standard lodgings, you will most likely need a lightweight but rather large hiking backpack (a 65L bag)  that can hold all your necessities without weighing you down.
Alternatively, suppose you are more of a leisure hiker who plans to take advantage of the various lodgings along the way and possibly baggage transfers. In that case, a larger bag (a 36L bag) for all your packables, a waterproof 18L daypack, and a set of Sea to Summit dry bags will suit you best. With that in mind, the minimalistic approach to packing here is still highly recommended. Whether it is clothes, food, or gear, you want to avoid overpacking to ensure that your duffle bag, hiking backpack, or lightweight suitcase is easy to carry. Once you have got your bags all picked out, then you can start making your hiker's packing list.
Camping must-haves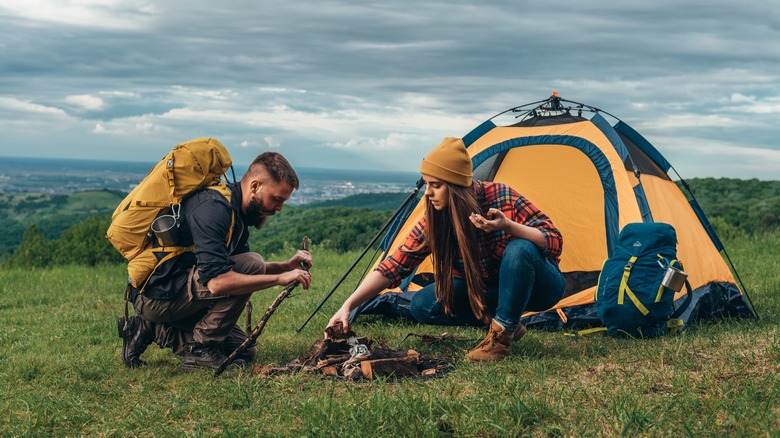 Zamrznuti tonovi/Shutterstock
Since lodgings are limited and can often get up there in price during peak season, many Coast to Coast hikers opt to camp. With over 80 possible camping sites littered across this beautiful scenic route, trailblazers can enjoy first-rate camping, glamping at its finest, or simply pitching a tent next to the coastline and sleeping under the stars. So if this sounds like your cup of tea, then it is time to discuss your camping must-haves.
In this instance, coastal hikers need to decide which style of camping they are interested in and plan from there. If you are all for do-it-yourself tent accommodations, then the MSR Hubba Hubba Backpacking Tent, a Marmot Trestle 30 sleeping bag, the Nemo Astro Insulated Sleeping Pad, and the Therm-a-Rest pillow are among our gear recommendations. On the other hand, glampers and campers who prefer sites with ample amenities and predetermined sleeping arrangements (pods, safari tents, trailers, huts, and so much more) can save themselves some much-needed packing room here and just come as you are.
Outerwear for the elements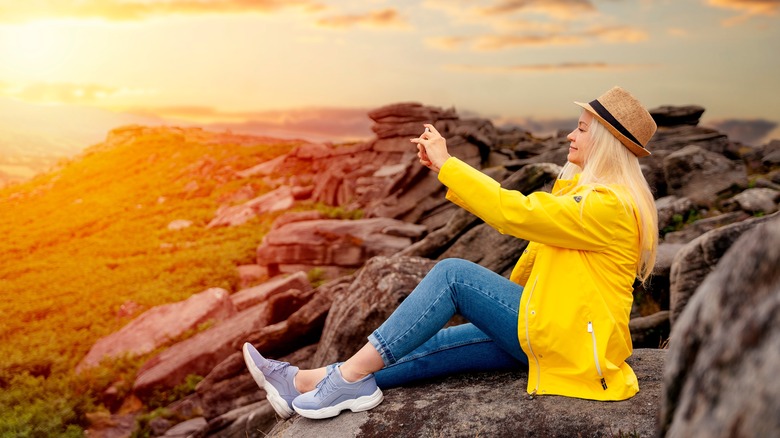 Irene Miller/Shutterstock
Most trailblazers tend to embark on this journey in warmer months — typically between May and October. And even though the weather during this particular timeframe is fairly amenable, as previously mentioned, the climate along this trek is notoriously known for changing on a dime. So, hikers and walkers will need more than just a light jacket or hoodie for the road.
In fact, having both an easy-to-pack rain jacket and a semi-warm coat (since it gets chilly by the coast at night) is highly suggested. If you happen to be in the market for new outerwear for your Coast to Coast Walk, then consider the Outdoor Research Helium Rain Jacket, Patagonia Storm 10 Jacket, Arcteryx Beta LT Jacket, the Outdoor Research Ferrosi Hooded Jacket, or something comparable to these coats. Likewise, a lightweight wind shell, a trail fleece, or a sun protection hoodie jacket are also great items to pack as they can help you to be prepared for anything and offer extra protection from the elements.
Footwear essentials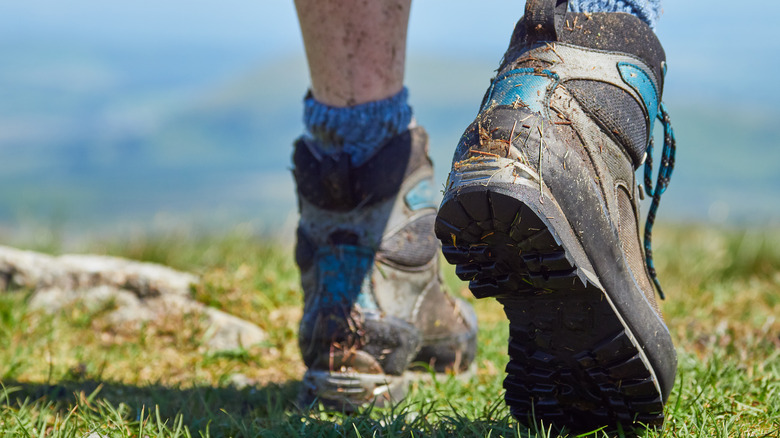 Duncan Andison/Shutterstock
In order to make this long trek across England's coast, you will need long-distance footwear that is both comfortable and durable. Of course, hiking boots and shoes are the ideal go-to footwear on this route. But trail running shoes are also a viable option, especially if you have already broken them in on similar terrain. In addition to being trail and hiking approved, your shoes need to be waterproof yet somewhat breathable. However, trailblazers will likely have to opt for one or the other here, as most waterproof shoes or boots are not that airy and take longer to dry out if you get them wet while traversing this downright lovely footpath.
Alternatively, breathable footwear, like trail running shoes, is not necessarily the most water-resistant option. Still, some explorers prefer them here. So, deciding which works better is really up to you. It is worth noting that waterproofing with wax is another way to have the best of both worlds, especially if you want a more breathable boot or shoe. Finally, besides hiking boots or trail shoes, Coast to Coast Walk goers should also pack the standard camping footwear such as a casual pair of runners (for your off days) and flip flops or camp sandals.
Recommended clothing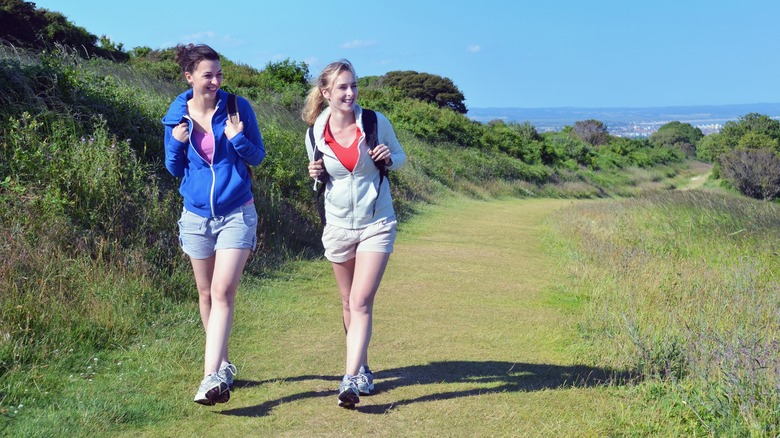 Image Source Trading Ltd/Shutterstock
In terms of what to wear as you hike about England's coast, long-sleeve base layers and short-sleeve tee shirts are what you will need for this adventure. Since it will most likely be somewhat warm during your hike, you do not need multiple layers. Instead, comfortable and quick-drying tops that you can easily pair with a lightweight jacket or hoodie should be on your packing list.
Since you will likely be on your walkabout for several days, roughly a week's worth of hiking-approved tops (approximately four or five shirts total) should be your packing goal. For your bottoms, pack one to two pairs of hiking zip-leg pants, athletic compression leggings or capris, hiking or running shorts, rain pants, and two pairs of lightweight quick-dry shorts. Other recommended clothing items for your Coast to Coast Walk include three to four pairs of moisture-wicking hiking socks, one to two pairs of after-hiking socks, six pairs of underwear (with three sports bras if applicable), and at least two pairs of pajamas. Trailblazers who plan on taking their time on this route will likely need to do laundry at some point, but this way, you will not be overburdened with too many clothes.
Hiking toiletries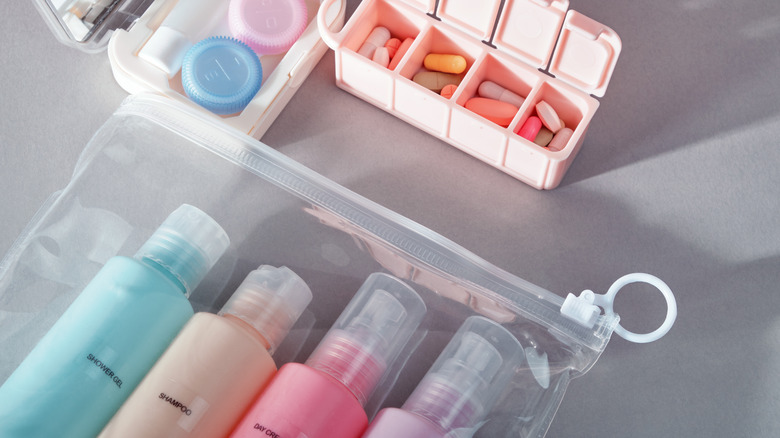 Tanyajoy/Getty Images
When it comes to toiletries for your hiking adventure, the standard travel toiletries are the way to go here. In order to avoid any spills in your backpack, bar-form products should definitely be considered. Any hygiene products or must-haves that you cannot find in bar form should be kept to a minimum. All of these things, along with over the counter medications (allergy medicine is a must along this route), your prescription meds, sanitary products, SPF, lip balm with SPF, eco-friendly wipes, Kleenex, and bug repellent should be packed in a hiker-friendly toiletry bag.
Of course, any items or products you need quick and easy access to can be placed in a Ziploc bag and stashed in a more convenient spot in your backpack. That said, if you do take advantage of the Coast to Coast Walk's available accommodations, then you will more than likely have access to some of the basics (soap, shampoo, conditioner, and more). However, if you plan to camp exclusively, then you need to make sure you have everything you would normally take with you on a camping trip. Regardless of your trail lodgings, do not forget to pack a camping mirror, biodegradable soap, ample hand sanitizer, and biodegradable toilet paper — as you will likely need them all while hiking.
On-trail extras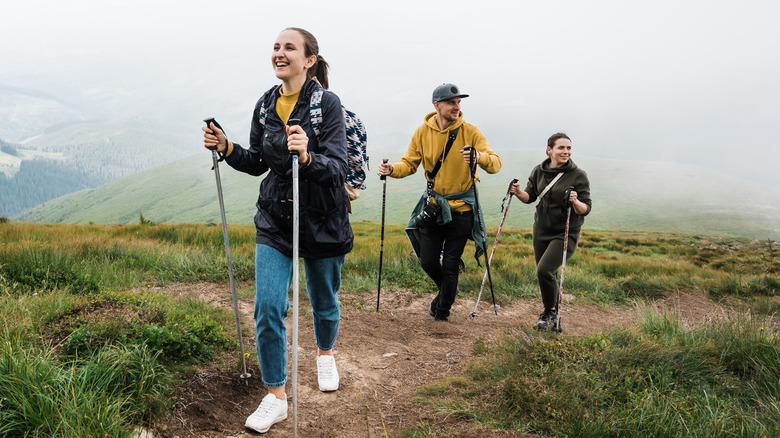 Kateryna Onyshchuk/Shutterstock
After sorting out all your packables and essential items, your next order of business is getting together all of your on-trail extras. Here, these items typically include one pair of walking or trekking poles, one to two bandanas, a quick-dry travel towel, a couple of UV cyclist sleeves, a pair of thermal sleeves, and sunglasses. However, it also does not hurt to bring along hiking gaiters, hiking gloves, a lightweight fleeced-line beanie, and a broad-brimmed hat with a chin strap. All these hiking accessories will allow you to navigate the trail better and keep you protected from the elements and any sudden changes in weather.
Besides these extras, a reusable water bottle, Vaseline, Gold Bond powder, and even duct tape all come in handy while exploring the wild. Staying well hydrated is a must, so make sure you have at least one or two reusable bottles on your person. Moreover, being able to reduce any possible discomfort from walking miles in shorts and hiking boots along this footpath is definitely important. So be sure to put a friction defense bar and more in a Ziploc bag, then place it somewhere in your backpack that does not require you to basically unpack every time you want to find it.
Electronics and gear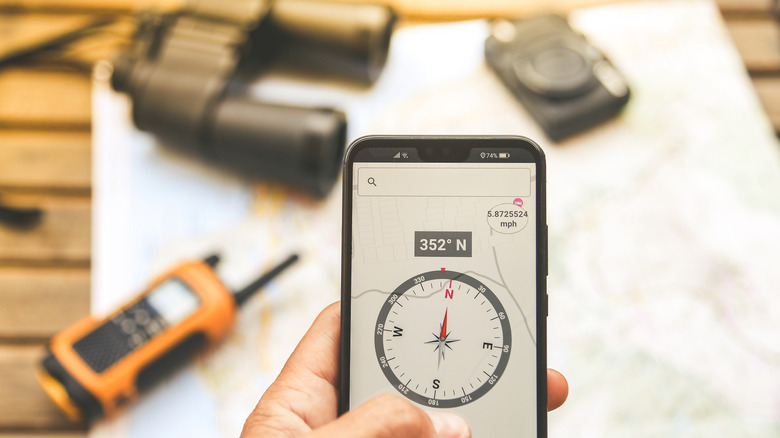 Fabio Principe/Shutterstock
Hikers will also need more than a few electronics to make this excursion happen. So, your cell phone (for photos, GPS, maps, assistance, and apps), a smartwatch, a voltage adapter or plug converter, earbuds, and a portable charger (possibly solar-powered) should be at the top of your electronic must-haves list. With these handy items in tow, you can ensure you know where you are going and have some on-the-go entertainment, plus have the continued use of your GPS.
Coast to Coast Walk goers should also pack additional gear such as a small flashlight, a headlamp, a guidebook, a whistle, and even a compass, just in case. More than a few hikers opt to cover more ground in the evening or get an early start before the sunrises, so having multiple sources of light just makes sense. Likewise, if you or your GPS gets lost, or any of your navigational systems are not properly charged, then you definitely do not want to be out there hiking or walking blindly. Therefore, having a good old-fashioned compass, guidebook, and a whistle on your person during your hike as well could save the day, so do not forget to pack all of these old-school hiking essentials either.
Backpacking dinner and cookware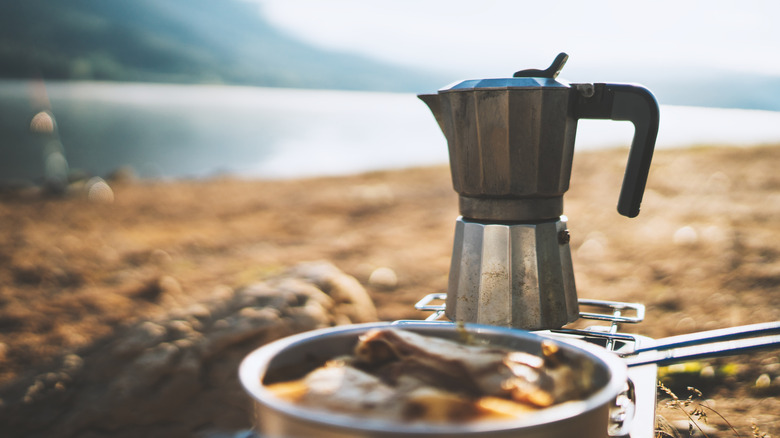 A_B_C/Shutterstock
Even if you plan to exclusively book standard lodgings along the way instead of occasionally camping or camping at all, you will still need some possible dinnerware for the road. Thus, items like Tupperware containers, a camping mug/bowl/plate, and camping utensils are just a few more must-haves to add to your packing list. Here, a Sea to Summit Delta Camp Set or something comparable will do just fine, as this set has a cup, bowl, plate, and three-piece cutlery set all in a drawstring mesh pouch complete with a carabiner, so the dishes can air dry. This also allows you to have dinnerware on you without taking up additional backpack space.
If camping is on the agenda, then backpacking cookware and a backpacking stove are also necessities, especially if you plan to do some light cooking. You can purchase or bring several different kinds of camping cookware, including affordable cookware like the TOAKS Titanium Pot, the Snow Peak Mini Solo, and the SOTO Amicus Combo & Stanley Adventure Set — just to name a few. And the same is true for backpacking stoves. With more than enough options, including canister stoves like the MSR PocketRocket 2 and solid fuel backpacking stoves like the Esbit Folding Pocket Stove, you should have no trouble finding a lightweight, portable stove for this adventure, should you want one.
Food and drink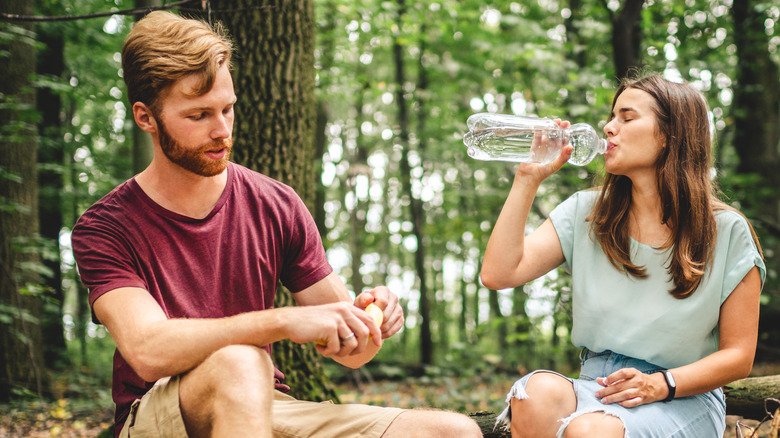 Yelizaveta Tomashevska/Getty Images
As suggested, staying hydrated and getting enough to eat along your 12 to 15-day journey is crucial. So, in addition to handy reusable water bottles, trailblazers should invest in a. 1.5-liter Platypus water bag and hose or a similar water bag so you have ample fresh water when you need it. It also does not hurt to have high-energy snacks, trail mixes, and protein bars on your person as you traverse this 190-mile footpath. Hikers can put their handy Tupperware containers to good use as well by saving some of their food from earlier meals for a heartier on-the-road snack.
On the other hand, if you plan on using your backpacking cookware and stove, then it is better to do some light food shopping in the various towns you pass. St. Bees, Cleator, Patterdale, Richmond, and Glaisedale are great places to stop if you want to purchase food to cook. Alternatively, for hikers who prefer to enjoy a sit-down meal or grab premade eats, there are plenty of restaurants or convenient eateries in several towns near the Coast to Coast Walk. In fact, Ennerdale Bridge, Honister Slate Mine, Kirkby Stephens, Grosmont, and Robin Hood's Bay are all delicious stops with many food options, pubs, cafés, and dining establishments.
Miscellaneous items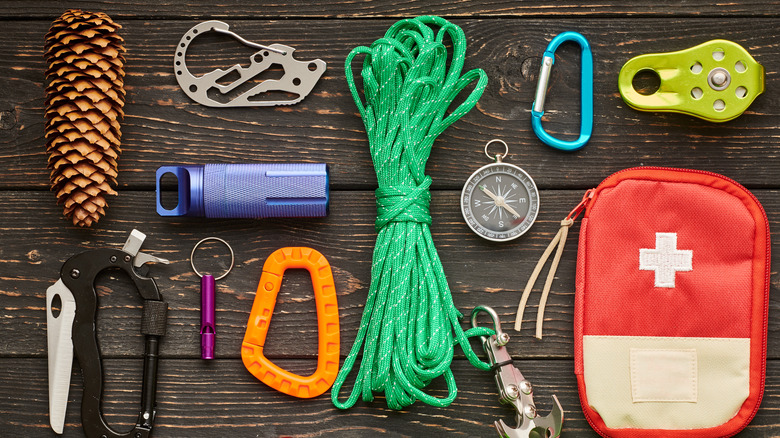 haveseen/Shutterstock
Last but not least, no packing guide is complete without an odds-and-ends or miscellaneous items section. Here, this traveler catch-all is just a friendly reminder to have any and all required travel documents (tickets, booking confirmations, and your passport). All the necessary documentation also includes your medical insurance, travel insurance, money, and at least one to two credit cards. After double-checking for all this information, do not forget to make room for a few more odds and ends that may have slipped your mind.
Typically, miscellaneous items that are easy to overlook are things like a first-aid kit, swimwear, a penknife, extra batteries, a sewing kit, waterproofing wax, a journal with a pen, and a handy travel-size umbrella. Though many of these particular extras are not absolute must-haves, not having them in tow could negatively impact your epic adventure. So do yourself a favor and make certain all of this stuff also has a home among your belongings — then and only then will you be fully packed and ready for the hike of a lifetime.