Dog-Sledding Is Just One Reason To Visit Yellowstone In The Winter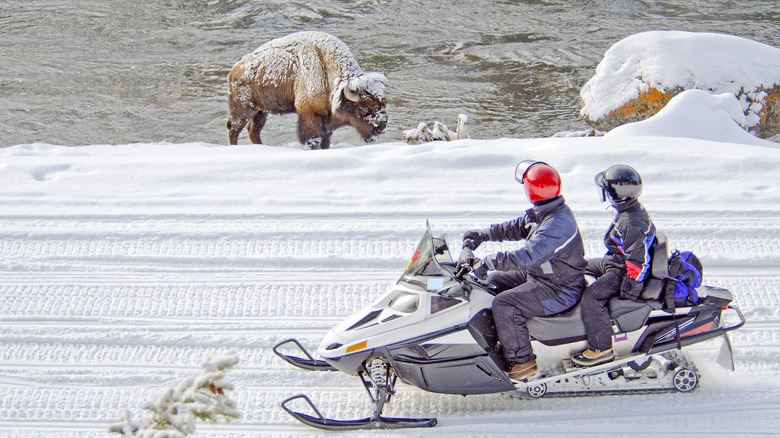 Carolina K. Smith MD/Shutterstock
Winter in Yellowstone National Park brings good news and bad. The bad news is that most roadways are shut down for the season due to snow and ice. And the good news? Well, the good news is that the roads are closed! In fact, Yellowstone's seasonal road closures offer a unique opportunity to see the park in all its winter glory — and all without the crowds.
Since Yellowstone is the oldest national park in the United States, it's one of the most popular American tourist destinations. For example, in 2019, the National Parks Service tallied up over 4 million visitors at Yellowstone. So, getting a glimpse of Old Faithful or standing along the rim of Yellowstone Canyon is usually done elbow-to-elbow with other sightseers. It's an awe-inspiring experience, without a doubt, but the extraordinary solitude and beauty of the grandiose landscape in winter — tree limbs sparkling with snow, that's a unique experience you'll cherish for a lifetime. But unless you're an experienced all-weather adventurer, you'll need some help along the way.
Stay inside the park for easy access to winter adventure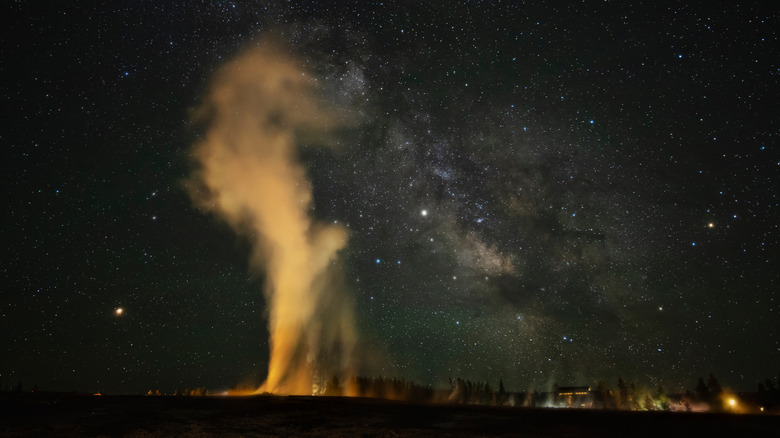 Danita Delimont/Shutterstock
Although roads and park services in Yellowstone National Park are limited in the winter, adventure awaits nonetheless. The roads usually close in November, and then, according to the Washington Post, the roadways are groomed for snow vehicles. In other words, these routes are morphed into a winter wonderland for those looking for a way to explore the park in ways that aren't possible in the warmer seasons.
But before any excursions, you need to figure out where you'll stay — in the park or nearby. Most of the park's lodging is closed for the winter, but Old Faithful Snow Lodge is open year-round for overnight stays, and they offer a shuttle service from Bozeman-Yellowstone International Airport. You can also check Mammoth Hotel, but they occasionally rotate availability between full, overnight availability, and day-use only.
Staying at one of Yellowstone's in-park lodges makes it easy to join one of the many winter excursions they offer. Options include snow-shoeing adventures, snow coach tours, and outings devoted to seeing the park's unique wildlife — like bison and wolves. There's even a nighttime excursion called "Steam Stars and Winter Soundscapes," so you can see (and hear!) sights like Old Faithful against the backdrop of the winter landscape.
The Yellowstone area offers dog sledding and beyond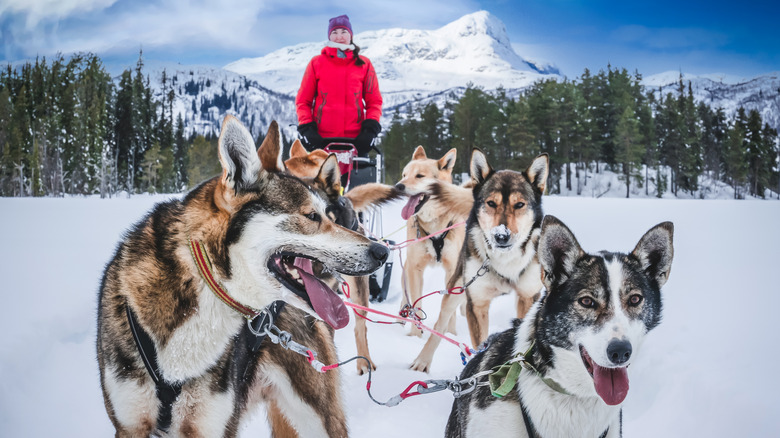 Henrik A. Jonsson/Shutterstock
But the area around Yellowstone National Park is also bustling with winter adventure if you're looking for a more immersive destination approach. You can still head into the park for excursions but can also take advantage of the additional hotel and rentals in the area. So whether you opt for a traditional hotel like one of the nearby Marriott options, the much-loved Lone Mountain Ranch, or this cozy Vrbo cabin near the park's northeast entrance, you can still schedule a variety of tours and outings.
Definitely reserve a day to take the advice of The New York Times, and go dog sledding. You can snuggle sled dogs and mush to your heart's content with Yellowstone Dog Sled Adventures. However, there are two tips to keep in mind — book early and allow some downtime afterward. Don't try to go dogsledding and tackle an adventurous outing in the park all in one day. Instead, all a few days to fully explore — and enjoy — the area.
Visiting the national parks, regardless of the season, always prompts us to be good environmental stewards. So, with this in mind, be sure you're exploring Yellowstone's winter landscape with care. One of the best ways to do this is by choosing from the National Parks Service-approved tour operators. These companies have explicit permission to host skiing, snow coach outings, and wildlife excursions in the park. In addition, most companies provide snowsuits, so hop on that snowmobile and enjoy one of the best times of the year to visit Yellowstone National Park.