You Can Actually Spend The Night In These Haunted Hotels And Houses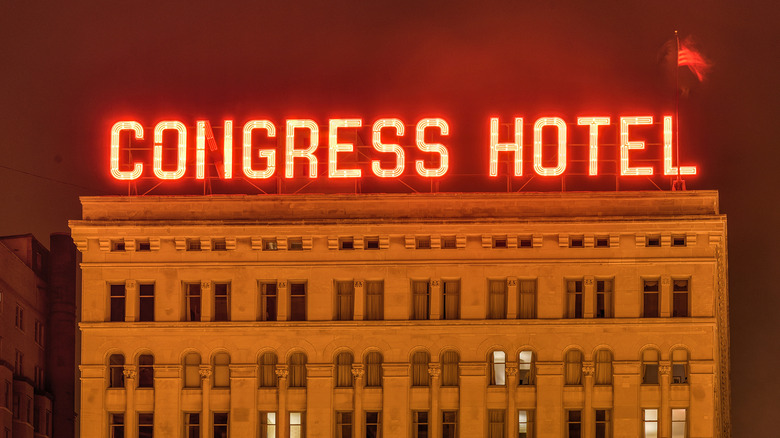 Shutterstock
When booking a hotel, there's quite a bit to consider: location, charm, quality of service, amenities and price, for instance. If you're someone who really enjoys a bit of excitement, you may also consider another factor in your accommodations — whether or not they're haunted.
Hotels are some of the most haunted dwellings, especially if they have a sordid past. While some spirits can be quite menacing or aim to give you a scare, you'll find that many apparitions are actually quite friendly and hospitable to guests. If you're looking for fascinating history and heart-pounding supernatural encounters, consider staying a night or two in one of these haunted hotels and houses.
Lizzie Borden House (Fall River, Massachusetts)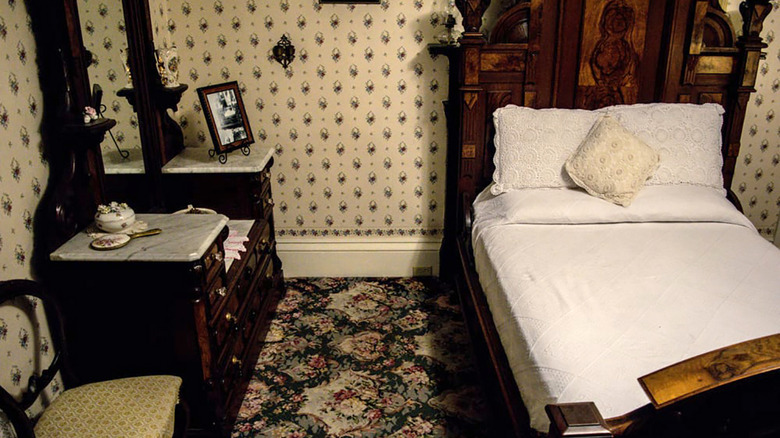 Joseph H./Yelp
Despite being tried and acquitted, Lizzie Borden has long been speculated to have murdered her father and stepmother with an ax in 1892 in their shared home in Fall Rivers, Massachusetts. In 1996, the famed site of those killings was converted into a B&B, and since then, many guests have reported ghost sightings and unexplained sounds at night in this strange hotel.
Deetjen's Big Sur Inn (Big Sur, California)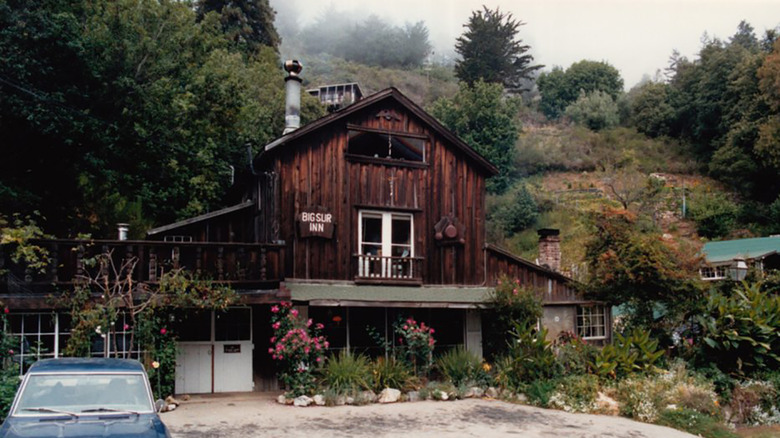 Armin B./Yelp.
The accommodations at Deetjen's Big Sur Inn have a romantic and rustic cabin vibe with a European flair, and the apparent presence of its resident ghost is what caused the set decorator of the hit TV show "American Horror Story" to believe in ghosts. Believed to be the ghost of the hotel's founder, known as Grandpa Deetjen, the presence is said to be the cause of the sound of footsteps and doors slamming.
Myrtles Plantation (St. Francisville, Louisiana)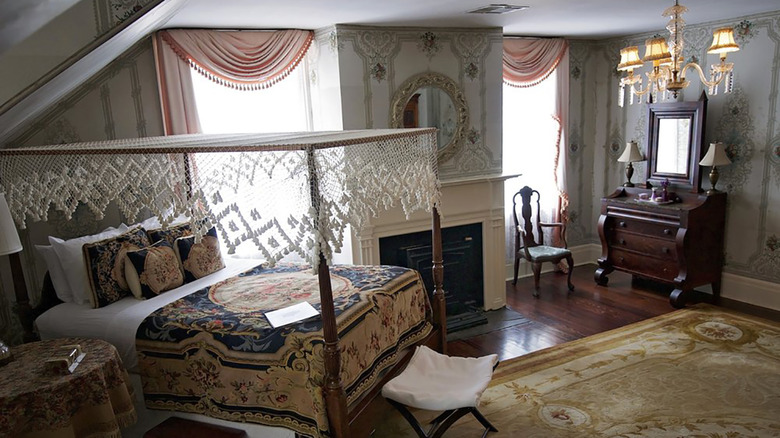 The Myrtles Plantation/Yelp
Myrtles Plantation was built in 1796 on what is believed to have been an ancient Tunica Indian burial ground. Several ghost sightings have been reported at the former antebellum plantation, including the spirits of both former slaves and slaveowners. Book a stay, which includes breakfast and a complimentary daily mystery tour, and you may join the ranks of the many guests who have seen handprints in their mirror, heard rattling doors and felt cold spots throughout the house, all sure signs that a place is haunted.
La Posada de Santa Fe (Santa Fe, New Mexico)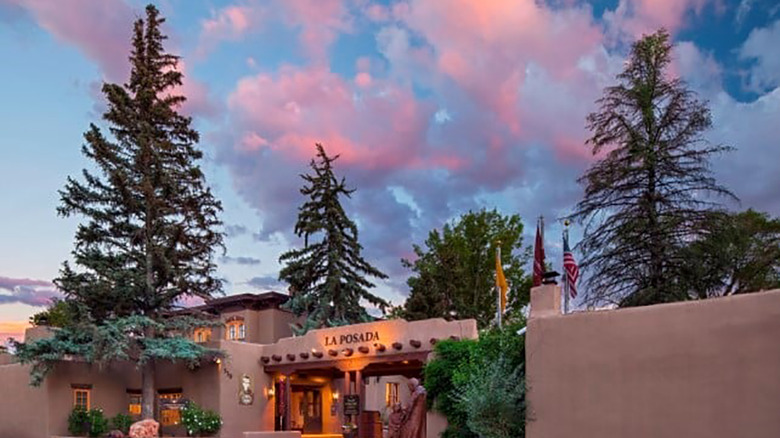 La Posada de Santa Fe/Yelp
On the property of what is now La Posada Resort and Spa, there used to be a family home known as The Staab House. According to legend, the seventh child of the residing family died soon after being born, leading the mother into a serious state of depression in which she refused to leave her room until she also passed away in 1896. Resort guests claim to have seen her and also reported random chills.
Otesaga Resort (Cooperstown, New York)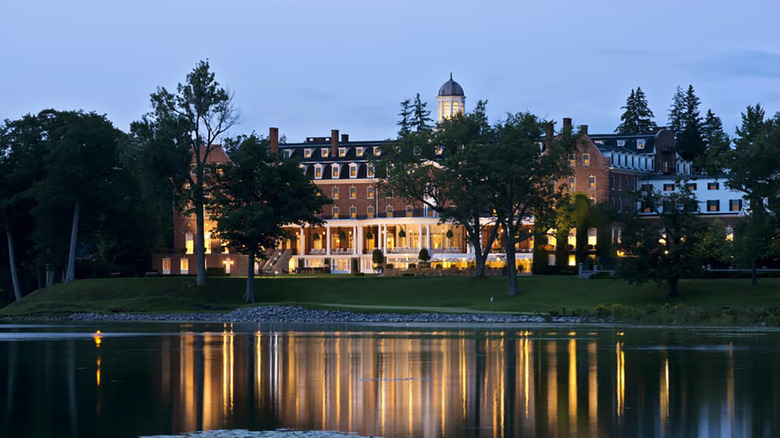 The Otesaga Resort Hotel/Yelp 
A popular hotel with paranormal enthusiasts, especially since being featured on the TV show "Ghost Hunters," the Otesaga Resort was once a girls' school. It is said you can still hear children playing even when there are no kids at the hotel. The first, third and fifth floors are known to be hot spots for paranormal activity. Many have reported seeing ghostly children or furniture that seems to be moving by itself as well as hearing their name called out of nowhere.
Kehoe House (Savannah, Georgia)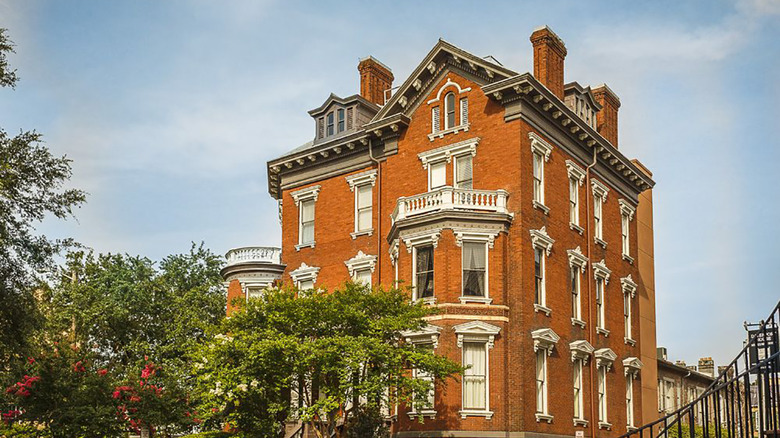 Kehoe House/Yelp 
A restored 1892 Renaissance Revival mansion located in the romantic yet haunted city of Savannah, the Kehoe House is named for the Kehoe family. Of the 10 Kehoe children, two died in the house, which also later served as a funeral home. Many visitors have reported seeing ghosts of children playing and laughing or feeling someone unseen touching them while they sleep.
Hawthorne Hotel (Salem, Massachusetts)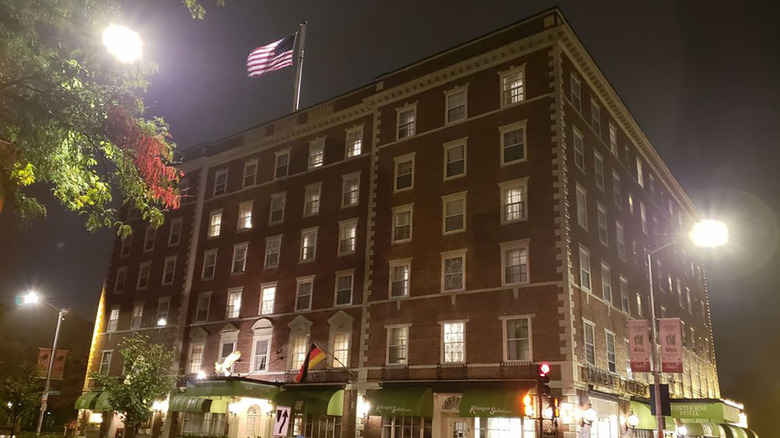 Elle B./Yelp
Salem already has a reputation for the sinister thanks to the infamous Salem Witch Trials of 1692, which makes a stay at the haunted Hawthorne Hotel even more excitingly spooky. Flickering lights, faucets turning on and off by themselves and spirits that look like humans have all been reported in the hotel. Rooms 325 and 612 are said to be the most haunted.
The Lemp Mansion (St. Louis, Missouri)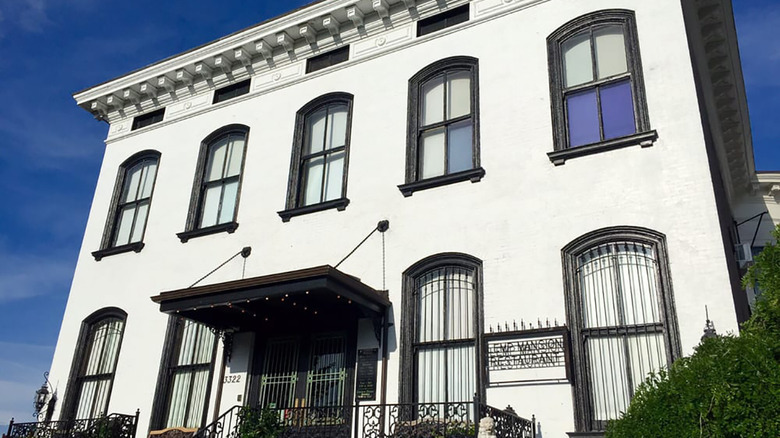 Brian M./Yelp
Once home to the Lemp family who owned and operated the Lemp Brewing Company, the Lemp Mansion was the site of many tragedies, starting with the 1901 death of Frederick Lemp, son of William J. Lemp. Just three years later, William Lemp lost his best friend Frederick Pabst (of Pabst Brewing Company), contributing to his own suicide the same year. Furthering the tragedy of the home, three other Lemp children died by suicide inside it over the next 45 years. Owned by another family today, the mansion is now an inn and restaurant that offers tours about the history and hauntings of the house as well as murder mystery dinners and Halloween parties.
RMS Queen Mary (Long Beach, California)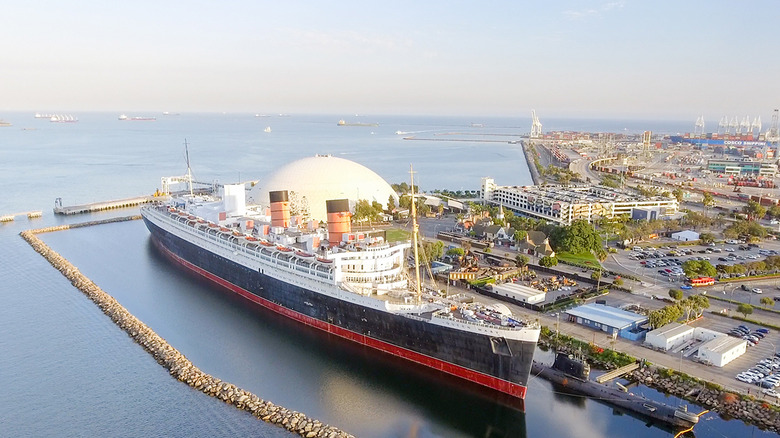 Shutterstock
A famed luxury cruise ship that was launched in the 1930s, the RMS Queen Mary was one of the preeminent cruise liners of its time, sailing the high seas from 1936 to 1967. Despite all the glitz and glamour, close to 50 people died on the ship during its run, including two drowning incidents in its pool in 1930 and 1960. Today, the Queen Mary is permanently docked and running as a hotel. It is rumored to be haunted by the spirits of those who passed away onboard, including sailors, crew, women and children, one or two of whom you may run into while going for a nighttime swim or heading to the salon for a late night drink.
Bourbon Orleans Hotel (New Orleans, Louisiana)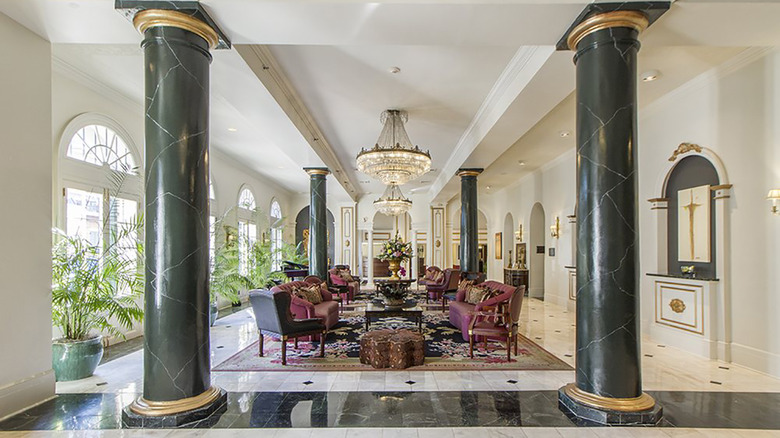 Bourbon Orleans Hotel/Yelp
Known for its dark history and fascinating cemeteries, New Orleans is reportedly one of the most haunted cities in America. If you're looking for a super spooky time in the Big Easy, the perfect place to stay is the Bourbon Orleans Hotel, which originally opened as a ballroom in 1827 before becoming a convent and orphanage. A yellow fever epidemic in the late 1800s resulted in the deaths of many nuns and children, and the present-day hotel has had many reports of ghostly children laughing and playing at night as well as ghostly dancers in the ballroom.
Hotel Monte Vista (Flagstaff, Arizona)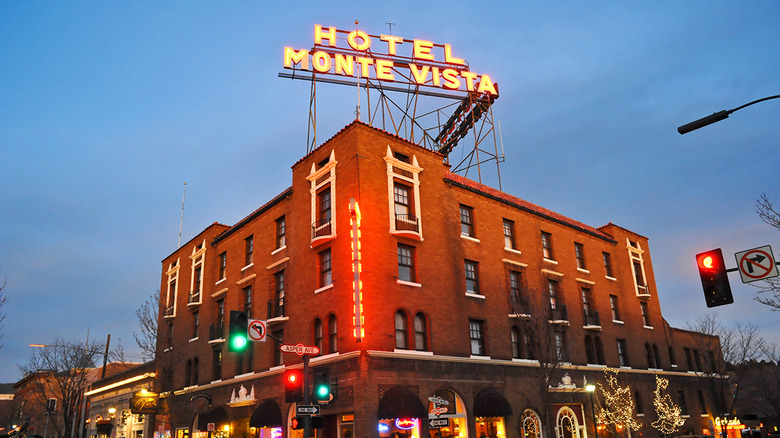 Shutterstock
Hotel Monte Vista first opened in 1927, and rumors of ghosts go back quite a long time. Guests have reported hearing the sounds of babies crying when there are none, a housekeeper doing chores in an empty room, a ghostly couple dancing in the lounge and a rocking chair creaking in Room 305.
The Seelbach Hilton (Louisville, Kentucky)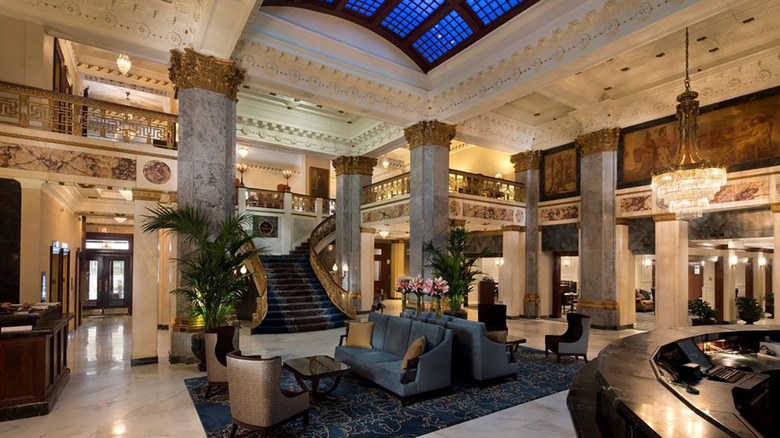 The Seelbach Hilton Louisville/Yelp
One of the oldest hotels in America, the Seelbach Hilton was built in 1903, but it wasn't until 1987 when a hotel chef spotted a woman with long, dark hair in a blue dress walk into the elevator — despite its doors being closed. Not long after, a housekeeper witnessed the same apparition leave the closed elevator doors on the eight floor. Later, someone discovered a 1936 newspaper article that reported the death of a woman who had been at the hotel waiting to reconcile with her ex-husband. After her ex-husband was killed in an accident on his way to the hotel, her body was found at the bottom of the elevator shaft. In the years since, the woman's ghost has been seen by multiple people, a fact made even scarier when you consider that no one knows if the death was a suicide, accident or perhaps even a murder.
The Equinox (Manchester, Vermont)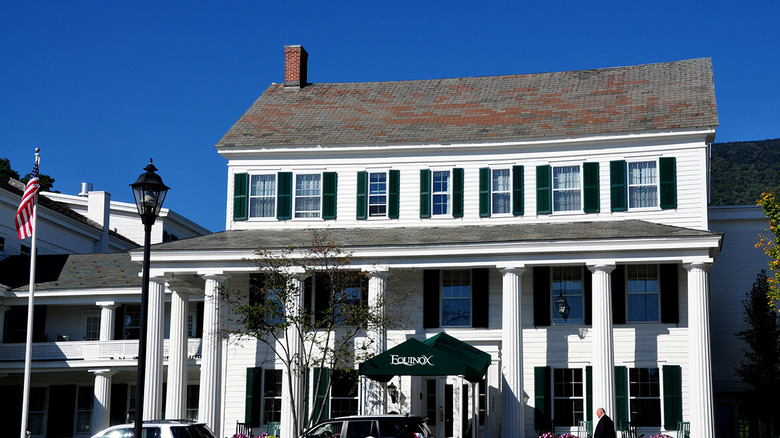 Dreamstime
Mary Todd Lincoln, wife of Abraham Lincoln, stayed at the Equinox for two summers with her children when it got too hot in Washington, D.C. After her husband was assassinated, the family's plans to stay there in the summer of 1865 were canceled. In the years since, guests and employees of the Equinox have reported objects vanishing and then reappearing elsewhere, sudden cold spots and odd noises without a visible source. Many believe that these occurances may be the presence of spirits, perhaps even of the former first lady, who is also known to have been spotted haunting the White House. Employees of the neighboring estate (purchased by her son Robert Todd Lincoln) had reported seeing a woman and child that matched the descriptions of Mary Todd Lincoln and one of her sons.
Malaga Inn (Mobile, Alabama)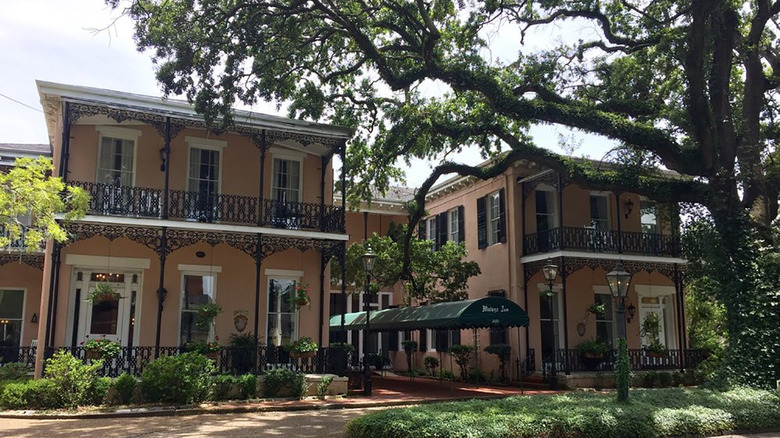 Ashley H./Yelp
The historic Malaga Inn is one of the most charming hotels in the country, but it's also apparently one of the most haunted buildings in Alabama. Guests have reported seeing chandeliers swing without any wind, lights turn on and off by themselves and furniture move around with no one visible moving it. A woman in white has also reportedly been seen pacing the balcony of Room 007.
The Queen Anne Hotel (San Francisco, California)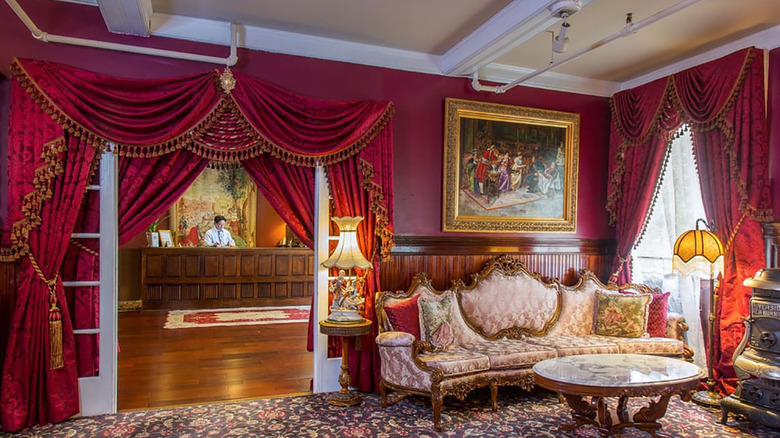 Queen Ann Hotel/Yelp
The Queen Anne Hotel was once a private boarding school for girls, and it is said that the headmistress of the school, Mary Lake, still wanders its halls to keep an eye on visitors. Guests have reported feeling random cold spots and seeing Mary's ghost, who has also been said to tuck guests into bed while they're asleep. Mary also may be responsible for the neatly unpacked suitcases some have found in their rooms.
Battery Carriage House (Charleston, South Carolina)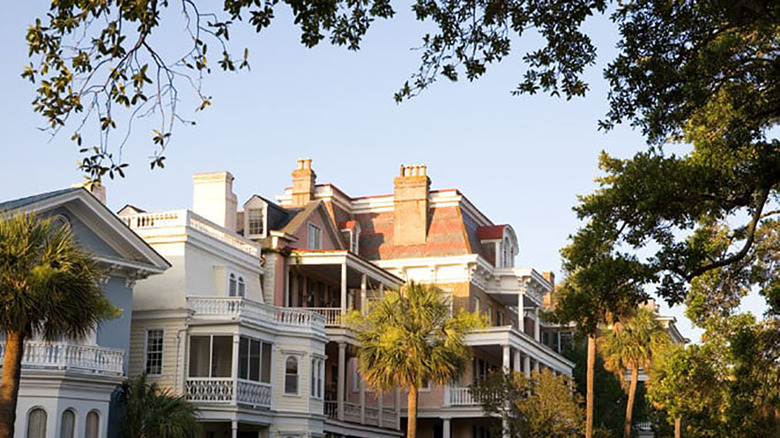 Louise L./Yelp
Battery Carriage House has been called "Charleston's most haunted inn." Both employees and guests have reported odd occurrences that some believe to be the presence of the paranormal, and the inn offers a ghost adventure package for guests. One sighting was of a man with no limbs and no face standing in doorways or watching over sleeping guests in Room 8. Another spirit known as the "Gentleman Ghost" has been reported to snuggle up with guests in Room 10.
Mizpah Hotel (Tonopah, Nevada)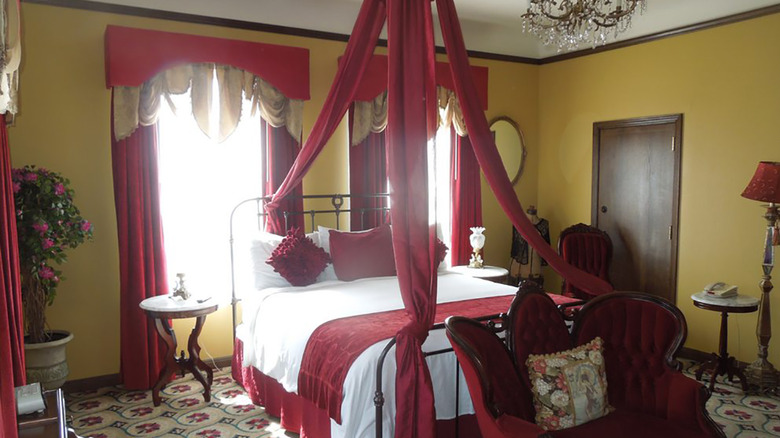 Gerry W./Yelp
The Mizpah Hotel has a storied history. It first opened its doors as the Mizpah Saloon in 1907 before turning into a hotel. The Mizpah Hotel then closed in 1999 before being renovated and reopened in 2011. The historic spot is reportedly haunted by a ghost known as the Lady in Red, who some claim is either the ghost of a sex worker who was beaten and killed on the hotel's fifth floor by a jealous ex-boyfriend or a woman caught cheating at the hotel by her husband, who then killed her.
Deerfield Inn (Deerfield, Massachusetts)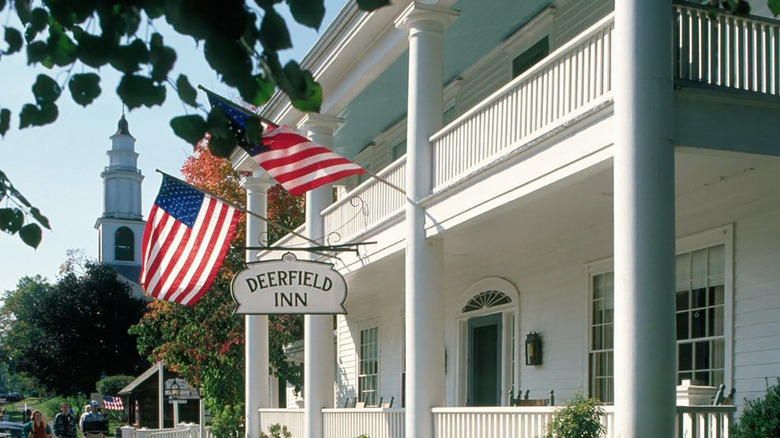 Karl S./Yelp
Deerfield's entire Main Street is believed to be haunted, but the Deerfield Inn is especially known for the presence of two spirits in particular. The ghost of a previous owner, Cora Carlisle, has reportedly been seen in her dressing gown with a chain of keys at her waist. She will supposedly knock on doors and gently push people to get them to go to bed. Another spirit, known as Hershel, is said to haunt Room 148. Those who have encountered him say he appears as a box of bright light and causes mischief, such as tugging at pillows and moving objects.
Punderson Manor State Park Lodge (Newbury, Ohio)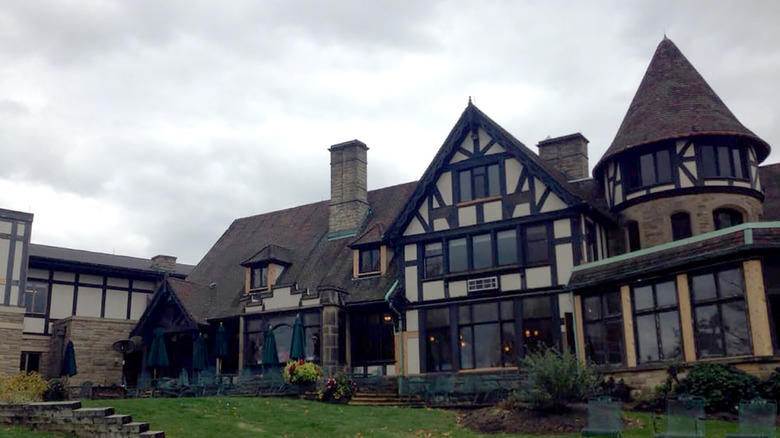 Paul ../Yelp
You get a scary vibe from Ohio's Punderson Manor just by looking at it, and reports of paranormal activity seem to back that up. Employees have reported hearing disembodied laughter, hearing children running where there are none, pencils flying around, doors opening and closing, fires going out and faucets turning on and off. 
Cavalier Hotel (Virginia Beach, Virginia)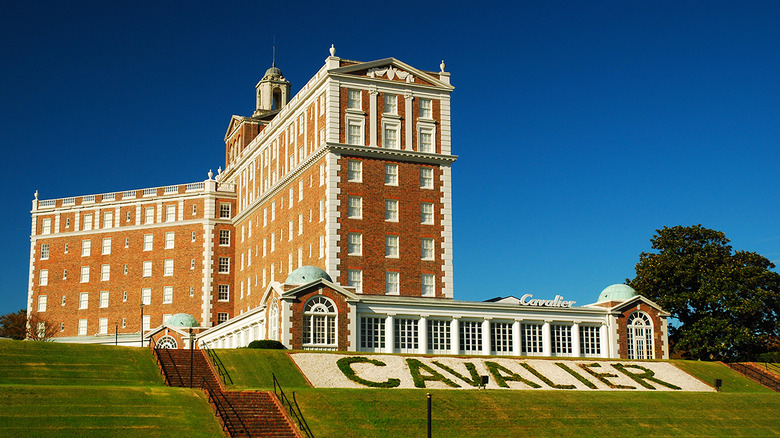 Shutterstock
A historic hotel dating back to the 1920s in Virginia Beach, the Cavalier Hotel has had reportings of many different apparitions such as a ghost cat, a strange woman with her dog, a black man in military clothing warning guests of ghosts and even tales of towels mysteriously changing color. Having hosted famous people such as Judy Garland, Bette Davis and F. Scott Fitzgerald in life, the Cavalier Hotel also has a famous ghost: Adolph Coors, founder of Coors Brewery, who is said to have jumped out a window to his death while staying at the hotel with his wife and daughter.
Villisca Axe Murder House (Villisca, Iowa)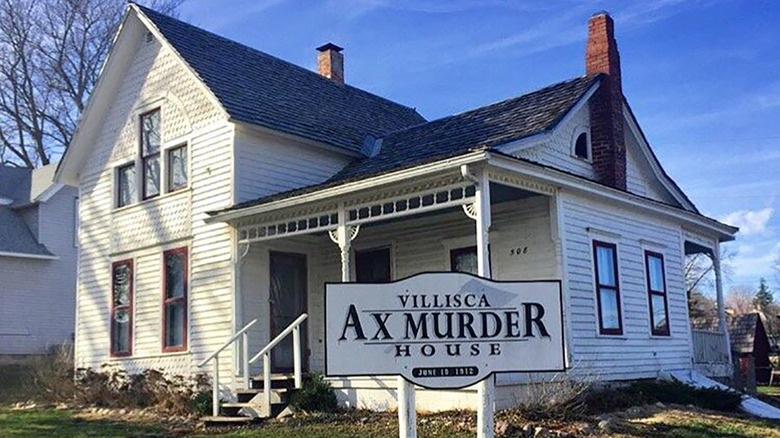 Heather P./Yelp
In 1912, six members of the Moore family and two young girls staying with them were killed with an ax at their home in southwestern Iowa. After an intensive investigation, no one was convicted of the crime, and it is said that because there was no closure, the ghosts of the victims haunt the spot to this day. Paranormal investigators claim to have photographic, audio and video proof, and visitors are invited to bring sleeping bags and pillows for an overnight stay. If you're not sure you can stomach a night in, you can also simply take a tour, many of which have been cut short by what seem to be moving ladders, falling or flying objects and the sound of children's voices.
Strater Hotel (Durango, Colorado)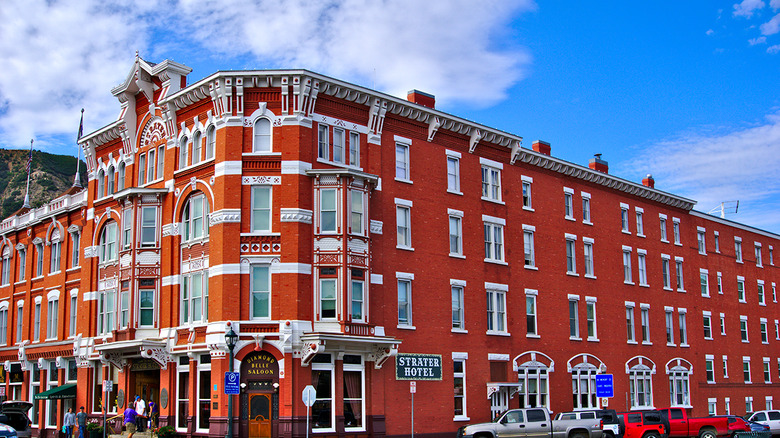 Shutterstock
A four-story, red brick hotel built in the late 1880s, the Strater Hotel is on a rail line, making it a popular place to stay for those who have booked a scenic train ride on the Durango and Silverton Narrow Gauge Railroad. According to local alt-weekly DGO Mag, many apparitions have appeared with some sort of relation to the railroad, such as a man in a white shirt who's been seen standing on the tracks before vanishing and a railway engineer in Victorian-era clothing seen walking through the lobby. The paranormal is such an accepted part of the hotel that each room even has its own "ghost diary" detailing past encounters.
Hotel Alex Johnson (Rapid City, South Dakota)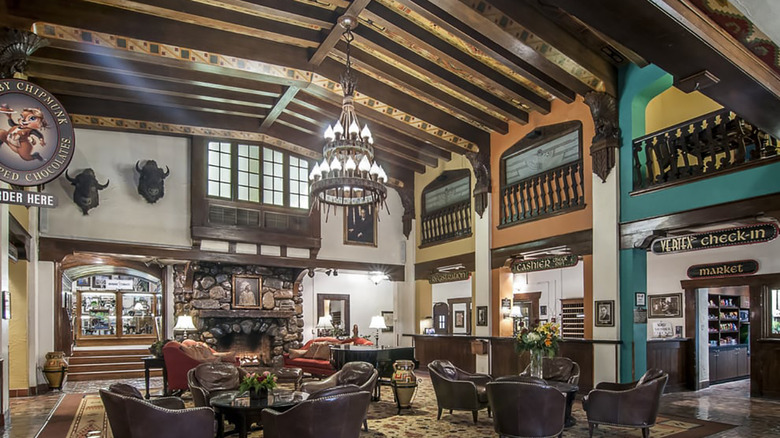 The Hotel Alex Johnson/Yelp
Now owned by Hilton, Hotel Alex Johnson was first opened in 1928 by Alex Johnson, who died in the hotel in 1938. Legend has it that he still hasn't left, and some guests have claimed to hear mysterious music and to witness windows opening of their own accord. Even more terrifying, some have also reported a sensation of being choked or seeing the words "help me" written on a fogged-up mirror.
Admiral Fell Inn (Baltimore, Maryland)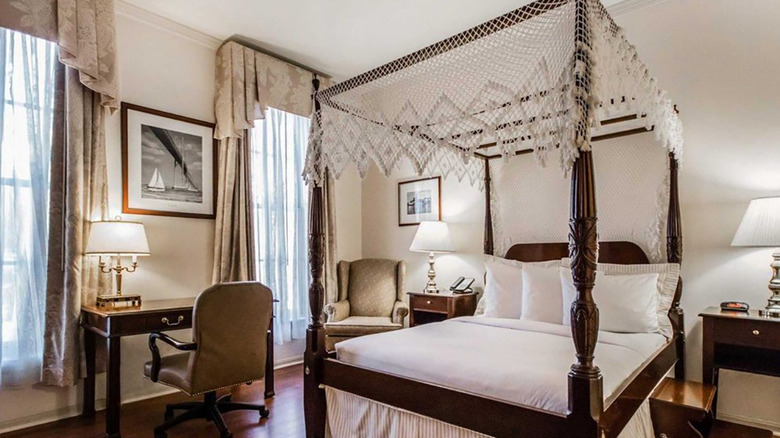 Admiral Fell Inn, an Ascend Hotel Collection Member/Yelp
The first iteration of the Admiral Fell Inn was an early 1900s boarding house and recreational center for sailors known as "The Anchorage," a spot for quite a bit of partying before it was renovated and reopened as the current hotel in 1985. In 2003, when the hotel had to be evacuated because of a storm, a manager that was boarding up windows claimed to hear a party upstairs despite the building being completely empty. The inn holds ghost tours and the most actively haunted room is supposedly Room 413, where a guest is said to have mysteriously died. Housekeepers have even been known to refuse to enter due to a chilling presence inside.
Congress Plaza Hotel (Chicago, Illinois)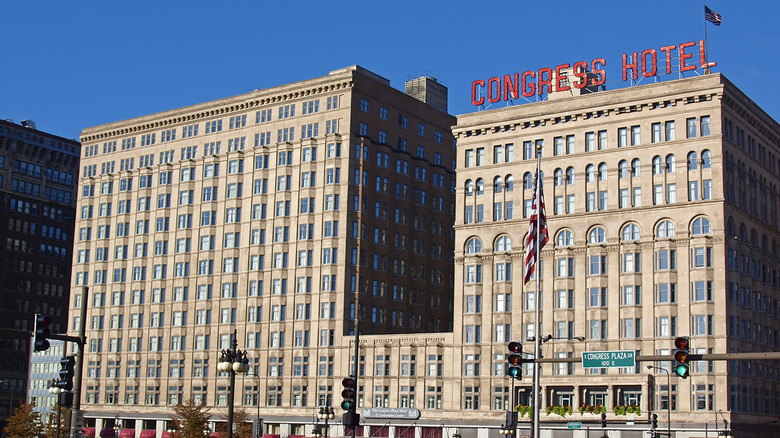 istockphoto.com
The Congress Plaza Hotel's most famous ghost story belongs to infamous gangster Al Capone, who is said to haunt the grounds to this day. Other apparitions that have been sighted include that of a homeless person named Peg Leg Johnny, a young boy and a female ghost who has been known to kick guests awake.
Emily Morgan Hotel (San Antonio, Texas)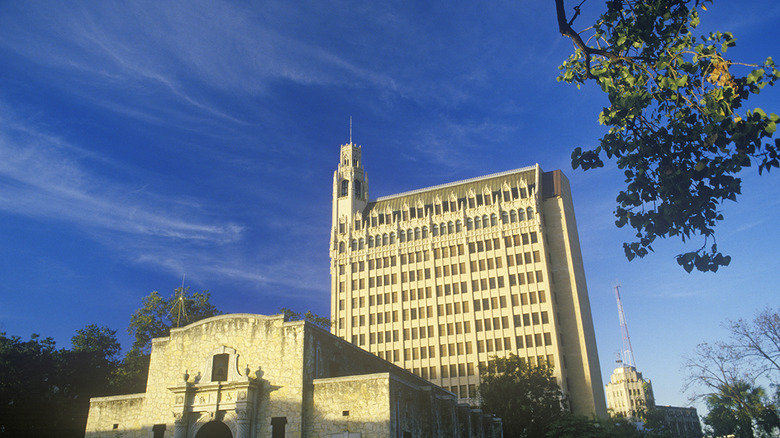 Shutterstock
While it is a lovely and historic place to stay today, the Emily Morgan Hotel was first known as the Medical Arts Building, with doctors' offices, a hospital, a morgue and a crematorium. As a result, many people had died or been cremated on the property, and guests of the present-day hotel have been known to report ghost sightings, unexplained sounds and even the sensation of being touched by someone or something they can't see. Other spooky occurrences also include phones ringing in the middle of the night of their own accord, flickering lights, a bathtub filling up by itself and the sight of a woman in a white dress.
Hotel Sorrento (Seattle, Washington)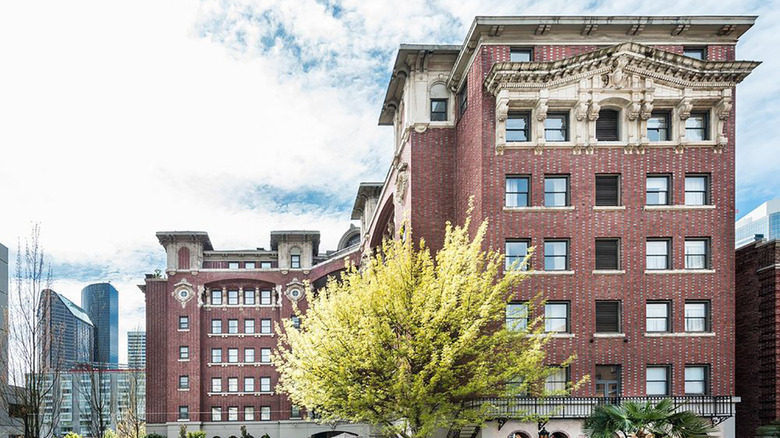 Hotel Sorrento/Yelp
Seattle's Hotel Sorrento is said to be the permanent home of Alice B. Toklas, known for inventing pot brownies, which she called "Haschich Fudge." Apparently often seen wandering the halls near Room 408 or moving around drinking glasses in the hotel dining room, Toklas is quite celebrated by the haunted hotel (despite never having stayed there in life) with tours, dinners featuring recipes from her cookbook and a cocktail drink in her honor that's made with lucid absinthe, chamomile, elderflower, lemon juice and honey.
The Hay-Adams (Washington, D.C.)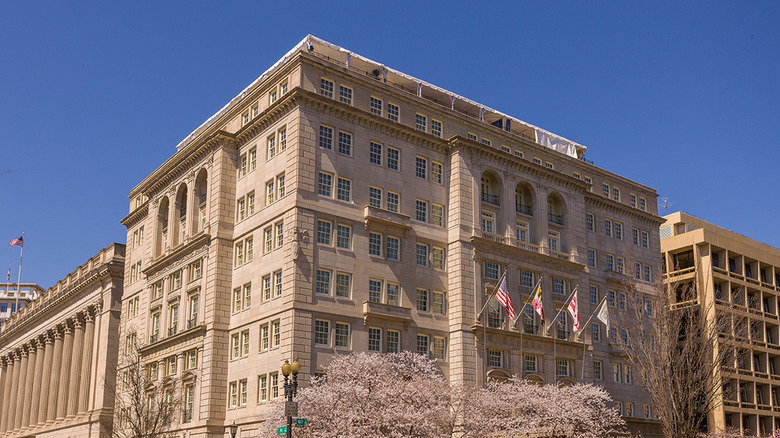 Shutterstock
The best hotel in Washington, D.C., the Hay-Adams is popular with locals, tourists and politicians — the Obamas stayed there for two weeks prior to the 2009 inauguration — and it serves as a popular wedding venue as well. A simple and elegant spot, it's also said to be haunted by the wife of Henry Adams, grandson of President John Quincy Adams, whose home once stood on the land where the hotel stands today. Marion Hooper Adams, or Clover as she was better known, apparently took her life in 1885 by taking potassium cyanide and is said to continue to haunt the halls of the hotel, particularly around the anniversary of her death. Guests have reported seeing the entryway chandelier swinging on its own as well as the inexplicable smell of almonds — which is similar to the smell of the potassium cyanide with which Clover took her life.
1886 Crescent Hotel & Spa (Eureka Springs, Arkansas)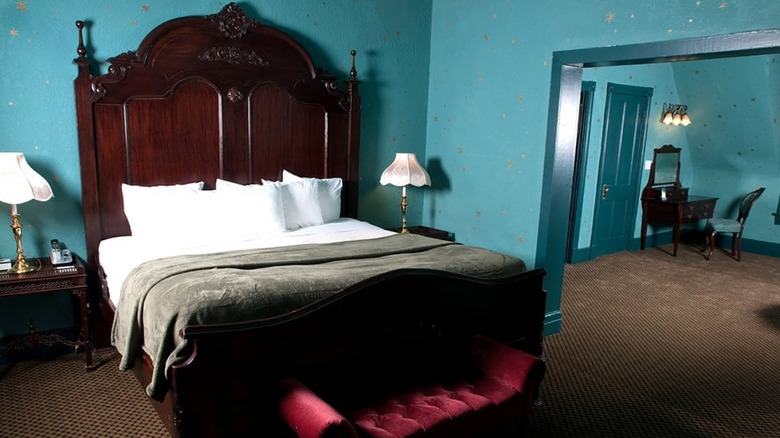 1886 Crescent Hotel & Spa/Yelp
When Marty and Elise Roenigk bought the Crescent Hotel & Spa in 1997, they actually had two certified mediums come in to read the more than 100-year-old building because of its history of paranormal encounters. As a result of the medium's findings, and the countless ghost sightings in the years that the hotel has been around, the hotel hosts ghost tours nightly. Declared a "portal to the other side" by the certified mediums, the Crescent Hotel claims to be "America's Most Haunted Hotel." Radio personality Norman G. Baker bought the building in 1937, turning it into a hospital where he treated cancer patients despite having no medical training. About 200 patients died there, and the "portal" that mediums found is located on top of what used to be the hospital's morgue. To this day, people have reported seeing the ghosts of those patients as well as a cat named Morris.
Stanley Hotel (Estes Park, Colorado)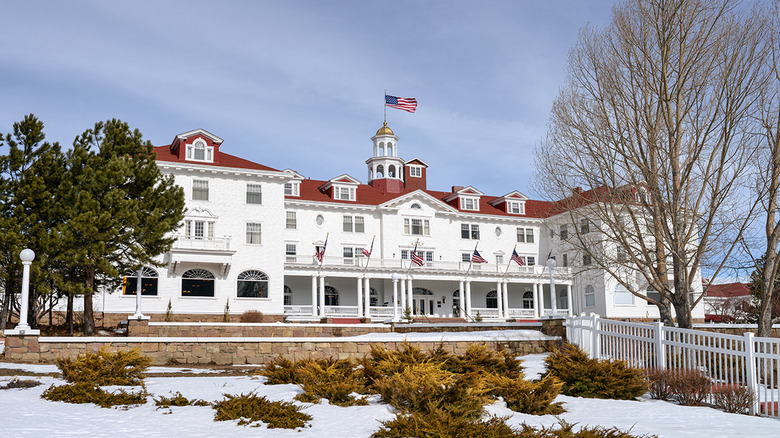 Shutterstock
The Stanley Hotel is most famous as the inspiration for Stephen King's "The Shining" and continues to serve as a popular place to stay in Estes Park. If you're eager for a stay at the 100-plus-year-old hotel, rooms 401, 407 and 428 are said to be particularly haunted, and some have also reported hearing the sounds of a party emanating from the ballroom despite finding it empty. If you're not sure you can brave a whole night, you can also join a tour in order to learn about the current active phenomena and folklore surrounding the spirits that are said to haunt one of the most terrifying places in the world.