10 Most Fun Indoor Waterparks In The U.S.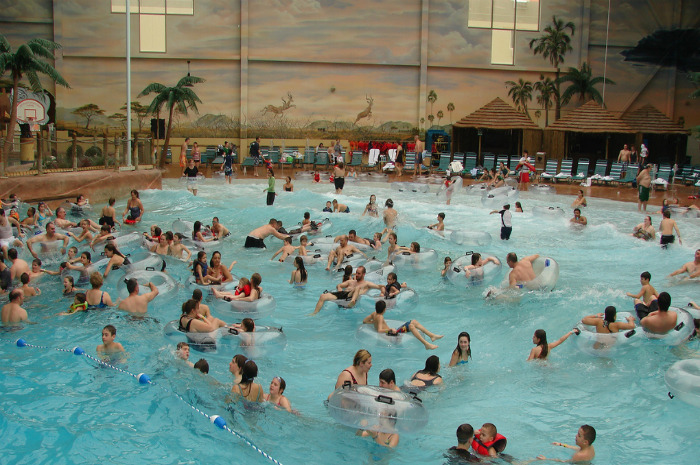 Photo Modified: Flickr / Counselman Collection/ CC BY 4.0
It may be named after a desert and be located in the middle of Ohio with a population of just 78,000 people, but this city has the country's largest waterpark – 173,000 square feet. You may think you're in Africa when you're inside because you'll be surrounded by masks, tribal artifacts and wild animals' sculptures. You'll be riding 5-foot waves, sliding on a zip coaster, which offers speedy hikes and scary drops. Little kids prefer the Wild Kingdom because it has net crawls, plenty of water guns and a lot of small slides.
Wilderness Territory Waterpark Resort in Wisconsin Dells, Wisconsin
This resort has four waterparks. The Wild Water Dome at the resort's New Frontier Region alone is 70,000 sq. ft. It has an enormous pool that will make you feel as if you're really swimming in the ocean. The roof is all windows so you won't miss the sun even a little bit. Kids love it for the bumper rides. The parks include basketball hoops, geysers and a hot tub that looks out of the lake.
Silver Rapids Indoor Waterpark at Morning Star Lodge in Kellogg, Idaho
The largest indoor waterpark in Idaho is perfect for teenagers. The pride feature of the park is the Hoop Lagoon, a warm-water pool in which you can play basketball like a pro. It is 3 feet deep and is the shape of an actual court. Teens will love the Flow Rider surf waves. They move at 35 mile per hour. If you like rafting, you'll like the Moose Sluice. You'll be speeding through a dark tunnel. Parents will probably enjoy the Warm Springs the most and floating along in the North Fork Lazy River.
Wilderness at the Smokies in Sevierville, Tennessee
You have to be guests at the resort in order to be able to access the waterpark. Its roof is see-through so bring your sunblock lotion. There is 10,000 sq. ft. wave pool and a 1,000 sq. ft. hot tub (more like pool). The kids enjoy the raft ride which is five stories. The park also features a lot of surf rides and thrilling slides. Many of them are ideal for small kids because they are not aggressive.
Hope Lake Lodge in Cortland, New York
This is the only indoor waterpark in central New York. It occupies just 41,000 sq. ft. of space but it has more than 150,000 gallons of water. There are a total of 500 ft. of slides, heated pools and features for toddlers. The temperature there is always 84 F, even when it's snowing outside. There is also a big wave pool, and another one with two water basketball hoops. The water castle is a kids' favorite because they can climb up and down shooting each other with water pistols.
KeyLime Cove Indoor Waterpark Resort in Gurnee, Illinois
So what if it's below zero degrees outside and you can't swim in Lake Michigan? KeyLime Cove in Gurnee is not fat from Chicago. Its tropical trees and other decorations will make you feel as if you're on the Caribbean. Visitors' favorite attractions are the RipTide Reef Arcade, Leapin' Lizards adventure spot and the Pinki's Pet Palace. The Tsunami Washout Wave Pool may sound scary but it's actually very toddler-friendly. The wobbling Hurricane Vortex shoots raft riders 40 miles per hour into a swirling bowl and then drops them on a 44-foot plunge.
Grand Harbor Resort and Waterpark in Dubuque, Iowa
What are you going to do when the crops are empty and there is nothing but snow for miles? Going to a waterpark is a fun option and the Grand Harbor Resort and Waterpark in Dubuque may not be far from you if you live in the Midwest. The facility is 25,000 sq. ft. and has lazy river, all kinds of tube riders and waterslides, as well as cannons and rope ladders.
Water Park of America, Bloomington, Minnesota
This is the tallest indoor waterpark in the country (which only makes sense probably because it's in the biggest mall in the nation). Its main attraction is the Eagles Nest 10th Floor Body Slide, also the tallest indoor waterslide in the U.S. So what can be fit in this enormous space: Kids pay areas, many other activity pools, body and tube waterslides, many surfing simulators, hot tubs, an arcade, lazy rover, climbing attractions, rafting rides...You can even build snowmen.
Sahara Sam's Oasis in West Berlin, New Jersey
This is the state's largest indoor waterpark – 58,000 sq. ft. It has the only indoor surfing simulator around. The park also features obstacle course slides as well as separate slides for the youngest. The Samazon Ropes Adventure, the world's tallest ropes course, is the visitors' favorite. Hotels nearby offer discounts; guests just have to say they doing Sahara Sam's "Stay & Play."
Avalanche Bay in in Boyne Falls, Michigan
This is a Bavarian-themed indoor waterpark, the biggest in the state. The roof is Fiberglass. People go there for the water roller coaster, surfing simulator – the only one in the state – and the Vertigo Cannonball tube slide. Other favorites are the climbing wall pouring water on those trying to reach the top, 900-foot lazy river, and the hot tubs. The waterpark is very close to the Boyne Mountain Ski Resort so many people try the best of both worlds – skiing and swimming in warm waters.