These Will Be The Defining Travel Trends Of 2016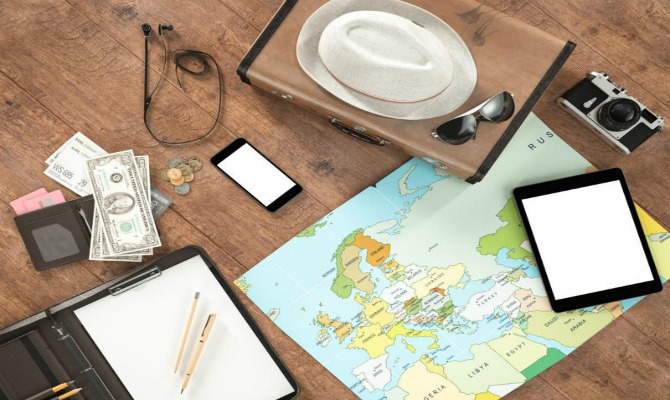 Thinkstock
Jo Piazza - The world of travel is moving incredibly fast these days. If you don't stop and look around once in a while, you might miss it. 
Here's what Yahoo Travel editors expect to see on the rise in 2016.
Less human interaction 
The big change in customer service in 2016 will be that we won't have to talk to actual humans nearly as often ... or ever if we really don't want to.
"The primary way people interact with one another will become Web chat, text message, and Facebook Messenger. Those will become the preferred ways that people interact with a business," predicts Hotel Tonight co-founder Sam Shank.
Hotel Tonight launched one of our favorite hotel innovations this year with its Aces system, a chat feature that connects guests with the company's team of insiders for access to everything from local tips to recommendations to room and hotel requests. This means that you never have to pick up the phone to ask for anything — an extra toothbrush, a wake-up call or a midnight snack — ever again.
More and more hotels are letting you order room service via text (even via emoji) or on an in-room iPad, like the ones now standard in the rooms at the SLS in South Beach in Miami, the Hotel Jerome in Aspen, and certain Hilton Conrad locations.
Related: Are We Really This Lazy? Hotel Reveals Emoji Room Service
More intuitive customer service
The machines are getting smarter. But until they figure out how to do the scary things like take over the nuclear warheads and bicker with your wife, we should embrace their brilliance. More and more travel booking and planning platforms are using algorithms to predict how you want to travel, taking away a lot of the heavy lifting on your part. A great example is the new platform Utrip, which takes a measure of your preferences and crafts an entire travel itinerary for you, including sightseeing, restaurant plans, and hotel reservations.
"Utrip brings all the options and recommendations into one easy-to-use platform. You tell us what you like and what you don't like, and we'll create a step-by-step itinerary in seconds," said founder Gilad Berenstein.
Related: Can This App Get Rid of the Annoying Part of Travel Planning?
More and more hotels, airlines, and apps are "learning" to sort through data about your preferences to tell you when you want to fly, whether you want an upgrade, what time you want to check in, and whether or not you should visit the Eiffel Tower.
A decrease in travel selfies
Maybe this is just wishful thinking on our part, but with the rise and success of companies like Flytographer (which allows you to book a photographer in more than 160 vacation spots) and El Camino (a tour company that brings a professional photographer on every trip), we're hoping that more and more travelers will step away from their phones in order to enjoy more authentic experiences.
Related: Can This Company Kill the Travel Selfie?
Sharing, sharing, sharing
Uber and Airbnb changed the way we thought about travel in 2015. In 2016, they'll start to get a run for their money as second movers in both of their markets start finding new ways to undercut their prices and innovate their products as demand in the sharing economy continues to rise. 
With Expedia's completion of its HomeAway acquisition, expect some interesting innovations in the home sharing market.
Fewer frills in the air than ever before
The big airlines are starting to realize that customers still fly, even if you nickel and dime them. Most passengers just want to get where they're going cheap.
Related: Can This New Fancy Plane Beat Jet Lag for You?
Cheapflights.com has predicted that in 2016 the big guys will start getting cheap to compete:
"Witness American Airlines jumping on the bandwagon with the addition of no-frill fares, the success of Norwegian Air, which just started serving Las Vegas, and the international airfare wars driven by the growth of WOW Air, which recently added transatlantic flights from Los Angeles and San Francisco to its lineup and has announced plans for service from Toronto and Montreal."
Experiential travel on the rise 
If you Instagram it, they will come. More and more hotel chains are realizing that they need to start creating unique experiences, the kinds that look AMAZING on social media, in order to attract new clientele of both the boomer and the millennial variety.
A great example is the Curio collection from Hilton, a line of unique independent hotels that the company will continue to expand in 2016. Backed by the strength of Hilton, each of the Curio properties offers something a little different.
"Each hotel creates an authentic local experience for the guest," explained Dianna Vaughan, the global head of Curio, when we asked her what makes the new line unique. "A common thread with all the hotels is a passion for enriching that experience. 
Related: Virgin Hotels Got Rid of Everything We Hate About Hotels
An increase in bleisure travel
If "bleisure" is going to keep being a thing, then someone has to come up with a new name for it.  Business travelers are combining more leisure into their business trips — extending trips and bringing along friends or family.  
This means brands need to learn how to adapt. Traditionally business-oriented hotels will start developing programs for children and couples. Airlines need to provide faster and better Wi-Fi service for travelers who need to be connected all the time, so they can genuinely enjoy themselves when they reach a destination.
Airlines may even need to find ways for colleagues to better interact and network while in the air so that not a moment of a trip is wasted.
More multi-generational travel
As the baby boomers age and their grandchildren get old enough to start seriously traveling, we'll continue to see a rise in multi-generational travel, oftentimes leaving one generation (the parents) at home.
"We've definitely noticed that multi-generational travel from North America is getting stronger. An African safari is still one of the biggest ticks off of the bucket list, but it's also one of the more expensive vacations. Parents' funds are tied up paying the mortgage or putting the kids through college and it's often the grandparents that have the financial security needed to cover a dream safari. It's also the ultimate bribe for the kids!" explained John Spence,  the cofounder of Aardvark Safaris, a specialist tour operator which has been customizing safaris for over 16 years.
"A safari—as a graduation or Christmas gift, for example—is a memory to treasure and a wonderful way to impart a legacy of the love of travel and conservation."
Related: Will the New Twist on the Economy Seat Change How We Fly?
Wellness, wellness everywhere
If the nineties could be characterized by a growth of the all-inclusive, drink till you drop resort vacation, the 2010s will be known as the detox decade. The wellness movement has been creeping into commercial travel for the past five years. Resorts like the St. Lucia Body Holiday dedicate entire weeks to detoxing, destressing, and getting their clients healthy. 
Four Seasons properties around the world have introduced running, walking, and hiking tours free to their guests. 
Juice menus have replaced cocktail menus in hotels, and even big chains like Westin have dedicated running concierges. Hotels and airlines are sinking plenty of money to embrace the wellness revolution, and the trend will truly become the new norm in 2016.
Let Yahoo Travel inspire you every day. Hang out with us on Facebook, Twitter, Instagram, and Pinterest.