Great Hikes: Cassidy Arch, Capitol Reef NP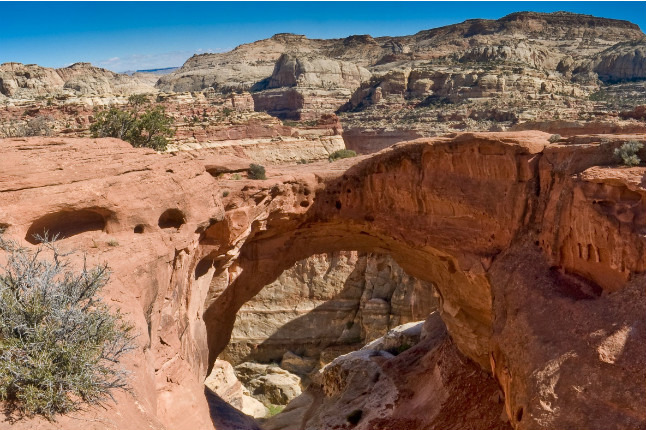 Shutterstock
As you climb to this lookout in Grand Wash canyon in Capitol Reef National Park, imagine you are scanning the surroundings for outlaws in the American Old West. It's a fitting game, as Cassidy Arch was named after Butch Cassidy, the notorious train and bank robber who is thought to have hidden out in the area.  
Cassidy Arch is part of the Kayenta sandstone formation in the Glen Canyon Group, a rock feature that spreads across Nevada, Utah, Arizona, New Mexico and Colorado. From the top of the arch, you have excellent views of both Grand Wash and Capitol Reef, the national park's namesake.
Capitol Reef comprises almost 10,000 feet of sedimentary strata, with rocks as old as 270 million years old. The most noticeable features are the white domes of Navajo Sandstone that resemble capitol buildings and the rocky cliffs that look like a coral reef. It is considered the most scenic portion of the Waterpocket Fold, a wrinkle on the earth that extends almost 100 miles.
Distance:  3.5 miles RT
Elevation Change:  670 feet
Difficulty Rating:  Difficult
Duration:  3 hours
Best Time to Go: Year-round. Make sure to check the weather report so you can take appropriate clothing.
How to get there: Cassidy Reef National Park is about  a four-hour drive south of Salt Lake City. For specific driving directions, visit the national park website. You can also click here for an orientation map of trails within the park.
Have a favorite hike? Submit it to mmorrison@theactivetimes.com or tweet at us.