10 Must-See Caribbean Dive Sites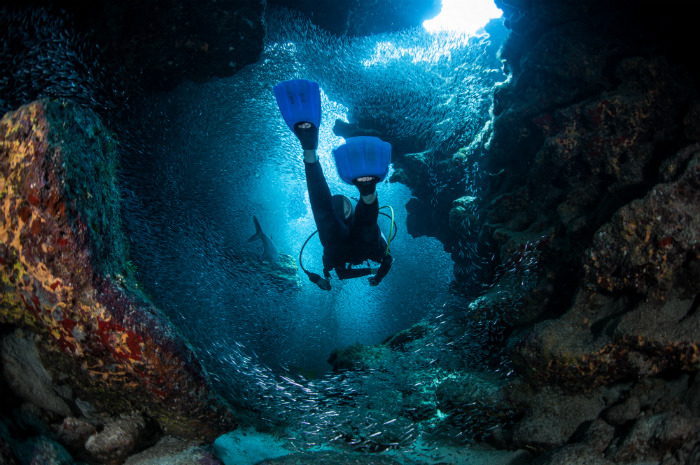 Shutterstock
10 Must-See Caribbean Dive Sites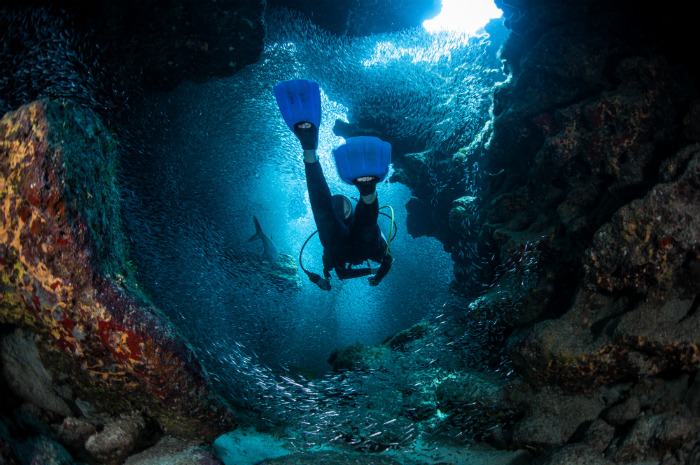 Shutterstock
It's already the joyous time of year when you start making summer vacation plans. The Caribbean is usually on top of the list because of its always-just-right weather, delicious food, laid-back atmosphere and gorgeous beaches.
There is just one activity you should add to your itinerary – scuba diving.
The adrenaline-pumping sport gives you a chance explore hundreds of small and big fascinating islands, shipwrecks from hundreds of years ago and a few new ones, and marine life like no other place on the planet.
The locations vary as well – you can dive from shore, from dive boats or spend days diving from a liveaboard. The sites on the following list are approved by the Professional Association of Diving Instructors (PADI).
1. Anse Chastanet, St. Lucia
Anse Chastanet is located in the marine park. This shallow reef is popular for both diving and snorkeling. With more than 150 different fish species on the reef, the dive site is a favorite, especially for photographers. Anse Chastanet is also often recommended for beginners to get their feet wet. The whole area is vested into an award winning marine reserve (SMMA) to protect the unspoiled beauty of St. Lucia's coral reefs.
2. The Cenotes, Mexico – Cenotes
Diving a cenote is truly special. These deep, freshwater-filled sinkholes formed when the roofs of limestone caverns collapsed and filled with water. The Yucatan's elaborate cenotes have intricate cave systems and underground tunnels that draw divers from around the globe. Many cenotes boast pristine turquoise waters and a beautiful array of stalagmites and stalactites that formed over millions of years. Proper scuba training and experience is a must for this experience.
3. Utila, Bay Islands, Honduras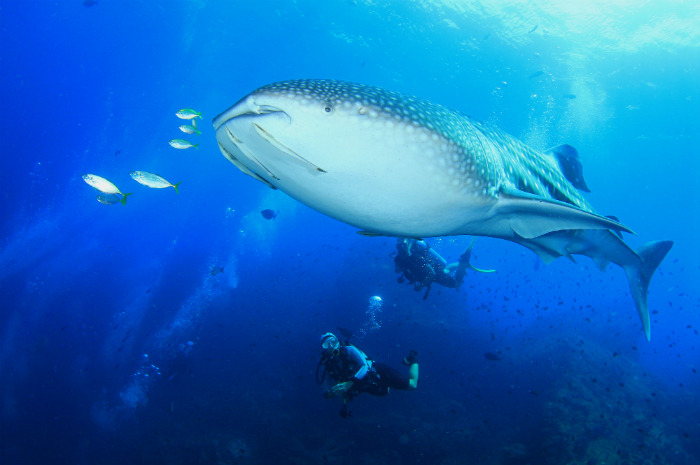 Shutterstock
Utila is the smallest of Honduras' Bay Islands, but can offer some of the largest underwater animal encounters in the Caribbean. The water is warm, the reefs are majestic and there is plenty of tropical fish to swim with. The island is often frequented by whale sharks – one of the ocean's gentle giants. While sightings are more frequent in early spring and late summer, it's not uncommon to spot whale sharks year-round, which is why Utila claims to be "the whale shark capital of the Caribbean."
4. Molinere Underwater Sculpture Park, Grenada
Jason DeCaires, creator of the world's first underwater sculpture park, started the park in Molinere Bay, one of Grenada's Marine Protected Areas, in 2006. With more than 50 life-size sculptures, the project shows environmental processes that turn art into an artificial reef. As marine life begins to grow on the surface of each piece, a variety of colors and patterns emerge, making a stunning visual. To get an idea of how amazing the experience is, take a look at this video of sinking and placement of the statues.
5. SS Stavronikita, Barbados
The most famous wreck on the island, this purposely-sunk Greek freighter, now part of the Folkestone Underwater Park, hosts a rainbow of huge tube and rope sponges. It's a unique underwater adventure. The 'stavro' lies in 120 feet of water with the stern at 100 feet and the bow at 70 feet. After 20 years, the hull is now decked with sea wipts, different corals and sponges; the masts and upper cabins are swarmed with all kinds of fish, along with barracudas, mackerels and turtles.
6. Stingray City, Grand Cayman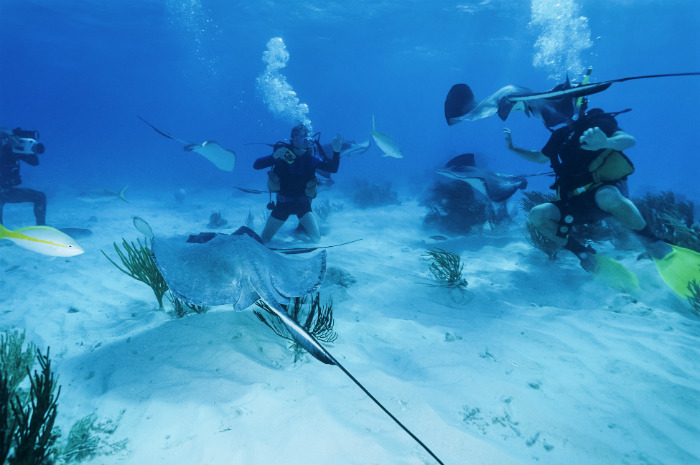 Shutterstock
Stingray City is one of the largest tourist attractions in the world. It is in 12 feet of water and mainly, but not exclusively, visited by scuba divers. On this shallow dive on a sandy bottom, hordes of southern stingrays surround you as they glide past hoping for a feed from a friendly divemaster. You've probably seen many photos and television documentaries featuring this famous site. Take selfies with the friendly stingrays or turtles.
7. James Bond Wrecks, New Providence, Bahamas
Relive the adventure of 007 by diving the Vulcan Bomber, a wreck purpose-sunk for the movie Thunderball, and the Tears of Allah another wreck that was used in the movie Never Say Never Again. This is a moderate depth wreck.
8. Antilla, Aruba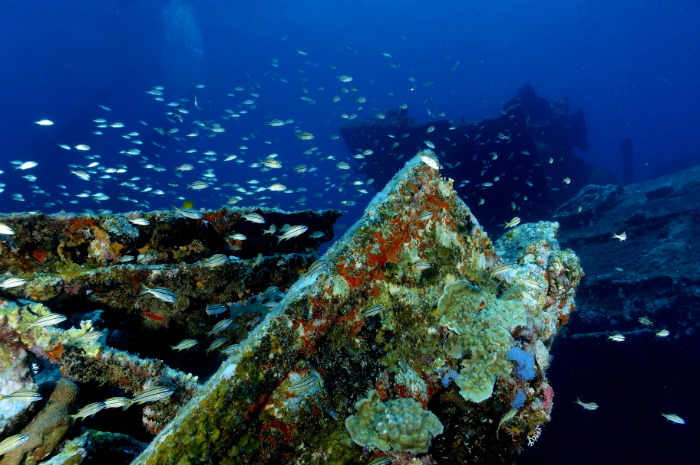 Shutterstock
This 400-foot German supply ship is the largest shipwreck in the Caribbean, according to PADI. It was abandoned by the captain at the outbreak of World War Two. Locals now call it the "ghost ship." At a maximum depth of only 60 feet, part of the ship breaks into the surface and it is also a good snorkeling spot. With its large open compartments, this freighter offers excellent wreck penetration diving. Divers love to explore the site at night.
9. Superior Producer, Curaçao
The Superior Producer, 200-foot site, is often referred to as one of the best wreck dives in the region. Sitting upright on the bottom at 100 feet, you can visit the wheelhouse at 80 feet or enter the open cargo holds. It measures roughly 164 feet in length. You will see its vast shadow taking shape from afar – a chillingly exciting view. You will see many anemones, as well as frequent visits from large grouper and schooling barracuda.
10. Catalina Island, Dominican Republic
Catalina Island, a small offshore island, is an uninhabited nature reserve and national park. You will be amazed at the vibrant marine life. There are two main dive sites – The Wall, which starts at about 20 feet and drops to 100 feet, and Aquarium, which is shallower. It is 40 feet deep.