This Underrated Small New York Town Is A Great Escape From The Busy City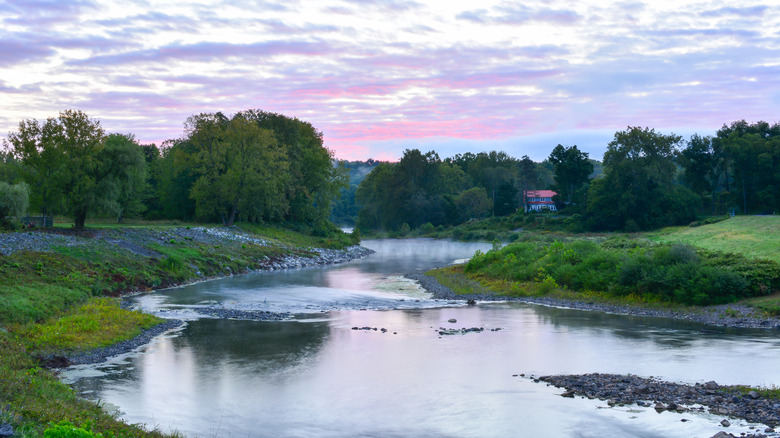 Ctraixaxu/Getty Images
With its dynamic cultural scene, world-renowned attractions, and bustling nightlife, New York City is a spectacular place to visit and live. Yet, The Big Apple can also be overstimulating and tiring. While the city may never sleep, you might be overdue for your own restful retreat. Look no further than Rosendale, New York, a Hudson Valley town just a two-hour drive from NYC.
In other words, step aside, Beacon; Rosendale is coming in hot! If you're hungry for some nature-filled tranquility in upstate New York, put this hidden gem on your radar. Approximately 20 square miles with less than 6,000 residents, Rosendale is small in size. But the town's beautiful natural surroundings, like Joppenbergh Mountain and Binnewater Lakes, make it larger than life. Through peaceful walks and hikes, you'll get a much-needed breath of fresh air.
In addition, Rosendale has a tight-knit artistic community that feeds its down-to-earth yet vibrant atmosphere. If you're up for it, explore the destination's entertainment offerings. You certainly won't feel like you're in touristy Times Square when out on the town. That said, Rosendale has some astonishing connections to NYC, which we'll get to later.
Outdoor adventures and indoor delights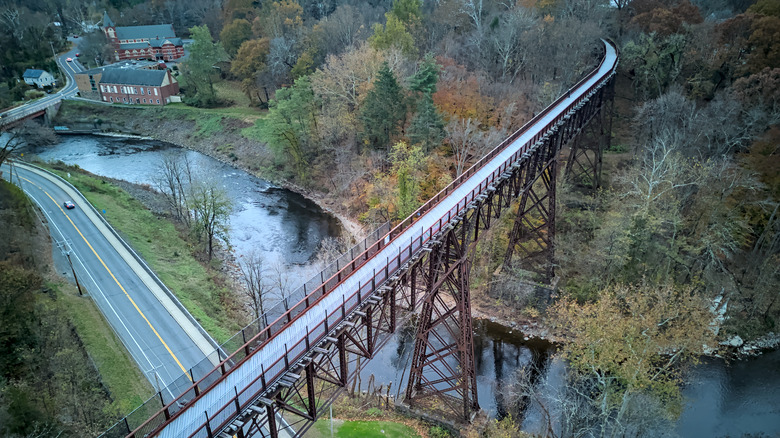 Yuriy T/Getty Images
Rosendale is a prime destination for outdoor enthusiasts seeking a glorious hike, run, or bike ride. Catch unparalleled views along Rosendale Trestle, a 940-foot-long pedestrian bridge that overlooks the Rondout Creek and the town's thriving Main Street. Part of the 22+ mile Wallkill Valley Rail Trail, the trestle — a former railroad bridge — is a standout stretch of the trail and linear park. With multiple access points, a stroll along the path includes lake views, cement mine ruins (more on that later), and historic buildings.
Enjoy some shopping, dining, and entertainment in Rosendale's Main Street, the town's charming little hub of restaurants and local businesses. Head to The Big Cheese for delicious domestic and imported cheeses as well as Mediterranean grub, fresh salads, and gourmet sandwiches. Inside the eatery, there's a secondhand store that sells books, clothing, and kitchenware. For authentic Japanese cuisine, go to Soy, a highly recommended restaurant nearing a five-star average rating on Yelp. The treasured spot serves homestyle dishes like niku jaga, miso soup, and takoyaki. Another highlight of Main Street is The Rosendale Theatre, a historic venue that runs as a nonprofit organization. At this beloved indie theater, catch classic films, new movies, live plays, and music performances.
Cement your love for Rosendale (calling all New Yorkers)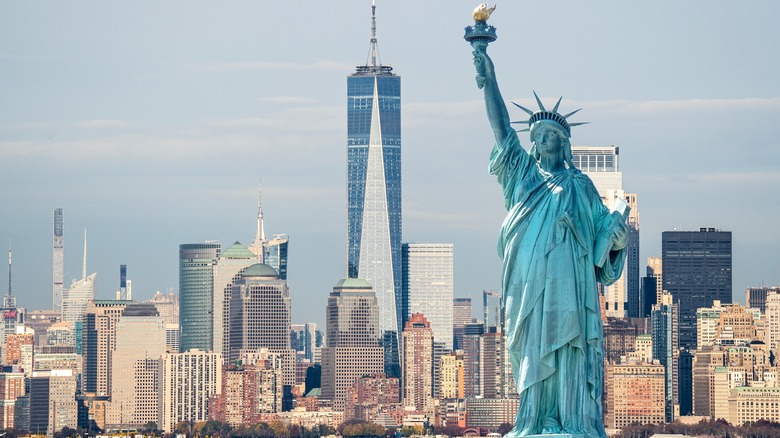 Paparacy/Shutterstock
A trip to Rosendale isn't complete without a stop at Widow Jane Mine, a unique attraction with a rich history. In the 19th century, Rosendale established itself as a key player in the cement industry. As the century drew to a close, the town contained more than a third of the nation's cement plants. Rosendale cement helped assemble famed landmarks like the Statue of Liberty, the U.S. Capitol, and the Brooklyn Bridge. Talk about iconic!
In 1970, the Widow Jane Mine stopped functioning as a cement mine but continued to be used for a variety of purposes. It has operated as a trout nursery, mushroom farm, supplier of whiskey water, performance space, and recording studio. Due to its exceptional acoustics, the rock amphitheater is an incredible home for recording sessions as well as live shows and concerts. This rustic venue, which can seat up to 500 guests, has held music shows, dance performances, poetry readings, drum circles, and art exhibitions. In addition to its entertainment offerings, the Widow Jane Mine has a small museum and a short hiking trail. The site's admission is donation-based, with a suggested contribution of $5 per adult. Just another activity that will cement your love for Rosendale.