Visit This Small West Coast Town For Incredible Winter Outdoor Adventures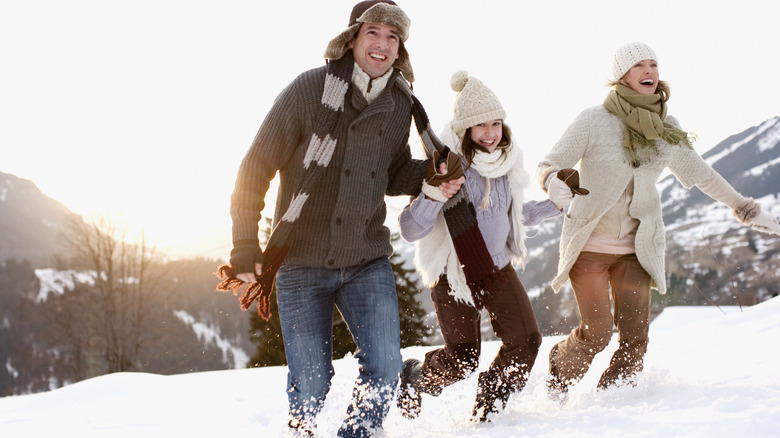 Sam Edwards/Getty Images
Small, sleepy towns have a special charm to them, especially in the winter months. There's something cozy about seeing the cluster of buildings covered with snow and the warm glow of lights inside the windows. The aesthetic is all the more intriguing when sweeping landscapes of mountains and trees surround the town. They make for a stunning visual as well as an exciting adventure if you're willing to venture into them. If such a place sounds splendid to you, the Snoqualmie Pass in Washington state is just for you.
Snoqualmie Pass, not to be confused with the nearby small city of Snoqualmie, has a population of just under 450. There's not much in the town, but it still draws people because of the incredible winter outdoor activities available around it. It's located right in the Cascade Mountains, meaning it's an ideal location for winter sports such as skiing and snowshoeing. If you're looking for a winter getaway that has plenty of outdoor activities, then consider heading to Snoqualmie Pass.
Winter adventures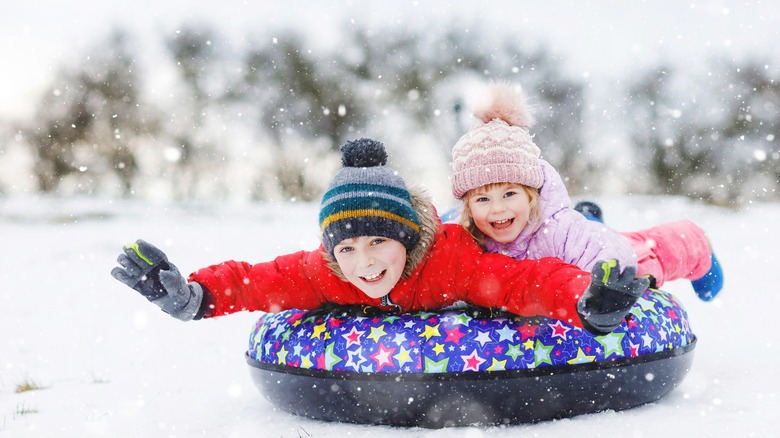 Irina Wilhauk/Shutterstock
If you can't get enough of skiing and snowboarding, you're in luck. The Summit at Snoqualmie is located right in the area and is open late. So whether you prefer skiing during daylight hours or after the sun sets, you'll be able to have your ideal time on the slopes. Tickets range from $26 to $72. If you don't have gear or simply don't want to bring it, then you can rent some gear there. In addition to skiing and snowboarding, they also have Nordic ski gear and ski bikes, which is a bike that has skis instead of wheels.
For those looking for downhill thrills that don't require the balance and coordination of skiing and snowboarding, you can try snow tubing. It's essentially sledding, but instead of a sled, you're in a tube. The Summit at Snoqualmie has over 20 tubing lanes, so you'll likely never get bored.
If you want something a little calmer but still adventurous, consider snowshoeing. You can go at your own pace and take in brilliant views of nature.
Cozy cabins for lodging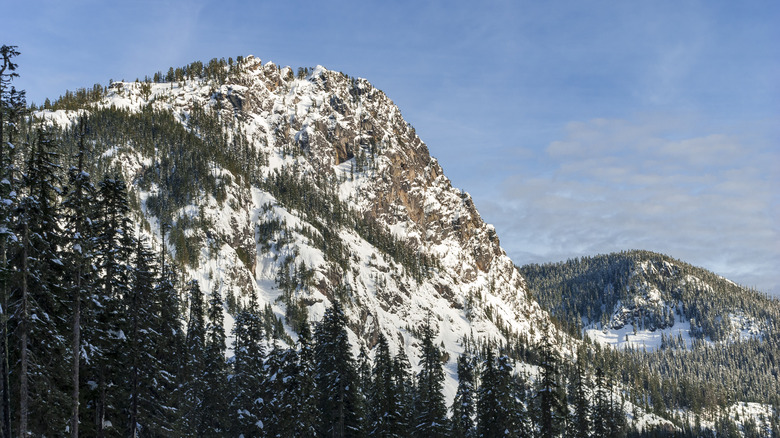 Openrangestock/Getty Images
You'll need a place to warm up and rest your head at night. You can stay directly at the resort, or you can venture into the surrounding areas. There's the Roaring River Bed and Breakfast about a 30 minute drive away in North Bend, Washington, that has lovely views of the Snoqualmie River, a cozy cabin aesthetic, and a 4.9 stars out of five on Google Reviews. You can also rent a cabin like the Hyak Duplex Cabin in Snoqualmie Pass. This is an especially great option if you're looking for a ski-in/ski-out experience, or if you simply want more space for you and your friends and/or family.
Next time you're searching for a cozy town with phenomenal outdoor adventures, head on over to Snoqualmie Pass for a snowy and splendid vacation. You'll find forests, slopes, and a myriad of opportunities to have a blast in the great outdoors. Bundle up and book your stay.