Visit One Of The Largest State Parks In New York For An Incredible Camping Adventure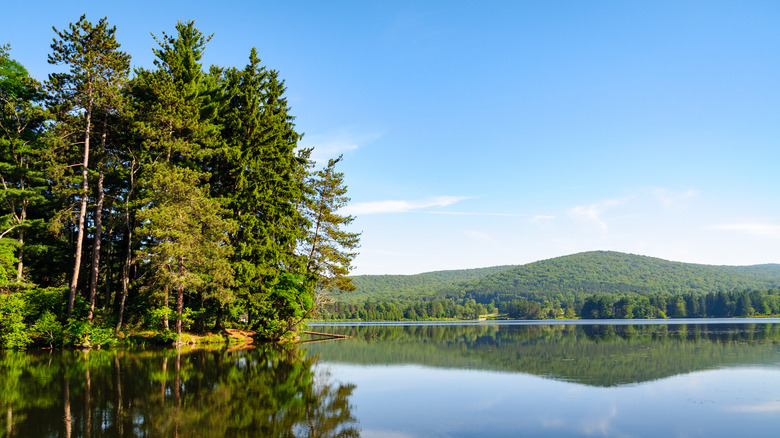 Zack Frank/Shutterstock
Searching for a secluded, four-season outdoor getaway? Skip town, pack your gear, and head to Western New York. Allegany State Park is perfect for an incredible, family-friendly camping adventure.
With 65,000 acres of mixed old-growth forests, wetlands, and blooming meadows, Allegany State Park is the largest state park in New York; part of it even spills across state lines into Pennsylvania. The diverse area is home to white-tailed deer, black bears, beavers, coyotes, and other forest critters. Moreover, the park's three lakes and various creeks are crucial for many reptiles and species of migrating birds.
The park itself is divided into two sections: the Red House area and the Quaker Run area. While each site is charming and teeming with nature, Allegany Park's Quaker Run is known for being a prime spot for all types of camping. It features two lakes, along with notable natural landmarks that include Bear Caves, a small cave system that can be explored. Whether you want a traditional camping experience or to go glamping, Allegany State Park has excellent accommodations for solo backpackers and larger groups.
Camping options at the park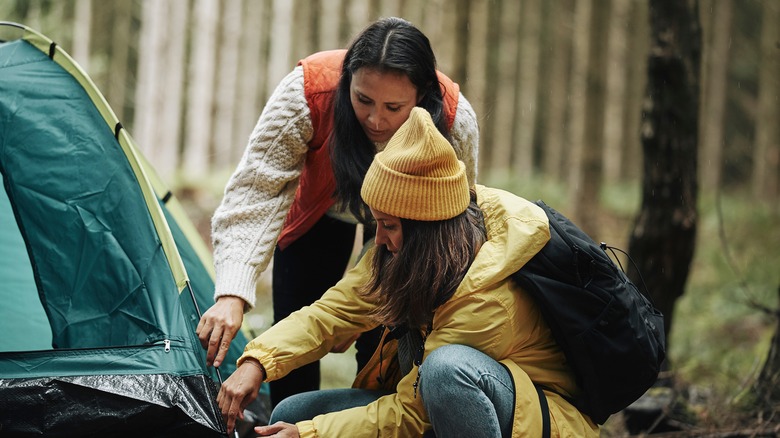 Ground Picture/Shutterstock
There are two main campgrounds and cabin trails that offer 189 campsites in the Quaker Run area of Allegany State Park. These campsites typically cost around $18.00 to $30.00 a night, but the price can vary throughout the year. In addition to the campsites, the Quaker Run area has 206 cabins — 17 of which are winterized. Many of the cabins have heating and electricity to make your outdoorsy stay more comfortable. The park's cabins are much pricier than the basic campsites, and can run anywhere from $154.00 to $568.00 weekly, depending on the amenities.
If you want an upscale experience while still surrounded by Mother Nature, you can rent one of the seven Fancher Cottages located in the Quaker Run area. These cottages are named after Senator Albert T. Fancher, who was dubbed the "Father of Allegany State Park." Each cottage sleeps six and has a private bathroom, refrigerator, and microwave. Not to mention, they are fully stocked with bedding and kitchen essentials. Though the price can vary, renting a Fancher Cottage can cost $175.00 a night, or $700.00 a week. Campsites, cottages, and cabin reservations can be made online before heading to New York State.
Activities in Quaker Run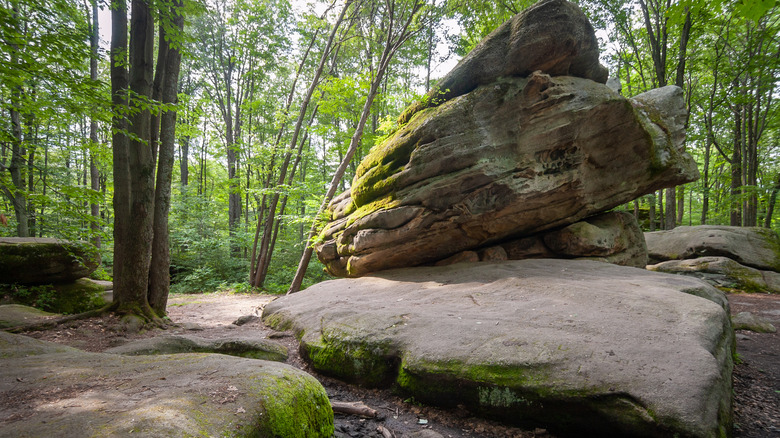 Zack Frank/Shutterstock
Once your campsite is good to go, the activities at Allegany State Park await: On a hot summer day, unpack your swimsuit and make your way to the Quaker area's sandy beach for swimming. The park also offers canoe, kayak, paddle board, row boat, and paddle boat rentals that will cost you $24.00 per hour. Rentals can be accessed at the Red House Boathouse near the campgrounds.
In addition to water sports, there are close to 20 trails that nature enthusiasts can explore. While some of these routes run parallel to Quaker Lake, others will take you further into the park's peaceful woodlands, past Bear Caves, and up rolling hills. There are dedicated biking trails, and the Red House Boathouse has affordable bike rentals for both adults and children. While trekking through the park, there are diverse wildlife viewing and birding opportunities. Moreover, history buffs can visit the old Quaker Store Museum; the building, originally built in the 1920s and later restored, houses exhibits detailing the rich history of the park.
During colder months, Allegany State Park turns into a Winter Wonderland. Fans of snowy weather can enjoy activities such as snowmobiling and cross-country skiing. In fact, skis and snow shoes can be rented at the Red House Gift Shop. After a long wintery day, curl up with a cup of hot chocolate in your heated cabin and watch the snow fall on the wild landscape. There's never a dull moment at Allegany State Park.