One Thing You Should Do Before Booking Your Next Camping Adventure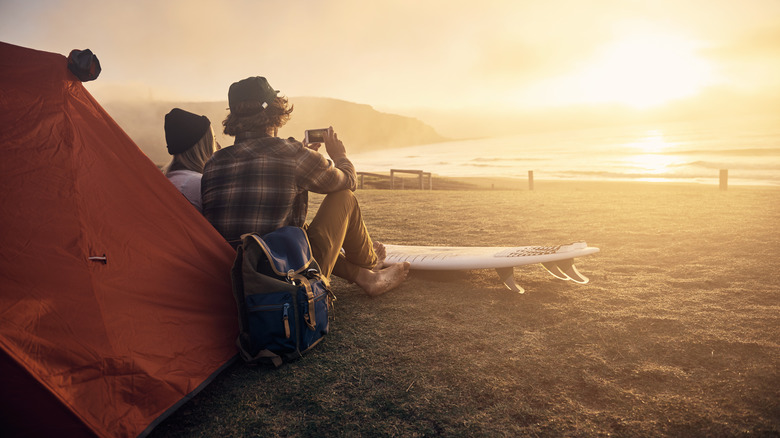 Pixdeluxe/Getty Images
As you plan for your next camping trip, one crucial thing to do is research the best time to go. The location of your vacation may be far away from your home, in which case the climate and seasonal changes are going to be different from what you're used to. And just because you've picked a general season, like summer or fall, don't expect that warm weather and sunny days necessarily apply. Animal migration can also affect an area and impact a camper's accessibility. For example, if you're planning a camping trip along the stunning Oregon coastline, it's helpful to know that beach camping is prohibited from March 15 to September 15 because the western snowy plovers are nesting. For reasons like this, it's crucial to do research before you pack up and head out.
Part of the fun of camping is being adaptable to the unexpected, and when you're outside, you're more likely to be impacted by the unforeseen. Sure, you can utilize tips to keep warm while camping in chilly weather, but what's going to make your life even easier is to research what to expect before solidifying the trip.
Camping is all about the weather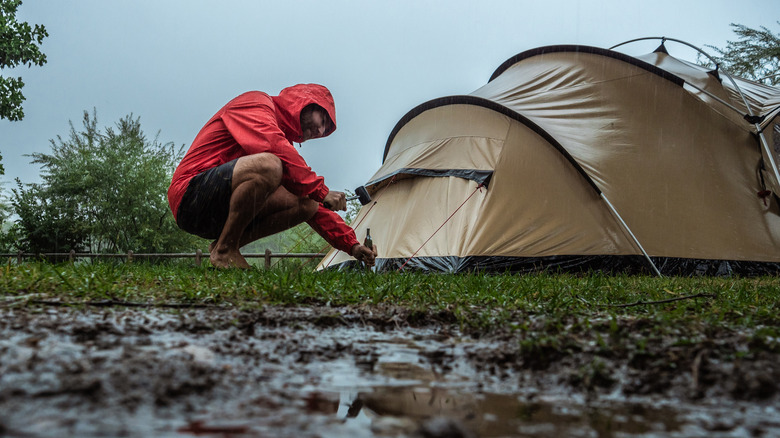 Mystockimages/Getty Images
Let's be honest: Rain can really ruin a camping trip. It impacts hiking, biking, swimming, and any other outdoor activity. You and all of your belongings are going to get soaked, and you can forget about having a fire or cooking outside. Of course, it's wise to prepare for bad weather, but the best course of action is to avoid going to the area during its typical seasons of inclement weather.
Pick a month that works for your schedule and research what the expected weather patterns are. For example, if you're planning on camping in Kananaskis Country in Alberta, Canada, the best time to go is between mid-July and mid-August. However, it's also worth noting that grizzly bears are out of hibernation from April through November, so keep this in mind. It'll impact how you store food and set up your campsite. Conversely, if you want to camp along the California coast, the shoulder season is actually the best. Opt for April and May, or September and October. The weather is milder and it'll be less crowded. Shoulder season, meaning the time right before and right after peak tourist season, is often the best time to visit a place. You can still (hopefully) enjoy idyllic weather and avoid overcrowding. Make note of what the night temperature will be in the location of your campsite too. You don't want to pick a season when it'll get too cold at night to sleep comfortably unless you're specifically prepared for cold-weather camping.
Look into reservations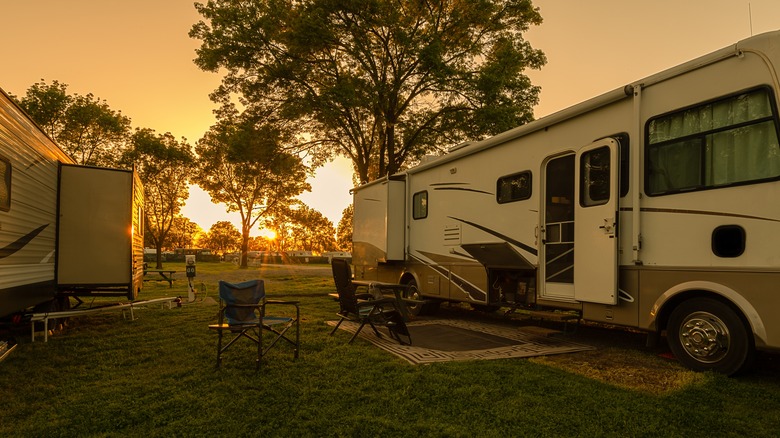 Photo_Time/Shutterstock
Another key factor in doing adequate research about an area before you go camping is to look up reservation details about your potential campsite. If you're planning on going to a very popular destination like Yellowstone, you'll want to reserve a campsite as far in advance as possible. For example, certain campsites in Yellowstone allow you to reserve a spot as much as a year in advance. You'll also want to research if it's possible to cancel or change a reservation after you've booked it.
Some campgrounds don't offer reservations and operate on a first-come, first-served basis. For example, if you want to camp in the Great Smoky Mountains National Park, you don't need to make a reservation from November to May, since this is considered off-season. If you are opting for a first-come, first-served camping site, be sure to have some backup plans in case the spots are all taken. A little flexibility goes a long way with camping. But with solid research, you'll be prepared for what to expect –  both in terms of location as well as weather and other contingencies.