This Canadian City Is The Perfect Place For A Winter Holiday Vacation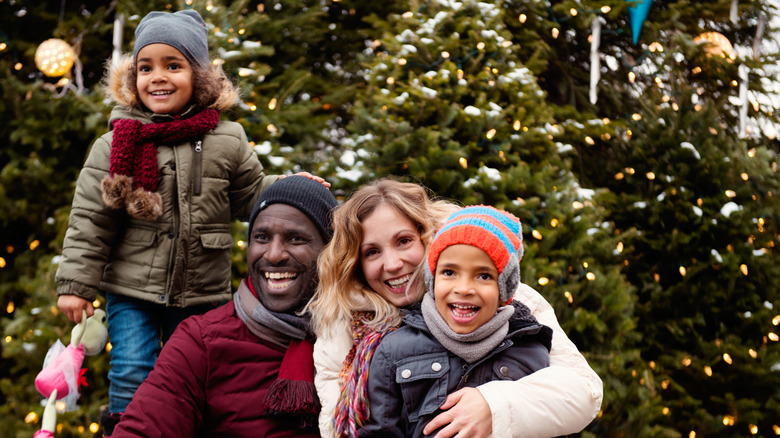 Manonallard/Getty Images
Canada might be cold in the winter, but it can also be charming. Quebec City elegantly demonstrates this, especially during the holidays. Its narrow streets are adorned in Christmas lights and fluffy snow. You'll find stores with festive decorations, beautiful museums, historic sites, and so much more. The city of just under 600,000 is a winter wonderland that offers everything from delicious food to snowy slopes to colorful festivals.
We've rounded up some exciting festivals, activities, and sights to help you build a holiday itinerary in the city. Whether you're scrambling to find last-minute Christmas gifts, see Christmas decorations, enjoy the arts, or partake in winter activities, you'll be sure to find something just right for you. Quebec City is the ideal holiday adventure destination for families, friends, and solo travelers alike. Explore its culture and festivities by visiting — just be sure to bundle up for your time outside.
Festivals galore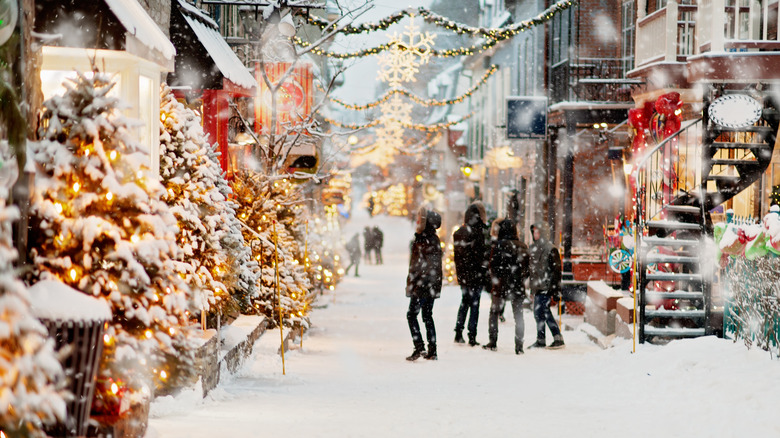 Lisegagne/Getty Images
We'll start with holiday festivals. The German Christmas Market is an iconic one that makes you feel as though you've stepped into Europe. You'll find nearly 100 vendors selling everything from food to arts and crafts. This market takes place from the end of November to just before Christmas. Shortly after the German Christmas Market, there's Kaléidoscopes, hosted in the same area as the German Christmas Market. This celebration centers on art. You'll find live performances ranging from music to theater to poetry.
Next, there's the Grand Christmas Market. This market is gigantic, with over 200 vendors. It's the ideal spot to stock up on decorations and Christmas gifts for family and friends. Local art and food are available, along with free entertainment.
Following the Christmas markets, you can explore exciting New Year's activities. There's the traditional countdown where people gather in Grande Allée to start off the year, but there's also a bunch of other events leading up to it. The Toboggan Festival is a popular one. This free festival celebrates music and features musical artists from all over the world.
Winter activities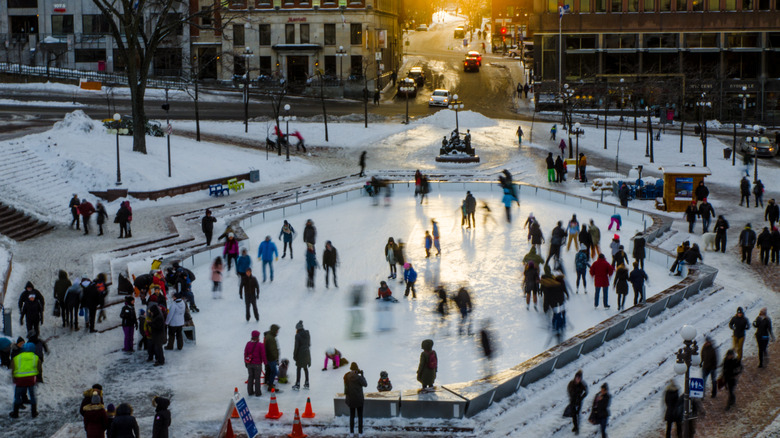 Marc Dufresne/Getty Images
As for fun winter activities, try ice skating at D'Youville where you'll have lovely views of the century-old buildings decked out with Christmas decor. It's a picturesque location and a delightful experience. Admission is free, and skate rentals and sharpening are available for a fee.
Next, there's the unique experience of ice canoeing. You'll climb into a canoe and set sail on the icy lake with others and a guide. On the half-day endeavor, you'll be able to enjoy a steaming cup of hot chocolate and some freshly baked pastries. Those will be sure to warm you up after being on the water.
We've only touched the tip of the iceberg when it comes to fun and festive winter festivals and activities. Quebec City is a great place to explore, especially during the holiday months. So next time you're booking a holiday trip, choose Quebec City for a magical winter experience.