What Really Came Of ZUP Watersports Board From Shark Tank?
Wakeboarding seems like a piece of cake. As opposed to surfing, where you have to balance on a board on your own, wakeboarding involves strapping your feet onto a board and holding onto a rope tethered to a moving boat. Seems pretty straightforward, right? Wrong! If you're a beginner, it may take you forever to figure out how to pull yourself up from the water and stay standing.
Designer Glen Duff and his friend Tim Zeckser recognized how difficult the sport was when some friends who had tried it felt defeated. It prompted them to develop a solution that will help people feel less intimidated by wakeboarding and watersports in general. The result? A modified wakeboard they called the ZUP. "The objective, number one, was to be able to get to a standing position, on the water, using very little upper body strength. Objective number two, ride in a comfortable forward-facing position on a single board. Objective number three, be able to re-hook the handle to the board to go back to a knee or laying position with no additional body stress," Duff said of the product in an interview with IPWatchDog. "And what we found was that by adding handles to a wide board, we were able to help the ergonomics of the individual get into all of the different positions very quickly and comfortably."
ZUP made watersports more accessible and enjoyable to people of all ages, which is why the founders pitched their idea on "Shark Tank" with the hopes of expanding their brand further.
None of the Sharks were on board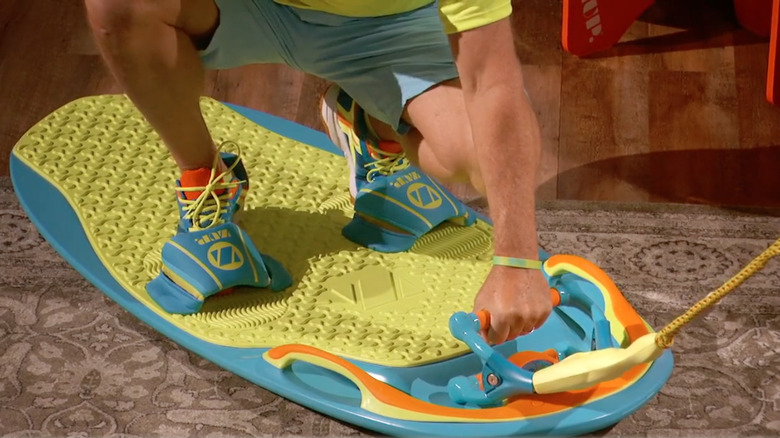 Venmo / ZUP
ZUP made a splash with their pitch on "Shark Tank." Scott Parks and Nick Kierpieck made a show of towing Glen Duff along on a ZUP board as they entered the room. The team then demonstrated "the easiest board you'll ever tow," highlighting how it had foot straps that doubled as knee pads and elbow pads, side handles, and a non-pinching handle. They were hoping to score $200,000 in exchange for a 10% stake in the company.
However, the Sharks showed apprehension when the entrepreneurs started talking numbers. While ZUP had lifetime sales of $2.5 million, was on track to sell $1 million more that year, and partnered with over 180 retailers across the U.S., Canada, U.K., Japan, and Australia, they were also $550,000 in debt and only had $100,000 in the bank. Mark Cuban questioned why they considered themselves disruptors, while guest Shark Sara Blakely, the founder of Spanx, pointed out flaws in their overall pitch. Despite the product showing a lot of promise, she said they failed to lay out what exact problem it solved and why it's better than other wakeboards.
All of the Sharks refused to offer a deal, with Kevin O'Leary even telling them that they were "50-50 chance away from zero," and Cuban stating that they had an excellent product but "horrible management." The ZUP team ended up exiting the tank empty-handed.
But ZUP continues to thrive to this day
As it turns out, Kevin O'Leary was wrong. Even though the ZUP team failed to convince the Sharks to invest in their product, their appearance on "Shark Tank" turned the tide. Speaking with Williamsburg Yorktown Daily, Glen Duff revealed that after the episode aired, traffic on their site shot up to over 4,000% and their Facebook views received a 400% boost. He even said that other investors had reached out to express interest in the business. "It was a dream, and we were able to pursue it," he noted. "'Shark Tank' is one of those things you can't buy ... if you don't have something compelling and interesting, you don't get on."
Today, ZUP has managed to expand its offerings to more than just water boards. The brand now sells tubes, mats, paddles, life jackets, and swimwear. As part of giving back to the community, the brand has also partnered with non-profit organizations like Above The Wake, which empowers children on the autism spectrum to have fun with watersports. "[ZUP] was a game changer for Above the Wake," founder Tom Hart told USA Today. "I can build confidence, create positive experiences, and then transition to wakeboarding. The ZUP Board has been the secret of our success getting our people on the water. We introduce children to water-based activities through paddle boarding as well. It is low intensity and a great start to the other services we provide."