This Tropical Island Off The Coast Of Australia Is A Great Destination For Hiking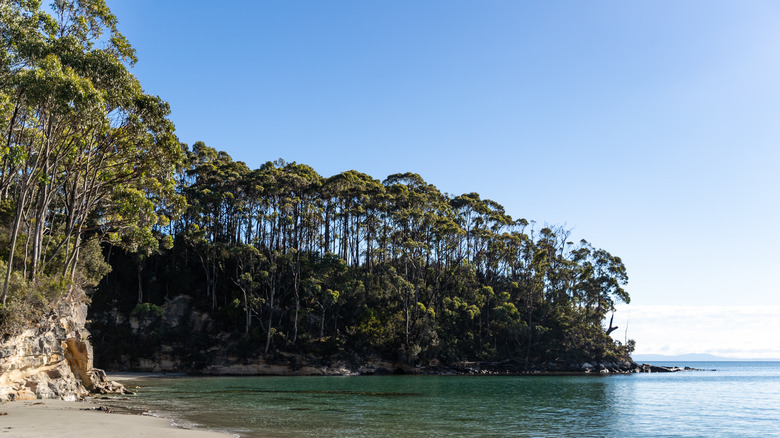 Mackenzie Sweetnam/ Getty Images
If you love anything to do with the great outdoors, you'll be like a kid in a candy store when you visit Australia. From the Great Barrier Reef to the Southern Lights, its land, water, and sky are chock-full of natural attractions. Everyone has heard of the surfing haven Gold Coast and the trendy metropolis of Melbourne, but one of Australia's hidden gems for nature lovers is found in the country's southernmost state, Tasmania. Bruny Island is one of the world's must-visit destinations for avid hikers.
Located in the Tasman Sea, Bruny Island waits just off of Australia's gorgeous coastline in Kettering, Tasmania. This local vacation spot is home to a wide variety of trails for beginner and expert hikers alike. Between its lush eucalyptus forests, pristine beaches, and abundance of natural wildlife, hiking along this dreamy tropical island guarantees an awe-inspiring experience — as long as you keep a few key details in mind.
Most popular hiking trails on Bruny Island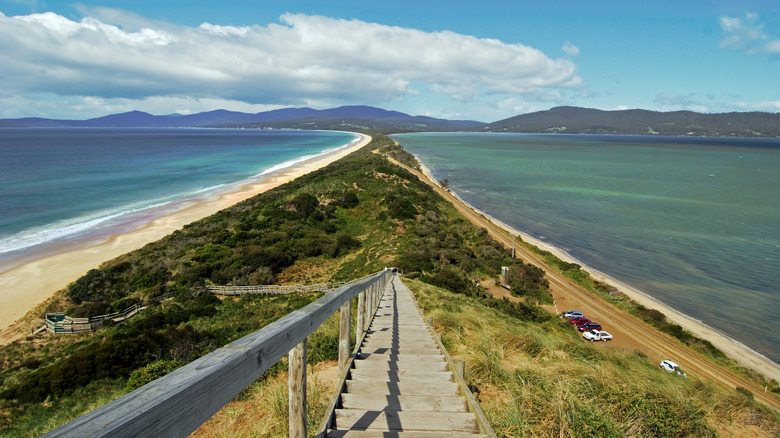 Tim Collins/ Shutterstock
If you're indecisive, choosing a hiking trail on Bruny Island can be challenging. The island boasts a remarkable selection of walking paths for tourists to explore, but a few stand out.
The Flute Cape Walk is perhaps the most popular hike. This 3.9-mile loop offers a moderate challenge and provides stunning views of Adventure Bay, one of the island's famous attractions. For those seeking an advanced hiking trail, the Labillardiere Peninsular Walk is the perfect choice. This 8.9-mile trek through South Bruny National Park takes approximately 5 hours and offers jaw-dropping wilderness scenery, as well as encounters with furry friends like cockatoos and wallabies.
If you're looking for a breathtaking view, locals highly recommend visiting the Bruny Island Neck. This narrow strip of land connects the northern and southern parts of the island. Atop this unique landscape is the Truganini Lookout, accessible via a 200-step staircase. Named after Truganini, an Aboriginal woman, and dedicated to the island's native Nuenonne people, the lookout provides an aerial panorama of the entire island. Birdwatchers will also find this spot perfect for observing unique residents such as penguins and short-tailed shearwaters.
Preparing for your trip to Bruny Island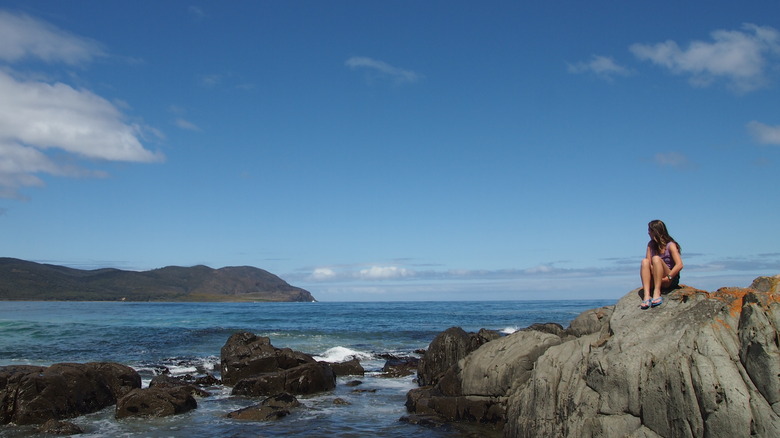 Jodie Griggs/ Getty Images
If you're ready to start planning your hiking getaway to Bruny Island, here are a few practical tips to ensure a smooth trip. Most visitors begin their journey in Hobart, Tasmania, the largest city near the island. From Hobart, you can either drive or take a bus to the small coastal city of Kettering. The car commute takes approximately 40 minutes, while there are usually five buses a day that complete the route in about an hour.
Upon arriving in Kettering, you'll need to take a 15-minute ferry to Bruny Island, either on foot or in your car. Once on the island, there is no public transportation available. Unless you plan to take a guided tour or explore on foot, it is recommended to bring a vehicle. Many of the island's best sights are located far from the ferry drop-off point, particularly within the South Bruny National Park. To enter the park, you will need to purchase a park pass from the official Tasmania Parks & Wildlife Service.
The most popular times to visit Bruny Island are from September to February. During these months, average temperatures range from 62º-68ºF, so it is advisable to pack warmer layers. If you plan to visit in the spring, it is recommended to bring a raincoat and water-resistant boots, as it is the island's wettest season.