This French Polynesia Destination Is One Of The Best Spots In The World For Scuba Diving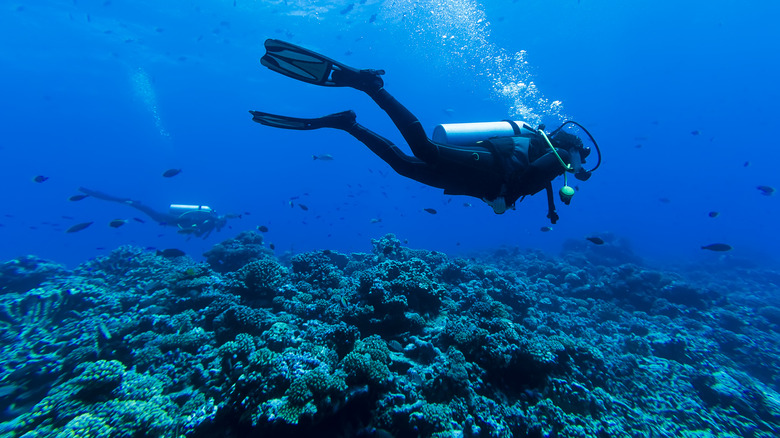 Mafelipe/Getty Images
Diving aficionados from all over the globe travel near and far to see some of the underwater world's most spectacular sights, whether it's ticking bucket list destinations like Australia's Great Barrier Reef, diving Egypt's magnificent Red Sea, or even swimming between continents in Iceland. But if you're looking to increase your diving bucket list, one of the most remote and tropical paradises in French Polynesia needs to be added to it pronto.
In typical French Polynesian fashion, Rangiroa is laid-back with some of the world's most pristine beaches. While each island offers scuba diving, what separates Rangiroa from nearby Mo'orea and Tahiti is it's consistently ranked as one of the best dive destinations within the atolls. While many head to French Polynesia for a honeymoon, romantic getaway, or simply a chill beach vacation, if you're looking to get in the water to swim with the fish, Rangiroa is a must.
What to expect under the sea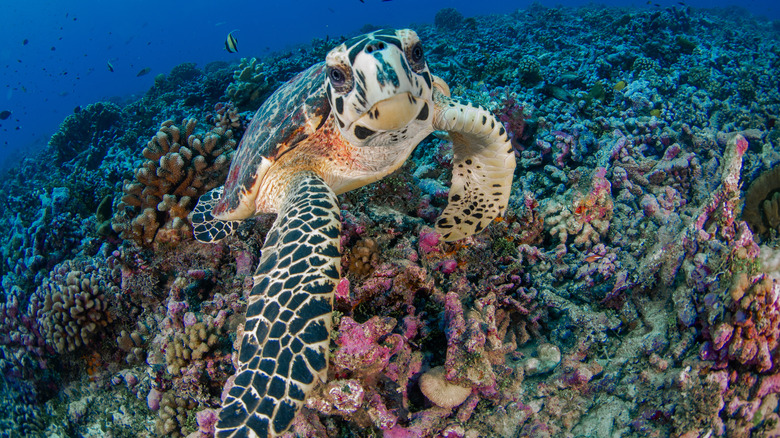 Mayumi.K.Photography/Shutterstock
Whether it's colorful coral or unique wildlife, Rangiroa has you covered. There's plenty to see beneath the sea's surface here. Leave your biases about sharks at home, as it's quite common to swim alongside them when diving in Rangiroa. While it's unlikely you'll see a great white, you do have a high probability of seeing plenty of blacktip reef sharks, whitetip reef sharks, gray reef sharks, and maybe even a hammerhead shark. Sharks aside, Rangiroa is one of the world's top destinations for spotting bottlenose dolphins.
Coral reefs surround the entirety of Rangiroa, so expect to see some vivid colors while underwater. Some of the top snorkeling and diving destinations are the Tiputa Pass and the Blue Lagoon. To best determine where to go, you'll want to use a trusted local dive shop like Rangiroa Diving Center. If you're looking to stay a while, Rangiroa is a great place to partake in a liveaboard. A liveaboard is for those who are really serious about diving being the focus of their vacation, where you essentially live on the boat for a few days and go diving as much as possible with other like-minded people.  
Best time to visit French Polynesia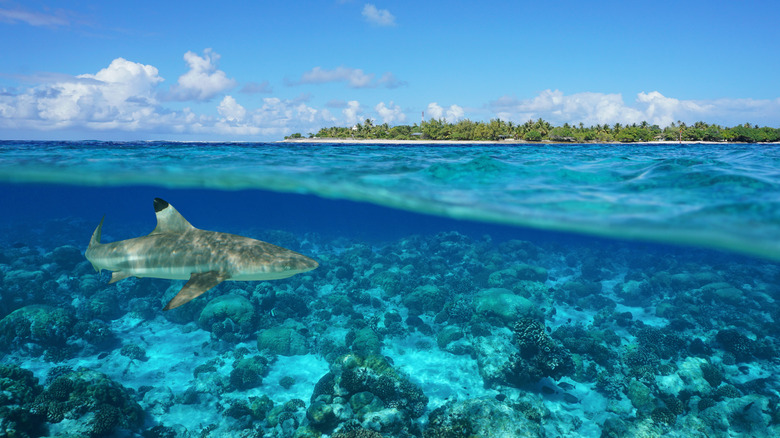 Damocean/Getty Images
The time of year you visit Rangiroa can make a huge difference in your diving experience. If you're interested in seeing whales, you'll want to head here between August and October. While seeing sharks year-round is common, if you're particularly interested in seeing hammerheads, January to March is your time, but beware: that also falls during cyclone season. The dry season typically begins in May and ends in November. When it comes to warm weather, it's unlikely that the temperature will ever fall below 75 degrees Fahrenheit, no matter which month you choose to visit.
You'll want to consider travel time to and from Rangiroa as part of your planning. It's not necessarily difficult to get to, but the journey is quite long since it is so remotely located. French Polynesia only has one international airport, so you'll need to fly into Fa'a'ā International Airport in Tahiti. Within the US, there are direct flights from Seattle, Honolulu, San Francisco, and Los Angeles. You'll need to get to Rangiroa from Tahiti, and your best bet is to jump on the one-hour flight via Air Tahiti. After what can often be over 24 hours of travel, we have a feeling you'll find the trek was well worth it once you see the natural beauty Rangiroa has to offer.