14 Of The Biggest Fish Ever Caught
World Wildlife Fund
A Goliath Tigerfish
Central Africa's Goliath Tigerfish (Hydrocynus goliath) is reportedly as fierce as its name suggests. While some compare this freshwater fish to piranha—it's equally or more aggressive, and has been to known to attack humans and even crocodiles—its 32 teeth are nearly as big as a great white shark's. In 2010, while filming for the Discovery Channel show "River Monsters," host Jeremy Wade (left) caught this five-foot-long, 100-pound, prehistoric-looking monster. Yet Wade never received official recognition, and the IGFA record still belongs to Raymond Houtmans (right), who landed his 97-pounder on the Congo River in 1988.
Texas' Other Massive Alligator
The toothy Alligator Gar (Atractosteus spatula) has historically been despised by fishermen because it feeds on so-called trophy fish, like largemouth bass. But recently there's been a surge in hunting them. The 8'3", 230-pound gar pictured here—taken by John Paul Morrison, the son of Bass Pro Shops CEO Johnny Morris—may be the biggest ever killed by bow and arrow. Still the record by rod-and-reel is held by Bill Valverde, who hooked a 279-pound alligator gar on the Rio Grande in 1951.
A Book-Worthy Bluefin Tuna
Ken Fraser landed the world's biggest Atlantic Bluefin Tuna (Thunnus thynnus) off the coast of Nova Scotia on October 26, 1979. Thirty-four years later, he's still basking in the glory of his 45-minute battle with the 1,496-pound fish. He maintains a major web presence in order to sell the book he wrote about that fateful day, Possessed, and to market himself for speaking appearances.
The Car-Sized Catfish
Southeast Asia's Mekong River breeds some of the world's largest freshwater fish, including the giant freshwater stingray, the dog-eating catfish and the Siamese giant carp. This 646-pound Mekong Giant Catfish (Pangasianodon gigas) was caught by local fishermen in Thailand's remote Chiang Khong district in 2005. While it was a thrilling catch that set the freshwater record at the time, it was also a sad day for his leviathan brethren, which are critically endangered by dam building, commercial fisheries, habitat loss and pollution.
A Great Big Barracuda
Canadian Christian Loranger hooked this 87 lb. 3oz. Great Barracuda (Sphyraena barracuda) in September of 2012 off the coast of Christmas Island in the Indian Ocean. He fought more than two hours before landing it, and setting a new IGFA record.
The Giant Japanese Crabzilla
In the wide world of creepy-crawly many-legged crustaceans, Japanese Spider Crabs (Macrocheira kaempferi) are the world's leggiest. This guy, caught by a fisherman in the Pacific Ocean and put on display in Britain's National Sea Life Centre, measured 10 feet from claw to claw (each feeding limb is 5 feet long). What's more astonishing about this deep sea "Crabzilla" is that he could live to be 100 years old, at which point his legs may each be as long as 12 feet!
Mighty, Mighty Marlins
Marlins are some of the world's largest gamefish, typically tipping the scales at nearly 1,000 pounds. But more than a few times, fishermen have been lucky enough to have "the one" on the line. Alfred Glassell, Jr. (pictured at left) is recognized by IGFA as the world-record holder for the 1,560-pound Black Marlin (Istiompax indica) he landed in 1953 off the coast of Peru. But Gary Merriman, Jr. hooked a 1,656-pound Indo-Pacific Blue Marlin (Makaira mazara) near Kona, Hawaii in 1984. Though the tale has gone down as one of the Big Island's most famous fishing tales (you can read a particularly dramatic account here), IGFA rejected the record application. To this day, there's still lively controversy over who the record for biggest marlin belongs to.
The Submarine-Sized Halibut
German angler Marco Liebenow got his money's worth this August when he caught a record-setting fish aboard a Norwegian fishing charter. It took Liebenow and three friends more than 90 minutes to reel in the 9-foot-long, 515-pound Atlantic Halibut (Hippoglossus hippoglossus). The halibut, an enormous flatfish, was too big to be brought aboard the 19-foot boat. They had to tow the leviathan to shore, where a crane lifted it onto the dock.
A Larger-Than-Life Lobster
In 2012, a shrimp trawler found this giant lobster (Homarus americanus) in its nets five miles offshore of Maine. The fishermen brought the 27-pound crustacean, nicknamed "Rocky," to the Maine State Aquarium. There, researchers said his outsized claws were likely strong enough to break a man's arm. After a brief media circus, he was returned to the Atlantic Ocean. Though Rocky was the largest-ever lobster caught in Maine, he wasn't the largest-ever caught. According to the Guinness Book of World Records, that title goes to a 44-pounder netted in Nova Scotia back in 1977.
King of the King Salmon
Fish biologist Doug Killam made waves in 2008 when he discovered the carcass of an 88-pound Chinook Salmon (Oncorhynchus tshawytscha) on a California creek. But the crown of largest-ever salmon goes to the 97-pound, 4-ounce king that Les Anderson snagged in Alaska's Kenai River in May of 1985. Based on length (58.5") and girth (37") measurements, it's thought the fish probably broke the 100-pound barrier when it was fresh out of the water.
A See-It-To-Believe-It Stingray
Biologist Ian Welch was helping with a stingray tagging program in Thailand when he landed this Giant Freshwater Stingray (Himantura chaophraya) on the Maeklong River. Measuring 17 feet long from nose to stinging barb and seven feet wide, and weighing in at 769 pounds, it doesn't even compete with the largest of its species, which grow up to 1,300 pounds—as big as a large bull moose!
A Truly Jurassic Fish
Sturgeon have changed very little since 175 million years ago, when the ancient fish shared the planet with huge dinosaurs. And angler Michael Snell probably thought he had a dinosaur on the line when he hooked a giant White Sturgeon (Acipenser transmontanus) on British Columbia's Fraser River in July of 2012. Measuring in at 12 feet, 4 inches long with a girth of 53 inches, the fish was estimated to weigh 1,100 pounds (his conservation-minded guides at Great River Fishing Adventures released it alive, making it impossible to weigh) and be up to 100 years old.
A Super-Sized Swordfish
Seasoned angler Lou "Uncle Lou" Marron hooked this world-record 1,182-pound Swordfish (Xiphias gladius) off the coast of Iquique, Chile in May of 1953. The fish, which measured 14 feet 11.25 inches long, put up a terrific two-hour fight before succumbing. To read a colorful account of the big catch, check out this 1958 Sports Illustrated article.
An Invasive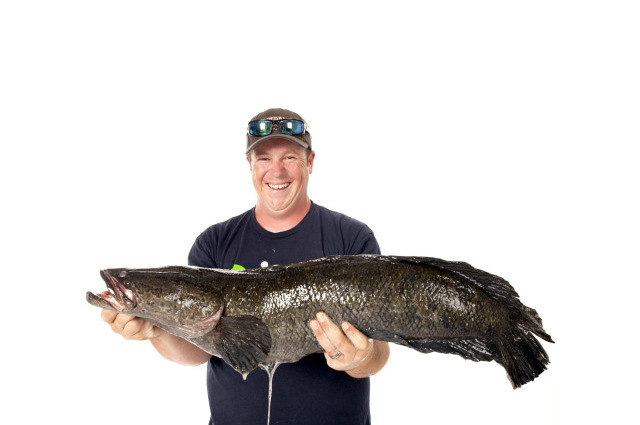 Griffin Moores/The Free Lance-Star/AP Photo
Virginia plumber Caleb Newton landed this shocker of a fish during a local tournament. Not only did he set a world record with the 17-pound, 6-ounce Northern Snakehead (Channa argus), but it only took him a minute to reel in. The invasive fish—which many have taken to calling the "frankenfish"—originates in Asia. Even creepier than how it looks, it can actually breathe air and survive up to four days on wet land, wriggling like a snake to move from one body of water to another.