Step Onto The Set Of Star Wars At This Stunning US Sand Dune Field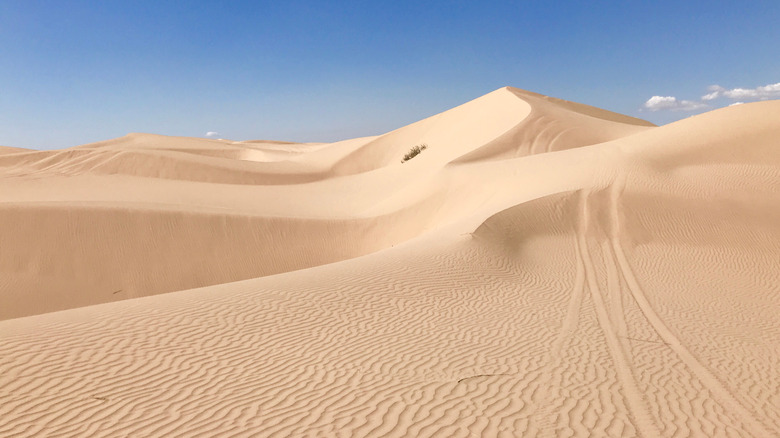 Lost Mountain Studio/Shutterstock
In 1977, the original "Star Wars" movie introduced audiences to the sight of a desert planet called Tatooine, home of farm boy and future Jedi hero, Luke Skywalker (Mark Hamill). For modern travelers exploring earthbound places, the sands of Tatooine might look a little familiar if you've ever been to Tunisia or even just sunny California.
By now, it's become a well-known part of "Star Wars" lore that the first movie (retroactively subtitled "A New Hope") was filmed on location in the Tunisian desert. There's even a place there called Tataouine, though obviously it's spelled differently. To this day, you can still find private tour groups offering multi-day "Star Wars" itineraries in Tunisia. These tours will take you around to local sites like the Hotel Sidi Driss in Matmata. The cave dwellings there served as the filming location for Luke Skywalker's home on Tatooine. 25 years later, they appeared onscreen again in the 2002 prequel, "Attack of the Clones."
What if you can't afford to go all the way to Tunisia, though, for your "Star Wars"-inspired trip? That's a valid question, and creator George Lucas may have had a similar financial concern when he won the sequel rights to "Star Wars" and executive-produced "Return of the Jedi." Released in 1983, the third and final film in the original "Star Wars" trilogy sees Luke Skywalker return to Tatooine, where he confronts the slug-like alien, Jabba the Hutt. To see this movie's version of Tatooine, look no further than California.
Visit the Imperial Sand Dunes in California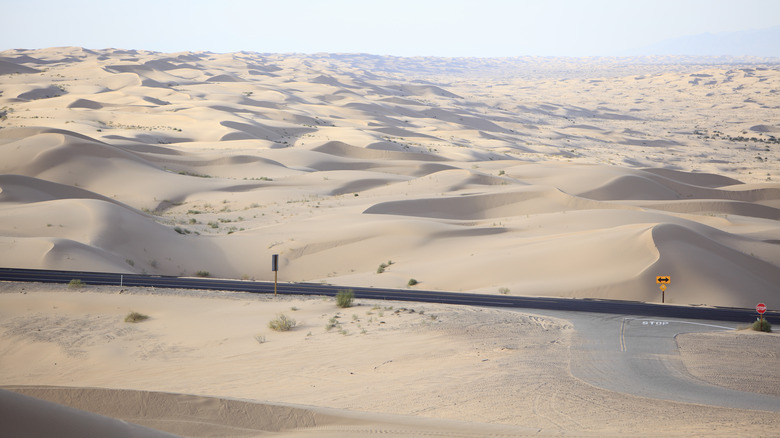 Constantgardener/Getty Images
California's largest mass of sand dunes is the Imperial Sand Dunes, located in Imperial County in southeastern California. Maybe it's the name that drew "Return of the Jedi" here, since so much of the movie involves Han Solo (Harrison Ford), Princess Leia (Carrie Fisher), and their furry Ewok pals fighting Imperial Stormtroopers.
The Imperial Sand Dunes, also known as the Glamis Dunes or the Imperial Sand Dunes Recreation Area, double as one of the biggest dune patches in the U.S. The patch is over 40 miles long and an average of 5 miles wide. It was designated a National Natural Landmark in 1966. Four years earlier, the dunes appeared in another famous film, the Oscar-winning "Lawrence of Arabia" starring Peter O'Toole. You may have also seen them in "The Scorpion King" starring Dwayne "The Rock" Johnson, so their cinematic appeal extends from classically trained thespians to pro-wrestlers-turned-actors.
Some of the dunes tower as high as 300 feet. They can be seen partly from Highway 78, which provides access east of Brawley, California. Beyond serving as a local landmark, the dunes function as the most sizable off-highway vehicle recreation area for sand dunes in the country. You won't see "Star Wars" vehicles like the Sandcrawler here, but you may see people riding ATVs or playing house in RVs.
Off-roading and other adventures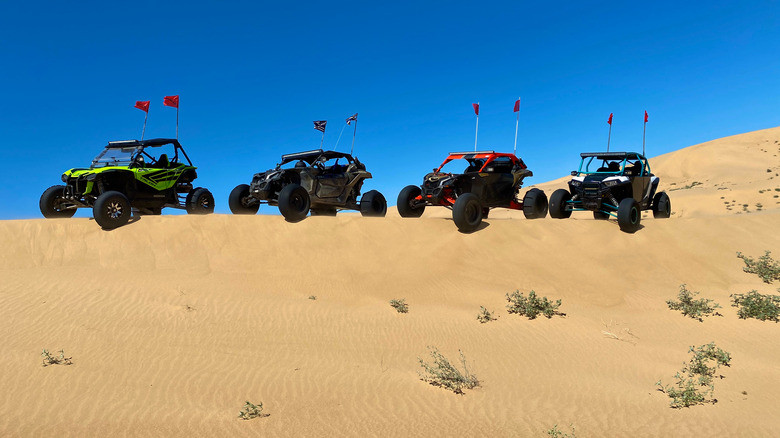 Badger13/Shutterstock
Since the Imperial Sand Dunes are a federally owned site overseen by the Bureau of Land Management, you need a permit to enter them with your vehicle during the off-road recreation season from October 1 to April 15. You can purchase a permit for $50 on-site, or save and get one in advance for $35. Online, however, permits for the 2024 season only go on sale starting October 1, 2023 from isdpermits.net. Within the dunes, there's a speed limit of 15 miles per hour. A safety flag is required for your vehicle, and there are other rules and regulations prohibiting things like fireworks. Even if you don't want to have an off-roading adventure, you can stop along Highway 78 and get a view of the dunes from Hugh T. Osborne Lookout Park.
The Imperial Sand Dunes can also be accessed via Interstate 8, west of Yuma, Arizona. In the Yuma Desert, there's a related "Return of the Jedi" location "Star Wars" fans might want to check out. Buttercup Valley is where the climactic scene with the man-eating Sarlacc pit was filmed. It's where Jabba the Hutt's sail barge was built during the production of "Return of the Jedi." 
For its part, California contains not only the desert landscape of Tatooine, but also the redwood forests of Endor, home of the Ewoks. Some of the filming locations for Endor can be found in Redwood National and State Parks, where you can also visit the set of "E.T."