Visit The Largest Aquarium In Europe At This Underrated Italian Destination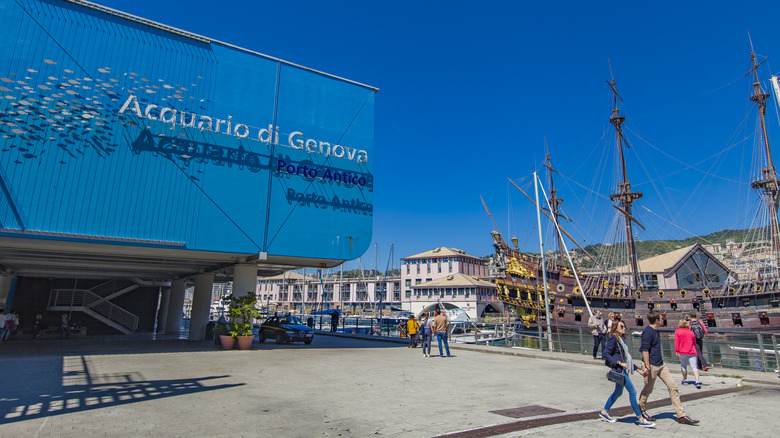 Boggy22/Getty Images
Located in northwestern Italy, Genoa is a coastal port town that was once a nautical powerhouse. Despite this, it is an underrated tourist destination often glossed over for more prominent Italian cities. Genoa, known for its impressive medieval architecture, is home to some of the best museums to visit in Italy. For art connoisseurs, there's the Royal Palace Museum and the Palazzo Bianco. Genoa also has the Galata Museo del Mare (Galata Sea Museum), which focuses on Genoa's maritime history. Only a short walk away from Galata, you'll find the Acquario di Genova, also known as the Aquarium of Genoa.
The aquarium was built in 1992 in Genoa's Old Port to honor Genoa native Christopher Columbus' founding of the Americas. The Aquarium of Genoa claims to be the largest in Europe, and needless to say, there's plenty to see (pun intended). It houses 15,000 animals from 600 species, such as manatees, sawfish, Gentoo penguins, bottlenose dolphins, and more.
Likewise, there are more than 70 different exhibits. This includes an eel-filled Morays Cave, Sharks Bay, and Seal's Island, to name a few. The aquarium notes that a visit will likely take up to 2 to 3 hours of your time. However, if you thought that the Aquarium of Genoa only has aquatic animals, you were wrong.
The Aquarium of Genoa offers visitors two unique attractions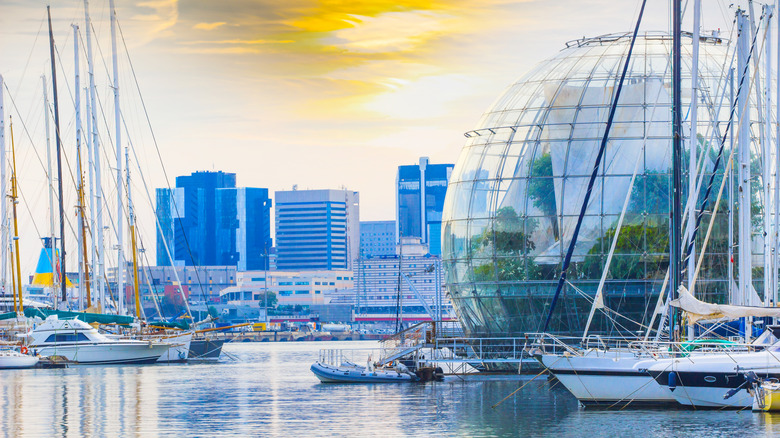 Parntawan/Getty Images
According to Visit Genoa, the Aquarium of Genoa receives over a million visitors annually. Size aside, there are other reasons why it's a top-rated activity. The aquarium has a biosphere, which can be best described as a glass and metal greenhouse with tropical plants and animals. Here, guests can enjoy the flora and get up and close and personal with insects and birds. In addition, the aquarium has what's known as the Bigo Panoramic Lift. This impressive attraction is not for those who are afraid of heights.
The Panoramic lift takes guests inside a circular cabin that rises 40 meters (about 131 feet) above the Old Port. The ride takes 10 minutes and provides sweeping views of Genoa. While inside, a brief audio guide provides information about the Old Port. Guests to the Aquarium of Genoa can pay to access the aquarium, the biosphere, and the panoramic lift through their Planeta Acquario ticket.
If preferred, guests can skip out on these two and pay an entrance fee that only allows them entrance to the aquarium. There is an additional fee for the biosphere. That said, the Aquarium of Genoa has rave reviews from visitors on Tripadvisor. In August 2023, one person said, "Out of all the aquariums I've been to, this was by far the most magnificent one."