Find The Best Hikes And Outdoor Activities At Your Destination With This Tool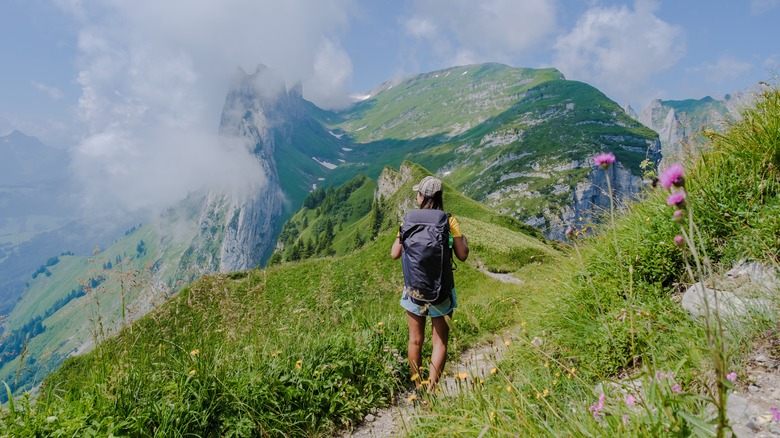 fokke baarssen/Shutterstock
Hiking is invigorating for the mind, body, and soul. But getting to a hike can be a hike in itself, as an ideal spot can take far too long to get to. Or, you may be in unfamiliar territory without the faintest idea of where to go. That said, you may not realize that there are some glorious trails right where you are. Thanks to one app, you no longer have to spend hours weeding through the internet to find a beautiful path that's also convenient.
Whether you're a hiking lover or a biking aficionado, AllTrails can help you locate the best trails at your destination. The trails are reviewed by experts and users, allowing you to make a well-informed decision about your next adventure. This trusted platform has become a go-to tool for travelers worldwide, as it's been used in 150 countries and has been downloaded by more than 55 million people from all over the world. AllTrails has proven to be incredibly resourceful for a number of situations, especially with finding great paths that aren't a road trip away. Yet, if you're willing to go the extra mile and travel farther for a trail, this app will also come in handy.
AllTrails is full of helpful features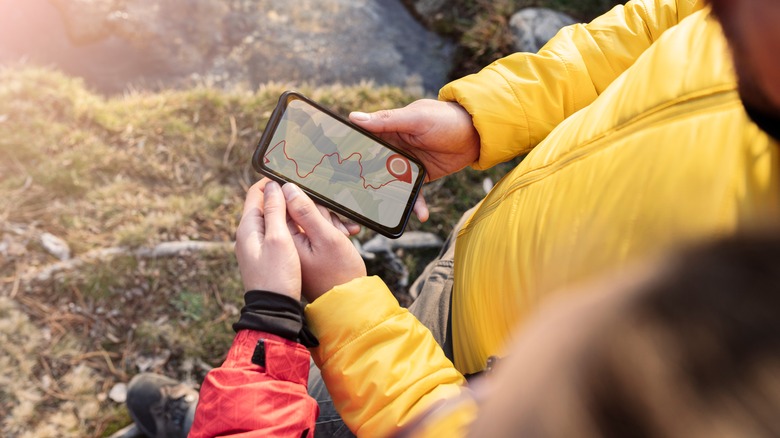 PintoArt/Shutterstock
AllTrails is a valuable service with a wealth of information about outdoor activities. Users can find various hiking, biking, and running trails that display distance, rating, and level of difficulty. It also shows accessible trails for dogs, kids, or trail-goers with wheelchairs. So, wherever you are geographically, AllTrails can point you to a nearby trail that caters to your particular needs and desires.
The app contains over 200,000 detailed trail maps, with the GPS function guiding users so they won't get lost on a hike. However, you have to pay $29.99 a year to access the Pro version, which includes offline trail maps. Alltrails+ offers other useful features, such as live route updates on factors like air quality, wrong-turn alerts, and a function called Lifeline so that friends or family can keep tabs on you.
This outdoor tool recently added a feature to streamline the general search process for users. In August 2023, the company took to Instagram to announce its latest addition called Guides. They described it as such: "From reservations and fees to trail lists, get all the info you need in one comprehensive, expert-curated Guide. With over 200+ national park guides, make planning your adventure easier than ever."
AllTrails highlights top trails worldwide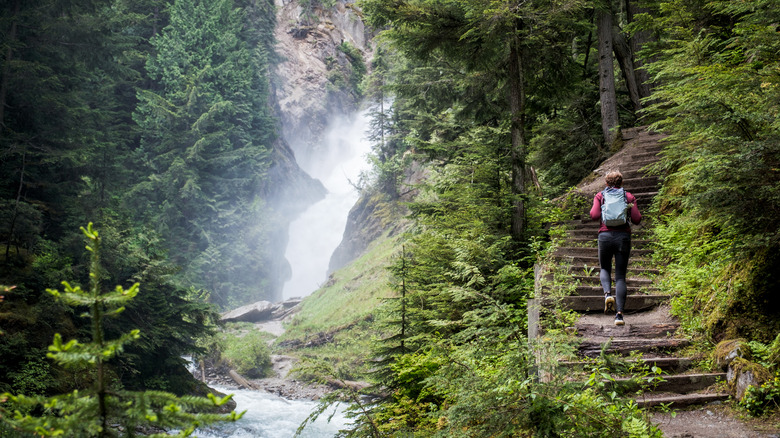 Nattrass/Getty Images
While many trail-goers will use Alltrails to find a close destination, the app provides some pertinent information for those who are willing to do some extra research and travel a greater distance for a popular hike. Deciding what parks or trails to visit can be overwhelming, but Alltrails has highlighted some top picks from various places. On its website, the company has categorized stand-out spots by "trending trails," "parks worth a look," "cities to explore," and "countries to consider." There's also a directory that displays the top 50 regions, cities, parks, trails, and points of interest.
The Alltrails Instagram account frequently calls attention to some exceptional hikes, so check out the page if you need some inspiration or guidance. In one post, the account shared details about a stunning trail in Wyoming, writing, "Delta Lake via Lupine Meadows Access is an adventure filled with epic views from start to finish! On the 7.2 mile out and back trail, you'll see Delta Lake, a high alpine lake formed from the Teton Glacier." As not every trail-goer will want to walk for hours on end, the account also recommends paths for travelers who aren't seeking a long-distance hike. Another post described Canada's Moraine Lake Rockpile as "a short, easy .5 mile walk that features expansive views of Moraine Lake and the surrounding Canadian Rockies." When exploring AllTrails, there's something for everyone.