The Epic Snack Deal You Can't Miss On Your Next Trip To Disney
Snacks are one of the best parts of a Disney vacation. Disney parks have no shortage of delicious things to try, from churros to Mickey-shaped ice cream to Dole Whips. After a while, however, the cost of all those small bites can start to add up. If you're looking for a way to save on all your snacking, look no further than the popcorn carts scattered throughout the parks. Though the popcorn served at most carts is fairly standard, its price reflects its status as a universally enjoyable, albeit basic, treat.
If you're traveling with kids, this particular treat is familiar and easier to enjoy on the go as opposed to a messy ice cream sandwich or an easily melted slushy. Currently, there are two ways to purchase popcorn at Disney parks. A small or regular-sized popcorn snack comes in a tall, square-shaped cardboard box and does not include any refills. A plastic popcorn bucket comes in a larger size, costs a few dollars more, and is eligible for refills.
How to maximize your snack savings with popcorn buckets
According to The Family Vacation Guide, refillable buckets at Disney World can cost between $13-$25, with limited-edition buckets at the higher end of the spectrum. A regular box of popcorn costs about $5, while bucket refills cost about $2.25. In Epcot, flavored popcorn at specific carts is eligible for the refill price. However, specialty popcorn purchased in stores throughout Epcot and the other theme parks are not part of the refill plan. 
The outer designs of the buckets can change every so often. Specialty or seasonal popcorn buckets are released during specific times of the year and often relate to seasons like Halloween or Christmas, or events like Walt Disney World's recent 50th-anniversary celebration. These unique popcorn containers do not always have room for a full serving of popcorn. Cast Members at Disney parks will ask guests if they want their popcorn in their container or if they'd like to keep it clean and eat it out of the cardboard, single-serve box instead.
Other things to know about saving money with popcorn buckets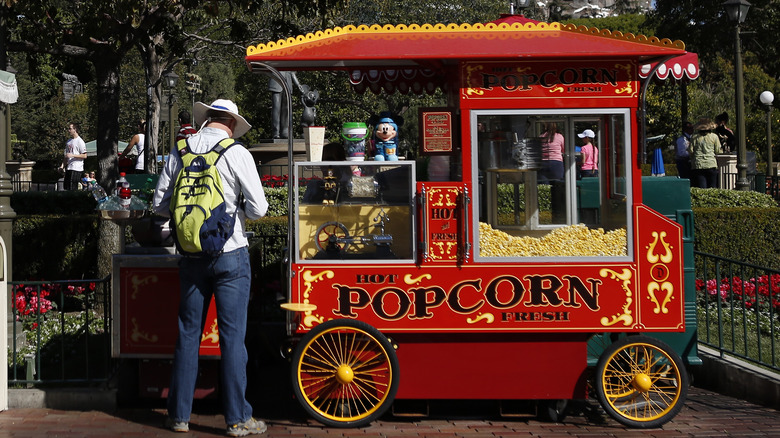 Bloomberg/Getty Images
However you want to enjoy your popcorn, you must have your bucket present at the time of purchase to receive the cheaper refill price as opposed to being charged the full price for a regular serving. There is no limit to the amount of refills you can request while you're at a Disney park. 
According to planDisney, you are allowed to use your refillable popcorn bucket for the duration of your stay. Most guests understand this to mean when their vacation is over, so are the less expensive refills on their popcorn buckets. In our experience, we have never been asked to show proof of purchase when requesting a refill for a popcorn bucket. If you are concerned about showing proof of purchase, keep your receipt with you, but you likely won't need it.