The Unexpected Purpose A Yoga Mat Serves On The Beach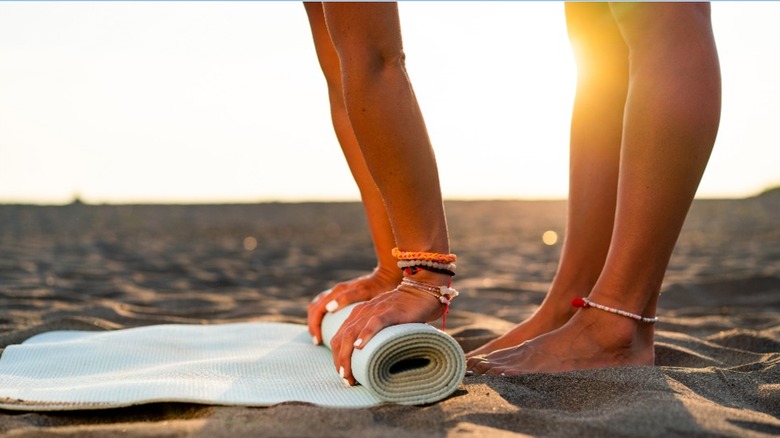 PeopleImages.com - Yuri A/Shutterstock
Going to the beach should be carefree but, like just about every pursuit, it does come with annoyances. For starters, sand gets into everything. If you go in and out of the water more than once, you're stuck using a wet beach towel after the first time. The Krazy Coupon Lady has a great hack to help out with that, and it involves something you probably already own. If you don't, it's pretty inexpensive. 
Instead of lying on that soggy piece of cloth, why not use a yoga mat? It has far more uses than asanas alone. When you're hitting the shore, it's better used as a mat to lie on after you get out of the water. Plus, it's waterproof and won't make your back chilly as you plop back down after a dip.
In fact, you're probably going to be more comfortable. Traditional beach towels are great for drying off, but you feel every lump, bump, and rock underneath you. A yoga mat, especially one of the extra thick ones, gives you stability on the sand and protects you from what's beneath it. It's also a great way to shield kids if they need to change out of wet bathing suits, and when they're used on a beach chair, they protect you from any hot metal pieces toasting in the sun. Even better? If you're traveling, you can take your mat as a carry-on. You can even use another yoga mat as a dashboard cover to keep the sun off your car's front seats while you swim.
Things to keep in mind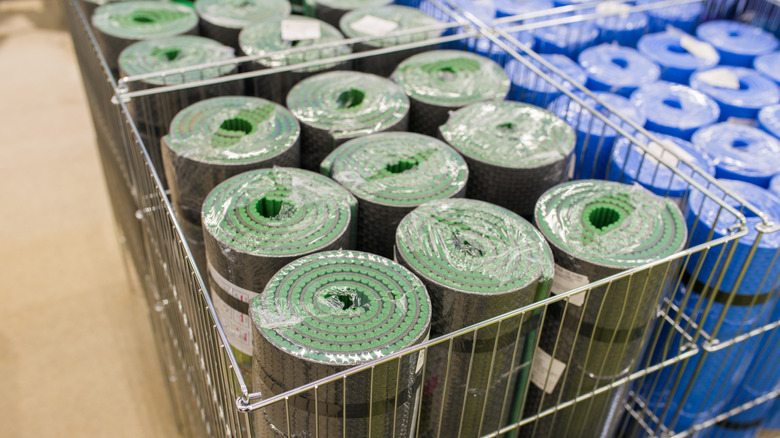 Ivan Kocha/Getty Images
There are a few caveats and tips here for using a yoga mat on the beach. You'll want to avoid the extra sticky ones. While they're great for keeping your hands and feet from slipping as you do poses in class, they're just going to pick up more sand. That said, they're pretty easy to hose off when you get home. If you're running out of space in your suitcase, there are travel yoga mats that are thinner and fold well in your luggage, though they won't give you as much padding. Don't spend a lot of money, though. Sand can break them down, so they might not be in great shape for your class after a few trips.
If your whole trip is outdoorsy, consider a few other benefits of yoga mats. They're great as padding for under your sleeping bag while camping, and if it rains or the ground is damp, the waterproof nature of the mat will give you some protection. They're also good spots for your canine camping companions to sleep. You can even use them for kneeling when doing tasks near the ground, like starting a fire. Oh, and you can do yoga on them, too.