How To Fix A Hole In Your Tent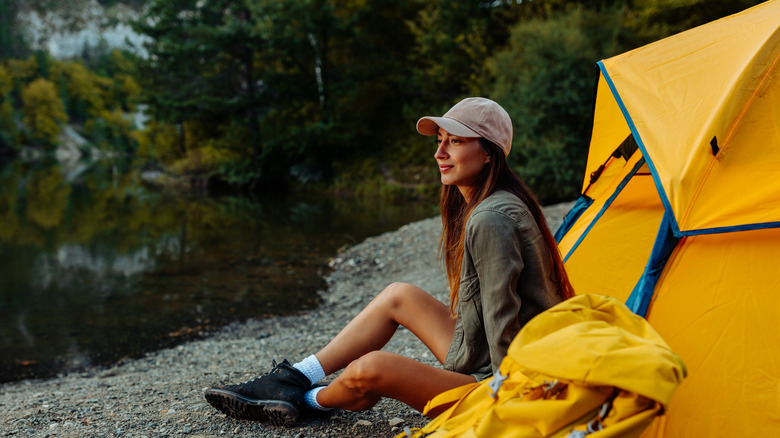 Dimensions/Getty Images
Creating the ultimate backpacking checklist? A reliable tent is essential to have before you hit the trails. Tents are designed to protect you from the elements, insects, and wildlife, as well as provide you with a little bit of privacy (and warmth in colder months). Every hiker dreads hearing the sound of a branch snagging and tearing their tent's fabric. Fortunately, there are a handful of simple supplies you can use to repair a ripped tent, including tape, mesh, and sealant. 
Fixing your tent before a tear becomes a bigger problem can save you both time and money. Even a minor rip or hole in your tent can become a major inconvenience, with the possibility of putting a full-on halt to your backpacking trip if not quickly addressed. Not to mention, buying a new tent can leave a dent in your wallet. The most popular tent repair items are affordable, simple to use, and reliable for when any mishaps occur while on-the-go. 
How to fix both small and large rips in your tent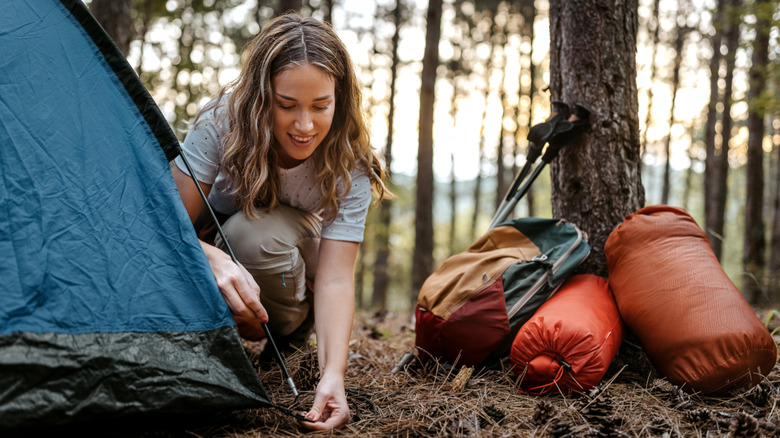 Mixetto/Getty Images
While some nature nomads swear by regular duct tape, tent repair tapes are specifically designed to be fabric-friendly and waterproof, helping your tent withstand tumultuous weather. These specialty tapes are cheap yet effective. When applying tent repair tape, lay the tent on a flat surface, pull together the rip as tightly as possible, and then tape the tear. To fix mesh screens that have a rip, you can use a stick-on transparent mesh patch that will allow you to still stargaze while keeping out pesky bugs.
What's more, another common product you can use to mend a tear in a tent is a seam sealer. Per their name, these water-resistant sealants work to repair any rips along the seam of your tent. To properly apply a seam sealer, find a dry spot where you can set your tent. Next, gently clean the area surrounding the rip, and then use the application brush that comes with the sealer to fix the rip before letting it dry completely.
For people who want to be ultra-prepared, you can buy an affordable tent repair kit that includes all these items. Before buying any tent repair items or kits, it's crucial to make sure the products are compatible with your tent's fabric. Some tents are made of polyurethane-coated fabric, while others are made out of silicone and other materials.
What to do if you can't fix your tent on your trip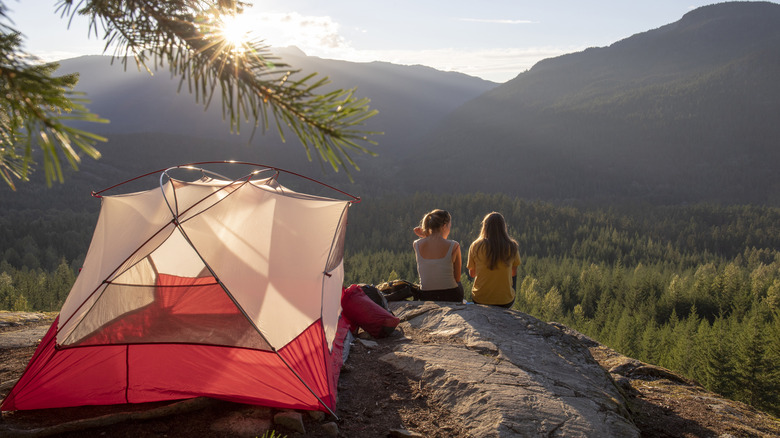 Ascentxmedia/Getty Images
Depending on the severity of the tear, these items you can use while on the trail may only provide a temporary solution. When you don't have the expertise to correctly mend your tent for future trips, there are experts who can do it for you. Gear repair shops can fix everything from complicated tears to bent or cracked tent beams. Some shops will even spruce up other types of damaged backpacking equipment, such as hiking boots, sleeping bags, and jackets.
If your tent is unsalvageable, it's probably a sign to part ways with your trusted trail mate. Purchasing a new tent is a worthy investment, especially if you backpack on the regular. When weather conditions permit or you don't plan on taking frequent trips to the great outdoors, opting to buy a tarp that provides coverage is may be a sufficient enough option. Save yourself from unnecessary hassle on your next hike by learning the basics of tent repair and coming prepared with any items you may need in the event of your tent being damaged. This is one step you can take that will take you from a beginner backpacker to a true outdoor expert.