Fit More Outfits In Your Carry-On With TikTok's Clever Cube Clothing Hack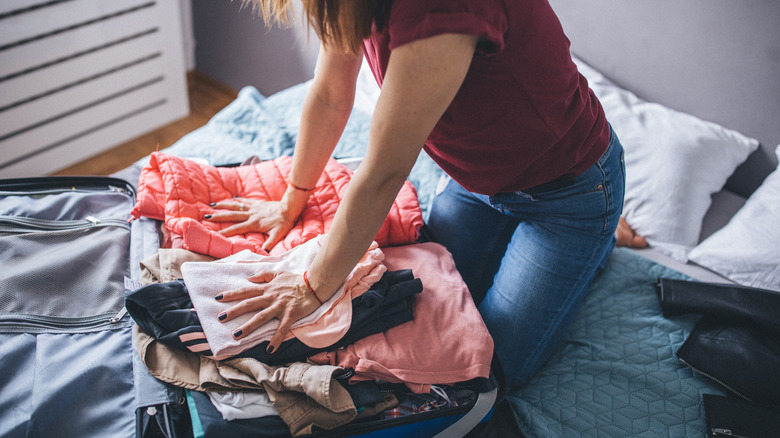 Hirurg/Getty Images
When it comes to travel, carry-on space is really tight to fit a whole trip's worth of clothing. Packing all your essentials can already be a struggle with a checked bag, but the real test arises when attempting to squeeze multiple outfits into a mere carry-on bag. But no worries because TikTok has created a clever solution to help you maximize your carry-on space with this cube clothing hack.
The concept is straightforward yet highly effective. Instead of haphazardly folding and stacking clothes, this method involves laying out pre-planned outfits and then rolling the garments into neat cubes. By doing so, you can make the most of the available space in your carry-on, allowing you to pack more efficiently and thoughtfully. This maximizes space in your tight carry-on bag so that you can ultimately pack more.
Not only that, but this technique minimizes wrinkles, ensuring your outfits look fresh and presentable when you reach your destination. Moreover, the organized cubes make it easy to locate specific outfits without rummaging through the entire bag. Say goodbye to overpacking and hello to an efficient way to travel light.
Don't fold when you can roll
A packing hack by @sellingthesuburbs shows a unique way to organize clothing without using packing cubes by laying out your outfits piece-by-piece and then securely rolling them up. The video shows 12 outfits being put into the carry-on firmly rolled up. Creator Amanda Albrecht lays the shirt down first, then the bottoms, and lastly, any other accessories or undergarments. The garments were then rolled from the bottom to create a little clothing cube. This light traveler could pack a carry-on suitcase full of outfits, six on each side. 
Eliminating air pockets and rolling the clothes as tightly as possible is key here. Rolling clothes has been a favorite of travelers for years because, if done correctly, it takes up less space in the suitcase. Also, when done precisely, it leaves garments significantly less wrinkled compared to traditional folding methods.
By combining the rolling method with meticulous organization, this clever hack transforms your carry-on into a tool for efficiency during your vacation. More commonly referred to as the bundle method, this technique not only reduces wrinkles but also simplifies the unpacking and sorting process at your destination. With this clever approach, you will be well-prepared to make the most of your travel experience.
Leave what you don't need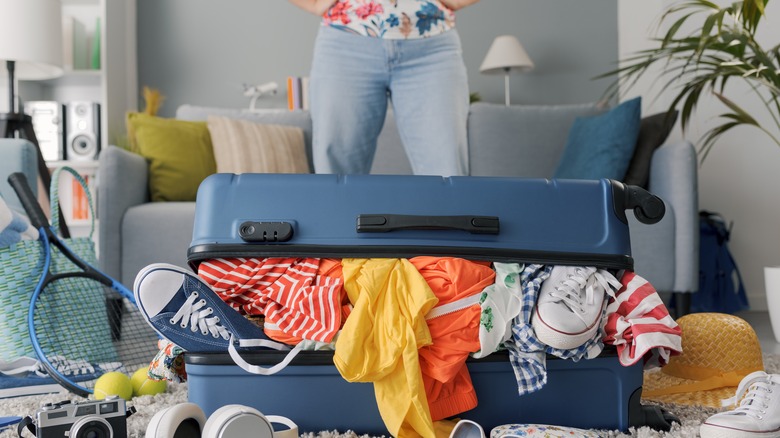 Stock-Asso/Shutterstock
This method of bundling your clothes into your carry-on leaves you in a space that is hard to overpack. Having the outfits pre-planned and set together can save you time at your destination and the headache of realizing you forgot something. There won't be a need to sacrifice functionality to travel in style, making this hack simple and efficient. Though this does help with cutting down on irrelevant items, you still want to ensure you don't overpack.
To prevent overpacking, the best strategy is to adopt a ruthless approach. Begin by ensuring that every item in your suitcase serves a purpose and will be used during your trip. Also, be discerning with your clothing choices, providing it fits the weather and occasion. Obviously, you want to ensure you have all the necessities, but the main goal is always to make sure you travel light.
Overall, this TikTok cube clothing hack will allow you to enjoy fun fashion instead of the troubles with packing. Now, you can ensure you will always be stylish and prepared for any adventure.