What You Should Know About Hyatt's Pet Policy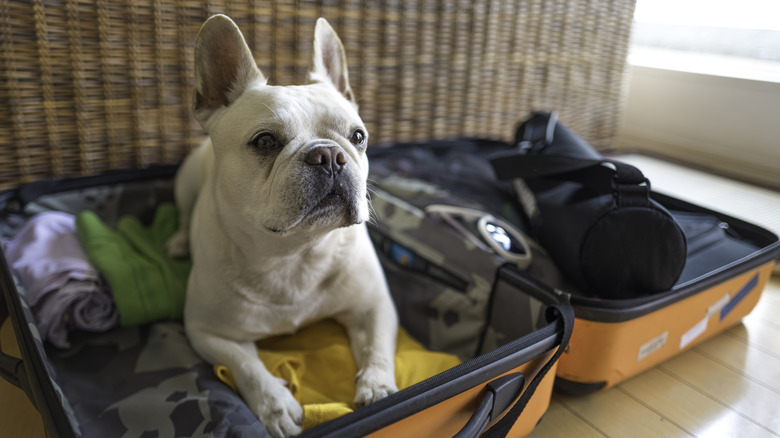 Redonion1515/Getty Images
For many travelers, the pursuit of adventure without a furry friend in tow just wouldn't feel right. While some simply prefer to travel with pets, others depend on service animals for more accessible travel. Either way, understanding the regulations around hotel pet policies can make the journey easier.
If you happen to have booked a Hyatt-brand hotel stay and you're traveling with a pet, you're in luck. This is a notoriously pet-friendly company that simultaneously puts a firm focus on comfort and accommodation quality. You're likely not going to have a problem finding a Hyatt brand hotel to stay at with your pet either as Statista reported no less than 1,142 Hyatt hotels worldwide as of 2022.
Even with all of those hotel options out there, there are always pet policy specifics to take note of before you book. The first is a clear understanding of just how many pets you can travel alongside. Currently, Hyatt allows guests to book a stay with a maximum of two pets allowed per room.
Hyatt also has pet weight restrictions in place at 50 pounds. Service animals are permitted in Hyatt hotels as well as cats and dogs. Guests will want to pay special attention to the fact that some properties have breed restrictions in place, so it's always advisable to double-check that your canine companion is welcome to stay.
Pet-specific pricing policies and destinations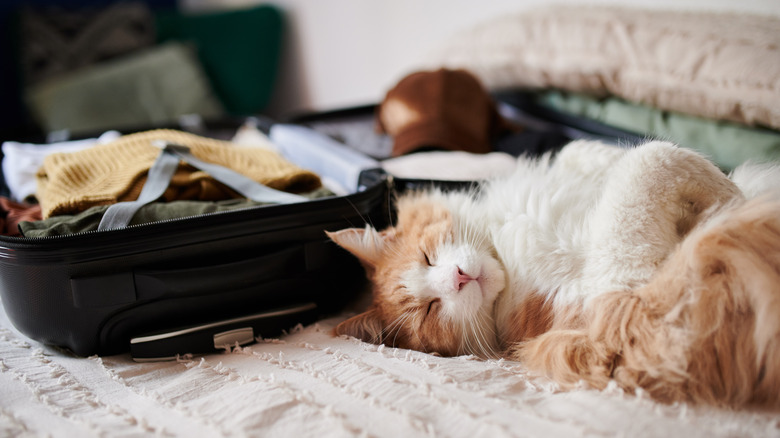 Adene Sanchez/Getty Images
Before booking a Hyatt hotel stay with your pet, you'll want to be aware of some of the pet fees in place so you're not caught off-guard when budgeting your trip. Those staying with a pet will incur a one-time fee of $100 that's non-refundable but covers up to a six-night stay. If you happen to be in town for an extended getaway, an additional $100 pet coverage charge will show up on your bill for every seven nights added to the booking.
Many travelers booking a stay in a Hyatt brand hotel find these charges reasonable and accommodating. That said, guests will want to be sure that they keep an eye on their pets during their visit. Damages that a pet causes are always charged directly to the owner upon departure.
Even within the collection of pet-friendly hotel rooms that Hyatt offers, travelers can further customize their stay according to their preferred style. Those looking for a convenient suite setup to enjoy an extended stay alongside their pet will want to check out Hyatt House options first. Andaz hotels and resorts owned by Hyatt offer up a more upscale, yet typically pet-friendly stay, while Hyatt Place hotels are great for family getaways with furry friends included. No matter what experience you choose, do make sure to give the hotel a call ahead of time to verify their pet policies and give yourself the peace of mind you deserve upon arrival.
Pet perks to enjoy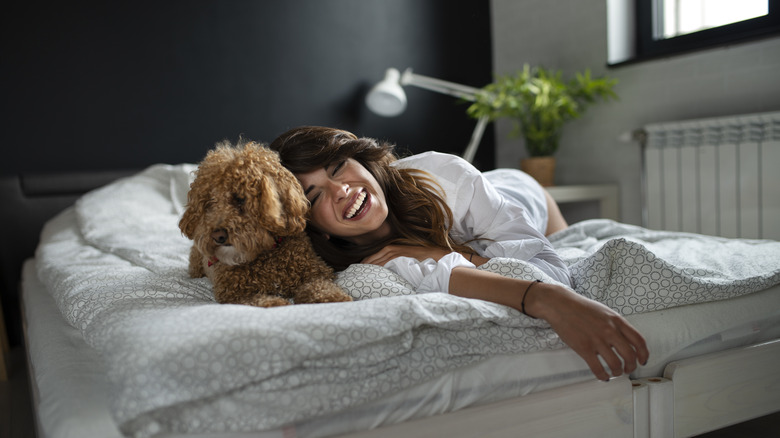 Martinns/Getty Images
The opportunity to enjoy a hotel stay with your pet is great. Realizing that your Hyatt hotel booking has pet-friendly perks makes it even better. Pets are important family members and there are Hyatt hotels out there that include amenities making it clear they're more than welcome.
If you're heading to the Andaz Wall Street in Manhattan, your dog is in for a refreshingly convenient stay. This hotel features rooms that include a cozy dog bed and two pet bowls. Andaz Wall Street is also designed with pet-friendly rooms that offer up easy city park access while service animals are always allowed in the on-site restaurant.
Those who are heading to Europe with their favorite canine companion at their side and happen to be staying in the Hyatt Vienna in Austria will have even more in the way of pet-friendly luxury to enjoy. This destination hosts the Very Important Dog program which provides pets with dog treats, a dog bed and bowl as well as dog-sitting services that can be arranged upon request with the concierge team. The team here is also willing to help pet owners access local dog salons or set up pet photo shoots at iconic Vienna landmarks.
With options like these available, traveling with your pet takes a turn for the extra enjoyable. Just be sure to double-check pet policies and programs with every location before booking. From that point on, there's nothing left to do but enjoy the journey ahead.