Your Guide To Salt Lake City's Best Ski Resorts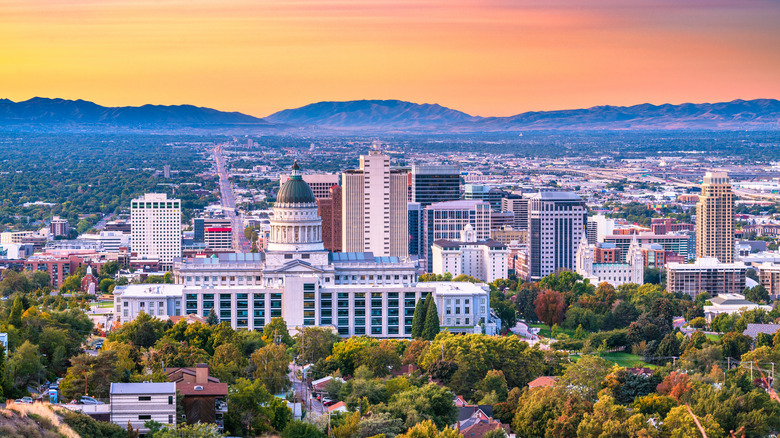 Sean Pavone/Shutterstock
Spread across a flat valley floor next to the vast body of water for which it's named, Salt Lake City has a setting that is postcard-worthy, with the slowly shrinking lake to the west and the craggy Wasatch mountains rising above the skyline to the east. The state capital of Utah, this metropolis has plenty to offer, from great dining and lodging to cultural attractions and fabulous outdoor activities, and it's also well connected by air to other parts of the United States. Winter sports enthusiasts, of course, need no introduction to the destination, with numerous top-shelf ski resorts close by, making Salt Lake City a must-stop for skiers and snowboarders. Adding further gloss to the city is its refined pedigree — it hosted the 2002 Winter Olympics. 
It's always smart to plan ahead for your next ski trip. After all, blink, and the summer might just be over, followed by a scramble to make winter plans. In addition to the mountain ranges close to the city, where there are numerous ski resorts less than an hour's drive away (and many of them served by shuttles, so car rental isn't necessary), there are also winter opportunities two or more hours from Salt Lake City. Here are some of the best, with those that are the furthest distance appearing at the bottom of the list.
Alta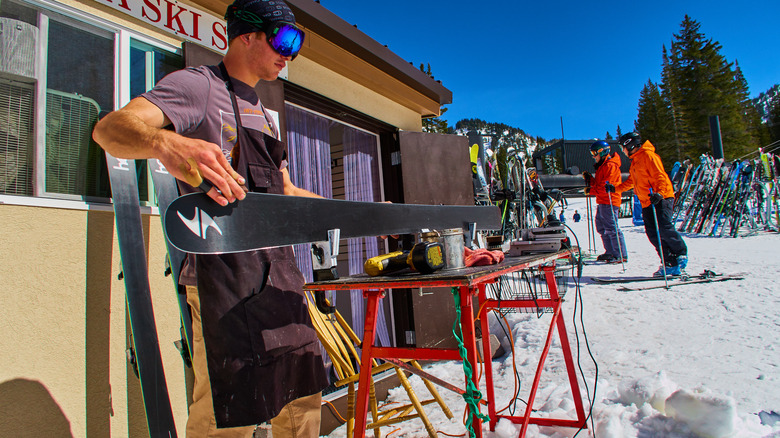 Eyeswideopen/Getty Images
The name of this former silver mining town is wholly appropriate since it means "high" in Spanish. The location of the mountain makes it a big hit with skiers in the city, though it's equally convenient for those that fly in for their dose of winter wandering — getting here from Salt Lake City International Airport takes about an hour by car, and from the city's southern suburbs, the trip is even speedier. The mountain is one of the rarities in the United States in that it doesn't allow snowboarders on it — this is exclusively the domain for skiers. While experienced skiers extol the conditions here  — more than half of the runs are designed for visitors that are advanced — Alta's groomed slopes shouldn't put off those who are still finding their feet (or skis) on the snow, as there is plenty on offer for beginners to try out. 
The two mountain bases appeal to different levels of skier, with Albion suited to beginners and Wildcat, as the name suggests, for those who are more at one with the slopes. Lessons are offered every day for beginners and intermediates — children and adults — and will help participants hone their skills of gliding, turning, and getting up the mountain on a lift. Snow is consistent, with more than 500 inches on average each season, ensuring that there is always something to ski. A number of gates on the mountain allow skiers to access the slopes of Snowbird, for which a separate pass is required.
Brighton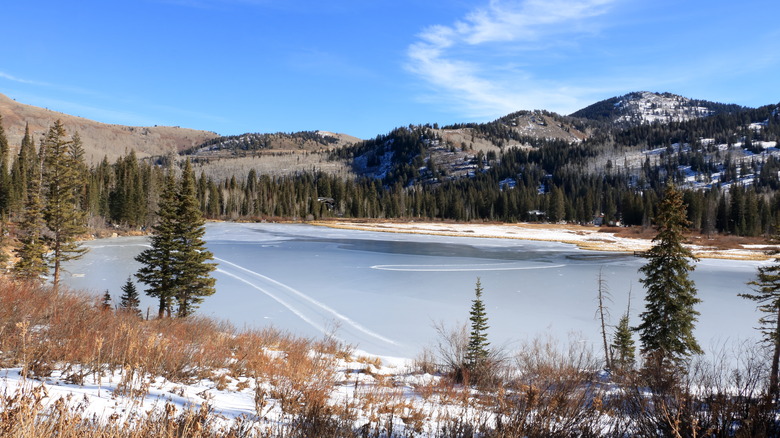 (c) Salil Bhatt/Getty Images
A little northeast of Alta, this mountain features night skiing as one of the highlights, with the area called Snake Creek recently unveiled in addition to other parts of the resort. The option of skiing under the stars runs throughout the week (though not Sunday nights) for the season, running from 4 p.m. to 9 p.m. What also draws skiers and snowboarders here is that the terrain is serviced exclusively by high-speed quad lifts and a magic carpet, with more than 1,000 acres of skiing on offer and a vertical descent of 1,875 feet. 
As with other resorts nearby, the snow is generously abundant here, with an average of 500 inches per year — the kind of airy, fluffy stuff that is a dream under the skis or a board. Beginner and most intermediate trails get plenty of attention, with a grooming each night. For skiers and boarders that like to test the limits of gravity and physics while on the slopes, the four terrain parks allow them to practice jumps, skills, and stunts. Of course, the night skiing is such a highlight — more than 200 acres open after dark, with 24 runs that are illuminated by more than 250 powerful lights and new terrain constantly planned each season, so the fun just keeps growing.
Deer Valley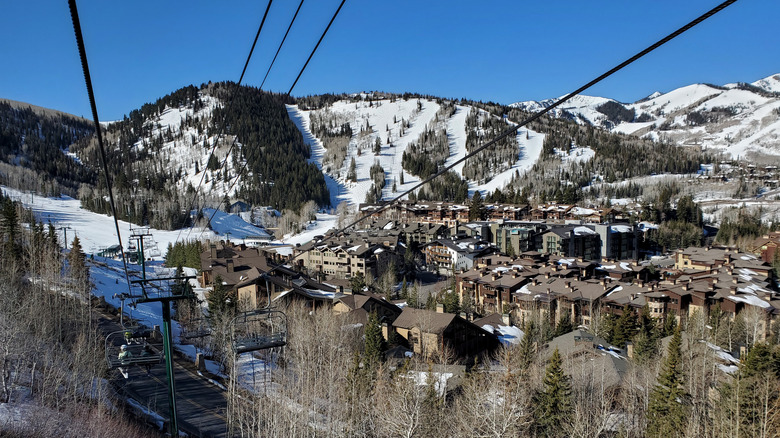 Raclro/Getty Images
Purists also laud this mountain right by Park City because it's a resort where snowboarding is not permitted. Overall this resort is one of the most exclusive in the country, served by some truly upscale resorts like the St. Regis Deer Valley and Stein Eriksen Lodge. More than a quarter of the runs here are suitable for beginners to tackle, and visitors will find themselves starting at a base village of 6,500 feet before rising to the Empire summit, which sits 3,000 feet higher (there are parts of the mountain that offer skiing at 10,000 feet above sea level). 
The resort has six mountains with ski trails, and five of these feature runs that beginners can enjoy, allowing them to try a variety of terrain as they learn the finer points of ploughing, edging, gliding, and turning. While Deer Valley doesn't get as much snow as other resorts in the area — about 300 inches is the average for a typical season — it never lacks for powder, and skiing here is beloved by regulars and first-timers. Serious skiers, or those with an unquenchable thirst for knowledge, can test out the latest equipment at the Rossignol High-Performance Test Center, open daily during the season.
Nordic Valley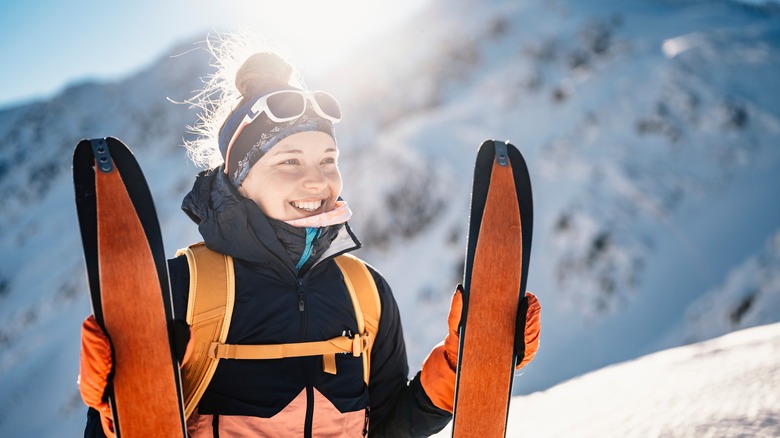 zedspider/Shutterstock
North of Salt Lake City — but only an hour's drive away and close to the town of Ogden — this resort has a good variety of ski runs, so visitors of all levels will find terrain to explore. The slopes deliver a vertical rise of 1,700 feet, with a total of 40 runs of varying difficulty, one-fifth of them primed for beginners (and half of them are either black or either double black). 
The resort can trace its beginnings to the 1960s when a mountainside ranch was sold to a local developer, and he began to divest of small parcels of land, with homes later popping up on those plots. Sledding was always a popular winter pastime of the residents in the area, and soon plans were floated to add chairlifts and groomed ski trails to the winter delights. In 1968, a fledgling ski resort opened here, and it has slowly, organically grown since. There is a convivial ambiance here, with plenty of families around, visiting to test themselves on slopes that tend to favor intermediate and advanced skiers. Before the 2002 Winter Olympics, the Austrian downhill team — skiers from a country with a strong tradition in the sport — trained at Nordic Valley, a testament to the appeal of the resort.
Park City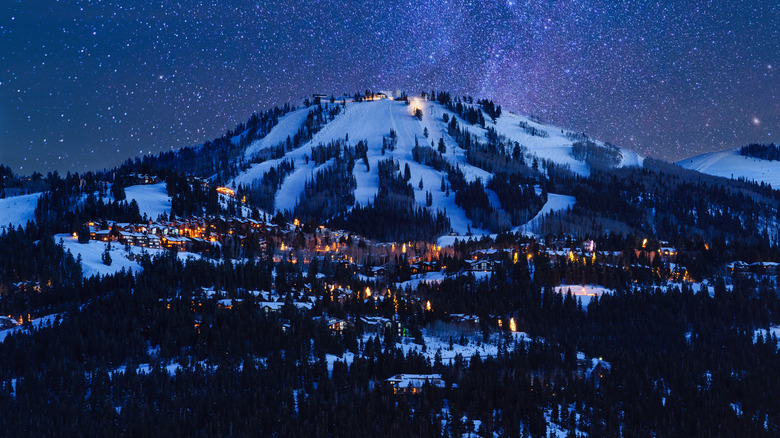 Adventure_photo/Getty Images
Look at a trail map of this vast resort and you might think you were looking at a city's subway map, not a network of ski trails. Such is the complex, omnidirectional web of its tracks, traverses, and lift routes. The destination owes its early prosperity to a rush to mine silver here in the 1860s, continuing to flourish for decades before the market crumbled in the 1930s. Eventually, it turned into the skiing paradise that it is today, hosting four events during the 2002 Winter Olympics. What attracts winter sports devotees to Park City is the sheer breadth of options here, as the resort is vast, spread between sections and mountains. 
There are more than 7,000 acres of terrain for skiers and snowboarders to experience, and the 330-plus trails let the exploration go on, and on, and on. Advanced skiers will enjoy the fact that half of the trails were designed with them in mind, taking full advantage of the vertical rise that is more than 3,200 feet. Park City actually features a pair of bases — Mountain Village and Canyons Village, the former open for a slightly longer ski season. And in addition to the ridiculous number of pistes, it also serves up six terrain parks, with one halfpipe, jumps, rails, boxes, and other interruptions that will have tricksters beaming with joy.
Powder Mountain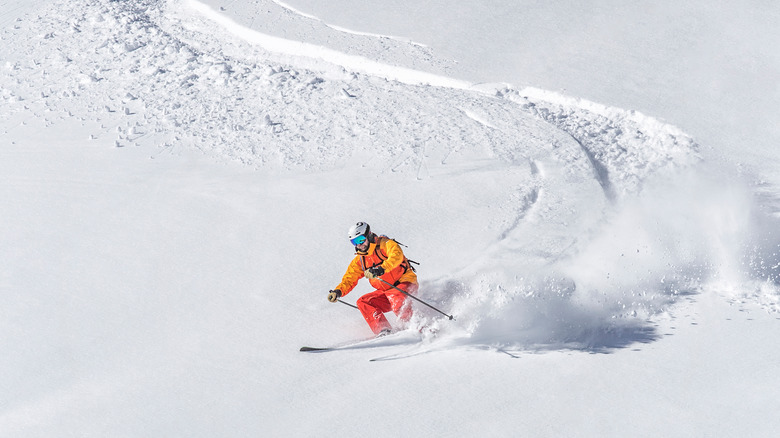 MWiklik/Shutterstock
Located a little over an hour northeast of Salt Lake City and not far from Ogden, this resort — with a name that offers a clear indication of what to expect here during the winter — is open 12 hours daily during the season. The area of skiable terrain is truly mammoth, with almost 8,500 acres of skiing ground that receives greater than 500 inches of powder each year and a vertical rise that comes in at around 3,300 feet. Despite all of the grand stats, the terrain is fairly evenly split in terms of suitability for different abilities, with 40% of it for intermediate riders. 
It's a far cry from the mountain's humble beginnings, when it was an area used for sheep grazing, gradually becoming a ski resort that opened in 1972 with a single lift. In addition to the groomed pistes, visitors can book back-country skiing accessed via a snowcat, tours on snowmobiles, and accompanied runs with mountain guides for free, a great intro for those powder players who want to get a handle on the riches of the mountain.
Snowbasin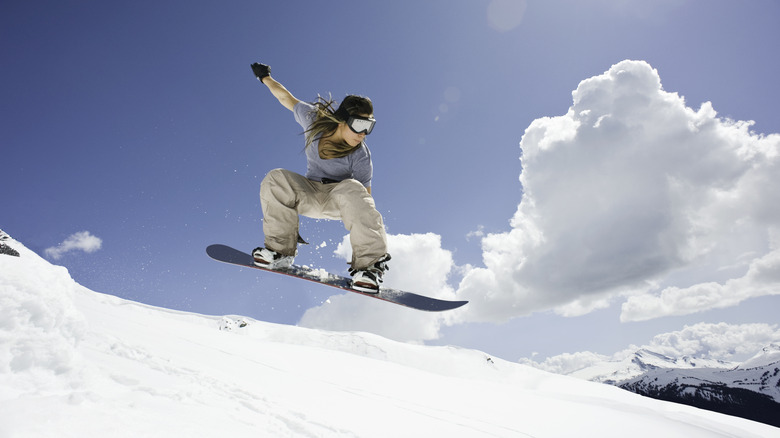 Darryl Leniuk/Getty Images
Another resort closer to Ogden than Salt Lake City, this winter wonderland has three terrain parks that ensure snow adventures never have a dull moment. One of them has a handle tow system that boarders can just grab onto at any time, allowing them to get back up to the top of the terrain park without the need to wait for a lift. The terrain parks aren't for expert riders, with features that align them more along the beginner tilt — as well as for those with a bit of practice behind them. Obstacles in each one change throughout the ski season to keep them fresh for pass holders, and they are all constructed from materials that are recycled, reducing the resort's carbon footprint. 
The simplest park in Snowbasin is Littlecat, with some jumps, small boxes, and rails that are set close to the terrain and a sloped slalom — all features that will help a rider to develop their skills without feeling overawed. Snow is never in short supply here, and the resort received more than 600 inches of the white stuff during the 2022-2023 season. Runs here are open during the day, with 3,000 acres of terrain serviced by gondolas, lifts, and a tram.
Snowbird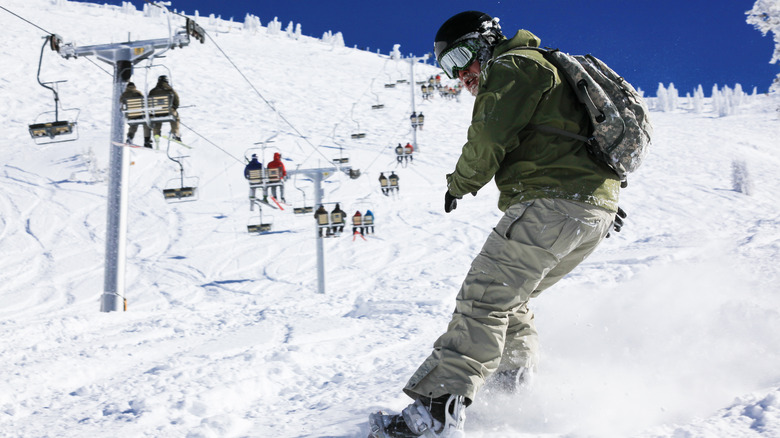 Onfokus/Getty Images
For snow lovers who want to stay and play, Snowbird is a fine choice. A number of resorts sit right by the slopes, letting winter snow bunnies maximize their time on the powder. The Cliff Lodge, the most posh of the properties, looks right onto the resort's slopes and allows visitors to ski-in/ski-out. It's steps from the village's shops and restaurants and has ski rentals and lockers available. Perhaps one of its greatest assets is the spa, with a heated pool and a pair of hot tubs earmarked as perfect places to soothe limbs that have been pushed on the pistes. 
For condo-style accommodation options, travelers can try the Lodge at Snowbird, where some rooms come with a loft, but all have balconies from which to admire the stunning setting. The mountain itself is a quick drive from Salt Lake City — it's just a little west of Alta and takes less than an hour to get there from the Utah capital — and skiers and snowboarders will find 2,500 acres of bowls and runs to explore across the jagged peaks, ridges, and slopes.
Soldier Hollow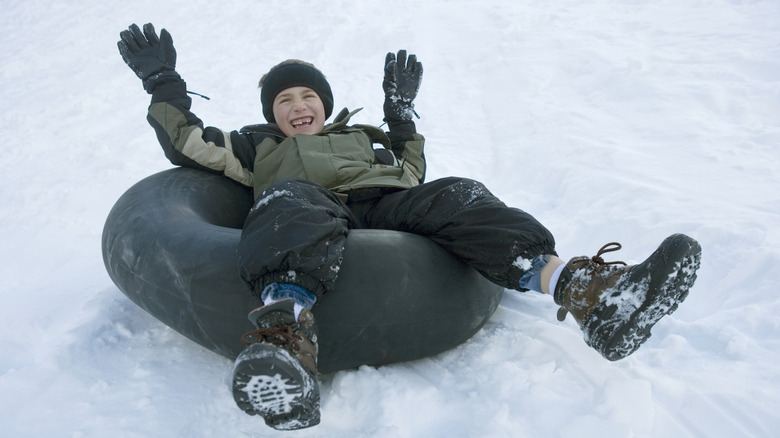 Photodisc/Getty Images
This isn't technically a downhill ski resort but a realm for winter activities like tubing and cross-country skiing, and since it allows adventurers to indulge their love of mountainside winter sports, it's a worthy addition to this list. This was the site for a couple of competitions during the 2002 Winter Olympics — cross-country skiing and the biathlon — meaning that the facilities and amenities are world-class. Families are especially drawn to this destination for the snow tubing, with lanes that extend almost one-quarter mile in length and transportation to bring fun-seekers back (so no energy-sapping, fun-draining trudging back up the hill). Extra special is the night tubing, with yelps and shrieks of joy regularly piercing the brisk, black sky. 
Visitors also take full advantage of the 16 miles of trails that crisscross the mountainside, allowing great cross-country skiing and snowshoeing (annual family passes for this option can be as reasonable as $165). Soldier Hollow is also the location for the magical Ice Castles — a fantasy land of slides, caves, passages, and icy architecture built each year for visitors who want to enter a realm of winter wonder. 
Solitude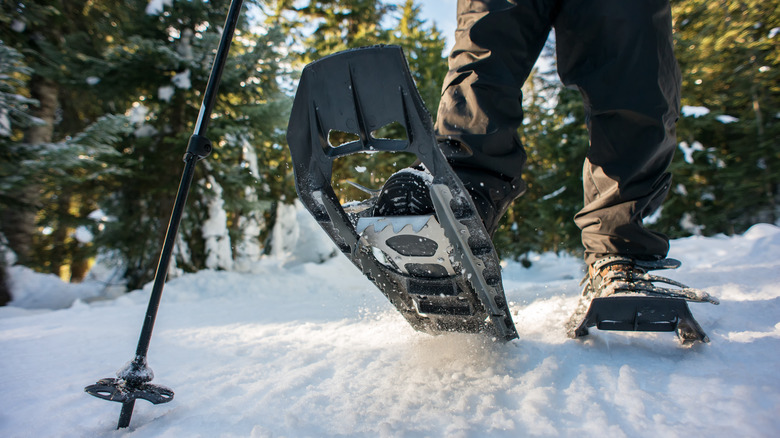 Pamelajoemcfarlane/Getty Images
Set just northwest of Brighton resort, this destination has plenty of great snowshoe trails, so visitors don't have to spend their time just speeding down a snowy slope in order to enjoy their moments outdoors. The mountain offers separate passes for guests who just want to cross-country ski or snowshoe, with the latter ticket costing only $10. There are 20 kilometers (about 13 miles) of well-maintained trails here, passing between towering snow-dusted trees and pointed ice-capped peaks. Lessons are offered for visitors who need a little refresher on getting around the snow. 
The resort is blessed with about 500 inches of snow each year, and the powder is consistently light and a joy to carve on. And there is a generous amount of it, too — Solitude offers 1,200 acres of terrain and a vertical rise of almost 2,500 feet, with half of its area (it has 82 runs in all) designated for advanced skiers. For residents of Salt Lake City, it's an easy choice, with travel time at about 30 minutes on a good day.
Sundance Mountain Resort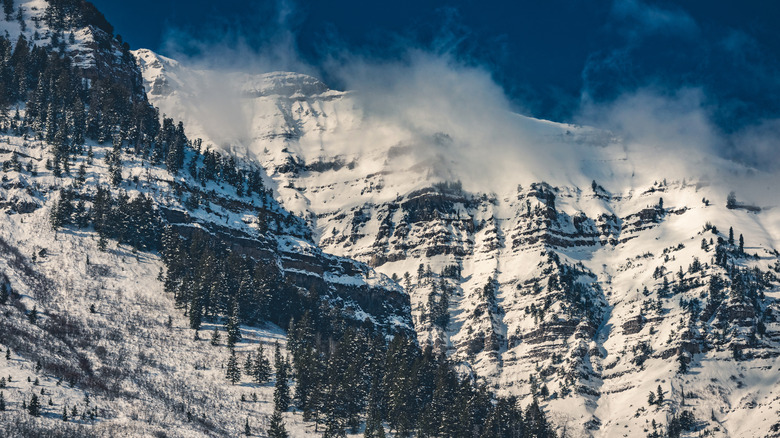 Abbie Warnock-Matthews/Shutterstock
The mountain lofts lodging option at this resort feels like a posh back-country cabin home, with oodles of space in which to unwind. It's the largest of the accommodation choices at this resort and comes with a proper kitchen for cooking warming meals, a large master bedroom, and a sofa that turns into a bed in the living room. The loft space can also incorporate extra beds, and the room — a generous 1,000 square feet — can sleep five people. 
Sundance doesn't try to shock and awe with an intricate web of trails all over the mountain. Instead, it offers a more sober, manageable array of terrain for visitors, with the easier trails accessed via the Outlaw Express lift, and the more demanding runs descending from Red's Summit at 8,250 feet. 
During the season, part of the resort opens up for night skiing on select evenings, and in the 2022-2023 season, for the first time, the Terrain Park also opened during the hours of darkness. There is also the chance to cross-country ski at the Nordic Center — with its 15 kilometers of trails — and a set of snowshoe trails that weave through woods and are sure to provide a good workout. If you're up for some real thrills, try the winter zip line, where guests can hit speeds of 65 mph as they rip through the winter air.
Beaver Mountain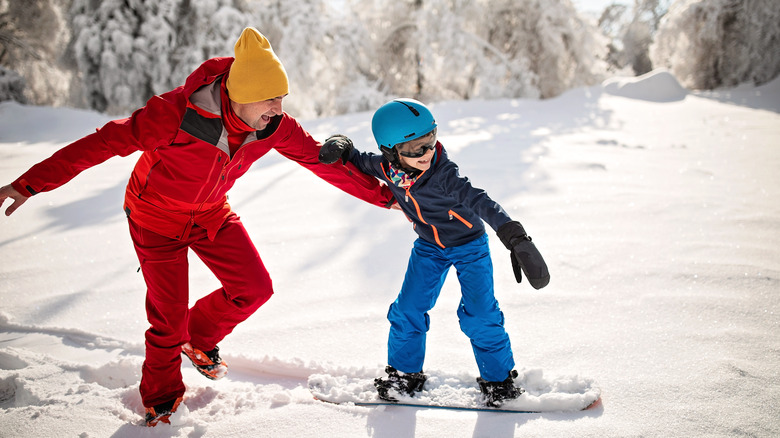 Eclipse_images/Getty Images
Northeast of the Salt Lake City — and about a two-hour drive from its central core — this resort is proudly family-run. First opened in 1939, Beaver Mountain is still operated by the Seeholzer family, with a ski season that runs from a little before Christmas until sometime in the first half of April. It's a relaxed mountain, hugely popular with families on account of the handsome variety of beginner terrain here accessible from either of the two summits: Harry's Dream and Marge's Triple. Unlike some of the other resorts on this list, the scope of the resort is manageable, with about 830 acres of terrain and a vertical elevation of 1,700 feet, served by 48 runs (more than a third of the pistes are for beginners). 
Day skiing is the thing here, and while there are a few night events open to the general public, with limited terrain open, the majority of them tend to be set aside for private occasions where more of the mountain is available to ski. If you're dead set on night skiing, you shouldn't bank on doing it here. The resort also features a pair of terrain parks, with the Rodeo Grounds Terrain Park running 1,000 feet down the mountain with plenty of jumps and jibs along the descent.
Brian Head Resort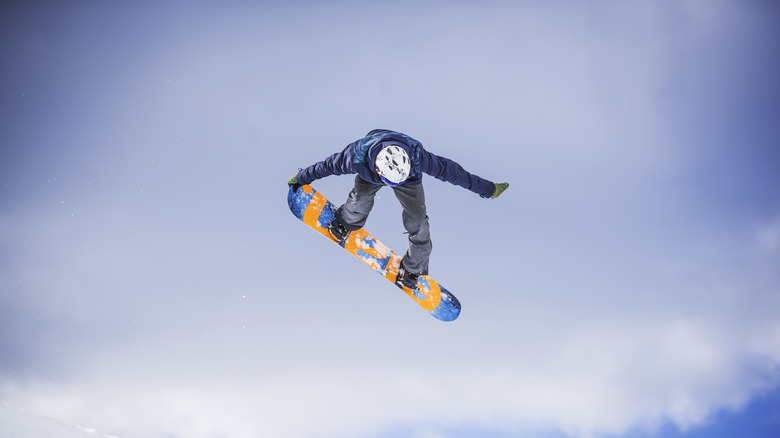 Vm/Getty Images
To get to this resort in the south of the state, visitors will need to make a four-hour drive, much of it on I-15. The trip, though, is worth the effort, especially for families, as kids aged 12 or less ski for free. Youngsters will also welcome the chance to ski at night here — it's open to the public on Friday and Saturday nights during the season from 4 p.m. to 9 p.m. In addition, tickets can be as reasonably priced as $25, depending on availability and when purchased (during holiday times, night skiing is offered every evening). For any budding freestylers, the two terrain parks are great places to test out their comfort on ramps, jibs, boxes, and rails, with both of the parks suitable for beginners to the discipline. 
The mountain offers lessons to kids starting from age 3 (both on skis and snowboard) under its First Tracks program, and for children aged 7-12, the Mountain Explorers group lessons get them comfortable on the powder. For anyone who just wants some easy, no-stress motion down the mountain, the 90-minute tubing package ($25 per person) can be used at two different pushing-off points and is a great way to enjoy the snow with the entire family.
Cherry Peak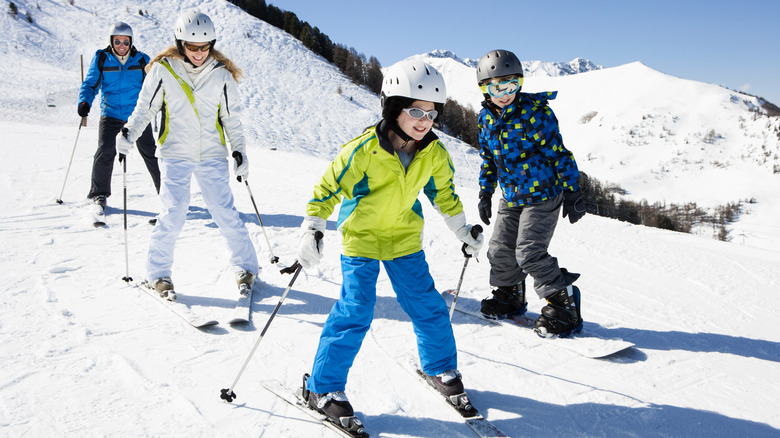 Solstock/Getty Images
It's a couple of hours' drive almost due north from Salt Lake City to this resort, where a full day of skiing costs less than $50 for adults. Yes, you read that right. That's why Cherry Peak is a bargain-hunting ski hound's dream come true. The resort isn't open all day every day, and visitors need to ensure that they plan accordingly — from Monday through Wednesday, it only welcomes visitors for night skiing, while full days are from Thursday through Sunday. Still, the full-day pass represents a real deal, letting powder devotees give praise to the 400 acres of terrain and ski a mountain with a vertical drop of almost 1,300 feet. 
There's also a terrain park for practicing — and possibly perfecting — tricks on skis and snowboards, while families of four can also book snow tubing for $42 (additional family members only cost $6 more). The lessons for skiing and boarding are also ridiculously affordable, costing $55 for half-day group instruction for first-timers.
Eagle Point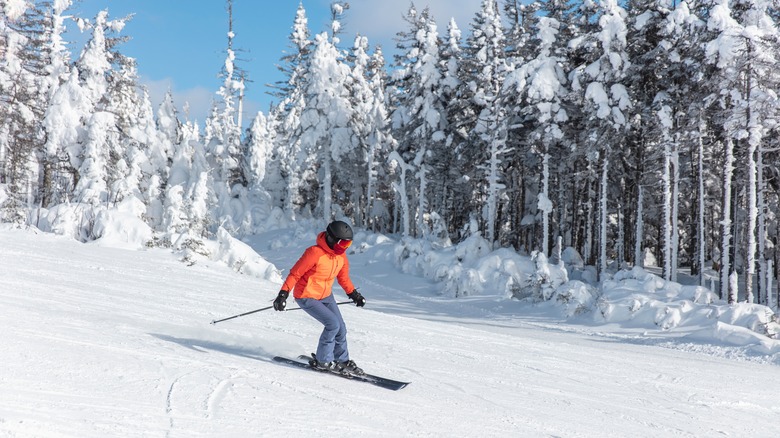 Maridav/Shutterstock
A three-hour drive south of Salt Lake City, this mountain prides itself on its unfussy, low-key atmosphere. It's beginnings can be traced to the early 1970s, starting as a small resort below Mount Holly that later combined with another ski area nearby to become Eagle Point. The set up is refreshingly simple — a ski village where condo and rental cabins welcome guests and where the 12,000 square-foot Canyonside Lodge is the anchor, with a restaurant, bar for a warming evening tipple, and a store to stock up on supplies, all onsite. 
Visitors also gravitate to the Lookout, a spot to warm up and take in stunning views of peaks all around. The resort itself also has much to please visitors, with 600 acres of terrain available for skiing and snowboarding and 40 runs spread around them — some flanked by trees, others super steep and designed for expert snow scouts, dropping vertically about 1,500 feet. Winter enthusiasts can also try out the terrain park or the variety of snowshoe trails, and there is also the opportunity to explore the wilds of Fishlake National Forest (access is via gates between the resort and the forest that are open to guests of Eagle Point).