The Simple Formula For Calculating How Much Gas Will Cost On Your Road Trip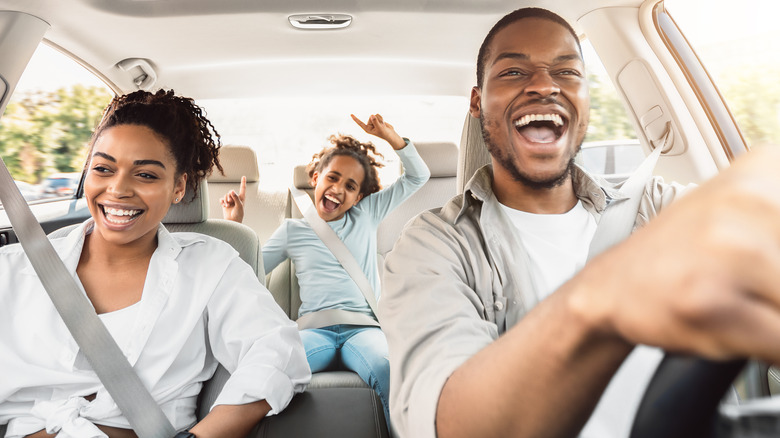 Prostock-studio/Shutterstock
The idea of hitting the open road and enjoying an adventure without daily responsibilities included can be endlessly exciting. Yes, a road trip enjoyed alongside family and friends can feel liberating, but when it comes to your travel budget, the story might be a little more restrictive. Somehow, road trips have a way of adding up to totals beyond what travelers initially anticipate.
Between the cost of lodging, food, and the souvenir shopping to be done along the way too, things can understandably get pricey. It's not uncommon for it all to be more than you bargained for. One of the big hitters when it comes to your road trip budget is typically the amount you'll spend on gas.
Fluctuating gas prices from city to city and between states only add to the confusion. This makes having a plan in place before you get behind the wheel a good idea. While you can't control the price of gas, you can closely calculate what you'll spend by using a simple four-step process.
If you plan in advance, there's room to focus on the road trip fun ahead once you set off. You'll have a budget you can work with that won't cause added stress too. To calculate how much gas will ultimately cost on your road trip, you'll need to look at the gas mileage on your vehicle, how far you're traveling, and the gallons of gas required.
Start with vehicle fuel efficiency and miles you'll travel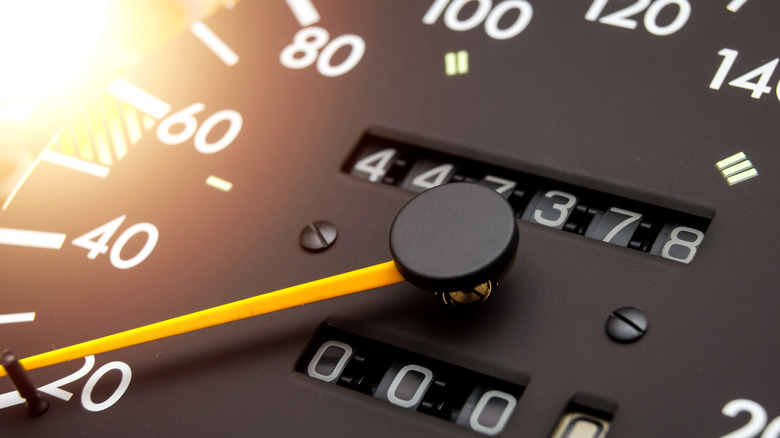 ERIK Miheyeu/Shutterstock
The first step in calculating how much gas will cost on your road trip is determining how many gallons of gas per mile your vehicle uses. Start by looking up your vehicle's fuel tank capacity which is found in the owner's manual. From here, it's easy to reset your trip odometer, fill up your tank and take note of how far you've gone when it's time to refill again.
It's important to remember that how you drive can make a difference in how your vehicle burns fuel during a road trip. City driving comes with a lot of stop-and-go traffic which uses more gas more quickly. Extended stretches of highway and interstate driving can make gas go farther.
When figuring out the gallons per mile on your vehicle, make sure to use the driving techniques you're likely to use on your road trip for a more accurate picture of gas mileage. If you have multiple vehicles, it's worth your while to test them all. The more fuel-efficient model is going to save you money in the long run.
Step two is to take a look at the total distance you anticipate you'll be traveling. Modern apps like Google Maps make this a fairly quick and easy task. While you might not know exactly what all of your side stops will be, consider adding in a few you think you'll be making to get a more accurate mile count.
Gallons of gas give you the cost you've been looking for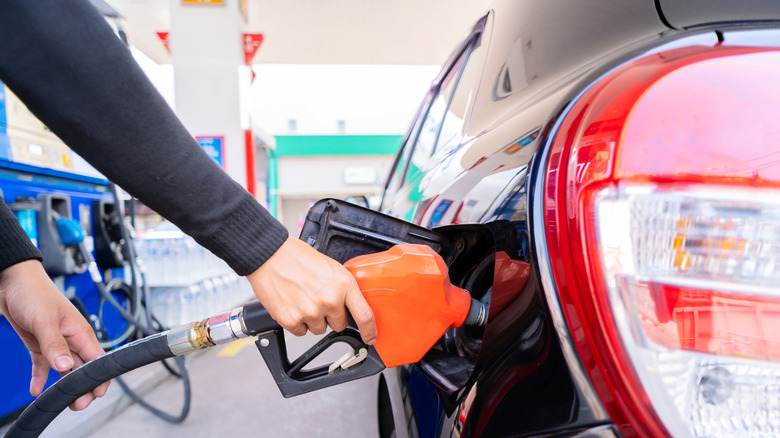 jittawit21/Shutterstock
The third step in this calculation is to note current gas prices. This is going to fluctuate everywhere you travel, but using the national average is a useful point of reference for this cost equation. AAA has an easy-to-view national gas price log that adjusts daily. The U.S. Department of Energy also provides a gas price map where costs can be broken down by state and city.
The final step in calculating your road trip gas costs involves some easy math. Begin by dividing your total trip miles by your vehicle's miles per gallon. The answer is the total gallons of gas your journey is going to require.
Multiplying the total gallons of gas needed by the national gas price average will result in an accurate estimate of what you'll spend on gas during your trip. Having this number available will help you budget more efficiently. It will also give you the freedom to worry less about overspending along the way.
You can't control or even plan out every little detail of a trip. You most likely wouldn't want to anyway when unexpected adventures are often half the fun of a road trip. However, the cost of gas isn't something you have to leave to chance when you have this handy calculation available. Put it to use and feel free to let the exploring officially begin.