Here's What You Can Skip On Your Trip To Beijing (And What To Do Instead)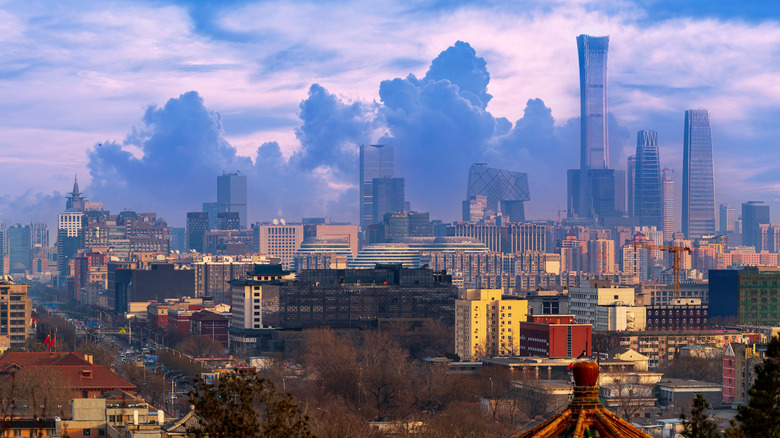 iamlukyeee/Shutterstock
One of the most populous cities in the world, Beijing, China is home to over 21 million people. It is the third most visited city in the county for overseas visitors with between three and four million visitors per year. Beijing is undoubtedly a place many have on their travel wishlists for a variety of reasons.
Beijing is a stunning monument to both modernity and ancient culture within China, which makes it an incredible place to visit. Its skyscrapers juxtapose the centuries-old spots in a way that few other places on Earth do. It is truly a city you will never forget.
So whether you're looking for the ancient history of China, delectable food around every corner, or just the chance to experience a vastly different culture, there are a lot of places to see. Tourists flock to certain places in Beijing although there are far better places to visit instead – because you simply can't do everything.
Skip Wangfujing Snack Street, see the 798 Art District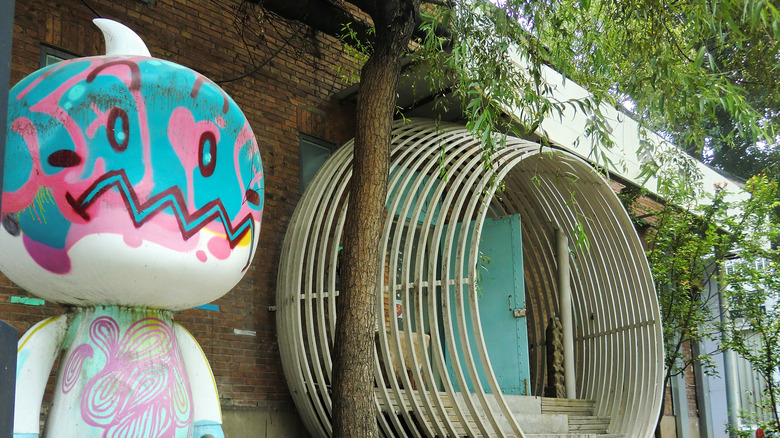 Josh Cornish/Shutterstock
Tourists love Wangujing Snack Street. It's almost like a Chinese street food festival. But like any place that attracts many visitors, it is overcrowded and overpriced. You can get many of the same foods elsewhere in the city that will be cheaper and probably taste better. You're better off spending some time in the 798 Art District instead.
Sure, 798 Art District has become a place where people take Instagrammable photos among vibrant murals or statues, but it's so much more than that, too. Since 2001, this neighborhood has transformed from factories to places of innovation. Now there are around 200 art spaces, galleries, and exhibitions. You can also see myriad public art displays here as well.
Besides the many artistic homes, there are also a lot of independent cafes and restaurants to satiate you. Ace Café, for example, is a U.K.-based chain that has a unique place in the art zone. Namely, because it's located inside a decommissioned train station that still has train cars outside.
Skip the Badaling Great Wall section, see Mutianyu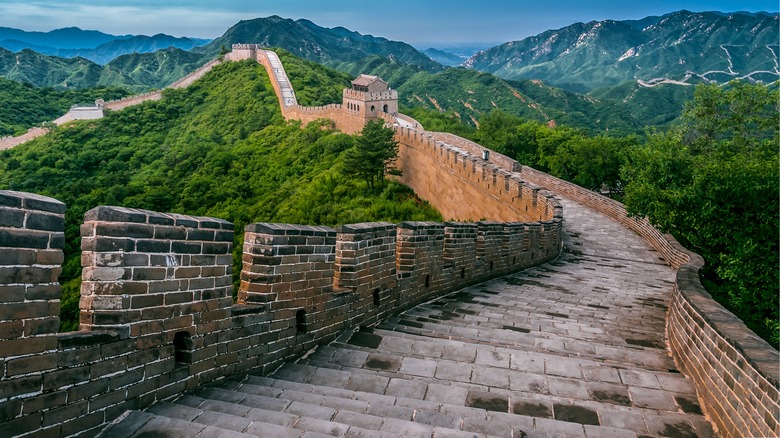 Nikolay Zaborskikh/Shutterstock
As one of the seven wonders of the world, seeing The Great Wall of China is high on many visitors' lists. Many of those visitors will go to the most touristed Badaling Great Wall section, which can negatively color your experience. Because it is so crowded and touristy, you may not get the best excursion out of it.
You're better off going to the less-touristed Mutinayu section instead. It'll be much less crowded for sure, giving you ample time to admire the wall, take photos to your heart's content and live your dream. You'll be glad to have fewer people to walk around when you realize how difficult parts of the wall are to walk up because of the uneven, ancient brick walkways.
Both areas of the Great Wall are roughly an hour and a half outside of Beijing so neither is more of a time commitment than the other. Though Mutinayu is slightly more expensive than Badaling, which makes sense since fewer people visit, it is well worth the few extra Chinese Yuan Renminbi (CNY).
Skip Beijing Opera, see an acrobatic show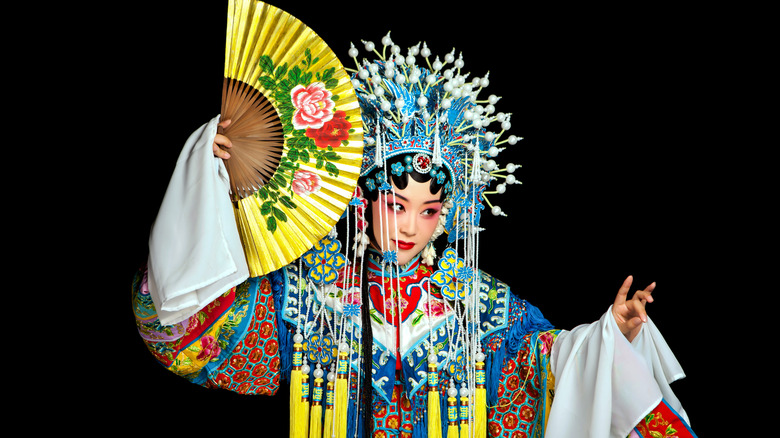 Jenson/Shutterstock
Unless you are a genuine fan of ancient Chinese opera or you're a theater aficionado, you should probably just skip seeing the Beijing Opera. The style is much different than European or Western opera styles and may not be to your liking at all. This isn't to say that Chinese Opera isn't incredible — it truly is. From the stories to the wardrobe, the makeup, and the lyricism, it is unlike any other performing art in the world. But it can be an acquired taste for Western visitors.
If you're a fan already or are curious to know what you'll be experiencing, by all means, head to the opera. For everyone else, you will have a much better time seeing one of the many acrobatics shows throughout Beijing. One of the most famous performing houses is the Chaoyang Theatre, featuring "The Flying Acrobatics Show."
With two shows a day, performances at Chaoyang Theatre are among the most popular in Beijing. You'll see highly skilled performers in traditional lion dancing, bicycle or fire stunts, acrobatics, and contortion work that will amaze visitors of all ages.
Skip Tiananmen Square but not Forbidden City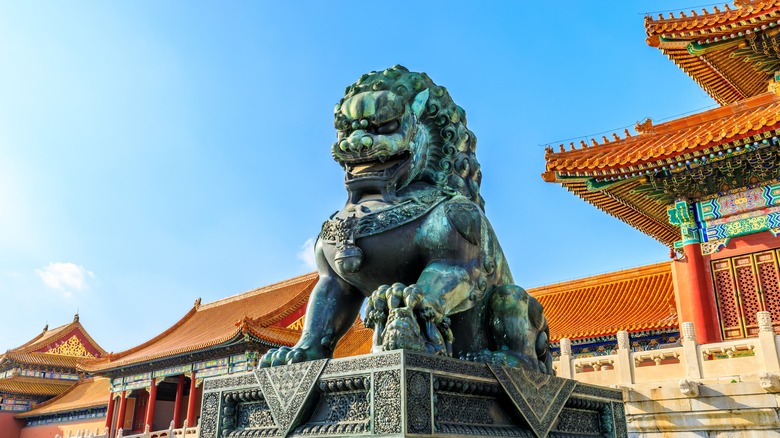 ABCDstock/Shutterstock
This is probably the most disagreeable part of this list. A lot of folks would say to skip the Forbidden City because it's so overcrowded, but we think it's really an attraction you shouldn't miss. It is an absolutely stunning section of preserved Chinese history, though Tiananmen Square is something you can just skip. Especially for Americans, the sheer number of surveillance cameras in the square alone is enough to give you pause.
Also, and this should be obvious, don't talk about the Tiananmen Square Massacre when you're there or in China in general. The censorship runs deep and, honestly, you never know who is listening anywhere in the country.
The Forbidden City requires a lot of time if you intend to see most or even half of it. For nearly 500 years, this was the palace where China's leaders lived. From 1416-1911 the 10,000 rooms strewn throughout the Forbidden City were occupied by residents. This UNESCO World Heritage site now houses priceless artifacts from the Ming and Qing dynasties. Between the astounding architecture, relics, and manicured gardens, you'll feel immersed in China's history in a way that's indescribable.
Skip trendy dumpling spots, see Mr. Shi's in Baochao Hutong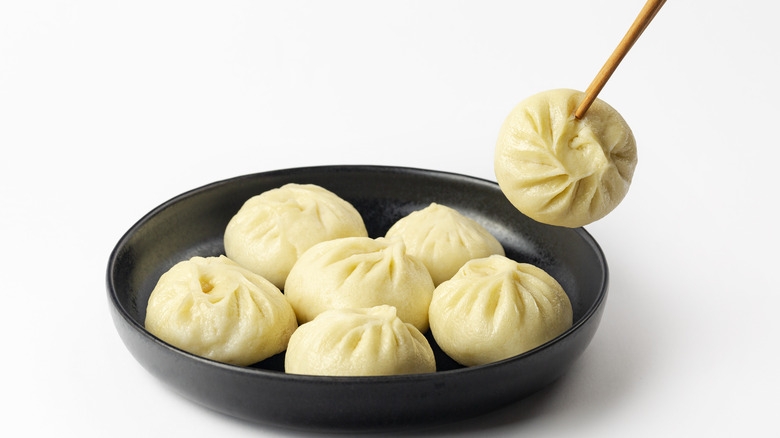 Olga Mazyarkina/Getty Images
You don't have to go far to find delectable Jiaozi (common Chinese dumplings) in Beijing. That said, some places will serve you far better than the trendy dumpling places aimed at tourists. While Mr. Shi's Baochao Hutong dumpling house is touristy, usually only the visitors in the know will be there indulging in delicious cuisine with you.
From the money sandwiched beneath plexiglass table covers and the numerous signatures on the walls, you'll know right away that this is a popular spot for visitors. Despite that, even Beijingers will recommend this place to their visiting family. Even if the Baochao Mr. Shi's location could be called trendy, it's still worlds away from the slick modern places you'll find elsewhere in the city.
You will have a hard time choosing what to order, but here are some delicious suggestions that will change your life. (Seriously, Beijing will ruin domestic Chinese food for you.) Absolutely order the sweet and sour pork, pork and cabbage fried dumplings, the fried green beans and potatoes, and (of course) the fried rice.
Skip Lama Temple, see Bell and Drum Towers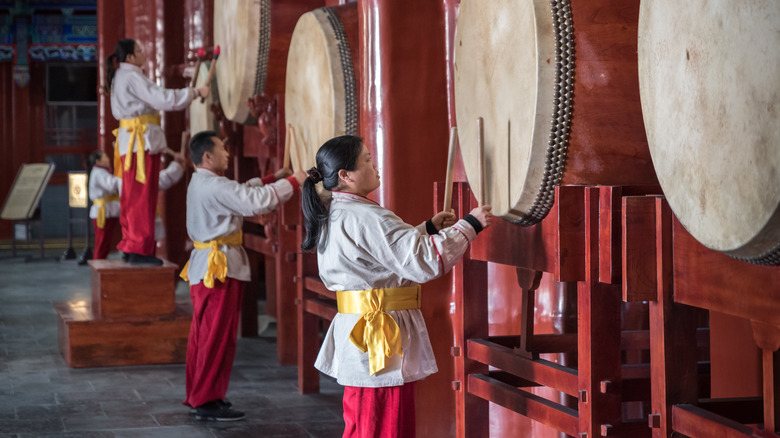 Luca Rei/Shutterstock
Especially if it's your first time visiting Beijing or China in general, you're going to want to see the Bell and Drum Towers – or at least one of them. They're considered the symbol of the city of Beijing, were built in the 1200s, and offer a glimpse into a side of the local culture you won't get at a place like the Lama Temple. Unless you're really interested in Buddhism or religion, if you have to choose between these two sites, the towers far outweigh the temple.
These towers served as the timekeepers for Beijing during three dynasties from 1271-1911, hence why they ended up as such powerful symbols in the city. Throughout the day, at roughly every thirty-past mark, drum rhythms will boom out from the top of the Drum Tower. If you can get to the top to witness these massive drums being played, it will very well be a highlight of your trip. Either way, the views from the tops of the towers are some of the best you'll get of the older parts of Beijing.
Be warned that the very steep stairs in both of the towers aren't for the faint of heart. The Drum Tower has 100 steps while the Bell Tower has 75, but they are so steep you may have to pull yourself up utilizing the metal pole against the wall, especially if you have short legs. Take your time going back down, particularly if you're afraid of heights because the view is intimidating.
Skip Pearl Market, see Panjiayuan Antique Market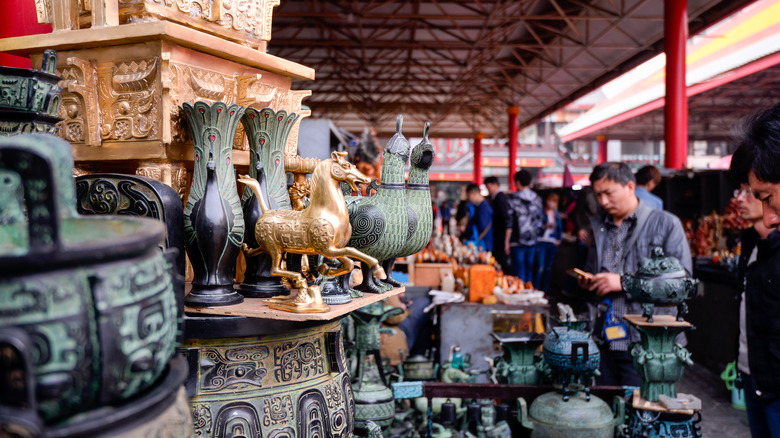 Farris Noorzali/Shutterstock
Unless you specifically want to get your hands on some pearls while you're in Beijing, you really don't need to visit this market. Pearl Market is a three-floor mall with tons of vendors selling all kinds of things from cheap trinkets to lovely jewelry. You'll also encounter very pushy salespeople selling highly inauthentic designer handbags. Does anyone want a passable Louis Vuitton?
But if you want a more authentic shopping experience, head over to Panjiayuan Antique Market, which is also known as the Panjiayuan Flea Market. This market is the largest of its kind in the city and possibly one of the largest in the whole country. Anything and everything you could want in a second-hand or antique shop in China can be found here. Jewelry, art, furniture, and even souvenirs have a home at Panjiayuan.
Although it's open every day, the best time to stop by the market is on the weekend. During weekends, you'll also have access to the street stalls which remain closed during the week. So if you want the best possible selection, visit on the weekend. However, if you want smaller crowds, weekdays are your best bet.
Skip Olympic Park, see Tiantan Park (Temple of Heaven)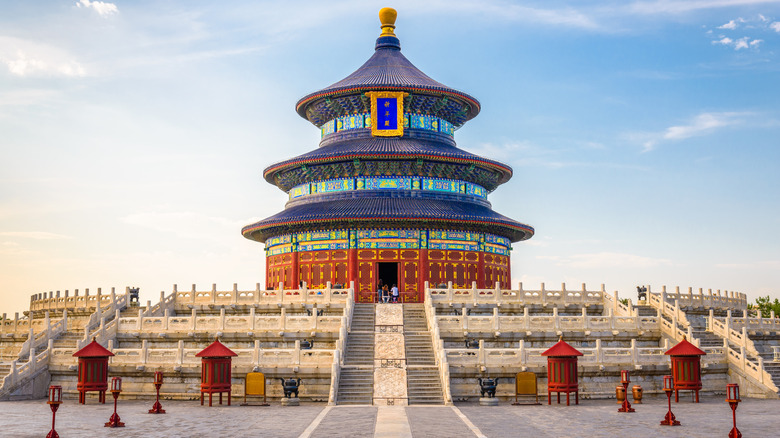 Sean Pavone/Shutterstock
Look, Olympic Park is cool to look at in photos, but if you've seen those or watched the Beijing Olympics in 2008, you've seen the park. Walking around the complex is really underwhelming and you could spend that time seeing something else which will be more interesting and build up your cultural experience. For example, you could head over to Tiantan Park, which is home to the Temple of Heaven.
A UNESCO World Heritage Site, The Temple of Heaven was created sometime in the early 15th century. Between its landscaping and architecture, the park around it was meant to showcase ties between Heaven and Earth — a symbol for Chinese cosmogony which also demonstrates how the Emporers fit into the spectrum as the link between the gods and mankind.
The whole property is over 500 acres, so it's not exactly a small park. That said, although it is near The Forbidden City, you should dedicate time to just experience Tiantan Park and The Temple of Heaven on its own day. Only then can you truly appreciate the place as a work of cultural magnitude.