Disaster-Proof Traveling With Your Destination Wedding Dress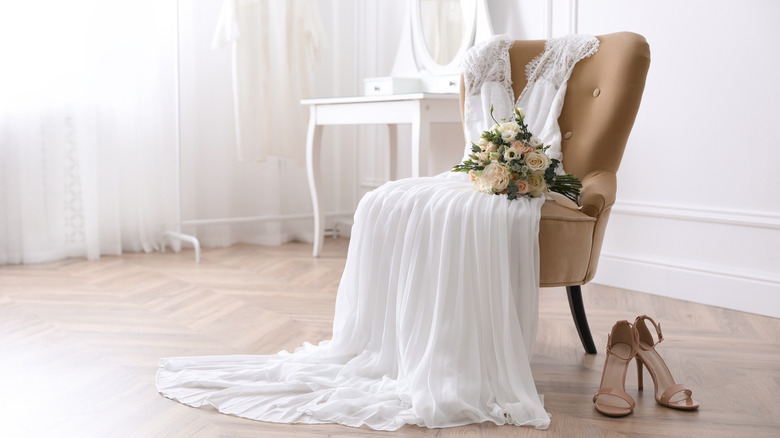 New Africa/Shutterstock
The Wedding Planner Institute reports that approximately 2.4 million weddings are hosted in the United States annually. While planning a wedding in your hometown can be overwhelming, the Wedding Planner Institute also points out that around 25% of weddings are held out of town. This contributes to an impressive $16 billion destination-wedding industry.
While a destination wedding is certainly an exciting prospect, logistically, it can be complicated. One of the details that often causes concern is how exactly a bride is going to get her wedding dress where it needs to be disaster-free. The question can feel particularly overwhelming when airports, airlines, and even connecting flights are involved.
The good news is, getting your wedding dress to your destination wedding by plane is possible with some strategic planning. Above all, it's vital to put any thoughts of checking a wedding dress with an airline aside. The Bureau of Transportation's 2022 Air Travel Consumer Report noted U.S. airlines lost or mishandled over 2 million bags. That's 2 million reasons not to risk checking your wedding dress when you travel.
Approach packing with durability in mind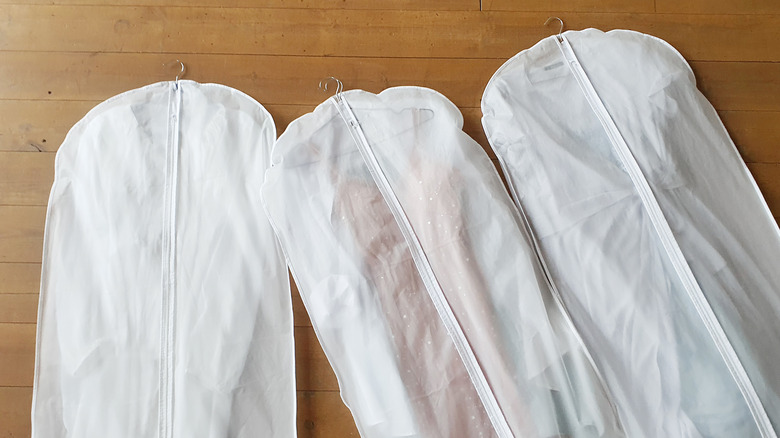 July Ko/Shutterstock
Bringing your wedding dress as a carry-on item to your destination wedding is best when it comes to getting it there in one piece. However, before packing, it's important to check with your airline and understand the size requirements for carry-on luggage. Regulations are always slightly different between airlines, so making sure you know your dress will fit in an overhead compartment before you arrive at the airport helps avoid any devastating disappointments.
Once you're confident your dress can travel, it's time to start packing with durability in mind. You'll want to pack your dress securely so it can be well-situated in an overhead compartment during your flight. It's also good to remember that the dress is going to be passed through security first.
This combination of travel events warrants some strategic materials in your packing process. Every wedding dress being taken on a plane should be packed in an ultra-durable garment bag. Wrapping the gown in an extra waterproof plastic layer within the bag can provide an added layer of protection in the event of an onboard spill or harsh handling through security.
If you're not feeling confident in storing your gown in the overhead compartment, be sure to ask a flight attendant for assistance. While it's never a guarantee, some airlines do have onboard closets for large items in first class. If you aren't sitting in first class, you can always ask about extra room available for your gown during the flight.
Reduce travel anxiety with shipping options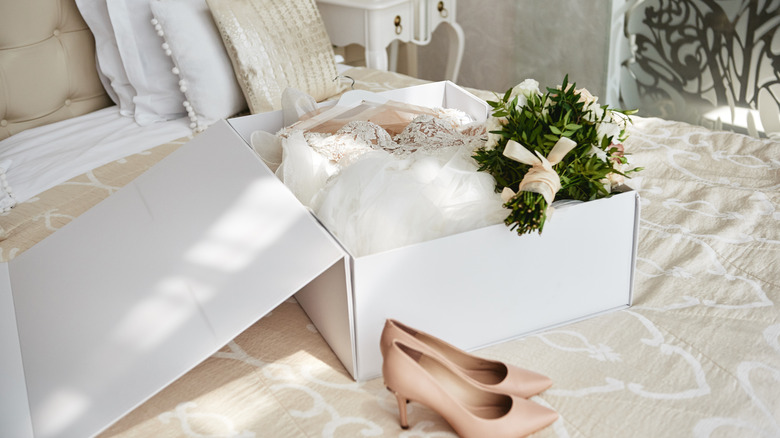 Mirage_studio/Shutterstock
For some brides, the possibility of something happening to their wedding dress on a plane is anxiety-inducing. That's when shipping a gown might be a better option. While travel by mail isn't risk-free, it can be done weeks ahead of a ceremony, providing some peace of mind.
If you're shipping a wedding dress, durable packing strategies still apply. Avoid shipping the gown in its original, rather flimsy preservation box. Instead, choose a durable box that the dress can fit in smoothly when folded in half while being protected in a plastic garment bag too.
While it's an added cost to consider, investing in insurance for your gown can be helpful. Having insurance in place before shipping is a good way to keep yourself covered in the event the dress is unfortunately lost or damaged in transit. Similarly, taking pictures of the gown before you ship it out can help prove any potential damages the dress might incur.
Be sure to never skip out on any tracking services a carrier provides. Tracking allows you to monitor the gown's movement and alerts you to any potential issues. It's also important to require a drop-off signature upon delivery of the dress. This is effective in deterring potential porch pirates.
Whether you fly or ship your wedding dress, smart packing is key. Durable materials can make all the difference in keeping your gown safe. The results speak for themselves when your destination wedding is a success.