What Argentina's New Tourist-Friendly Preferential Exchange Rate Means For You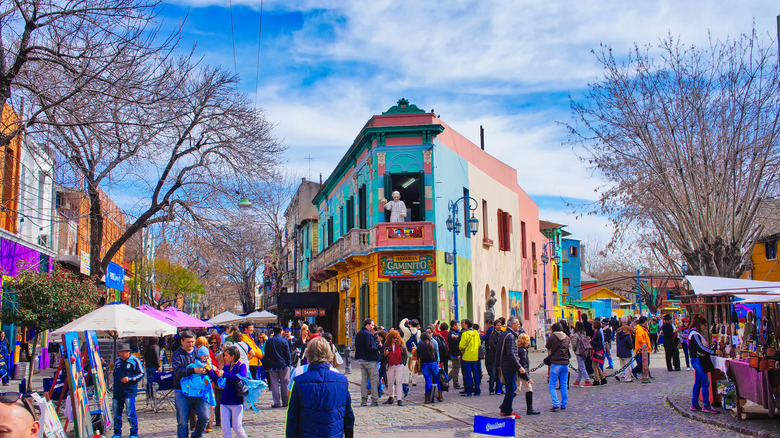 eskystudio/Shutterstock
Stunning geography, a captivating culture, and flavorful local cuisine are just a few of the many reasons travelers set their sights on Argentina. From the colorful rock formations of Salta and the Buenos Aires Tango Festival to the awe-inspiring views at Iguazú Falls, Argentina is packed with places to explore. As Latin America's second-largest country, Argentina welcomes more than 7 million international visitors annually to enjoy all it has to offer.
While it's an appealing place to visit, financing the experience here isn't always simple. Since the 1980s, Argentina has struggled significantly with inflation. At the end of 2022, economists feared inflation could reach 100%.
The country's practice of printing money for public spending through the central bank is frequently named as a driver of inflation. Currency depreciation is another detrimental factor. A culture of informal foreign currency traders in Argentina means there are more than 10 varying exchange rates at any given time. This setup can make it difficult for visitors to determine what the peso is worth. This is especially problematic when attempting to use debit or credit cards.
A new regulation known as "the foreign tourist dollar" was put in place in Argentina on November 4, 2022, in an attempt to ease the burden. It's designed exclusively to address tourist-friendly currency exchange rates. While it doesn't necessarily simplify the complex system in place, it could make using credit and debit cards a streamlined process for foreign visitors to achieve more favorable exchange rates during their travels.
How the new rate works for foreign tourists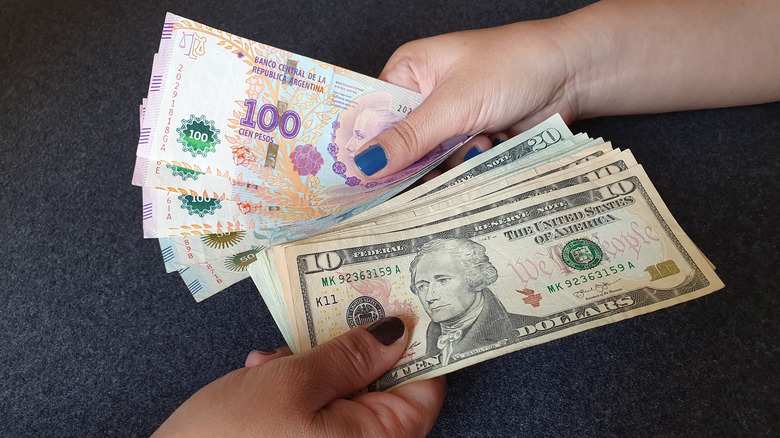 FJZEA/Shutterstock
In Argentina, the official exchange rate has long been acknowledged as the least effective route to making a traveler's money go further. Instead, the country hosts a widespread black market commonly referred to as the "blue market." Within this system, travelers either exchange currency at a lower than the official rate under the table or pay for services directly in US dollars to achieve savings.
The new tourist-friendly preferential exchange rate that is now in place was crafted partially in hopes of minimizing this cash-heavy culture. The option for foreign visitors to use debit and credit cards more freely in exchange for better rates has the potential to boost the government through a documented, electronic trail of sales tax. Additionally, government officials hope tourists carrying less cash into the country will reduce opportunities for crimes like theft.
Before the tourist-friendly preferential exchange rate, foreign credit and debit cards used across Argentina were universally subjected to the official exchange rate. This new preferential rate adjusts the standard so that foreign credit and debit card payments used for purchases apply to the Electronic Payment Market (MEP) instead. As of January 2023, that meant foreign travelers could make their US dollars go 78% further by paying with a credit or debit card.
Potential benefits for travelers and residents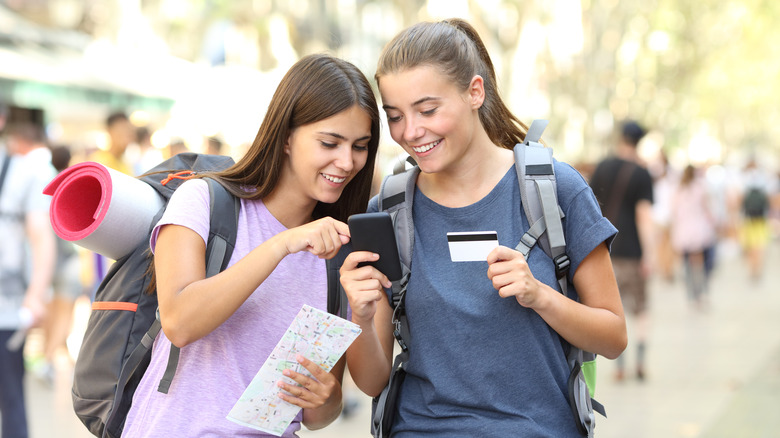 Antonioguillem/Getty Images
Both Mastercard and Visa joined the new preferential exchange rate program in December 2022. The inclusion of these credit card companies has made purchasing options in Argentina accessible to a wide range of foreign travelers. While the benefits across cards are equivalent, there are some differences to note.
Visa cardholders see their payments processed at the MEP dollar rate immediately when purchasing products in Argentina. Those making purchases through Mastercard will initially receive the official exchange rate. Reimbursement for the difference between the official exchange rate and the MEP will be applied a few days later.
One benefit of this exchange rate for foreign travelers is the opportunity to visit at a lower overall cost. Not worrying about extreme rate fluctuations could make travel to Argentina less stressful. Similarly, not worrying about where to go on the "blue market" for profitable transactions could boost tourism and safety simultaneously.
The new rate could also benefit some Argentine residents. Presently, those who hold foreign credit cards can take advantage of the new rate by making their local purchases on a Visa or Mastercard. A "tourist dollar" exchange could be advantageous for locals as inflation continues to rise.
While the program is new, travelers will likely continue to carry cash out of habit. With time, this new rate boosts the potential for significant cultural change as well as savings for visitors to the country. The combination could see Argentina enjoying enhanced traveler numbers in the near future.