These Food Tours Are The Perfect Way To Experience All The Delicious Cuisine Bologna Has To Offer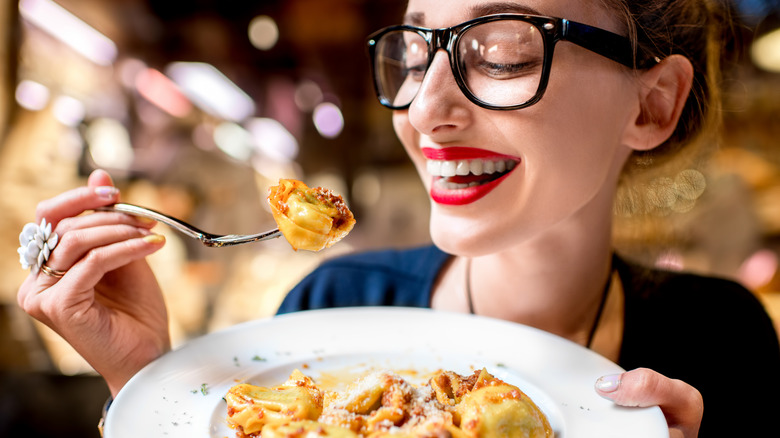 RossHelen/Shutterstock
Italians are indeed a passionate bunch. Their love for life, family, traditions, Italian football (soccer in America), and most of all, their love for cooking and food, sit high atop their daily list in celebrating and immersing themselves in life's most pleasurable moments. To Italians, harvesting natural ingredients from the earth to prepare some of the simplest dishes found in authentic Italian cuisine is not only an important facet in creating a meal that is healthy and delicious, it's a strong part of their culture, and one they're most proud of.
Quite honestly, Italians have an ongoing love affair with their food, and who can blame them? To know and enjoy Italian food is an experience equivalent to falling madly in love. Have you ever tasted lasagna alla bolognese or tagliatelle al ragù? These tantalizing dishes beg to be eaten slowly: Each savory morsel bursting in your mouth with authentic flavors of the Mediterranean. And, where better to experience Italy's legendary cuisine than the largest city and capital of the Emilia-Romagna region: Bologna. Its nickname "La Grassa" (the fat one) — as told by Delicious Bologna — fittingly given for its incredible food. And, for culinary travelers, these food tours are the perfect way to experience all the delicious cuisine Bologna has to offer. You may want to tuck a napkin in your collar before you continue reading because the food tours we're about to share with you will have you drooling and booking tickets to Italy quicker than you can say, "meatballs."
Bologna, Italy: A foodies dream come true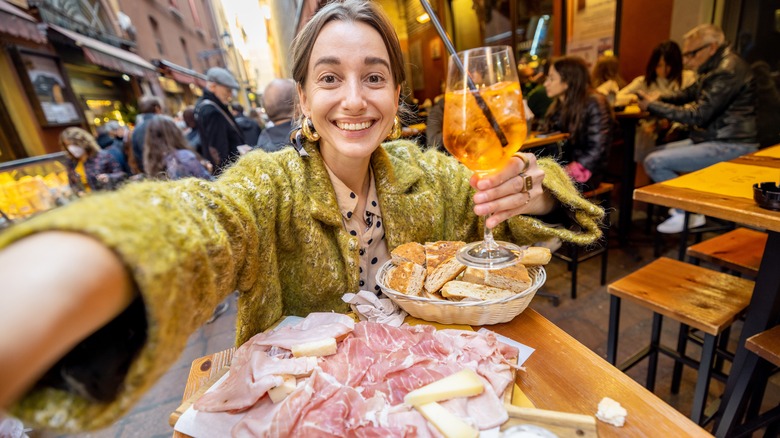 RossHelen/Shutterstock
Let's start with the 3-Hour Secret Food Tour. What makes this tour so secret you ask? Not only are participants led through some of Bologna's interesting and less-frequented areas while learning about the city's intriguing history along the way, participants also get to sample everything from antipasto to cheeses, pasta dishes, dolce, wine, and more. Next on the list, is the Bologna Food Tour. This 3-hour and 30-minute food tour takes participants on a whirlwind experience through the heart of Bologna, where they'll not only learn the recipes behind these masterful creations of gastronomical ecstasy, they learn the history behind each dish as well. 
Want to experience food like a local? The Taste of Bologna: Food Walking Tour fits the bill. This 2-hour food tour takes participants into the historic, trading, and food market areas of Bologna, where local cuisine and vino can be sampled. Ready to see this medieval city under the starry night sky? The Bologna By Night: Food & Wine Walking Tour is the perfect way to experience this magical city after the sun sets. Wander the city with a private tour guide, while sampling some of Bologna's famous cuisine with a glass of vino.
Calling all culinary connoisseurs
We couldn't end our list of food tours without sharing Bologna's "pezzo di resistenza" (pièce de résistance) of food-themed events. While pricing for this tour comes at a higher premium, participants are exposed to a luxurious, 7-hour cuisine journey that makes the Tour of the Excellent Producers of Emilia Romagna the "Gastronomic King" of food tours found within Bologna. And, be prepared to feel like a king or queen should you book this elegant and informative private tour to satiate your inner Italian foodie and love for wine.
Before you ask yourself if venturing to Italy — particularly the medieval city of Bologna — to take a food tour is worth it: The answer to that is an affirmative yes. If Italy's art, architecture, and history doesn't inspire you enough to come, its food most certainly will. And, since Bologna is known around the world for its delectable, mouth-watering Italian cuisine, it's a must-visit destination to learn from the best: Passionate Italians who adore their food as much as they adore life.