Drive-In Movie Theaters Are Springing Up Across The Country Due To COVID-19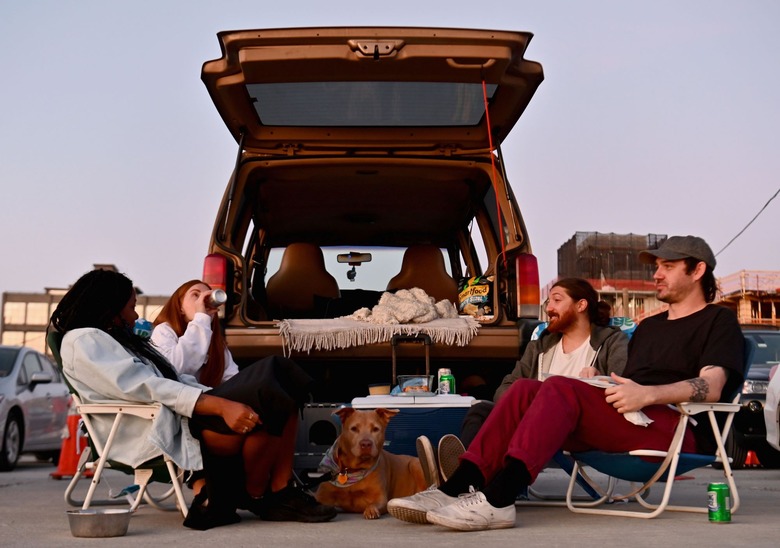 Angela Weiss / AFP via Getty Images
As the coronavirus pandemic continues, Americans are looking for outdoor activities, date night ideas and more that can be done while adhering to coronavirus restrictions and social distancing guidelines. One form of entertainment that's experienced a resurgence due to COVID-19 is the drive-in movie theater. While cool vintage drive-ins were somewhat of a dying breed, now new ones are popping up across the country, often in unexpected locations.
Social Distancing Date Night Ideas
With sports and concerts put on hold, many major venues across the country are converting their parking lots into drive-in movie theaters, such as Red Rocks Amphitheater in Colorado, the Rose Bowl stadium in Pasadena, California, and Soldier Field, home to the Chicago Bears, Illinois' favorite NFL team. 
It's not just music and sports venues getting in on the action. Sony Pictures is hosting drive-in screenings on the movie studio's lot in Culver City, California. Even the Brooklyn Army Terminal in New York set up a drive-in screen along a waterfront pier for movie nights with an amazing view of the sunset. And across the country, 160 Walmart parking lots are being transformed into outdoor theaters from Aug. 14 to Oct. 21.
Despite all these options, you might still be craving the classic drive-in movie experience. Thankfully there are still permanent drive-in movie theaters across America where you can catch a movie.