10 Of The Most Thrilling Adventures In Brazil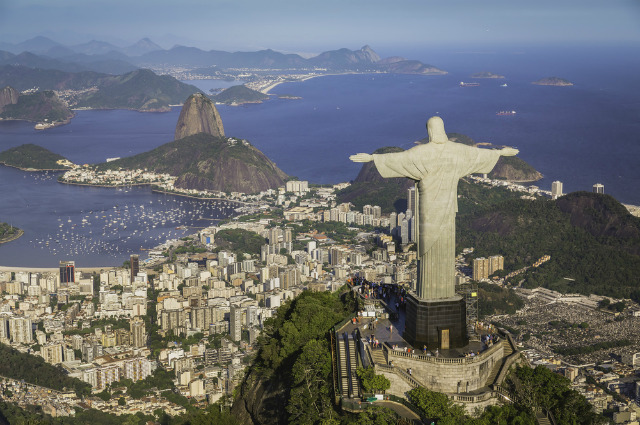 Shutterstock
10 of the Most Thrilling Adventures in Brazil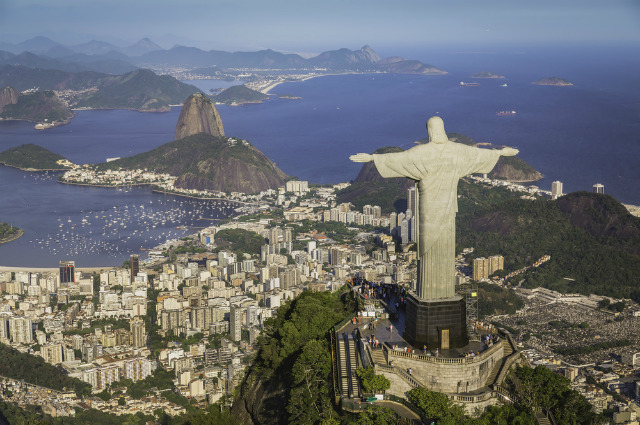 Shutterstock
A paradise in many different senses of the word, Brazil is known for its immaculate white-sand beaches, captivating rainforests and a diverse blend of dramatic landscapes. And those are just a few of the country's many exciting attractions. Of course, within such a large expanse there's much to be explored, and this behemoth of South America is teaming with adventures catering to travelers of all types.
"Brazil is definitely a country for all of the senses," says Susan Eckert, founder of AdventureWomen, an organization that enables groups of women to travel together safely and comfortably. "It's an incredible potpourri of sights, sounds, tastes and smells! As we found out, it is a feast of varied landscapes, striking beaches, awe-inspiring waterfalls, mysterious rainforests, the world's largest river (the Amazon, and second longest only to the Nile), incomparable Brazilian cuisine, and one of the world's most beautiful and exciting cities."
Need we say more? It's really no surprise Brazil's Rio de Janeiro was chosen as the host city for the upcoming 2016 summer Olympics. But clearly the adventure here goes far beyond summer games. For the avid adventurers itching to explore far beyond Rio, here's a look at some of the most truly thrilling excursions you'll want to take on when visiting Brazil. 
Diving in Pedras Secas, Fernando De Noronha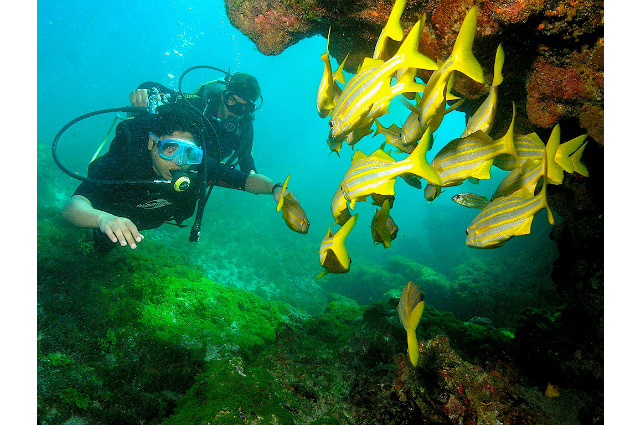 Flickr/tadeupereira CC by 2.0
Considered a hidden gem of Latin America and one of the best dive spots on the island by the Professional Association of Diving Insturctors (PADI), Fernando De Noronha's Pedras Secas is characterized by lots of small caverns and a long tunnel that PADI says is home to turtles, nurse sharks, moray eels, barracuda, and lemon and tiger sharks. Plus, not far from here is the island's famed Sancho Bay, voted the most beautiful beach in the world by TripAdvisor. 
Pantanal Safari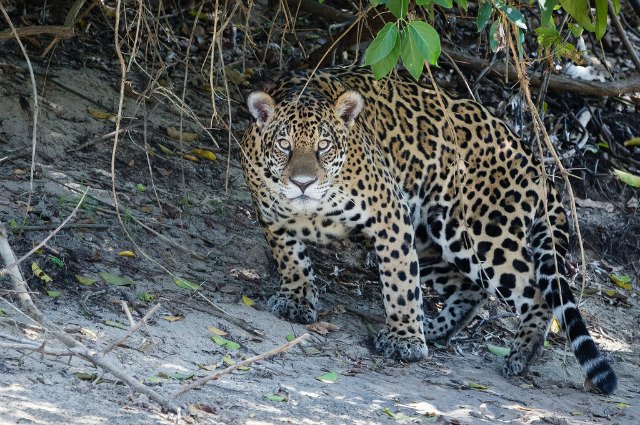 Photo Credit: Flickr/bartvandorp CC by 2.0
From piranha fishing to jaguar tracking, there's no shortage of opportunities to witness Brazil's diverse wildlife population while exploring the Pantanal. "We even saw a tarantula out in the wild doing his thing. Pretty crazy," says Suzanne Garber, an avid traveler and CEO of Gauze. "If you go in the rainy season, it's easier to get around by boat — but a little more dangerous. In the dry season, horses take you where you want to go."
Iguazu Falls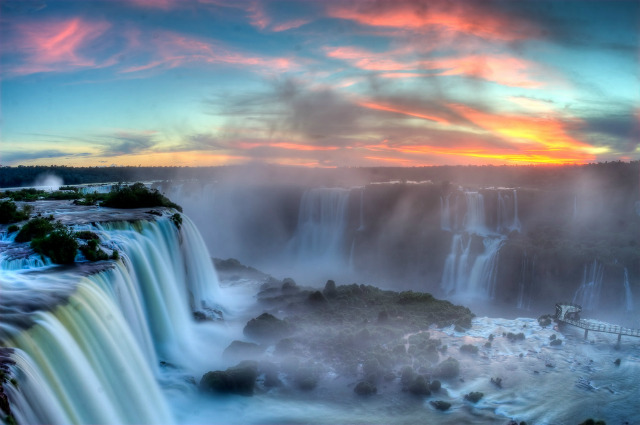 Flickr/cnbattson CC by 2.0
"Iguazu Falls on the border of southern Brazil, northern Argentina and eastern Paraguay are unlike any falls you'll ever see," Garber says. Eckert agrees, and in addition to exploring the falls by foot, both women recommend hopping on a boat to experience Iguazu by water. "We got very close to the waterfall, and got very wet during this extremely exciting adventure," Eckert says. "We also walked over many wooden footbridges that are elevated over the Iguazu River to view the astonishing cascades, breathtaking panoramic views and continuous rainbows caused by all the water droplets."
Hike Serra dos Órgãos National Park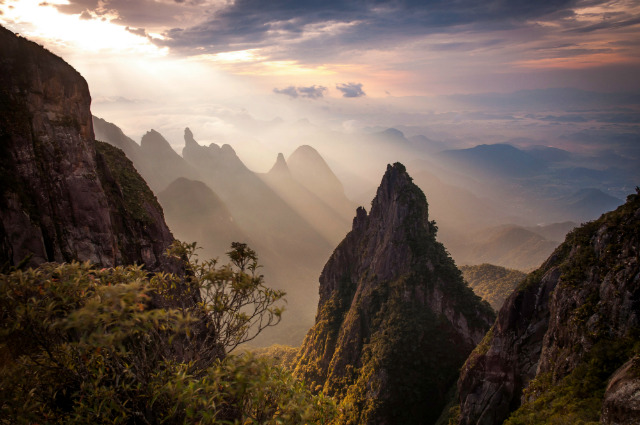 "Amanhecer no Hercules" by Carlos Perez Couto, CC BY-SA 3.0 via Commons
This utterly stunning national park is situated about 90 minutes north of Rio de Janeiro, but as anyone who's experienced its beauty will tell you, a visit is well worth the extra time it takes to get there. "If you love nature and want to get away from Rio, this park is the perfect place," one user wrote on TripAdvisor. "The drive into the mountains alone is breathtaking. The trails range in difficulty from very simple walks in the woods, to more extensive hikes up steep hillsides with lots [of] steps made of wood or tree roots. There is even a very cool suspended bridge walk that takes you into the treetops."
Snorkeling in Bonito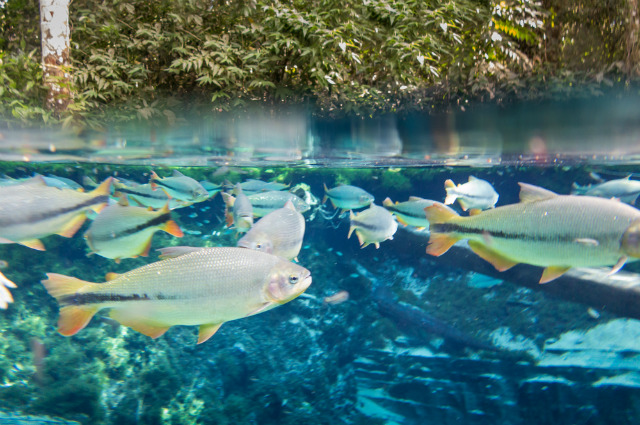 Shutterstock
Situated in the southwestern corner of Brazil within the state of Mato Grosso do Sul, Lonely Planet calls Bonito an "aquatic playground." The area is particularly known for its crystal-clear waters, which, no doubt, serve as ideal spots for snorkeling. According to TripAdvisor users, the Rio da Prata offers up the best snorkeling experience in all of Bonito. "Words [cannot] describe this, it is incredible...the clarity of the water and the diversity of the wildlife is absolutely stunning, and whatever the weather just go," one TripAdvisor user wrote in a review. "We went when it was raining and cold, and it didn't affect our experience one bit."
Explore the Amazon Rainforest
The lure of the Amazon rainforest is a draw for the most ambitious of adventurers visiting Brazil and an excursion that delivers many rewards in the form of unspoiled wilderness and wildlife. "One morning we baited our hooks to try to catch one of Amazonia's fearsome piranhas," says Eckert. "It was a great morning and many of us caught the fish. We swam on a beach in the rich red/brown waters of the Rio Negro, took jungle walks, explored the river's edge at night with spotlights, visited an indigenous village, and navigated in canoes through Anavilhanas National Park, one of the world's largest freshwater archipelagos."
Surfing in Florianopolis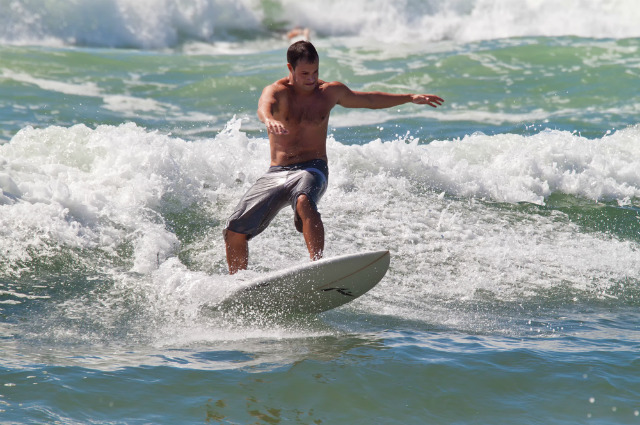 Luis Carlos Torres / Shutterstock.com
One of Brazil's top surfing spots, Florianopolis is characterized by the kinds of powerful waves that most surfers can only dream of catching. With 25 ocean-facing villas, for surf-lovers in search of a beach adventure mixed with a bit of luxury, the Ponta dos Ganchos makes for the perfect escape. Dubbed "a haven from the crowds" of more central destinations, among other astounding amenities, the resort features private hikes that lead to secluded beaches accessible only by foot and serves as a recluse for activities like kayaking, stand-up paddleboarding and fishing, too.
Bike Tours in Sao Paulo
Of course there many exciting sights to see when cycling around Brazil, but of particular interest is Sao Paulo's vibrant street art. Through Hotel Unique, visitors can take advantage of customized guided cycling tours designed to showcase the best of South America's largest city. An exciting chance to soak in the many cultural aspects of Sao Paulo, you'll witness famed street art, local markets, and Liberdade's diverse Asian community and gastronomy scene. Oh, and did we mention there's world-renowned coffee? After all, Brazil is the world's largest coffee exporter and Sao Paulo has a rich culture connected to the beloved beverage. 
Summit Sugarloaf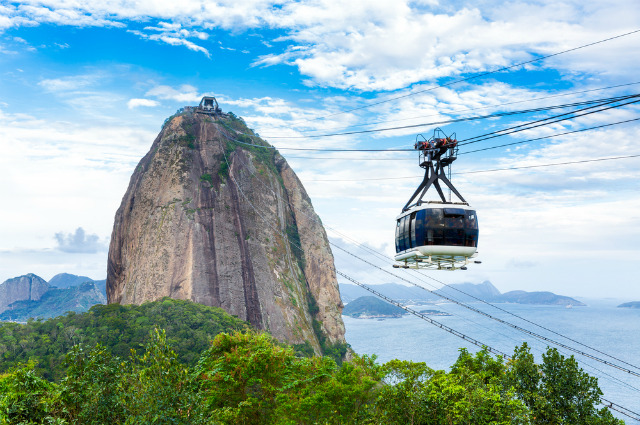 Shutterstock
Eckert admits, Sugarloaf might be considered a "touristy" attraction, but nonetheless, it's still a must-see when you're visiting Rio. "We went to the top of Sugarloaf Mountain, one of the world's best-known attractions," she said. "Some of our group took the easy way up in the glass-paneled cable cars, but the majority of AdventureWomen hiked up a rocky mountain slope to the second cable car, which then took us to the top. The views are out of this world!" While in Rio, Eckert said she also rode a cog train through the Tijuca Rain Forest. "[We rode] to the top of Corcovado Mountain to see the city's most recognizable landmark, the soapstone mosaic and Art Nouveau style Christ the Redeemer statue, voted one of the New Seven Wonders of the World," she added.
Dune Buggy Riding in Lençóis Maranhenses National Park
Smithsonian Magazine cleverly dubbed the sandy rolling ridges of Lençóis Maranhenses National Park "Brazil's Sand Dune Lagoons." Although the land initially gives off desert-like vibes, the region actually has a rainy season (January to June) when the valleys between the dunes become filled with rainwater and are transformed into lucid lagoons. Buggy rides here are one of the most popular activities, but many also recommend taking a relaxing dip in the lagoon waters. "[Lençóis Maranhenses] is sandy heaven," one user wrote on TripAdvisor. "Amazing and a must see! The ride there in the 4WD is so much fun! A walk across [the] white dunes and a swim in [the] clear water of the lagoons take your breath away. Simply amazing and a one-of-a-kind experience!"